How a Canadian Celiac Does Gluten Free Sightseeing in Tampa

I was nervous.
I've travelled lots as a celiac and have eaten gluten free in Europe, Mexico, and the Caribbean. But I'd never taken my celiac disease for an extended trip to the States.
For this fifth and final post in in the Canadian Celiac in Tampa blog series I though it might be helpful if I shared how I handled gluten free sightseeing in Tampa.
Pin for Later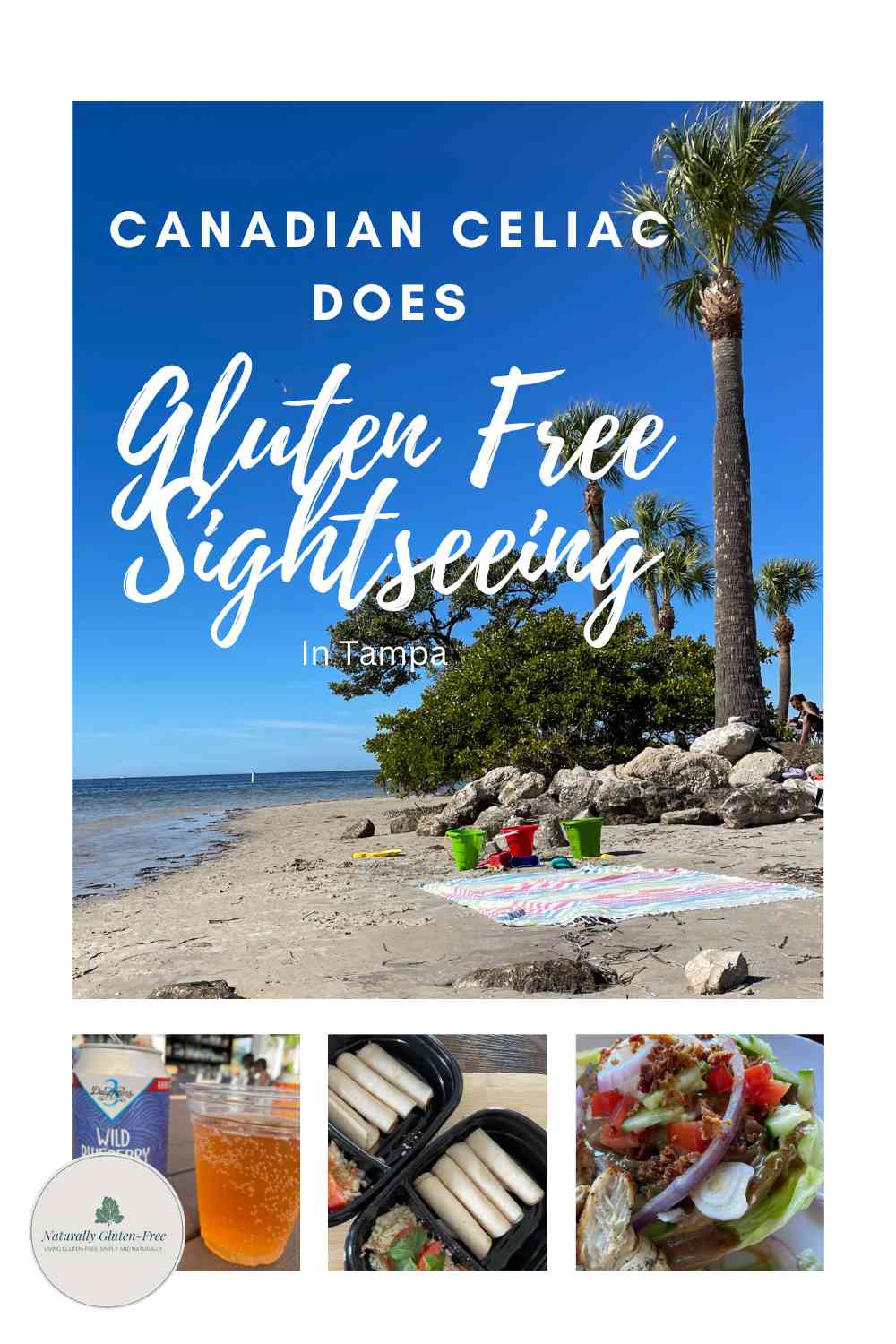 This is Part 5 and the final installment of my Canadian Celiac in Tampa blog series.
Gluten Free Sightseeing in the Tampa Area
Tampa Bay Riverwalk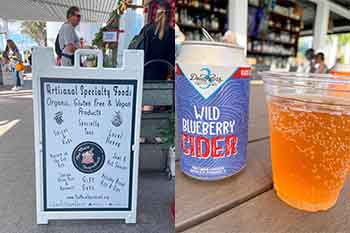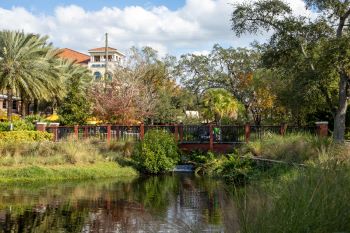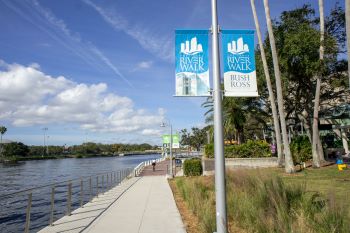 A 2.6 mile (4.2km for us Canadians) paved walkway traverses the downtown section of the Hillsborough River. It starts at the Amalie Arena and ends where the river takes an "S" curve just past the Armature Works.
The scenery is lovely. You can go for a walk, stop at a park or go for dinner at one of the restaurants. Find me Gluten Free lists a few including The Naked Farmer and JOTORO Kitchen at the Arena end and Ulele and Oak & Ola, both steakhouses at the other end. We didn't do dinner on the Riverwalk but we did stop for a cold beverage.
Game Day Drama
Do you have allergies or other intolerances along with celiac? What about seafood?
Celiac is an autoimmune (IgG) response and allergies are a histamine (IgE) response so they are different.   Still, a quick Facebook poll, revealed that lots of people have actual food allergies along with celiac.
Hubby's a big sports fan so I got him Tampa Bay Lightning tickets for Christmas.  We often enjoy seeing a game in a new city so to make this part of our gluten free sightseeing in Tampa seemed perfect.
For our pre-game dinner we found a nice seafood restaurant near the arena. I'm not going to share the name because what happened was totally not their fault.
The drama began after we split a plate of mussels.  My heart rate shot up, my chest tightened, and I felt nauseous and lightheaded.
By the time the paramedics arrived, things had started to settle.  Since I had no swelling, I didn't need to go to the hospital. A 25mg Benadryl tablet brought everything back to normal and we got to enjoy the game. The Lightning won.
Needless to say I avoided shellfish for the rest of the trip. I later discovered that shellfish is preserved in sulfites, the same substance that many people react to in wine and beer. I do have some issues with wine so maybe it's that. Let's see what the allergist says.
West Coast Beach Day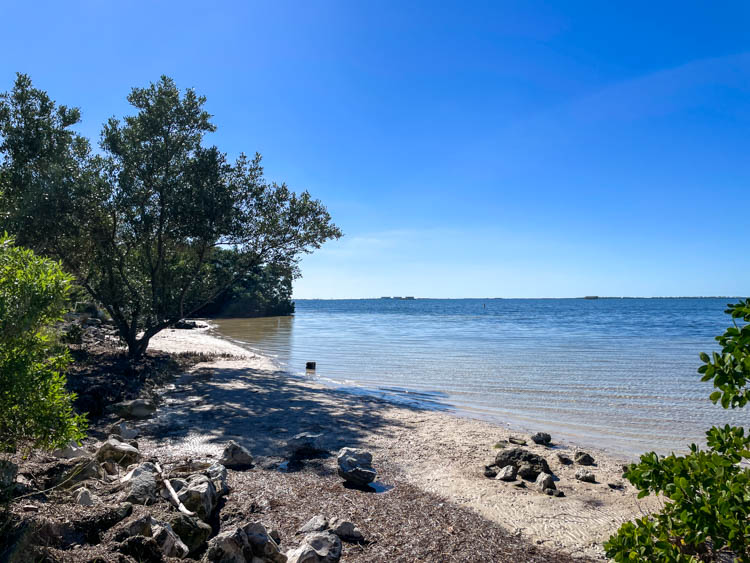 You really do need a car to get the best out of your Tampa vacation. In early January we took a day trip to do some gluten free sightseeing along the west coast north of Tampa.
With a cooler full of gluten free wraps and cold beverages we headed up to Sunset Beach near Tarpon Springs. It's a tiny beach so no long walks, but the scenery was lovely.
Crystal Beach is also tiny but has a beautiful park where we ate our packed gluten free lunch.
In the afternoon we found the gem! Honeymoon Island is a state park across the causeway from the town of Dunedin.  The long sundrenched sandy beach is perfect for walking and collecting shells.  With full pockets and soaked pantlegs we travelled on to the town of Dunedin, home of the Toronto Blue Jays spring training camp. Here we finished off with a drink before heading back for a homemade gluten free dinner.
Webster Flea Market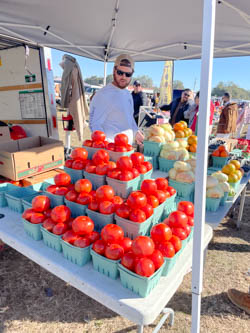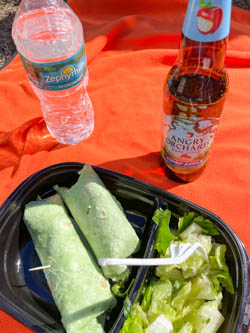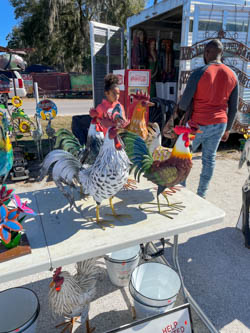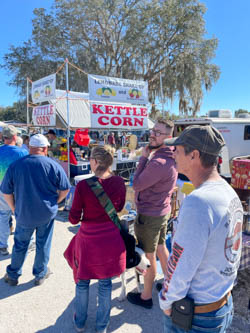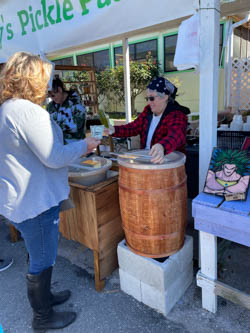 If you're looking for some great Florida travel advice, subscribe to Mike Miller's Florida Backroads Travel E-zine. We found lots of little out of the way places to explore thanks to Mike, and the Webster Flea Market was one of them.
Webster is a small "city" in central Florida. I think they have a different definition of city than we do in Canada. The population is under 800, except on Mondays when 4000 vendors and I-don't-know-how-many-thousand shoppers descend on an 80-acre compound outside of town. It's open from 6am to 2pm and there is no way you'll see it all in one day. You'll find everything from garage sale treasures to puppies to fresh produce. There are food trucks and diners but not much I'd trust to be gluten free. Bring your own lunch and be amazed.  It's still gluten free sightseeing even if you eat on a blanket behind your car. 
Dunedin and Safety Harbor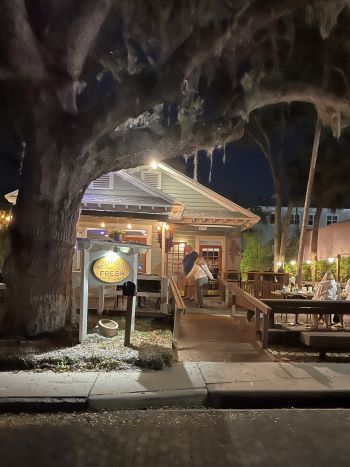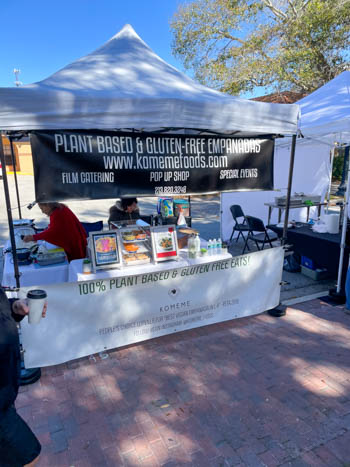 Every Friday and Saturday from November to June, the Downtown Market takes over Main Street and the adjoining park in Dunedin.   It showcases local vendors featuring artisan crafts and a variety of food. Even a surprising number of gluten free choices! I took home grain free maple granola that I just had to duplicate, and a wonderful loaf of bread from Sami's bakery in Tampa.  We also had a delicious gluten free lunch at The Dunedin Smokehouse.

We would never have come across Safety Harbor, had I not been searching for a celiac safe restaurant near Clearwater RV Camp. Our friends from Canada parked there for a few days so we took the opportunity to connect. On the drive to Southern Fresh, we passed through this quaint bayside town and knew we had to come back in daylight.
Shops and restaurants line the main street and the waterfront has a huge park.  You can walk way out onto the pier and look back toward town. The day we were there, we stumbled onto an amusing little fundraiser for the local library. 18 downtown businesses each set up a mini golf hole and players wandered the town, putters and drinks in hand to compete for prizes. Fun!
Saint Petersburg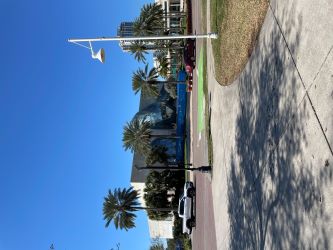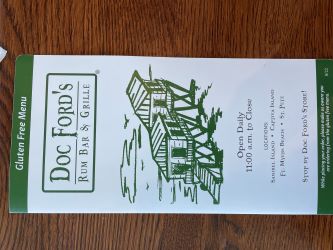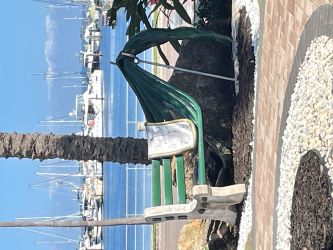 Saint Petersburg, is a small city southwest of Tampa at the tip of the Pinellas peninsula. The east side has a walkable pier with shopping, restaurants and the Dali Museum. We started with a nice gluten free lunch at Doc Ford's Rum Bar & Grille then walked the pier to the museum at the other end. If you like art, the Dali Museum boasts the largest Dali collection outside of Spain. Weird stuff!
Sarasota and John's Pass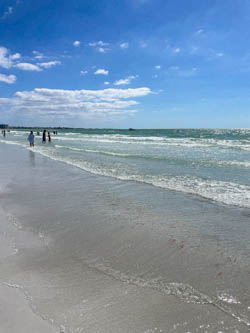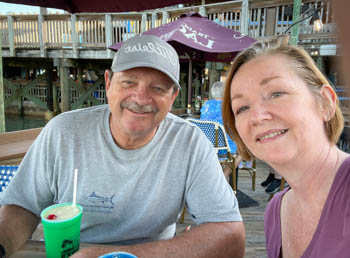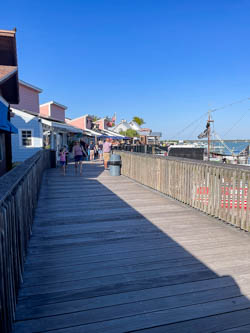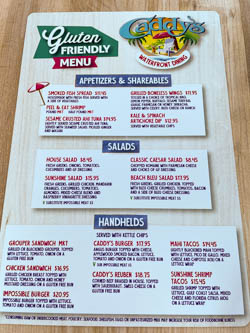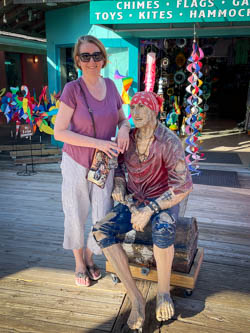 This was another beach exploration trip. Sarasota is south of Saint Petersburg and boasts miles of sugary beach extending up to the west side of St. Pete's. I just loved watching the birds and the windsurfers at Siesta Beach. There's a bar and picnic tables where we broke open the ever present cooler and enjoyed our gluten free lunch.
John's Pass Village is a touristy area at Madeira Beach. Souvenir shops line the street and the boardwalk has bars, restaurants, boats, pelicans and a lovely view. I was excited to find that Caddy's has a gluten free menu but watch out for the cocktail prices. They're not listed, and we paid over $50 CAD for 2 drinks. Ouch!
Florida Wildlife
I don't know if there's gators in that water filled ditch, but I'm not getting too close!
If you do want to experience Florida wildlife and even get up close with a gator or two, there are a few options.  So pack your picnic and get ready for gluten free sightseeing Tampa wildlife style.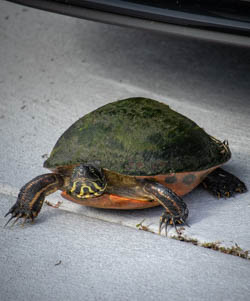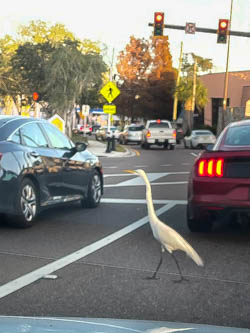 Any golf course: It's true, every pond on every golf course has its resident alligator. Beautiful tropical birds too.
Downtown clearwater: Okay, this may have been a fluke, but I'had to mention it.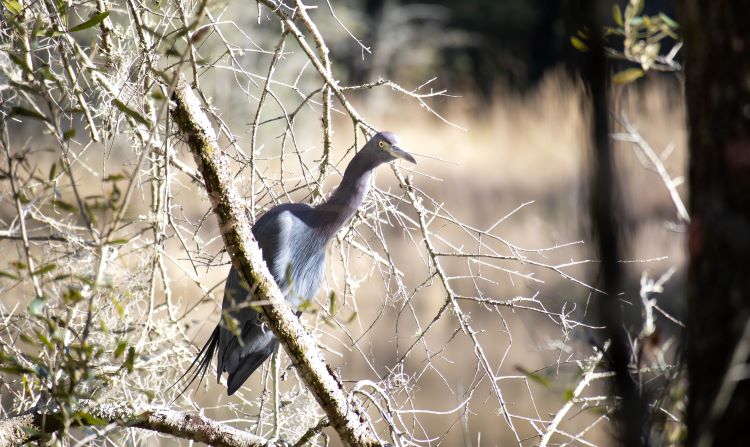 Violet Curry Conservation Area: It's in Lutz about 25 minutes north of Tampa.  Quiet forest trails hug the lakeshore and the smaller pond. Didn't see any gators but there were some beautiful birds.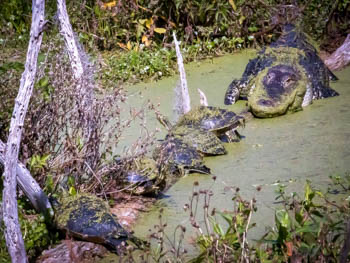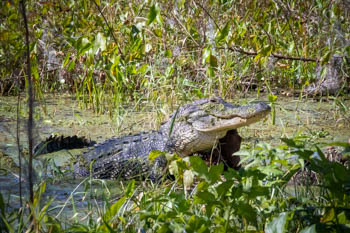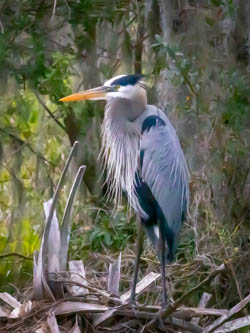 Circle B Conservation Area: This is near Lakeland, northeast of Tampa.  If you want to get up close with Florida wildlife, this is the place. On Gator Alley we saw at least five or six big ones along with dozens of stunning tropical birds.  They just stand there and pose while their photos are taken.  I still can't quite understand why the turtles seemed so comfortable on that log. Maybe turtles aren't very smart.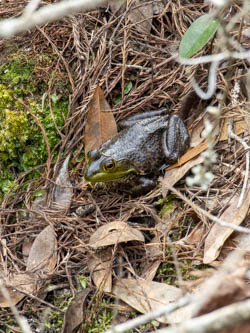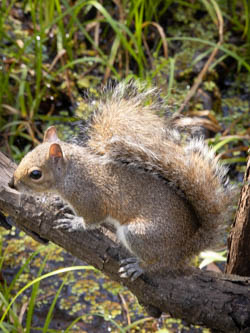 Lettuce Lake: A boardwalk takes you through the forest and around part of the lakeshore. We saw frogs, birds, gators, and beautiful old cypress trees.

The Trip Home
The plan was to spend two full months, January and February in Tampa. Sadly, we had to come home a week early for a family funeral. Was I disappointed? About the loss of a family member, of course. But not so much about coming home early. Traveling is fun and exciting, but home is home and I very much missed it.
Our trip down followed I-75 all the way from the border crossing at Detroit.  We passed through Michigan, Ohio, Kentucky, Tennessee, Georgia and into Florida. On the way back we decided to take the more scenic route through the Appalachian Mountains. Check the weather before you take this route as things can get nasty in the winter.  But we were lucky and had smooth sailing. 
On the first day we passed through Georgia and South Carolina, then spent the night in Mooresville, North Carolina, about 35 minutes north of Charlotte. We had a lovely gluten free meal at Blu Star Grille, a good night's sleep and hit the road bright and early.
Day two delivered the stunning mountain scenery of Virginia and West Virginia. Our second night in Erie, Pennsylvania was frigid. We'd gone from 30°C the day before to -5° with a bitter wind.
On day three we travelled east along the south shore of lake Erie, waved at friends who were on their way to Florida and crossed the border at the Peace Bridge in Buffalo NY. We were home sweet home at about 1:30 in the afternoon.
My Impressions
As a Canadian Celiac travelling in the U.S. I'm less nervous. There are risks as the labelling laws aren't as much in our favor, but I didn't have a single glutening.

Would I go back? If it was just me, I probably wouldn't rush back to Florida. The warm weather is nice, and the people are friendly, but you can find that lots of places. Most of what I saw was urban sprawl and big box stores. The seaside towns and beaches are pretty but very expensive and touristy.
But, it's not just me. Hubby HATES winter and his golf buddies go down there every year. I think we'll have to find a way to get out of the cold that works for us both.
<- Part 4: Making Your Gluten Free Vacation Home Fit Your Needs