Naturally Gluten-free Meals
Naturally Gluten-Free Meals

What are you looking for in naturally gluten-free meals? 
Do you want them to be easy?  Certainly you want them to be healthy.  What about cost effective?  And what if you have other food intolerances like dairy or eggs or other special dietary needs?  Well, let's explore all of that together.

You can't eat gluten.  You need to put a meal together.  Where do you start?
Let's start with these few questions; identify your priorities so to speak.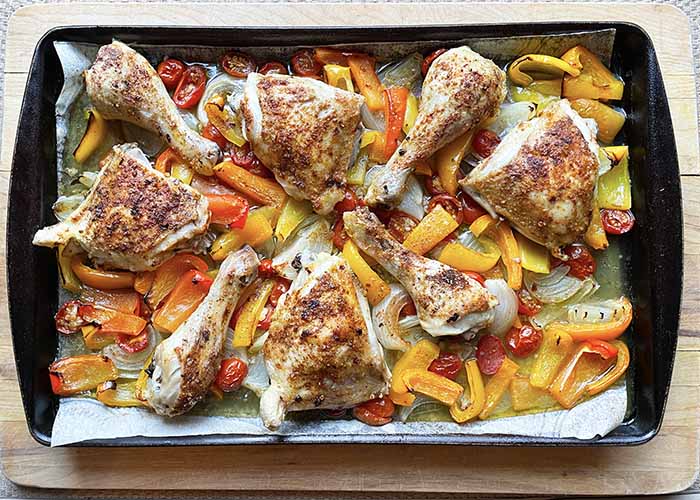 Naturally Gluten-Free Meals: Chicken and Pepper Sheet Pan
Gluten free meals start with gluten free food.  With some simple gluten-free substitutions you'll soon be making all your favorite recipes and a few new ones.
I've purposely avoided making this a recipe site, you can get gluten-free recipes anywhere. Instead it's my goal to give you the tools and teach you the techniques to make great food out of simple, healthy, naturally gluten-free ingredients.   
I will provide some recipes as a guide to get you started, but I'd love it if you'd branch out and modify and create your own favorites.

Click on one of the links below to take you to the sections that interests you, or just scroll through to see it all.
Variety vs Repetition
These two things are always in tension.  We think we want lots of choices, but do we always want that?  Trying new things can be fun and interesting, but there's a learning curve too.  
Making something you've never made before takes a little extra time and brain power as you need to read and follow a recipe, double check to make sure you haven't missed anything, then stress out waiting to see if it will turn out. 

 Having a repertoire of a few naturally gluten-free meals that you know how to make and make well will simplify your cooking and your shopping. 
As you get bored you can learn a new dish and fit it into the rotation.  

Keep it simple and the whole family can chip in.
This is the approach I've taken to making naturally gluten-free meals.  The food you'll find here is the food I cook and feed to my family.  It's real food, it's accessible and I think you'll actually make a lot of it yourself.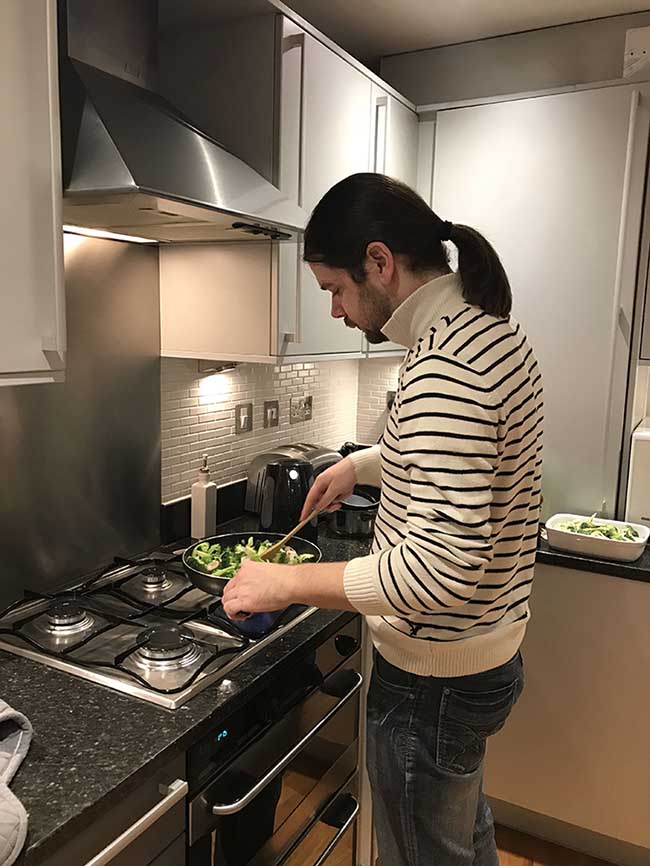 The other advantage is, as the family gets familiar with certain dishes, they may learn to make them too and can take on some of the responsibility for cooking. 
That's what's happened in my home.  As I was going through my chef's training and as I continue to update my skills, my husband learns too, and he actually does a fair bit of the cooking. 
It's a bit of a joke when we have company for dinner.  "I'm married to a chef and I do most of the cooking" he says.  (most may be a bit of a stretch). 
My son (in the photo) has also become a home chef in his own right.  He cooks for himself and often for the whole family. 

Natural is best.
Balance is essential.
Simplicity is the thread that ties it all together.
Naturally Gluten-Free Cooking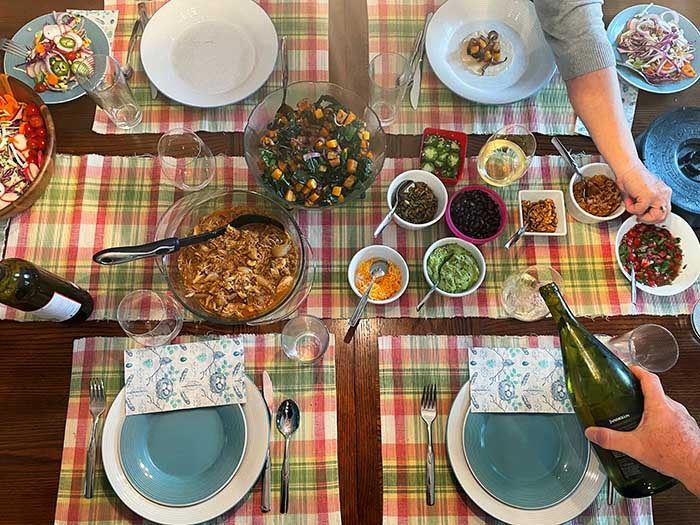 My favorite thing in the world, is to share my passion for cooking with you.  There are so many wonderful gluten-free meals and dishes that you can make from scratch or with a little boost from some quality convenience products that we'll discuss.
Homemade gluten-free soups, stews, long slow braises will fill your kitchen with wonderful aromas. 
Quick homemade gluten-free sauces, gluten-free dressings and sides that you can put together in a few minutes will compliment any meal. 
The classic cooking techniques you'll learn here will give you the confidence to choose ingredients to make wonderfully healthy gluten-free meals that will suit your budget and the time you have to cook. 
You'll get good at making a delicious meal from what's already in your pantry or refrigerator and handling leftovers in new and creative ways.  
Gluten-Free Cooking: Learn about what ingredients you can use and which ones you'll need to substitute.  Explore basic cooking techniques that will make your gluten-free cooking simpler and your food tastier, and discover different styles of cooking from home-style comfort foods to dishes from around the world that are, yes, naturally gluten-free.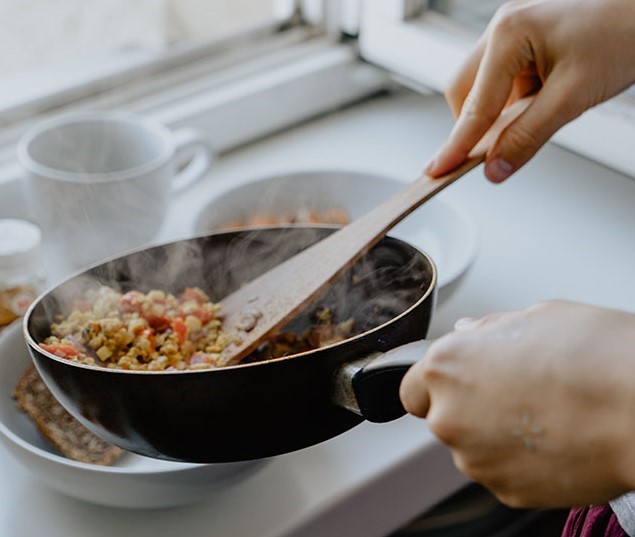 Easy Gluten-Free Meal Ideas
Do you like to cook, or is it a necessary evil?

For me it can go either way.  Although it's true that I love to cook, there are days that I'm just not into it or don't have the time.  
Easy Gluten-Free Meals: 10 tips for making gluten-free meals fast and easy!  Here is where I channel my "just not in the mood today" self and share tips and lots of menu ideas, The goal is to get something naturally gluten-free and tasty on the table without a whole lot of fuss.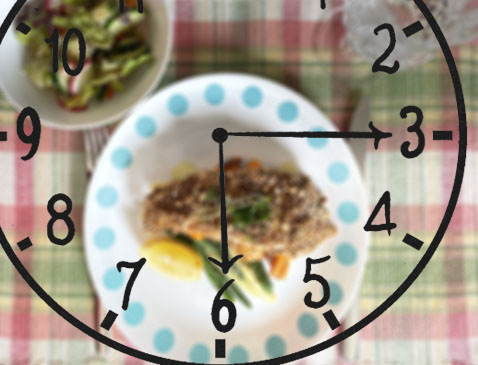 Healthy Gluten-Free Meal Ideas
Of course healthy meals can be easy, and easy meals can and should be healthy.  But let's take it a step further and just bump up the nutrition aspect a bit.  
In addition to focusing on naturally gluten-free whole foods, we'll discuss the vitamins and minerals your body needs and how to incorporate those into healthy naturally gluten-free meals.  We'll explore super foods, some of the myths and new information that's out there and ways to take an ordinary meal and make it even more nutritious without sacrificing flavor. 
Naturally Gluten-Free Around the World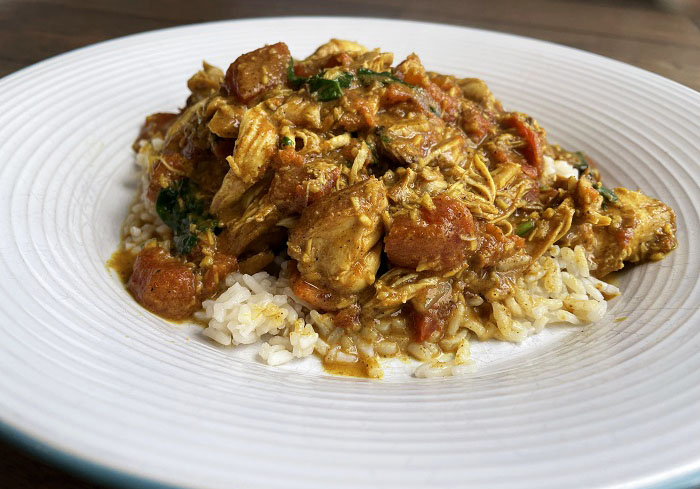 When I first started to learn about naturally gluten-free meal ideas I was pleasantly surprised to find that over use of wheat in the diet is really a European thing.  Many of the recipes we have long considered staples in North America came across the ocean from Europe and the UK.  When you start to explore the cuisines of the world you find that many the foods that are traditional in Asia, India, Ethiopia and Mexico are delicious and often naturally gluten-free.

Gluten-Free Ethnic Meals: Go here to take a trip around the world (food wise) and learn about cuisines that eat mostly naturally gluten-free and the ones that have adapted more recently to accommodate gluten-free diets.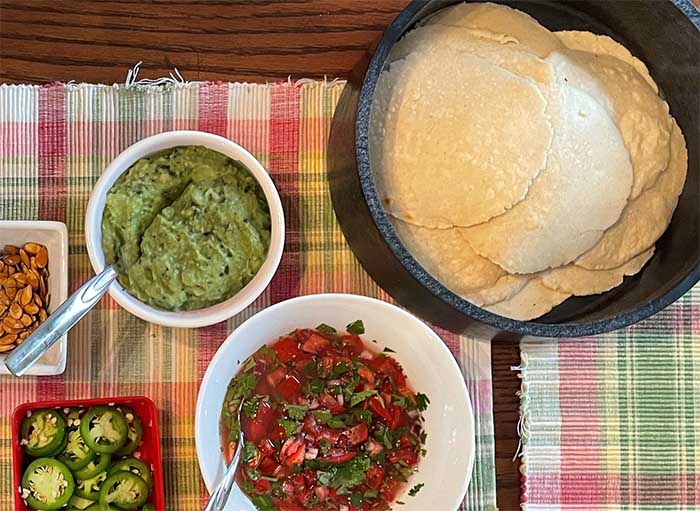 More Naturally Gluten-Free Meal Ideas
There are many tasty and interesting ways to make delicious, nutritious gluten free meals, but the basics are exactly the same as those of a good balanced diet in general. 
Eat a variety of nutritious whole foods and limit processed foods and sweets. 
Start the day with a wholesome breakfast that includes protein
Plan a tasty satisfying lunch so you're not grabbing something at the last minute.  Food made at home is always best!
With a little preparation,dinner can be delicious and satisfying for the whole family
Snacks and treats are part of a healthy gluten free diet plan too!
Just one don't: don't go for every package on the supermarket shelf that's labelled "gluten-free".  Gluten-free does not mean calorie free, and it certainly does not mean healthy.  Of course a treat once in a while is okay but as much as possible stick with whole foods.
Home > Naturally Gluten-Free Meals