Easy Gluten-Free Meals
10 tips for making gluten-free meals fast and easy!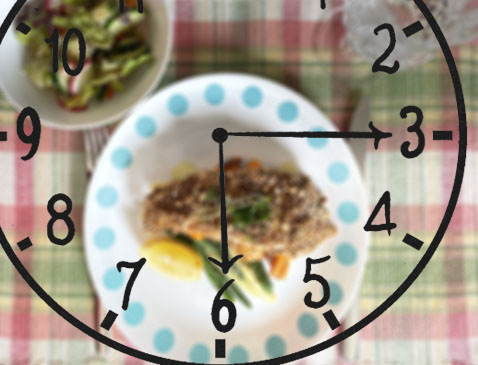 Easy Gluten-Free Meals
Do you like to cook, or is it a necessary evil?
For me it can go either way.  Although it's true that I love to cook, there are days that I'm just not into it or don't have the time.  Here is where I channel my "just not in the mood today" self and share tips for easy gluten free meals that you can make up quickly with naturally gluten free foods that are likely already in your fridge or pantry.  The goal is to get something tasty on the table without a whole lot of fuss.

1. Take the Prep Off the Table
Ever watch those TV chefs and their "15 minute meals" (Jamie Oliver), or "Ramsay in 10" (Gordon Ramsay).   Don't get me wrong, I love watching these and trying them out, but if you do try making those recipes and you'll find they take a bit more time than advertised.  Of course these are seasoned professional chefs who are just faster than you and I, but the big difference is, the prep is all done in advance.  It's true, most recipes aren't hard to make, it's just the prep that is time consuming.  All that slicing and chopping can be kind of zen when you have the time, but on a busy week day it can make getting a healthy meal on the table seem like a bit too much and leave you reaching for the phone to order in.  Take all that prep that off the table and make easy gluten-free meals with naturally gluten-free convenience products:




·         Bagged or boxed salad greens

·         Pre sliced veggies either fresh or frozen

·         Pre-cooked shredded chicken

·         Jarred spaghetti sauce

·         Big pre-made salad from the deli

·         Baby potatoes

·         Gluten-free canned beans

·         Jarred minced garlic
Anything that saves you all the knife work will speed up the time to get an easy gluten-free meal on the table.
2. Make extra – Leftovers are Your Friends
For some reason leftovers get a bad rap, but I think they are the best time saver there is.  If you're cooking anyway, why not make extra and save yourself some time tomorrow or the next day, or even next week or next month.  Here are 3 ways to make your leftovers work for you.

Leftover steak sautéed with mushrooms and onions.  Served on a gluten-free bun with grainy mustard, mayo and a side salad. 
| | |
| --- | --- |
| | Weekly clean out the fridge nights: There nothing wrong with pulling every container out of the fridge one night a week and letting everyone make up and microwave their own plate.  My Mom used to call this "clean out the fridge night" and it was always Thursday.  It's a great time / sanity saver for those crazy nights when you're late getting home from work, one kid needs to be delivered to tae kwon do and the other to a friend's house to work on a school project.   |
| | Use leftovers as ingredients:  Leftovers can be the basis of a whole new and scrumptious and  easy gluten-free dinner.  Last night's roast chicken can be tonight's chicken pot pie.  Leftover steak can be sliced thin and added to a stir fry or pasta sauce or on top of a salad.  Baked beans make a great vegetarian taco.  Leftover mashed potatoes can top a shepherd's pie or make potato farls.  Roast potatoes and root veggies are awesome in a frittata. Last night's green beans or carrots can go into tonight's stir fry.   Just stick your head in the fridge and see what sparks your imagination. |
| | Meals from the freezer: The  biggest complaint I hear about leftovers is that we get tired of the same thing after a few days.  That's okay, just freeze it and go back to it later when you have a craving.  Big pot meals like stews, curry and chilli work as well as homemade soups.  Also casserole type dishes freeze well.  Think lasagna, sheppard's pie, mac and cheese.  Make 2 and freeze one.  What could be easier than pulling a ready made gluten-free meal out of the freezer and sticking it in the oven or microwave? |
Here are some more easy gluten-free meal ideas for leftovers:

·         Heat up leftovers and eat them in a taco shell

·         Leftovers warm or cold in a gluten-free wrap
·         Any leftover meat chopped into a salad
·         Any leftover meat or veggies diced and added to a stir fry
3. Time Saving Appliances
I'm not a big fan of filling up the cupboard with lots of small appliances that you'll never use.  However, a few strategically chosen items can make gluten-free cooking fast and easy. 
Indoor Grill: The most important item in my house next to the stove top is the indoor grill.  Grilled meats are healthy and so simple and fast.  You can grill a small steak in 4 - 7 minutes, a chicken breast in 6 - 10 or a hamburger in about 5. 


Croc Pot:  When the kids were small and both of us worked full time the croc pot got a work out several times a week.  Do all the prep the night before then just turn it on in the morning and you'll come home to the smell of dinner waiting for you to dish it up.  It's like having a personal chef who does the cooking while you're at work and has it ready when you walk in the door.

Immersion blender:  If you make smoothies or daiquiris you probably have a blender, but for soups and sauces the immersion blender is a time saver.  Blend right in the pot, no pouring back and forth and no blender blowing up in your face when you forget to leave the little handle thingy out of the lid when blending hot liquids.  Yes this actually happened in chef school.

Instant pot:  I actually don't own one of these but I have a few friends who swear by them.  Instant pots are a fairly recent invention but were they available when I was raising my family I'd have been all over that for sure and I think it would have given the croc pot some stiff competition for my favorite appliance. Here are some instant pot recipes for you to try*.

*These are not my recipes.  All are naturally gluten-free or easily converted with the possible exception of the Penne Alla Vodka.  Ensure all of your ingredients like sausages, meatballs, soya sauce, spice blends,  beef and chicken stock are gluten-free.  Green Chili Chicken and Rice and Yankee Pot Roast call for all purpose flour.  You can substitute your favorite gluten-free ap flour blend.  
Lot's of people are talking about air fryers these days.  Do you have one?  Do you like it?  I'd love to hear more!
4.  One Pan Dinners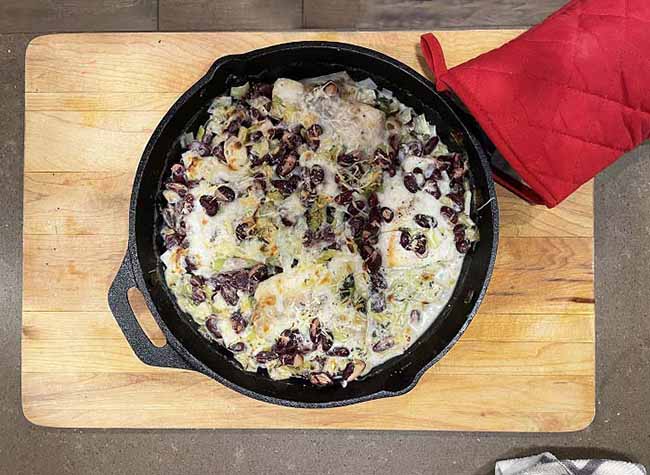 Baked Whitefish with Kidney beans and Pecorino Romano cheese.  Converted from Jamie Oliver's "Golden Parmesan Fish Bake" 
Making everything in one pan saves time cooking and especially saves time in clean up.  Invest in a pan that can go from the stove top to the oven and you'll simplify your life immeasurably.  You can even cook your rice in the same pan.  Just make sure you add enough liquid.  Here are some easy gluten-free meal ideas to get you started.
·         Braised pork chop with rice and frozen peas and carrot blend
·         Whitefish with rice and beans
·         Chicken thighs with rice and pineapple
5. Let the Oven Do the Cooking
Braised honey-garlic sausage with mashed potato, coleslaw and tomato
Sheet pan meals, roasts, braises that you can stick in the oven, set the timer and walk away.  The cooking time may be 45 min to an hour but you're not doing anything during that time.  You can have a shower, check on the kids' homework, do a quick tidy or just relax for a few minutes after a long day.  Then pull dinner out of the oven and serve.  Here are some easy ideas to try.
·         Braised honey garlic sausages with potatoes or rice and coleslaw
·         Baked chicken breast with roasted diced potatoes, onions, pepper and cauliflower
·         Baked whitefish with rice and green beans
·         Small roast beef, pork or chicken with potato and carrot
Here are some sheet pan recipes for you to try.
*These are not my recipes.  All are naturally gluten-free or easily converted. Ensure all of your ingredients like sausages, soya sauce, spice blends,  beef and chicken stock are gluten-free.  The chicken fajitas recipe is shown with flour tortillas, simply use corn tortillas. 

6.  Go Meatless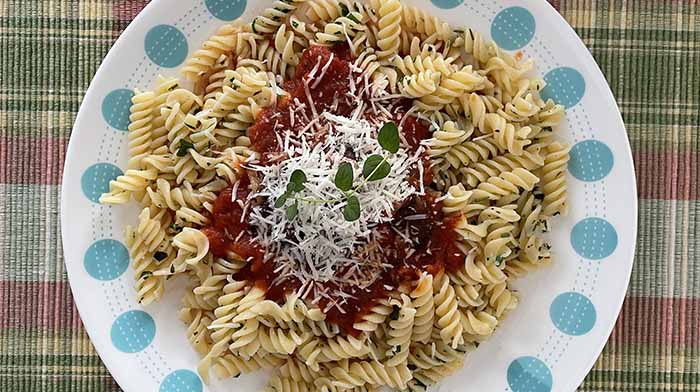 Yes you need protein in your diet.  No it doesn't always have to come from meat.  In general, we eat a lot more meat that we need to and probably more than is healthy.  Consider going meatless just one day a week.  Meatless Monday is becoming a popular trend.  If you get on board you can simplify your Monday gluten-free meal and also cut the cost.  Try these ideas:
·         pasta with a simple jarred tomato and basil sauce and a green salad
·         baked beans with toast and coleslaw
·         rice and black beans with veggie stir fry
·         veggie stir fry with tofu and rice.  
7. Leave Out the Starch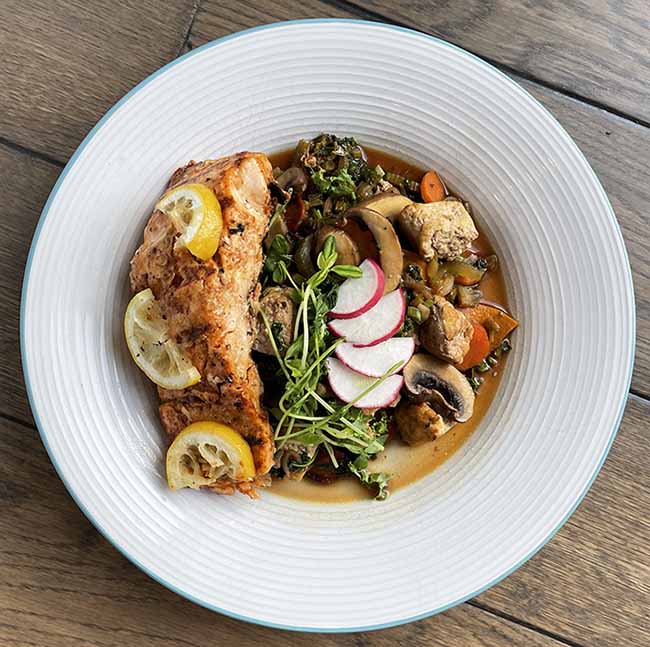 Grilled salmon with veggie and tofu stir-fry.
Kind of the opposite of number 6 but you can totally do easy gluten-free meals with just a protein and a vegetable. It's healthy, simple and filling.
·         Grilled steak and a green salad
·         Grilled chicken breast with steamed carrot and broccoli
·         Grilled pork chop with frozen Brussel sprouts, steamed or sautéed
·         Baked chicken leg with sautéed green beans and peppers
·         Stir fried veggies with diced chicken or tofu
8.  Learn to Cook Without a Recipe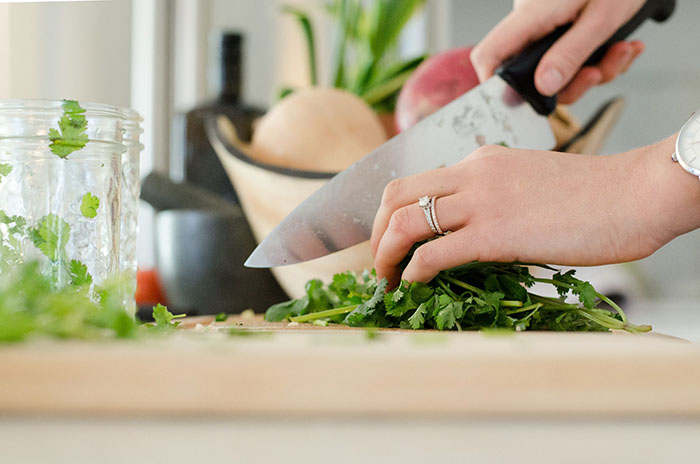 Image by: Alyson McPhee - Unsplash
Recipes schmecipes.  (I borrowed that from a vegan lady I follow) If you learn the basics of cooking you'll find that you can look in the fridge or the pantry and fairly easily come up with something interesting and tasty to eat.  There are really just a few basic techniques and you can use them over and over with different ingredients.
·         Grill: steak, chicken breast, pork chop, hamburger, fish.
·         Stir fry: steak, chicken, pork.
·         Stews: beef, chicken, hamburger (chilli), fish.
·         Roast or bake: roast beef, roast pork, roast chicken, baked fish, baked chicken breast.
·         Same with veggies:  you can steam them, roast them, chop them up and eat them raw (we call it salad) or sauté them in oil.
With these tools in your belt meal time becomes a fun exercise in creativity instead of something to dread. 
Don't know where to start?  Consider taking a class.  You can find something online or your local community college likely has cooking classes for beginners.  You can sign up, have some fun, take a friend or maybe make one there.  It doesn't have to be a gluten-free cooking class, your teacher can help you with substitutions.  All you need is a little confidence and you'll be making your own easy gluten free meals in no time.
9.  Eggs for Dinner Isn't Weird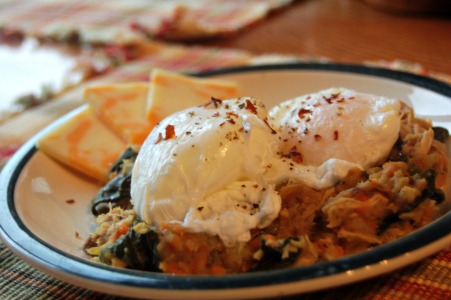 Poached Eggs and Lentils with Cheddar Slices
"You're weird for thinking it's weird".   Yes that's an add I saw on TV but it's the absolute truth.  Eggs may just be the perfect food.  High in protein, not to mention iron, Vitamin A, D, E and a host of minerals, eggs make a great meat substitute and they are quick and easy to prepare. 
And don't worry about cholesterol.  There is absolutely no correlation between the number of eggs consumed and heart disease. 
A frittata makes a simple and delicious gluten-free dinner and is a great way to use up leftover veggies and meat.  Or why not just scramble up a big perfect pan-full and top with some grated cheddar.  Add a side of steamed broccoli and a slice of gluten free whole grain toast.  What could be better?  Try some of these ideas:
·         Frittata with a side salad
·         Poached eggs on a soft tortilla with tomato and avocado
·         Scrambled eggs in a gluten free wrap
·         Spanish omelet with steamed frozen veggies
Just one word of caution, next to dairy, eggs are one of the more common food intolerances that go along with celiac disease.  Click here for more on  Celiac and Other Food Intolerances

10.  Rinse and Repeat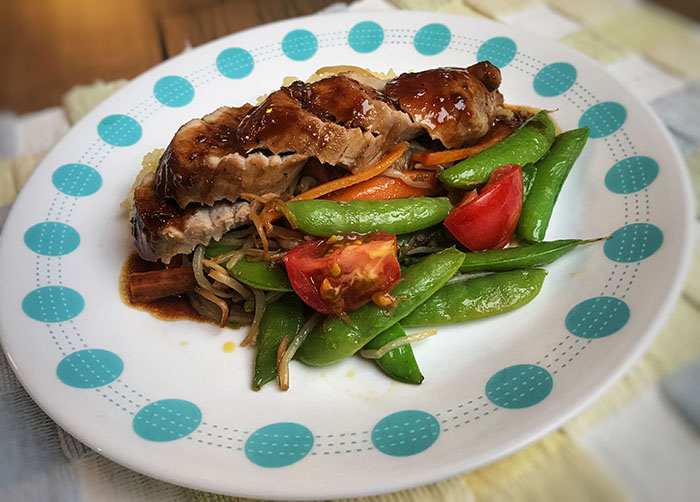 One of my favorite recipes: Maple Glazed Pork Tenderloin with Sautéed Veg and Rice.
Saving the best for last, My absolute favorite time and stress saving easy gluten free meal tip – recycle. 
Pick a few recipes that you like, memorize them, and stick with them. 
You may think your family will get bored, but they probably won't. We actually crave structure and predictability and the family will like it to.  If your week looks more or less the same they will know what to expect and will start to look forward to the meal of the day. 
I remember growing up, my mom always cooked something special on Sunday because she had the time.  This was the day we'd have a roast beef or pork or chicken with all of the fixings.  Thursday was "clean out the fridge day" where we would finish up all the leftovers from the week.  It was like a buffet where you could choose what you wanted from the weeks offering.  Friday was takeout day.  It was a treat for us and Mom's day off.  She'd worked hard all week and we enjoyed being able to leave the healthy home cooking behind to enjoy pizza or burgers for one day of the week.
Consider this as an easy gluten free meal plan
Pick a few recipes you like and learn them well.  Once you're comfortable switch up the ingredients for variety.
 *If you have a takeout place near you that you trust to make a safe gluten free meal.  If not, go with tacos or burgers at home.   Go here to find tips for safe restaurant dining.

Let Me Know What You Think
I'd love to hear if you enjoyed this tips and found them helpful.  I'd love to hear your suggestions too.  What are your go to  "easy gluten-free meals"?
You Might Also Like
---
Gluten-Free Products:  For the most part I recommend whole foods and avoiding packaged gluten-free products.  Reality is though that some convenience items can fit well into a naturally gluten-free lifestyle.  Click here for tips and reviews on products I recommend.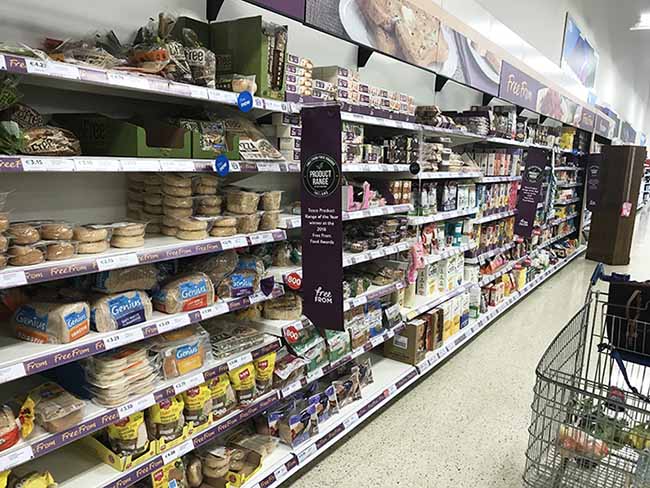 ---
Gluten-Free Substitutions: How to substitute just about any gluten containing product with a gluten free one so you can convert your own recipes.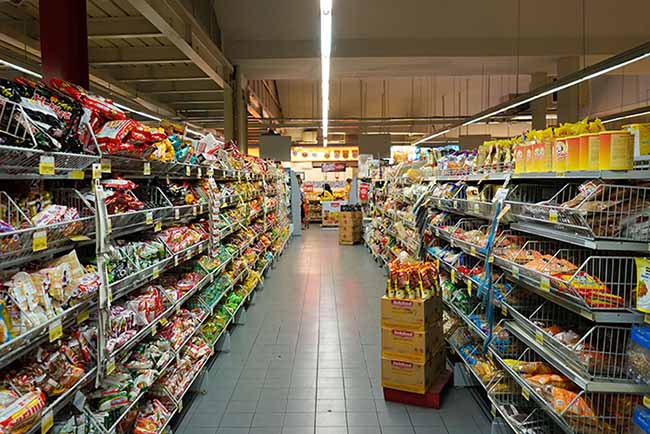 Home > Naturally Gluten-Free Meals > Easy gluten-free meals