Make the Best Gluten Free Omelet Bursting with Tasty Fillings
When you have celiac disease, breakfast can be a challenge.  That's why omelets are so amazing!  Eggs are naturally gluten free, and you can customize your gluten free omelet with fillings to suit your taste and the mood you're in today.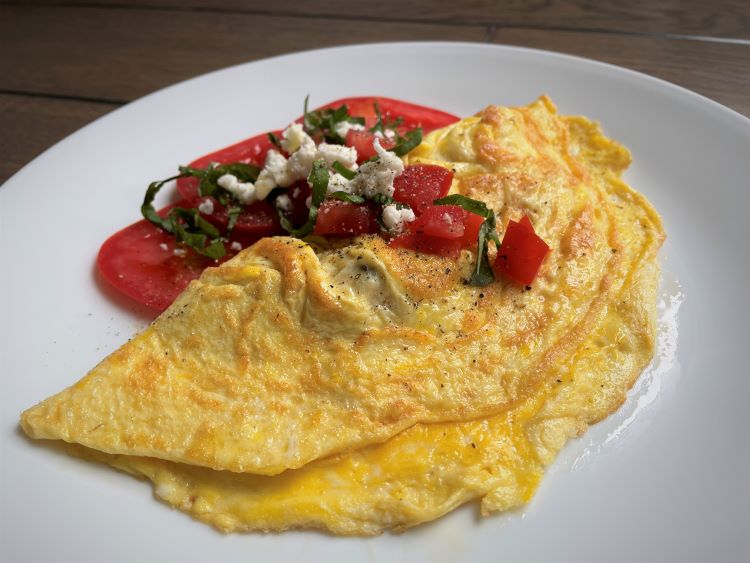 In this guide I'll walk you through the steps to craft a beautiful, silky smooth, gluten free omelet with tasty fillings.  I'll provide expert tips to elevate your omelet game.  Whether you're a novice or a seasoned cook you'll have a breakfast that delicious and celiac safe.
The Gluten Free Omelet: Choosing Your Ingredients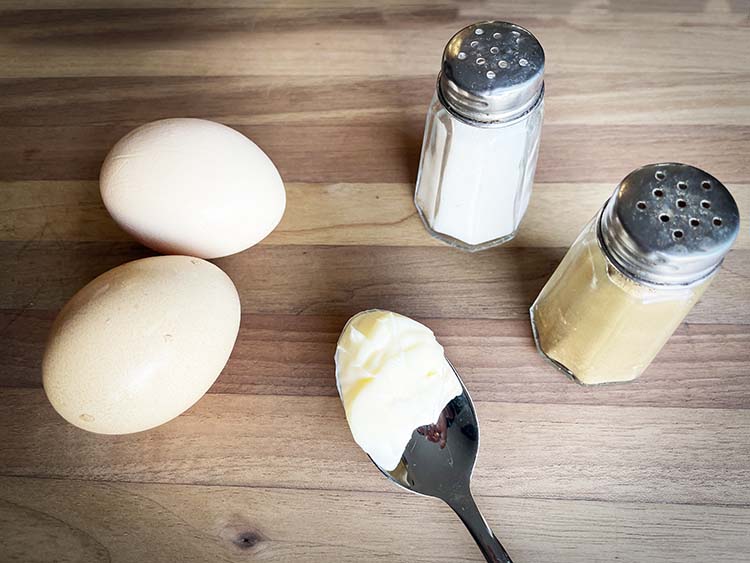 Eggs
Eggs are a healthy part of a gluten free diet.  They are high in protein and rich in vitamins B2 (riboflavin) B12, and D and are a good source of selenium and iodine.
Eggs are naturally gluten free.  No checking labels and you don't have to worry about what the chicken ate.  Even eggs from grain fed chickens are gluten free. So Enjoy all the eggs you want!
If you like to support local farmers who treat their animals well, see if you can find a farmer who sells fresh eggs.  Check out farmers markets too.  A lovely drive into the countryside to pick up farm fresh eggs is good for the soul.
Butter
You'll need a dob of butter to oil the pan and add flavor.  Not too much!
Butter is also naturally gluten free and low in lactose, so if you are lactose intolerant, butter if usually not a problem.  If you would rather go dairy free then choose a vegan margarine or olive oil.
Salt and Pepper
Simple seasoning with salt and pepper is all you need for a perfectly delicious gluten free omelet with fillings. 
Choosing the Best Fillings for Your Gluten Free Omelet
Get creative and turn that simple omelet into your own masterpiece.  You could literally have an omelet every day of the week and never get bored!
Be sure you choose fillings that are gluten free.  Vegetables and most cheeses are naturally gluten free.  Watch out for packaged meats.  Some do contain gluten so look for a gluten free claim on the label.
Pin for Later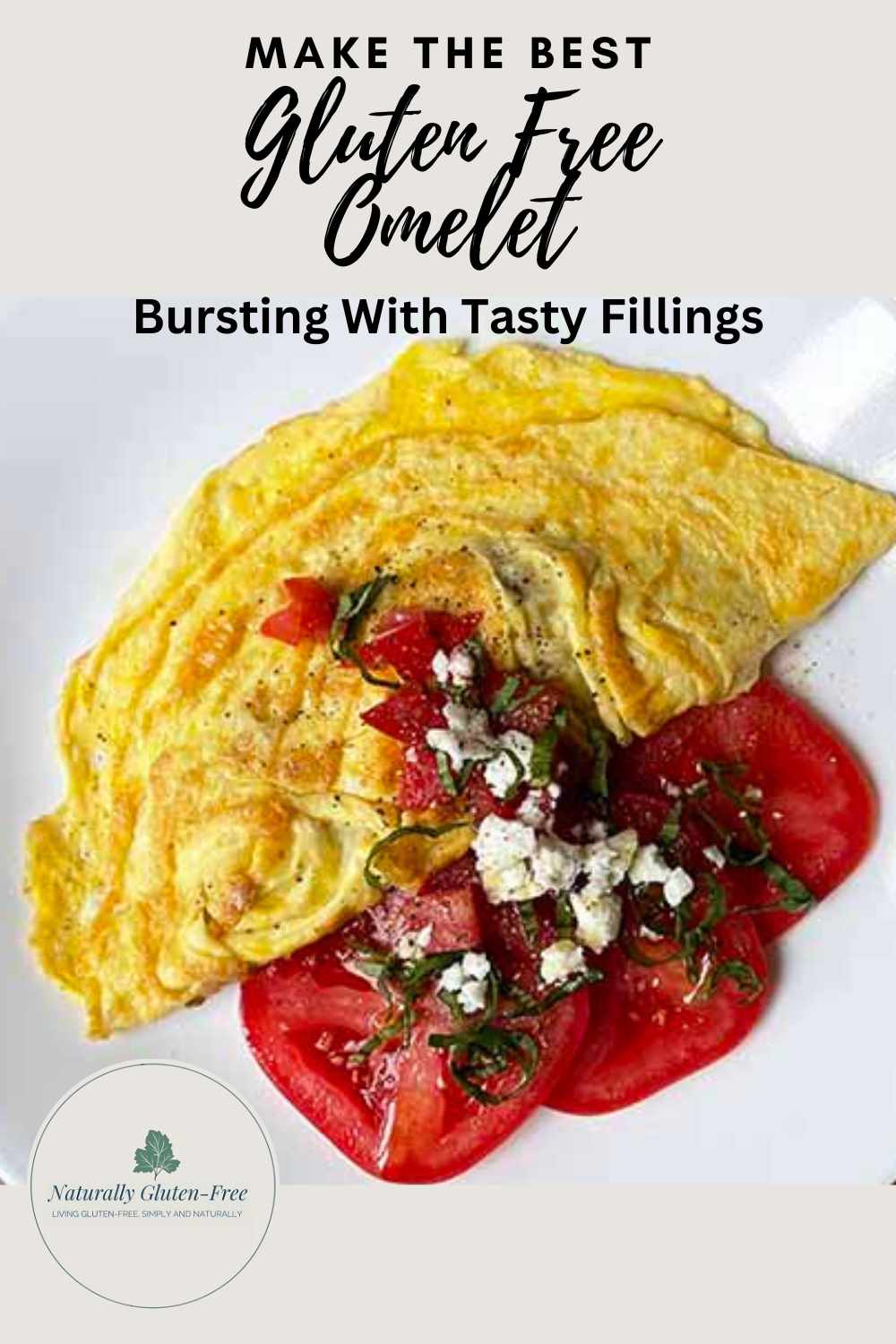 Ideas for Naturally Gluten Free Omelet Fillings:
Classic Cheese Omelet:
Cheddar cheese is classic, or try different cheeses like:
Swiss cheese
Mozzarella cheese
Parmesan cheese
Goat cheese
Vegetable Omelet:
Mushrooms and onions are my favorite, but there are many more choices.  Pick two or three of these and maybe you'll find a new fav.
Bell peppers
Onions
Tomatoes
Spinach
Mushrooms
Broccoli
Zucchini
Asparagus
Add Some Protein:
Eggs are already packed with protein.  Bump it up and enhance the flavor with one or two of the following:
Ham
Bacon
Sausage
Turkey
Smoked salmon
Cooked chicken
Shrimp
Herb and Spices:
Fresh herbs and spices add flavor and elevate your omelet game.  Try some of these.
Fresh herbs (e.g., parsley, chives, cilantro, basil)
Red pepper flakes
Paprika
Cumin
Garlic powder
Onion powder
Mediterranean Omelet:
You know I'm all about the Mediterranean diet for heart and gut health.  Try a few of these Mediterranean inspired ingredients.
Feta cheese
Kalamata olives
Sun-dried tomatoes
Spinach
Red onions
Mexican Omelet:
Here is another popular cuisine that can inspire amazing omelets.  Try some Mexican flavors like:
Salsa
Jalapeños
Avocado
Black beans
Cilantro
Chopped green chilies
Cheddar cheese
Gourmet Omelet:
If you really want to elevate your omelet game, try these extra special ingredients:
Smoked Gouda cheese
Caramelized onions
Prosciutto
Truffle oil
4 Tricks to Make Your Omelet Perfect and Silky Smooth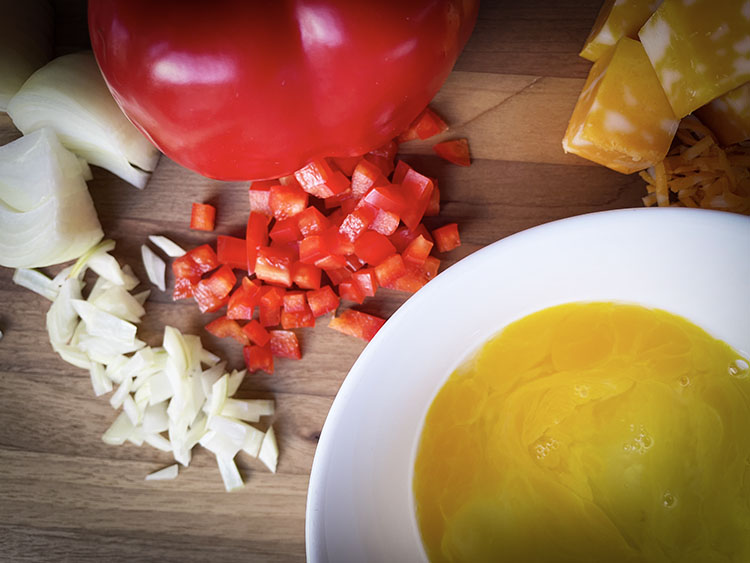 Don't beat the eggs.  Just mix them up a bit.  Your omelet should be mottled with white and yellow.  Not just yellow.
Don't add anything.  No milk, no water. They ruin the texture of the egg.
Not too much heat.  Cook on med to med / low.  If the temperature is too high you'll overcook the bottom and your omelet will be dry and rubbery
Not too much filling.  If you over do it you won't be able to fold the omelet and it will break.
Step by Step Guide to Creating Your Perfect Gluten Free Omelet
Step 1: Assemble Your Ingredients
2 eggs
Dob of butter
salt & pepper to taste
filling ingredients
Step 2: Prepare Your Ingredients
Shred your cheese
Chop and sauté vegetables
Slice or dice cooked meat into bite sized pieces .
Step 3: Cook the Eggs
Melt butter on med to med / low.  Don't let it brown.
Pour the eggs into the pan.  Let them set a bit on the bottom then mix them up so they cook through
Spread the egg out evenly in the pan and let it cook until it's set but still moist on top.
Loosen the edges with a spatula then add the filling to half of the omelet.  Reserve a little filling for garnish. 
Let it cook for another minute to warm up the filling.
Step 4: Fold and Serve
Fold the plain side of your omelet side over the filling.  Then while holding the edge of the pan over the plate, move the omelet just over the edge of the pan and slide it on to the plate.
Spoon the reserved filling over the top and garnish with some chopped herbs or crumbled cheese. 
You can serve your omelet with gluten free toast or how about a slice of garlic bread?  Or forget the bread and slice up some fresh tomato and cucumber instead.  Season with a little salt and pepper and a drizzle of olive oil.
Enjoy Your Safe and Delicious Gluten Free Omelet
A gluten-free omelet is not only safe for those with celiac disease but also a delicious and versatile breakfast option. By following my step-by-step guide and tips, you can confidently create a perfect omelet tailored to your preferences while ensuring it remains gluten-free. Enjoy your flavorful and celiac-friendly breakfast!
Home > Recipes > Omelet