How to Satisfy Your Cravings With Healthy and Delicious Gluten Free Pizza

Gluten-Free Pizza:  Does pizza get a bad rap?  I think so.  From the streets of Rome to nearly every lunchroom and college dorm, pizza may very well be the most consumed food on the planet.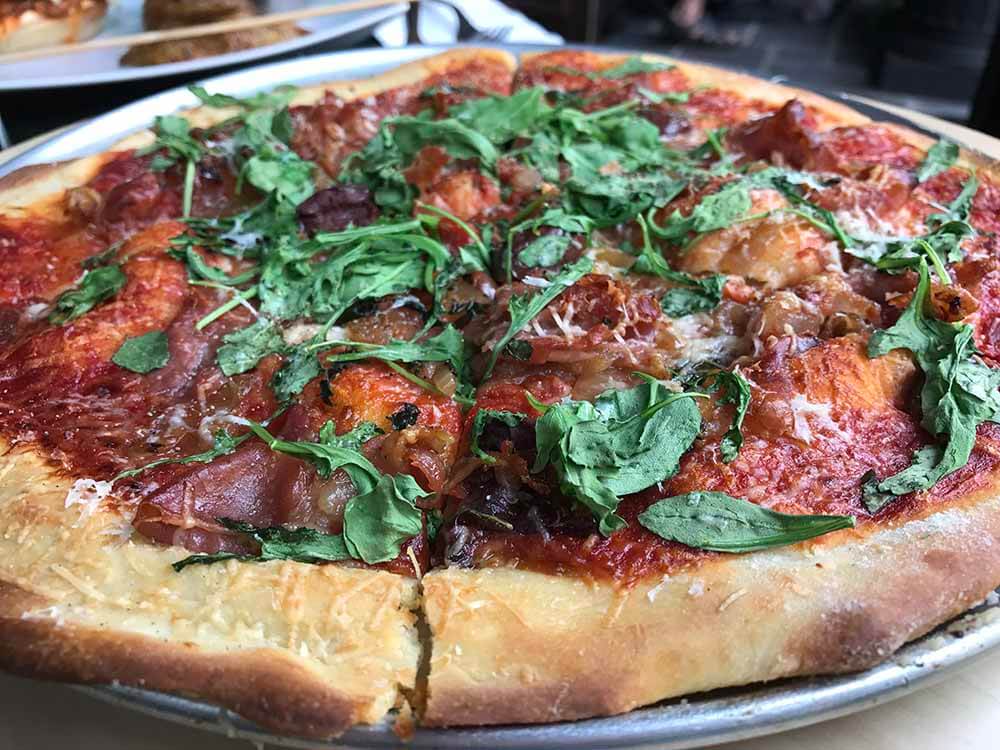 It might be the most versatile too.  Pizza can be a casual sitting around drinking beer and enjoying the game snack or it can be as elevated as a Tuscan terrace and a fine red wine.
Read through or use the links below to jump to the sections that interest you.

Pizza can be healthy too, in moderation, if you are in control of, or at least aware of the ingredients.  It's simple flatbread topped with sauce, and your favorite combination of veggies, maybe a little meat and cheese (go here for dairy substitutions).  What could be healthier than that?  The problem with fast food pizza and many frozen pizza varieties is the high sodium, high fat, and high calorie combination.
Of course, as a person with celiac or gluten intolerance, your pizza world just got a bit more complicated.  You and I can't just join in with the crowd and grab a slice out of the big cardboard box on the boardroom table.  But we can have delicious and yes, nutritious gluten-free pizza.  Read on to find out how you can safely enjoy pizza as a part of your gluten-free diet and how, if you're so inclined, to keep it healthy and natural.  
Buying Gluten-Free Pizza
Do you like to keep a couple of boxes of grocery store pizza in the freezer for those evenings when time or energy or imagination are in short supply?  I used to do that too, especially when the kids were younger.  It's maybe not be the most healthy choice all the time, but balance right?  It's easy, faster than delivery, you can have dinner on the table in 20 minutes, and everyone loves it. 
Natural is best.
Balance is essential.
Simplicity is the thread that ties it all together.
You can still keep a few gluten-free pizzas in your freezer of course, but like most gluten-free products, they are significantly more expensive that their gluteny counterparts.  The good news is, as gluten-free foods have become more popular, there is more choice out there.
What About the Cost?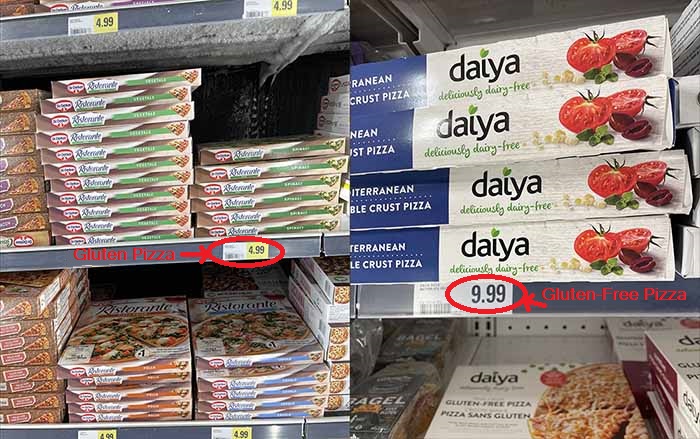 Compare the cost of wheat pizza on the left with gluten-free pizza on the right. It's double!
That's the killer isn't it.  Like gluten-free bread, add most other ready made gluten-free products, gluten-free pizza can be significantly more expensive than regular wheat based pizza.  I don't know about you, but this certainly makes me think twice about grabbing those couple of boxes to keep in the freezer for a busy night.  And TBH, I've tried a few of these, and they're not great.  I usually end up adding my own toppings.  Are there better options?  I think so...keep reading.
Gluten-Free Restaurant Pizza
Are you wondering if you can still go out for pizza?  The answer is... it depends.  It mostly depends on your risk tolerance and on where you go.  Some people with celiac disease choose never to eat food that they have not made themselves, in their own kitchen, and really, that is the only way to be close to 100% certain that you will not get glutened.  Even then, mistakes happen.
I choose what I think is a more balanced approach.  I do eat in restaurants and I do eat gluten-free pizza in restaurants.  For me, I've decided to let my disease limit me as little as possible and I've found that most reputable establishments do have good allergy protocols.  So with reasonable precautions and a few questions, you can eat out with friends and enjoy social time.  I've been taking this approach for many years with very few issues.
How To Choose a Restaurant for Gluten-Free Pizza
In choosing a restaurant, first ensure that they have gluten-free pizza.  Many places have their menus online or you can call.  While on the phone you'll want to ask what precautions they take to limit cross contamination.  You'll want to know that your gluten-free pizza is made on a clean surface, that the cooks change their gloves to prepare your food, and that it's baked on some kind of barrier like parchment or foil so that it's not baking on the same surface as wheat pizza.
Also ask if they make their own pizza crust or if it comes in premade.  There are pros and cons.  A premade crust limits handling by staff which could be a good thing.  House-made may give you a higher quality, more delicious product.   You'll have to decide how much you trust the establishment to follow their allergy protocols.

While you're at it, ask the same question about their wheat pizza.  If they make the crust from scratch, there is more chance of flour flying around the kitchen and getting on, well, everything.  In a case like this, I probably wouldn't eat anything in that restaurant as it would be impossible for them to control cc.  If the dough is brought in pre-made, then so long as they follow the guidelines above (change gloves, prepare and bake on a clean surface) the risk is lower.

Toppings are also a consideration.  Most veggie toppings will be naturally gluten-free as well as the cheese.  Sauce is probably fine but it's good to check.  Meats are where you may run into gray areas.  Many cured meats like salami and pepperoni are not gluten-free.  Chicken, ham or bacon may be fine but be sure to ask.


Pin For Later
Find Me Gluten-Free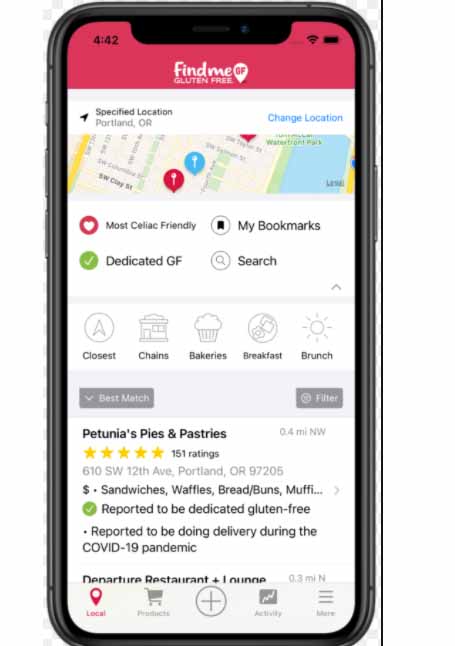 Rather than try to give you a list of restaurants that offer safe gluten-free pizza, it would be impossible for me to have tried them all and be able to endorse them, let's crowdsource this and look for reviews in your city.  Yelp and Trip Advisor are great.  I personally love the "Find Me Gluten-Free" app.  I've used this a lot while travelling and have had some great meals and maybe avoided some disappointments as well.

To Summarize, Here Are the Questions to Ask
| | |
| --- | --- |
| | Do they have a gluten-free pizza crust? |
| | What procedures do they follow to prevent cross contamination? |
Do they:
| | |
| --- | --- |
| | Change their gloves |
| | Prepare the gluten-free pizza on a clean surface |
| | Bake the pizza on a barrier like parchment or foil |
| | Use fresh, uncontaminated, gluten-free toppings. |
Making Gluten-Free Pizza
Cooking your own food at home is the best way to ensure you are getting fresh, healthy, gluten-free ingredients and it's also the best way to eliminate the risk of cross contamination.
When you make your own pizza, you also side-step some of the exorbitant premium that is place on gluten-free products in the supermarket.  It's true that gluten-free  flour is more expensive than wheat flour, so there is still that.  Unless of course you'd like to try some of the alternative pizza crusts below that use little or no flour.  We might even consider these to be naturally gluten-free.
What is Pizza Crust Made Of?
Traditional pizza is baked on a yeast risen dough made from bread flour, olive oil, water, salt and sometimes and bit of sugar.  It is then rolled out flat or the more flamboyant pizza chef will toss it in the air in an impressive performance of catching and spinning until a perfect flat disc is formed.  It is then topped with sauce and cheese and a selection of veggies, meat, mushrooms etc. and baked in a hot oven until the crust is brown on the bottom and the cheese is bubbling and golden.
What is Gluten-Free Pizza Crust Made Of?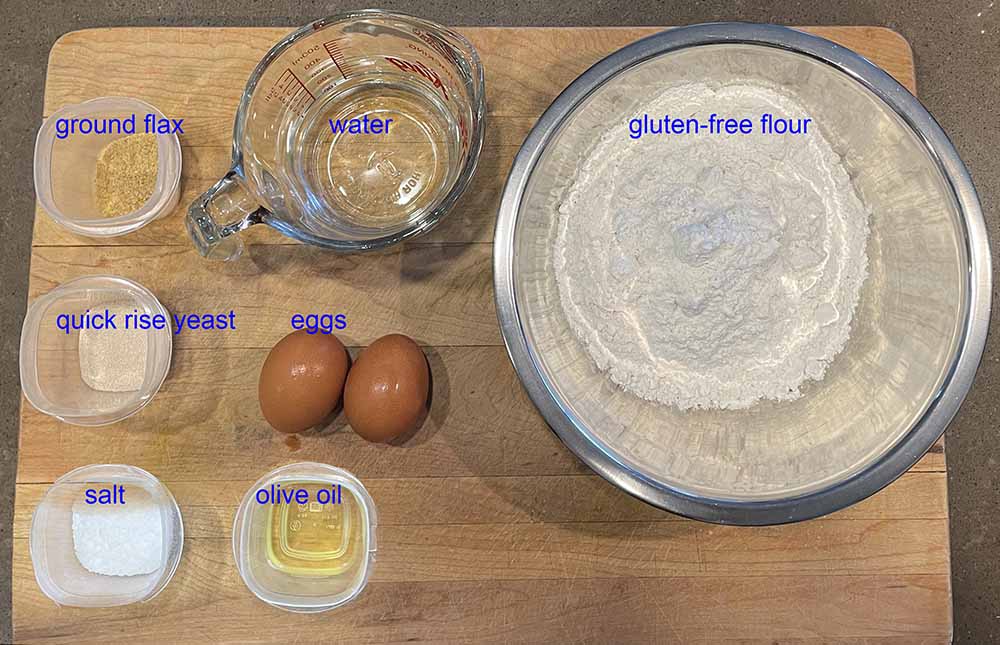 Gluten-free pizza crust, like gluten free bread, can be made a number of ways.  It's likely to be made with a gluten-free bread or all purpose flour which is made with a combination of gluten-free flours, starches and gums.  In addition to the traditional yeast, oil, water and salt, a gluten-free crust may also have eggs to help bind the ingredients together and provide structure for the dough to rise.  This is all fine and works pretty well.  In fact you'll see a ways down that I have a really great traditional style gluten-free pizza recipe to share with you.

Be careful!  Not all cauliflower pizza crusts are gluten-free.
Cauliflower pizza crust is a relatively new arrival on the pizza scene.  Many are gluten-free, but many are not.  Most are made with cauliflower processed into grain sized bits and steamed until tender, then mixed with either gluten-free or wheat flour, water, oil and salt, maybe eggs to form a dough.  The ones I've tried have been quite tasty, so I do recommend you give them a shot.  You can get cauliflower pizza crust in the freezer section in your supermarket, at many pizza restaurants or you can make your own.  Again I stress, check labels.  Not all are gluten-free.
Any gluten-free flatbread, tortilla or wrap can be used as a quick and easy base for gluten-free pizza.  That is the trick behind my favorite lunchtime personal pizza. 
I do this often mid-day for and easy lunchtime comfort food hit.  
Rice and leftover mashed potatoes are fun and innovative options too.  More about those below.
Homemade Gluten-Free Pizza Crust
I have a few different recipes I turn to depending on the mood I'm in.  Any one of these makes a delicious, tasty crust that can be dressed up with your favorite toppings.  
Traditional Gluten-Free Pizza Crust
Traditional Gluten-Free Pizza Crust Recipe:   It's soft and chewy yet crispy and delicious.  I'm making the claim right here that this is the best gluten-free pizza crust you've tasted.  Maybe even the best pizza crust you've tasted!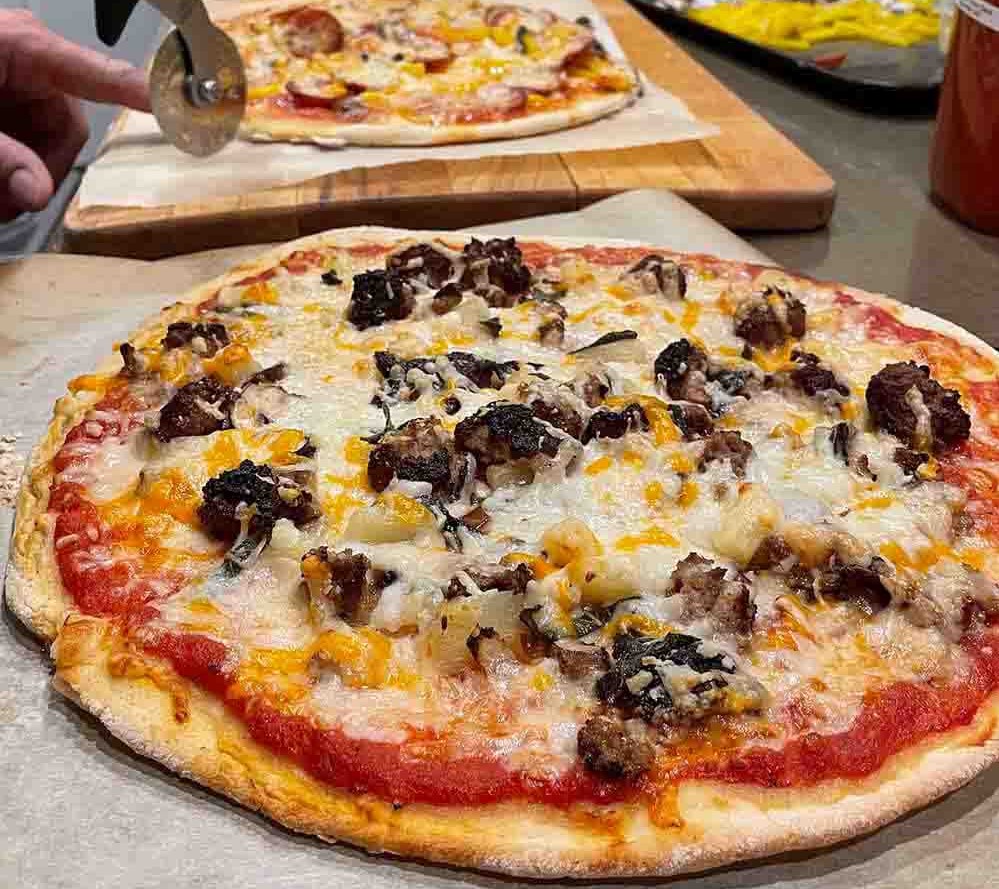 Naturally Gluten-Free Pizza Crust
Can pizza be considered naturally gluten-free?  Why not?  If you're using whole fresh veggies and meats for your toppings, you're half the way there.  Then you just need to worry about the crust.  You probably know that I consider "natural" to be on a continuum and depending on the amount of processed ingredients.  Here is a pictorial of how I would place various types of pizza on the continuum.  This is not scientific, it's just a generalization of which types of pizza are likely to have more or less processed  ingredients.    
Leftover rice or easy to cook instant rice works well in my gluten-free rice crust pizza.  As my son once said, it's good because it's not trying to be regular pizza.  The same could be said for potato pizza crust.  For this one I use a grated baking potato made into a dough and rolled out just like traditional pizza.  If you're looking for a naturally-gluten free approach then one of these may appeal to you.

Rice Crust Pizza:  Are you looking for a super quick and easy pizza to make that is also naturally gluten-free?!  I love this rice crust pizza because it is exactly that.  You can mix it up in just a few minutes and while it's in the oven baking you can chop up your toppings.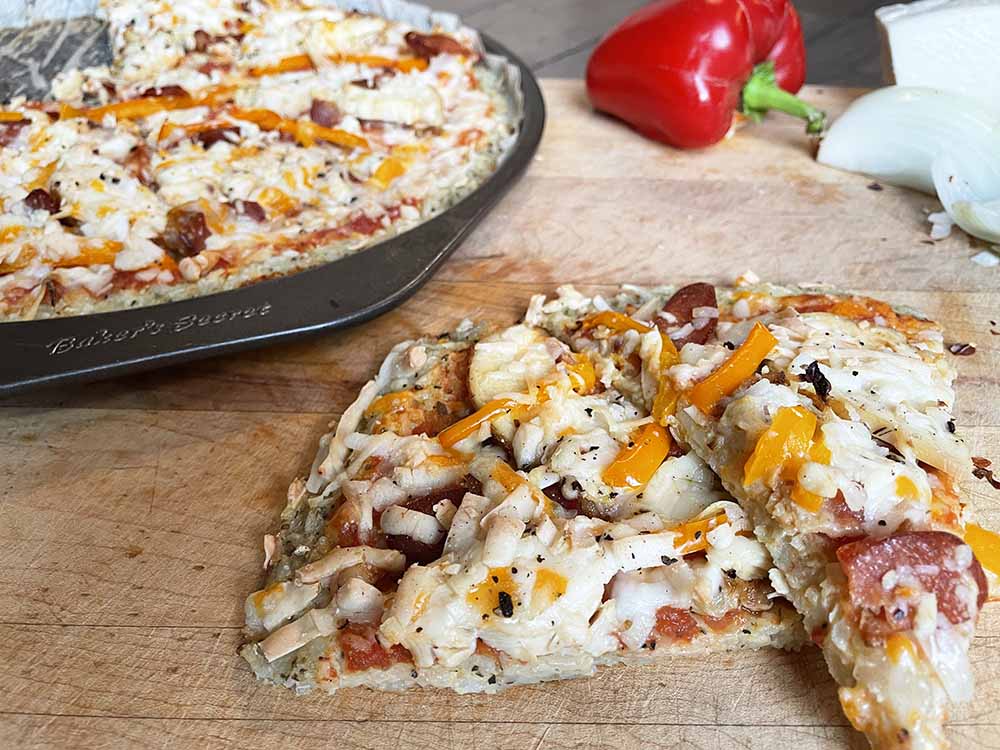 | | |
| --- | --- |
| Potato Crust Pizza:  I looked at that bowl of mashed potatoes and knew it had to be possible.  An easy gluten-free pizza crust that's tasty, crispy, and holds up under all those toppings.  You'll love it, I promise! | |
---
Pear Crumble Dessert Pizza:  Creamy coconut rice base topped with tender sweet pears and a sweet crispy crumble topping.  And it's naturally gluten-free.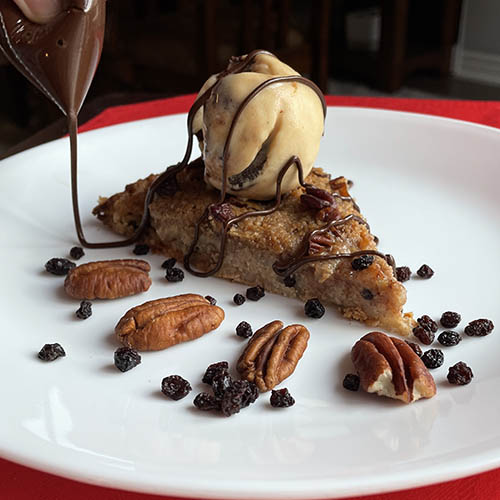 Super Easy Gluten-Free Personal Pizza for Lunch
| | |
| --- | --- |
| | This is a little hack I like to use at lunch time to make a quick personal pizza.  You can use any wrap or flatbread you like.  Pop on over to my One Minute Meals page and watch the one minute personal pizza video.  |
Gluten Free Pizza Dough Mix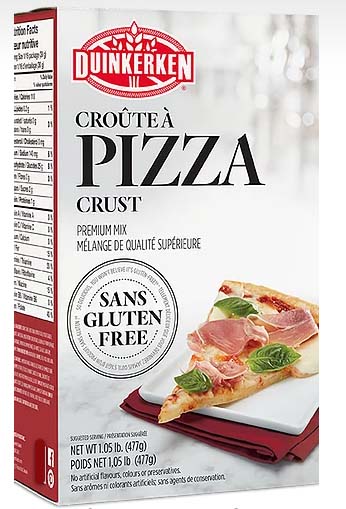 There are several mixes out there, so experiment and see what you like.  I like the Duinkerken one and I use it a lot.  Actually more than home made because it's just as good and quite convenient.  I like that they are a Canadian company out of Charlottetown P.E.I. and they don't have a lot of unnecessary ingredients in their products.  You'll find them at the Bulk Barn.  I often add a tbsp. of ground flax seed to the mix.  Otherwise, you can follow the instruction on the box, or see my special pizza chef tips (scroll up) and make use of it here.  It's great, trust me!

Comments
Did you try one of the recipes?  How did it work out?  Do you have a favorite gluten-free pizza recipe or favorite toppings?
Home  > Gluten Free Pizza