Best Gluten Free Biscuit Mix
What's the Best Gluten Free Biscuit Mix, Bob's Red Mill or Duinkerken?
Do you miss having a light fluffy biscuit with your tea?  How about biscuits and gravy?  I did, so I went in search of the best gluten free biscuit mix and put two of them to the test. 
Pin for Later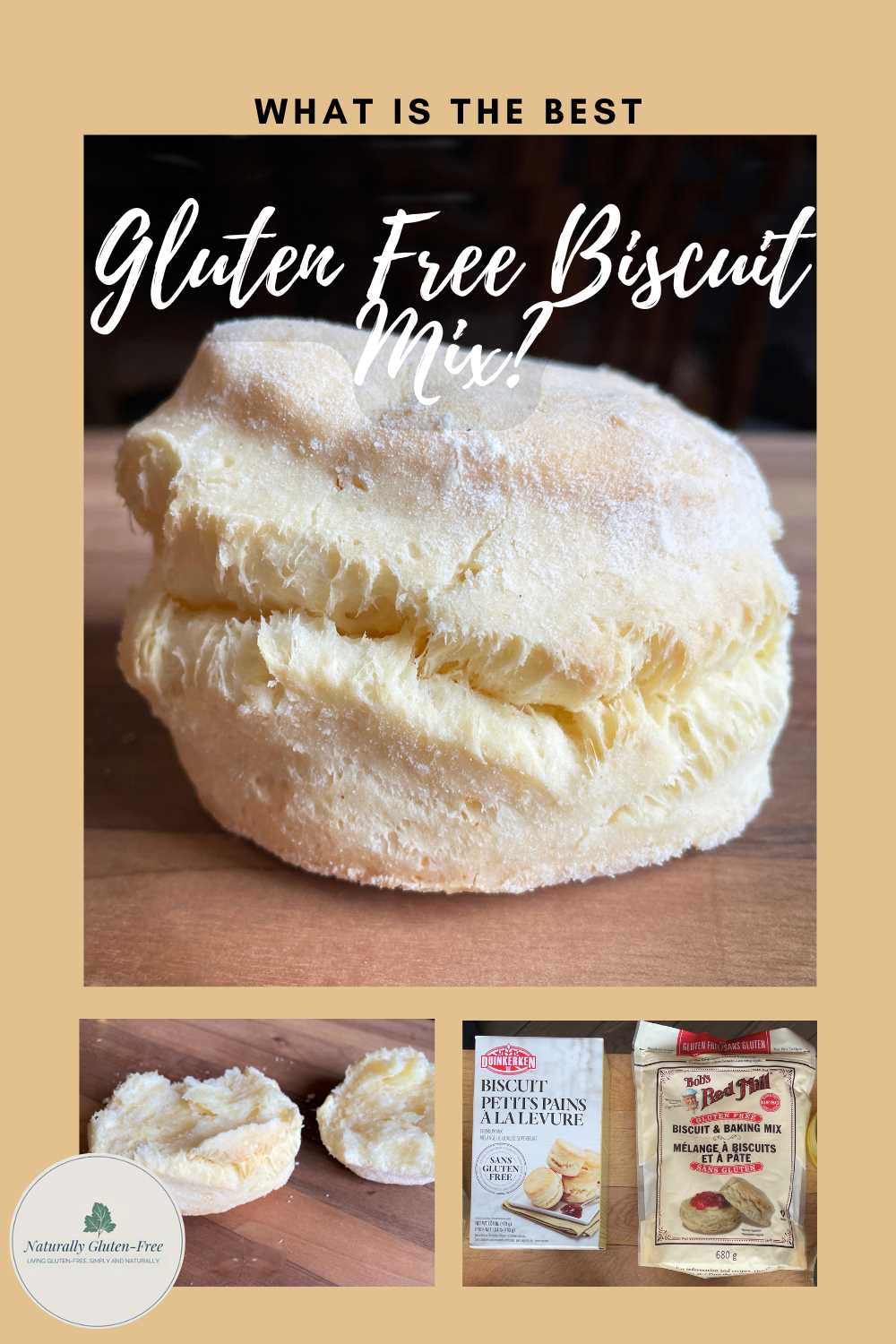 All About Biscuits
What is a Biscuit?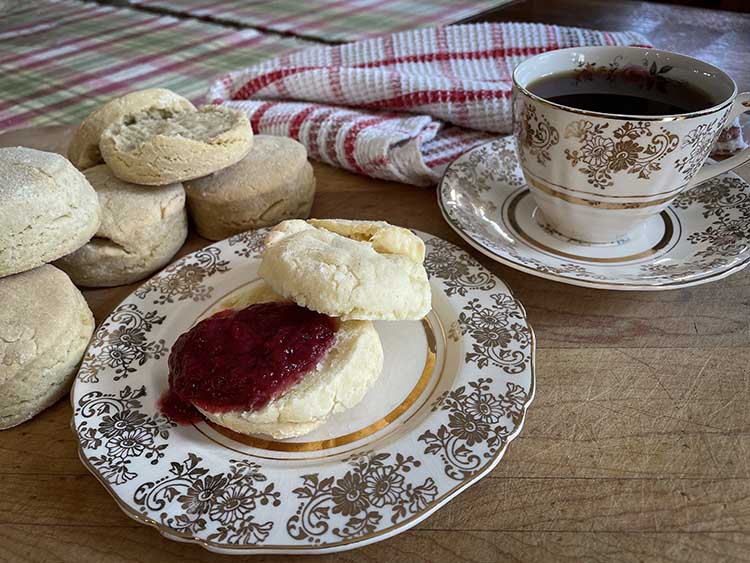 Biscuits are confusing.  When my English friend offers me a biscuit to go with my tea, she brings out a plate of plain, crispy cookies.  They're kind of like the little digestive cookies we gave our toddlers. 
My grandmother's tea biscuits were a totally different thing.  They were soft, flaky quick breads that you would spread with butter and maybe a little jam.  My English friend would call these scones.
But wait, there's more.  English scones are a little different from North American biscuits.  Scones have eggs, biscuits don't.  The standard tea biscuit recipe is just flour, baking powder, shortening and milk.
How are Gluten Free Biscuits Different from Regular Biscuits?
Gluten free biscuits are made with gluten free flour of course.  They usually have a little more baking powder than regular biscuits just to give them a bit more rise. 
The two mixes I tested call for eggs.  I realize I just said that eggs make it an English scone, but these come out very similar to the tea biscuits of my youth.  It just needed to be a bit more complicated, didn't it?  Eggs add moisture and lift, and gluten free baked goods need all the help they can get when it comes to both of those things.
How Do You Mix Tea Biscuits?

The basic technique for making biscuit dough is like making pastry.  Cut the fat into the flour until it resembles coarse meal, or very small peas.  You can use a pastry cutter, or rub the shortening into the flour with your fingers.  Over mixing will make regular biscuits tough because you've overworked the gluten. 
How Do You Mix Gluten Free Biscuits?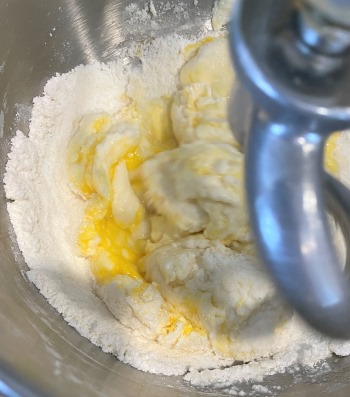 Like regular biscuits, cut or rub the fat into the flour until it resembles coarse meal or tiny peas.  You don't have to worry about toughness because there is no gluten, but you still don't want to over mix.  The light flaky texture of a good biscuit comes from the layers that form as the fat melts and the dough rises and bakes.  Mix the fat in too much and you'll lose that flakiness.
Add the wet ingredients to the dry and mix until well combined.  You can do this with the dough hook attachment and your stand mixer or do it in a bowl using a wooden spoon or your hand.
Turn the dough out onto a floured board and knead 20 or 30 times, about 30 seconds. 
Roll the dough out to about one inch thickness.  This is another difference between gluten free and regular biscuits.  Your old gluteny recipe probably says to roll them out to ½ inch.  Even with the extra baking powder, gluten free biscuits just don't rise as much so they need to start out thicker.
Cut your biscuits into squares with a knife, or circles using a biscuit cutter.  My grandmother liked to use a soup can with both ends cut out.  I did this for years too, but I've switched to a slightly smaller round cutter.  Because the gluten free biscuits are a bit denser than the regular ones, making them a little smaller works.  Less calories and less filling. My little biscuit cutter is exactly 1 inch thick so that helps with making the thickness of the biscuits consistent.
Should You Rest Your Dough?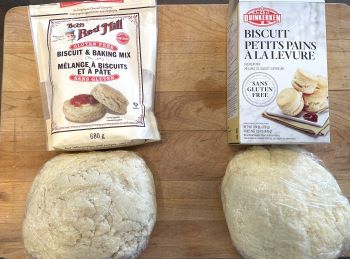 Neither of the mixes I tested suggest resting the dough, but it's something I've started doing with all my gluten free baking. 
Gluten free flours don't absorb moisture as easily as wheat flour, so resting helps to hydrate the flour.  This gives a nicer texture and a better rise. 
In both cases I rested my gluten free biscuit dough for 30 minutes on the counter before kneading, cutting, and baking.
How Do You Judge a Good Biscuit?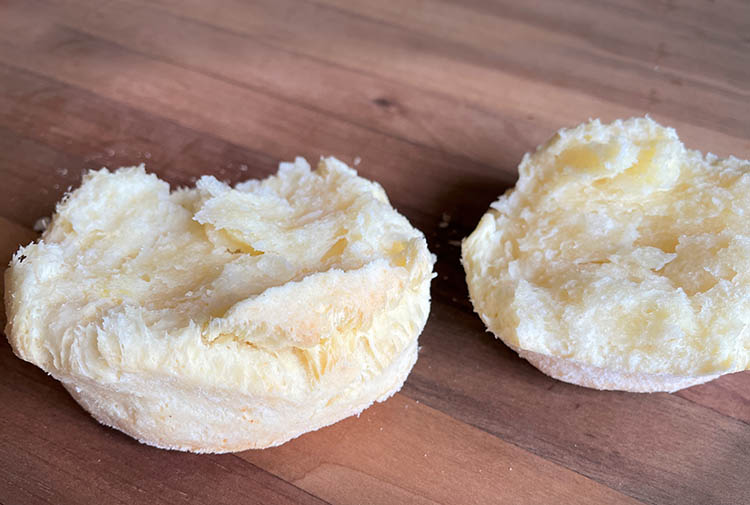 If we want to decide which is the best gluten free biscuit mix, first we need to know what makes a good biscuit.
A good biscuit has vertical sides and is symmetrical.  If it's lopsided then the baking powder was probably not mixed through evenly.
The outside of your biscuit should be golden brown, 
Layering should be visible on the sides.
The inside of a good biscuit is soft and flaky.  
When you tear it, you can see the layers.  
The color is creamy white.
What's The Best Way to Eat a Biscuit?

A biscuit with butter and a dollop of jam will perfectly compliment your afternoon cup of tea.  They also partner beautifully with your lunchtime bowl of soup or gluten free beef stew.  There's a reason why biscuits and gravy are a thing in the south.  They are simple yet delicious and filling.  As an accompaniment to a hearty stew, these gluten free biscuits give you something delicious to mop up that decadent sauce.
Comparison: Which is the Best Gluten Free Biscuit Mix?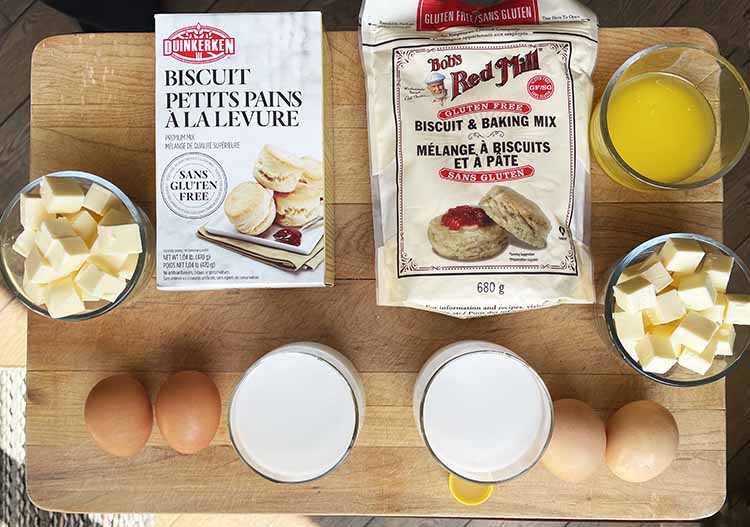 Instead of just reviewing one brand, I thought it would be fun to pick two brands and compare them to see which is the best gluten free biscuit mix.
I chose Duinkerken because it's very popular here in Canada and Bob's Red Mill because it's one of the best known and trusted gluten free brands internationally.
Duinkerken Biscuit Mix

Duinkerken is a popular, family-owned Canadian gluten free brand located in Slemon Park, Prince Edward Island.  They make a variety of baking mixes that are available in stores all across Canada as well as on Amazon.ca.  There are several stores in the northern U.S. that carry their products and they ship to the U.S.A.
After trying a few biscuit recipes with disappointing results, I came across Duinkerken biscuit mix at the Bulk Barn and decided to give it a try.  I'm a cook, not a baker, so there was a limit to how much effort I was willing to put into tweaking and developing my own recipe.  Finding a good mix seemed to be the perfect solution.
You can make other things with Duinkerken Biscuit Mix such as dumplings for your chicken and dumplings, or cinnamon rolls.  The recipes are on the Duinkerken website. 
What's in the Box
The box of Duinkerken biscuit mix is pre-measured for one batch of biscuits. 
The ingredients are: corn starch, rice flour, tapioca flour, potato starch, potato flour, sugar, xanthan gum, salt, sodium acid pyrophosphate, sodium bicarbonate, monocalcium. 
The Recipe
The recipe on the back of the box is three simple steps, prep, mix, bake, with a little explanatory text for each step.  You add your own milk, eggs and shortening.  Bake at 425°F for 12 to 15 minutes and you're done.
Results
The package says it makes about 20 biscuits, but even with my smallish cutter, I got 11 one inch thick biscuits.  They rose beautifully in the oven, especially considering they're gluten free.
The biscuits turned out light golden brown.  They are not exactly symmetrical, but you can see the layering on the sides.  The inside is a lovely creamy white.  The texture is soft and somewhat flaky though not as flaky as a biscuit made from wheat flour. 
Bob's Red Mill Baking and Biscuit Mix

For this comparison, I decided to try Bob's Red Mill baking and biscuit mix.  I'd not tried it before, but I do use other Bob's Red Mill products and the quality has been good. 
Bob's Red Mill is also a family owned business which started in Redding, California and later moved to Milwaukee, Oregon. They are not exclusively gluten free, but their gluten free products are produced in a dedicated facility.  
I live in a small town and my local grocery store carries Bob's Red Mill products, but not the biscuit mix so I ordered from Amazon.ca.  Products are available in many countries around the globe. 
You can make other things with Bob's Red Mill Baking and Biscuit Mix.  There is a pancake recipe right on the bag and other recipes on their website.
What's in the Package
Bob's Red Mill Gluten Free Biscuit and Baking Mix comes in a nice heavy plastic bag with a Ziplock closure.  There is about 4 ¾ cups of mix in the bag and the biscuit recipe on the back calls for 2 ¾ cups, so you do have to measure out the mix. 
The ingredients are: gluten free flour blend (sweet white rice flour, whole grain brown rice flour, potato starch, whole grain sorghum flour, tapioca flour, xanthan gum), baking powder (monocalcium phosphate, cornstarch, sodium bicarbonate, sugar, salt, baking soda.
The Recipe
The recipe on the back of the bag is a bit difficult to read.  It lists the ingredients you need to add and then the instructions are a wall of very small text.  It's not broken into steps.
The ingredients you need to add are: eggs, butter, and buttermilk, which I made by adding a teaspoon of lemon juice to my Silk coconut milk.  The ingredients list also includes a option 1/4 cup of melted butter.
My Mistake
I messed up my first batch! Ugh!!
I take responsibility.  I didn't read the instructions thoroughly.  But in my defense, they are hard to read and a little unclear. 
It says to add the egg mixture (eggs and buttermilk)to the dry ingredients with optional add-ins.  I thought that meant the melted butter.  If I'd read the recipe all the way through before beginning I'd have seen that the melted butter was for brushing the tops of the biscuits before they go in the oven.  The optional add-ins are a mystery.  I'm guessing they might be raisins or currants?
Once I realized my mistake, I ordered another bag of the mix (there were only two cups left in my bag so not enough for another batch) and tried again. 
Results
The first batch was not too bad, considering, but we'll talk about the second batch here.
They rose nicely, though not as high as the Duinkerken biscuits.  They are more symmetrical though and you can see the layers on the side.  The color is more beige than creamy white.  There is a little layering when you tear them open, but they are not quite as light and fluffy as the Duinkerken ones. 
Comparison
This was fun!  Now let's compare the results. 
I decided to score both mixes on a scale of 1 to 4 using the quality indicators above plus and added category for simplicity. 
Bob's Red Mill

Duinkerken

Outside

Rise

Vertical sides

Symmetry

Layering on sides

3

4

3

3

4

2

2

3

Inside

Soft & Flaky

Layers

Creamy white

Flavor

2

3

2

3

3

3

4

4

Simplicity

2

4

Total

25

29
For me, the Duinkerken mix wins the best gluten free biscuit mix prize. 
It's easy and the results are excellent.  I wouldn't say it's as good as a biscuit made with wheat flour but it's very close.  I've served these to company, and they've liked them. 
The Bob's Red Mill biscuit is perfectly acceptable but falls just a little short on most measures.