Caputo Gluten Free Flour: Way Too Expensive or Worth Every Penny?

Caputo Fioreglut Gluten Free Flour is imported from Italy and according to many, the absolute best gluten free flour for pizza and focaccia. So, I've put it to the test. 
Pin for Later
One look at the price and you may be thinking "Jeeze, this stuff better be made of gold".  At $29.99CAD on Amazon* that's certainly what I was thinking.  But the recipe was very specific, and I was curious enough to want to know if it really is that good, so I decided to test it out.
*That's about $22USD or £18GBP.  I looked it up on Amazon UK and it's £8.49 and $17.84USD on the US Amazon site
About Caputo Gluten Free Flour
Before we get into the test, let's cover some of the questions you might have about Caputo Fioreglut Gluten Free Flour.
Why is Caputo Fioreglut Gluten Free Flour so Expensive?

I ran a little price comparison for you on several popular all purpose gluten free flour blends.  This is from Amazon Canada with the exception of the President's Choice one which is not available on Amazon.  All prices are in Canadian dollars.
| | | |
| --- | --- | --- |
| Brand | Price | Price per 100g |
| Caputo Fioreglut | $29.99 for 1kg | $2.99 |
| Bob's Red Mill | $14.61 for 1.8kg | $0.81 |
| Presidents Choice | $6.99 for 800g | $0.87 |
| Better Batter | $54.99 for 2.268kg | $2.42 |
| Cup4Cup | $24.99 for 1.36kg | $1.83 |
As you can see if you look in the price per 100g column, Caputo is the priciest.  But why?
It's a specialty product, imported from Italy, so I suspect the price is mostly about shipping.  There may also be a supply and demand element.  If it really is the best flour, then it will be in high demand and they can charge more.  I've read in some forums that it can be found cheaper in some Italian markets, so check out markets in your area to see if you can get a deal.  Share it here if you find anything.
Is Caputo Fioreglut Gluten Free Flour Safe for Celiacs?

Yes. Caputo gluten free flour is tested below 4ppm and is considered safe for people with celiac.  Here is some more info.
The ingredients in Caputo Fioreglut gluten free flour are: Gluten free wheat starch, dextrose, maize starch, buckwheat flour, rice starch, vegetable fibres, thickener: guar; flavouring.  With wheat starch as the first ingredient, you might be a bit concerned.  I was, so I did some digging and  here's what I found:
It's tested to below 4ppm.  The safe limit for celiac is 20ppm.
The US FDA has approved it to be labelled gluten free.
The Canadian Celiac Association says it's fine for Celiac.
The Italian ministry of health has approved this flour as gluten free and approved the facility for production of gluten free products.
Gluten Free Watchdog is not convinced.  She lumps Caputo gluten free flour in with her recommendations on wheat starch which is to avoid it.  She has done some specific testing on this flour but you need to be a paid subscriber to get the results.
My conclusion: I trust the CAA and I trust Gluten Free Watchdog.  In this case I decided to go with CCA and give it a try.  I've had no reaction.  I've also searched several forums and many people have reviewed this product and state that they've had no reaction.
Comparison: Caputo Fioreglut Gluten Free Flour vs President's Choice Gluten Free Flour
I wanted to see if Caputo Fioreglut gluten free flour is better than my favorite gluten free flour, so I ran this test myself.
I made the focaccia using exactly the same recipe with the two flours.  Here is the result.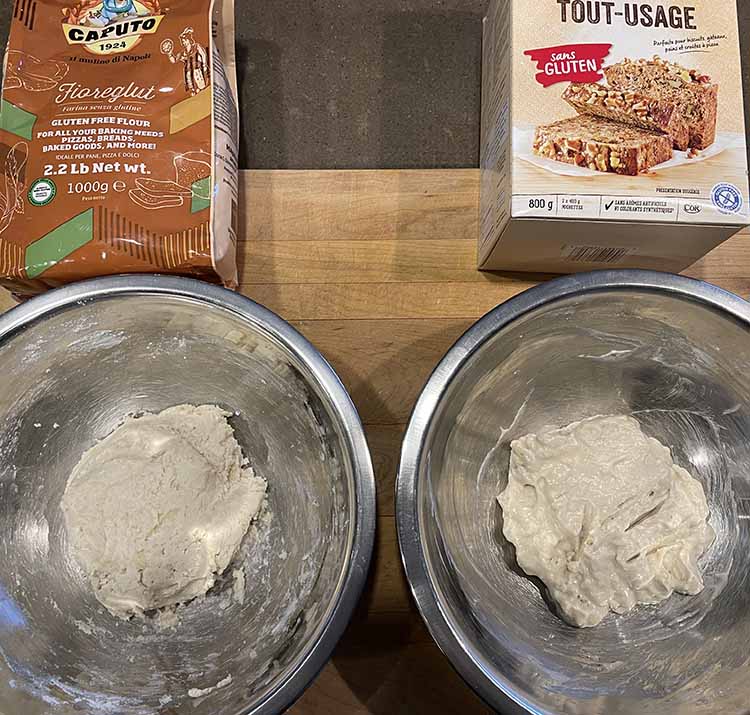 The dough made with the President's Choice flour is much wetter and stickier.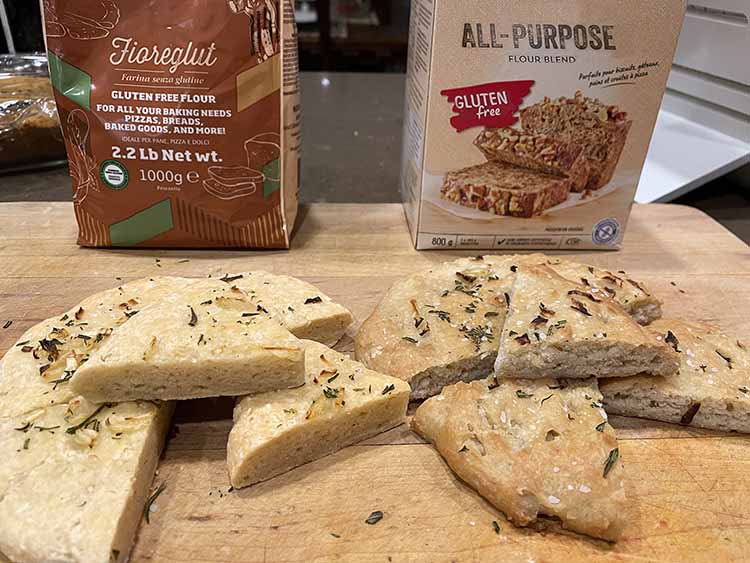 The President's Choice focaccia browned up very nicely.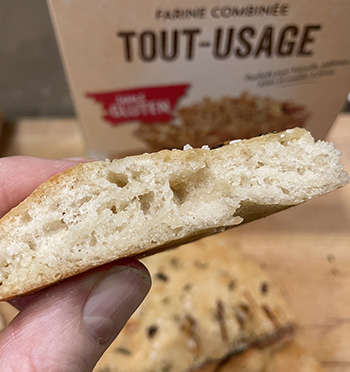 The Caputo focaccia rose much better and the texture of the crumb is nicer.  The flavor of the Caputo one was better too.  I would say it tasted "wheatier" although it's been a long time since I've actually tasted wheat.  So I had some gluten eating friends compare for me too.  They agreed!
Conclusion
Caputo Fioreglut gluten free flour is the winner!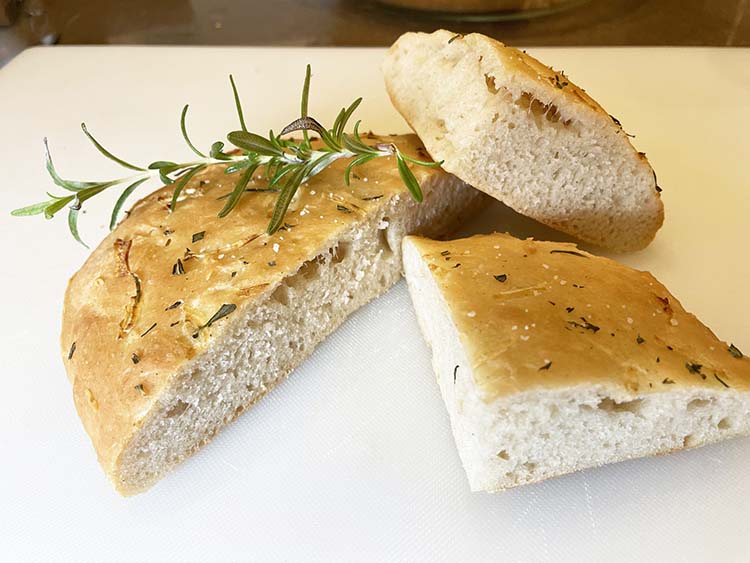 If you're looking for flour to make gluten free bread or pizza that is close to the gluten versions in taste and texture then Caputo Fioreglut Gluten Free flour out performs the competition. 
When it comes to price, that may be a showstopper, but I look at this this way: at $29.99CAD per kilogram, my 8" focaccia cost $3.75.  I would think that was a pretty good deal in a bakery. 
So yes, I think Caputo Fioreglut gluten free flour is worth the money.  It won't be my regular all-purpose flour, and I still like my Naturally Gluten Free pizza recipe with president's choice flour.  So I won't entirely switch but I'll keep it on hand for when I want that something special.