Traditional Style Gluten-Free Pizza Crust
This gluten-free pizza crust recipe will change your relationship with gluten-free pizza forever!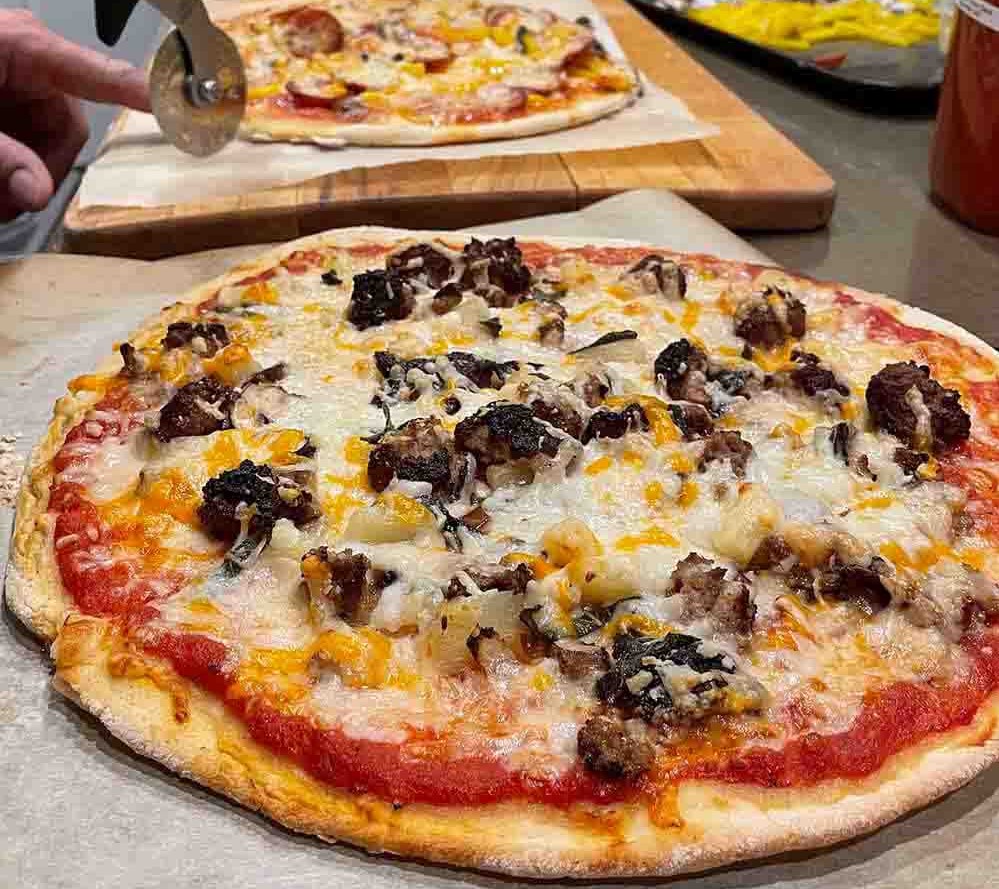 The Ultimate Gluten-Free Pizza Crust
It's soft and chewy yet crispy and delicious.  I'm making the claim right here that this is the best gluten-free pizza crust you've tasted.  Maybe even the best pizza crust you've tasted.
Skip right to the recipe if you like, but there are a few tricks and some important information that I think you'll want to know.
Recommended Tools
Two pizza stones
a pizza palate
a stand mixer with paddle attachment or a mixing bowl with a wooden spoon (and elbow grease)
parchment paper
pizza cutter
You can use pizza pans if you like, but the stones, preheated in the oven, give your gluten-free pizza crust that crispy on the bottom authentic pizzeria taste and texture.
I recommend a pizza palate to slide the rolled out dough into the oven and onto the hot stone.  If you don't have one you can use a cutting board with a handle or a flat pan.  Just be careful not to burn yourself.
Parchment paper is a must because gluten-free pizza dough is just a bit too soft to slide off the palate on it's own, it will stick.  Roll it out on the parchment, slide it parchment and all onto your pizza palate and then slide it, parchment and all onto the hot stone in the oven.  It's so slick you'll feel like a pro pizza chef. 
The Ingredients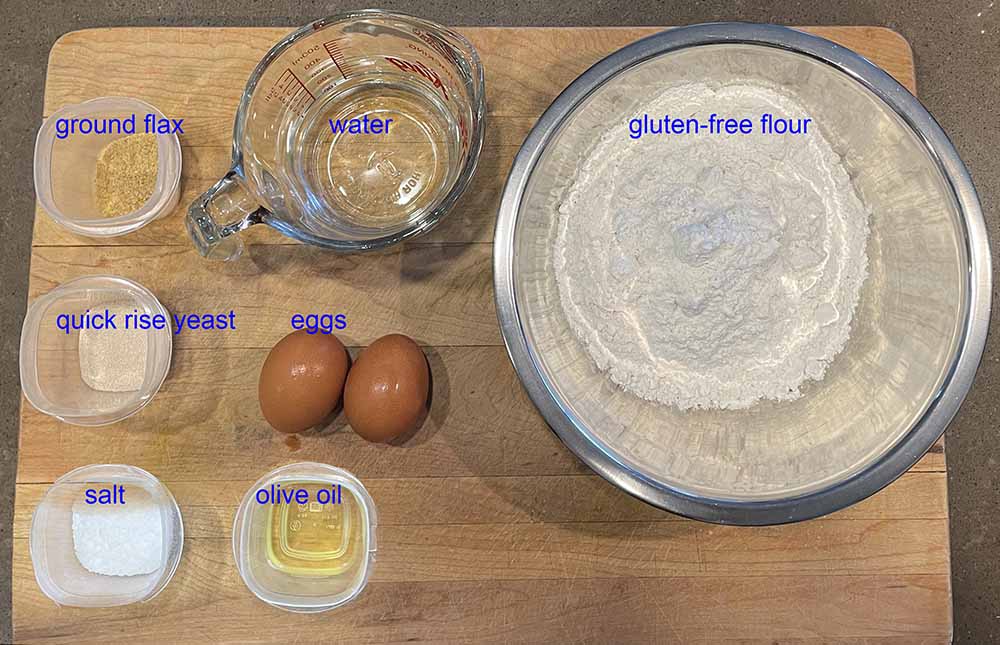 The Flour
You can use any gluten-free all purpose or bread flour you like.  The pizzas in the photos were made using Bulk Barn's 1:1 baking flour.  Like with any flour based product, you'll get a slightly different result with different flour blends but for the most part, they all work.  It's up to you to decide what you like best. 
If you'd like to try Caputo Fioreglut gluten free flour, it's available on Amazon.  It's a little pricey but many people say it's the best for pizza or bread.  I've dont a full review here.
Gums
The flour I used has xanthan gum in it.  If yours doesn't you can add 2 teaspoons of xanthan or guar gum.  If you're trying to avoid gums, some people find them hard to digest, then just leave them out and double the flaxseed.  Gums provide binding power, but the eggs and flaxseed help too so you'll be fine.  
Yeast
Pizza crust is traditionally a yeast risen flatbread, and this gluten-free pizza crust is too.  The recipe calls for quick rise yeast (or instant yeast) which is a little different than active yeast.  If you use active yeast, use the same amount but I recommend "proofing" it ahead of time.  For the quick rise yeast, the instructions say to add it to the warm water.  This just gets the action started and helps with rising. 
Ground Flaxseed
This is optional.  You won't find ground flaxseed in a traditional wheat pizza crust, but I like to add it to my gluten-free pizza crust because it adds some binding power to hold the dough together, and it gives you a little extra fiber while also giving your dough a nice "whole grain" texture and appearance.  
Toppings
You know what you like on your pizza, just make sure everything you put on your gluten-free pizza crust is also gluten-free.  If you are using pepperoni or any other cured meat be sure to check the labels.  Cheese is naturally gluten-free but if you are using pre-shredded cheese check the label.  Sometimes anti-caking agents are added and they may not be gluten-free.  

Suggestions:  I like to top my gluten-free pizza crust with a combination of goat mozzarella, goat cheddar and pecorino Romano.  You can use any cheese or combination of cheese you like. 

How about some crumbled feta on a Greek pizza with olives and sundried tomatoes, or spicy pepper jack with ham and pineapple, or soft goat cheese with mushrooms and fresh herbs? 

For a dairy free version you can use any vegan cheese substitute or a combination of different ones for more flavor. 

I'd love to hear how you top your pizza. 
The Technique
Pizza Chef Tip # 1:

Oven Temperature

Shhh...this is my little pizza chef secret to the ultimate gluten-free pizza crust and the main trick that makes it work.  Many recipes will tell you to pre-heat to 350° or 425° or somewhere in between and bake your pizza for 20 minutes.  Instead, preheat your oven with the stone inside to 500°F and bake for about 10 minutes.  Once you try this method you'll never go back to the old way.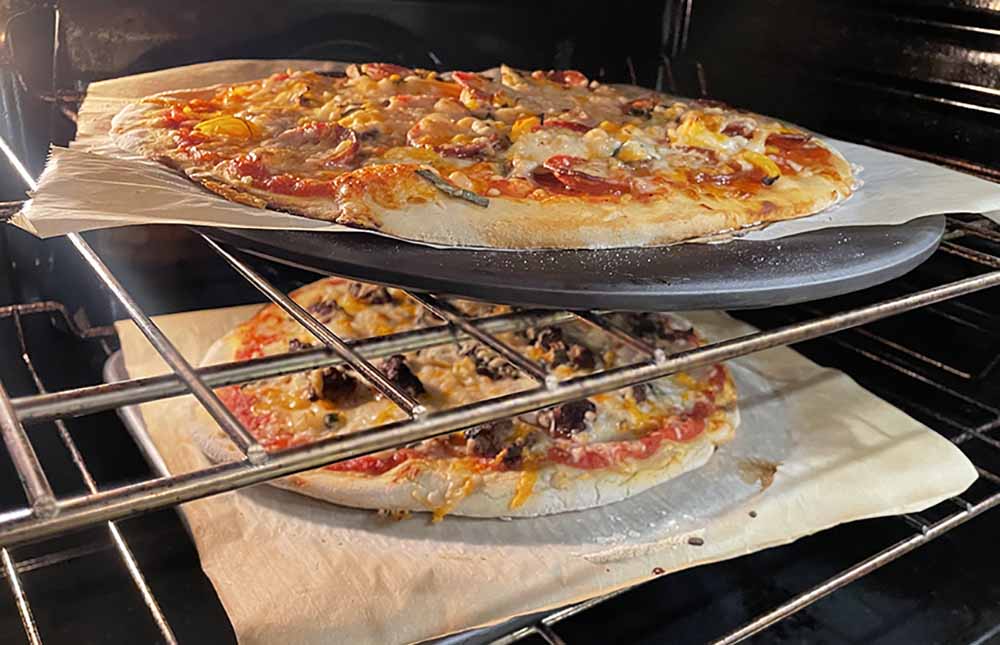 Preheating your oven to 500° with the pizza stones in the oven is the trick that makes this pizza crust brown and crispy on the bottom and perfectly soft and chewy in the middle.
Proofing

Proofing, or rising is the step where you let the dough rest in a warm moist environment to let the yeast work its magic.  If you have a warm spot in your kitchen that will be fine.  I like to use my microwave as a "proofing box".  To do this, heat 1 cup of water in a microwavable container until it boils.  Leave the door shut until you're ready to put your dough in.  Once the dough is mixed, cover it loosely with plastic wrap and put it in your microwave.  Leave the hot water in there.  Try to open and close the door quickly so not too much heat and steam escapes.  Leave it until it about doubles in size, 20 to 30 min.  You can prepare your toppings while you wait.
Pizza Chef Tip # 2:

Kneading and Rolling the Dough
This is pizza chef secret number two!  I took a pizza class a few years ago and was shocked when the chef rolled out her gluten-free pizza dough.  Before that, every recipe I'd tried insisted that gluten free dough is too sticky to roll out so you have to treat it more like a batter and spread it with a spatula or with your fingers.  Not this pizza dough.  Once it's mixed (it will be very sticky so a little oil on your hands will help) scoop it out of the mixing bowl onto a VERY generously floured board and sprinkle the top with more flour.  Knead the dough until it's nice and smooth and easy to handle.  If it starts to stick, add a bit more flour to the board.  

Then cut the dough in half and transfer it onto a piece of parchment about the size of your pizza palate.  Then roll it out using a rolling pin.  You could do the kneading on the parchment if you like so you don't need to transfer it after, up to you.

Repeat with the other piece of dough.  Now your pizza is ready to top and bake.
Wait a minute, is this pizza crust Naturally gluten-free?

You probably know by now that I think of "natural" as being on a continuum.  Whole fresh fruits and veggies as they come from the garden are about as natural as it gets.  On the other end up the spectrum is the highly process junk food that we see in the supermarket.  This pizza IMO is toward the natural side because it has few ingredients and most are healthy.  It does use a gluten free flour blend with starches and perhaps gums which slides this one a bit to the right of say the rice crust pizza or the potato crust pizza, but compared to a fast food or grocery store pizza, you should feel good about this.
The Recipe
Ingredients
For the dough
1 pound of gluten-free all purpose or bread flour
2 1/2 tsp quick rise yeast
1 tbsp ground flaxseed
1 tsp salt
2 eggs
1 1/4 c warm water
2 tbsp olive oil
For topping
2 c (approximately) pizza sauce.  Your favorite pasta sauce will work fine.
4 c shredded cheese.  You can use mozzarella or a combination of mozzarella and other cheeses.  You can also use vegan cheese shreds for a dairy free version.
whatever toppings you like
Method:
Prep:
Preheat oven to 500°F with two pizza stones inside
If using your microwave as a proofing box, heat a cup of water for 2 min and let it sit with the door closed.
Make the dough:
Fill a two cup measuring cup with 1 1/4 c warm water
Add the yeast to the warm water, give it a stir and let it sit for a few minutes while you assemble the rest of the ingredients.
Mix the flour, salt and flaxseed together in a large mixing bowl or the bowl of your stand mixer
add the eggs and oil to the water and yeast mixture then add it to the dry ingredients.  If necessary use a rubber spatula to get all the yeast out of the measuring cup
Mix until everything is well combined and forms a sticky dough
cover with plastic wrap and place somewhere warm (like your steamy microwave) to rise for about 20 to 30 min.  You don't need to be too precise
While the dough is rising, grate the cheese and prepare your toppings.  
Once risen, transfer the dough from the bowl to a VERY generously floured board.  Sprinkle with extra flour and knead gently until the dough is smooth and easy to handle.
Cut the dough in half and transfer one piece to a floured piece of parchment.  Roll out into a circle with a rolling pin.  Repeat with the other piece of dough.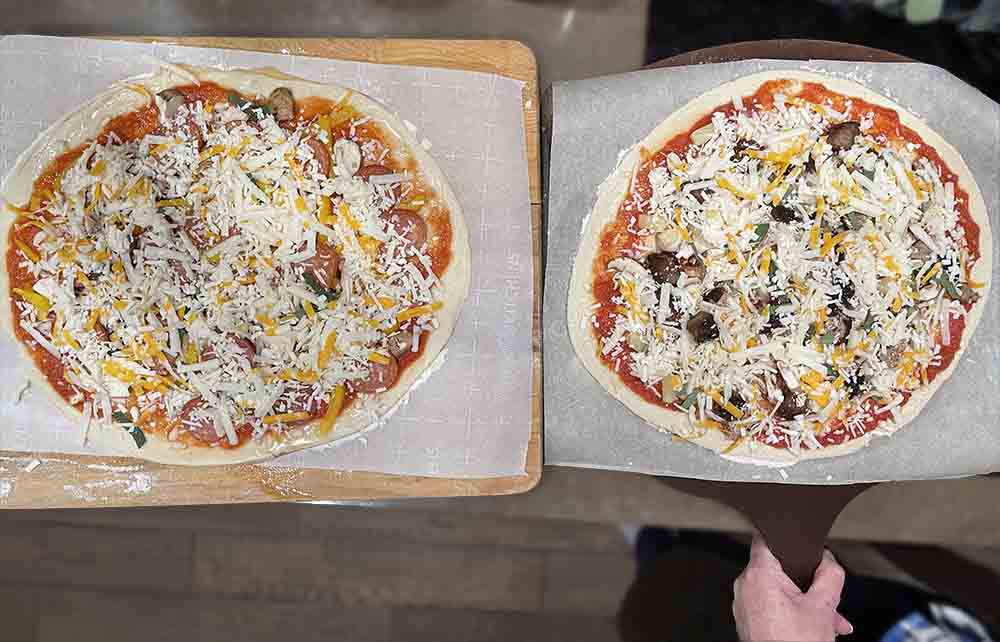 Top your pizza and bake:
Spread each pizza crust with tomato sauce.  Add your toppings then top with cheese.
I like to sprinkle a little kosher salt and cracked pepper over the top, but this is optional.
Slide one pizza, parchment and all onto your pizza palate or a flat board and transfer, parchment and all to the hot pizza stone in the oven.  Repeat with the second pizza.  Be careful not to burn yourself.
Bake for about 10 min until the cheese is bubbly and starting to brown, and the bottom of the crust is golden brown.  Lift it up with a spatula to check.  If it's not quite ready give it a couple more minutes. 
Remove from the oven.  Slice and serve.