Rice Crust Pizza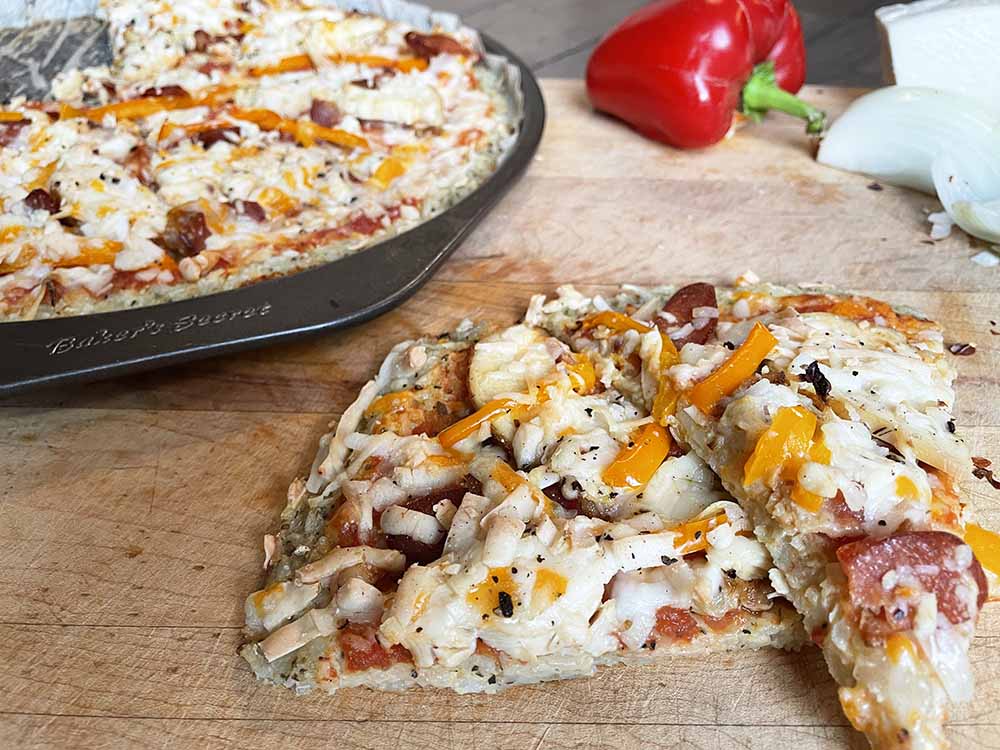 Are you looking for a super quick and easy gluten-free pizza to make that is also naturally gluten-free?!  I love this rice crust pizza because it is exactly that.  You can mix it up in just a few minutes and while it's in the oven baking you can chop up your toppings. 
Including prep time I'd say you're less than an hour away from having a delicious, gluten-free rice crust pizza.
Skip to the recipe
About This Rice Crust Pizza Recipe
Naturally Gluten-Free Pizza
It's difficult to find a pizza crust that you could consider naturally gluten-free because pizza dough, like bread, is typically made from wheat flour and yeast.  When you take away the gluten (wheat) then highly processed gums and starches are usually added to allow the crust to rise and hold its shape.
Not with this rice crust pizza.  There is no yeast, no gums, no starches.  The main ingredient is simple, naturally gluten-free rice with some eggs, cheese and a little flax seed as binders to hold it together.
Remember our natural continuum?  I would put this rice pizza crust way to the left into the green.  Yay!


The Rice
You can use any rice you like for this pizza crust.  The pizza in the photos is made simply from Minute Rice.  I've also made this with brown rice.  You could try basmati or Arborio rice as well.
I do suggest making your rice the same day you make the pizza as leftover rice gets a little dry and hard.  That said, you could use leftover rice, just rehydrate it a bit by adding a little water and warming it up in the microwave.
Why This Recipe Works
It's really the eggs that pull this whole thing together and turn a bowl of plain rice into a pizza crust.  I did try it with flax eggs and made a very tasty rice pizza bowl 😊  It's just didn't hold together well enough to slice and dish out like pizza.
The ground flaxseed is really optional.  The eggs would hold the rice pizza crust together, but I do like the extra binding power and the nutritional boost that we get from the flaxseed.
The cheese in the crust really enhances the flavor as well as adding some more binding power.  Mozzarella works well and I think you can guess why.  That ooey gooeyness adds to the stickiness of the mixture and helps to hold it together. 
Gluten-Free Dairy Free Pizza
You can easily make this rice crust pizza dairy free by eliminating the cheese in the crust.  The egg will still hold it together.  If you like you could substitute dairy free cheese or if you can tolerate goat or sheep milk cheese then by all means use that.  I have a cow's milk intolerance so the pizza in the photos is made with a combination of goat cheddar, goat mozzarella, Pecorino Romano and Earth Island vegan shreds. 
The Recipe
This recipe make two gluten-free rice crust pizzas.  I often do one meat and one veggie, or one Hawaiian and one with whatever leftover meat I have in the fridge.  Chicken, steak, ground beef, and sausages all work really well. 
Ingredients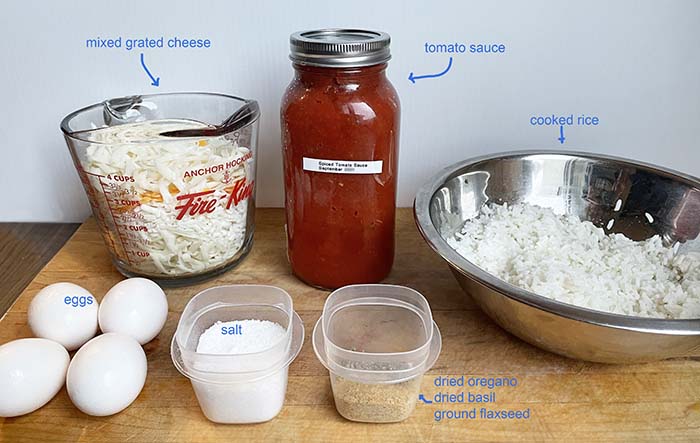 3 c cooked rice, white or brown.  Cooled to room temp or slightly above.
1 ½ tsp salt


4 eggs beaten


5 c shredded cheese, mozzarella or a blend of mozzarella and whatever else you like*


1 tsp each of dried basil and oregano (optional - this is to add flavor to the crust)


1 tbsp ground flax seed (optional - this add a little extra nutrition and binding power)


4 tsp cornmeal (optional - this is to keep the crust from sticking to the pan.  You can also use parchment)


2 c pizza sauce - your favorite pasta sauce will work great.


Whatever you like for toppings.

Chop up your toppings while the crust is in the oven.

Tonight's pizzas will be:

1. Ham, pineapple, onion and bacon (pineapple not shown)

2. Chicken, bacon, onion and red pepper.
Method
Preheat oven to 400

°

  F


Mix the rice, salt, eggs, 1c of the cheese, herbs and flax seed if using.


Grease two pizza pans with coconut oil and sprinkle w cornmeal if using
or
Grease the two pizza pans and line with parchment paper


Spoon ½ the rice mixture on each pizza pan.  Spread evenly and press firmly to form a crust.


Bake for 10 min


Remove from the oven.  Spread w pizza sauce.  Add toppings and cheese.


Bake for another 15 min. 


Lift the edge of the pizza crust.  It should be a lightly browned and it should hold together.  If it's not quite ready bake for another 5 minutes. 


Remove.  Slice.  Dive in!!
Pro Tip
To cut parchment to fit a round pan just fold in half and in half again until you have a triangle.  Then measure from the center of the pan to the edge and cut.  It doesn't have to be perfect, You can press it into the oiled pan and it's okay if it goes up the edge a bit.
Enjoy your rice crust pizza!
Pssst...it goes great with your favorite white wine or gluten-free cider or beer.
You Might Also Like
Gluten-Free Recipes:   I've curated a selection of recipes for you.  I think this is food you'll actually make.  There are simple weeknight meals and dishes you'll be proud to serve company, even if if your guests aren't gluten-free
Photo by Social.Cut on Unsplash
---
Celiac and Lactose Intolerance:  Most dairy products are gluten-free yet many people with celiac find they have trouble digesting dairy.  Click here to find out why and what to do.  Hint - it may not be forever.