Today's the Day | Sweet and Ridiculously Easy Gluten Free Banana Bread

We've all seen the memes.  Sad, wilted bananas beside the words "Stop telling yourself you're going to make banana bread." Or there's the one with a whole banana wrapped in white bread "follow me for more recipes."
Pin for Later
Well, today's the day.  You are going to make gluten free banana bread. Why?  Because this recipe is so ridiculously easy, there is no reason not to.
About the Ingredients

Bananas are Great!

Bananas are not only sweet and delicious, they are an excellent source of potassium which is important for cardiovascular health.  They are also high in fiber which contributes to a balanced gut microbiome.1  
And bananas aren't as fattening as we've been led to believe.  Even though they are high in carbohydrates, most of the carbs are "resistant starch" which doesn't break down in the small intestine.  For this reason, bananas have a lower glycemic index than some other high carb foods.2
What Are the Best Bananas for Gluten Free Banana Bread?

The best bananas are slightly over-ripe.  They will be a little bit soft with brown spots.  That's the reason for the jokes and memes suggesting to "let them go".  Don't.  Over-ripe bananas are gold.  You can use them in baking, smoothies or pop frozen banana slices into the food processor and you have ice cream.
How to Store Bananas
If your bananas are at that slightly overripe stage, but you're not quite ready to make your gluten free banana bread, you can store them in the freezer. 
No special prep, just stick them in there whole, skin and all.  They will turn dark brown which doesn't look too appetizing, but they are fine.  When you're ready, take them out of the freezer and let them thaw on the countertop or microwave them gently to thaw.  They will be a little squishy and gross, but that's fine.  They will work beautifully.
If you want to use your frozen bananas for smoothies or ice cream, then you'll need to peel and slice them before freezing.  Slice them into one inch pieces and lay them out on a baking sheet to freeze.  Then store them in a freezer bag.  You can take out as many slices as you want when you're ready to use them.
What do Bananas do in Baking?

Bananas add moisture and bulk to baked goods.  This makes banana bread the perfect gluten free treat. Gluten free baked goods are sometimes dry and crumbly.  Your banana bread will be moist and delicious. 
Bananas are often substituted for eggs in baking.  One ripe banana equals one egg in a cake or muffin recipe.  It will add banana flavor to the recipe so make sure you're okay with that.
What Kind of Flour Works Best in this Gluten Free Banana Bread?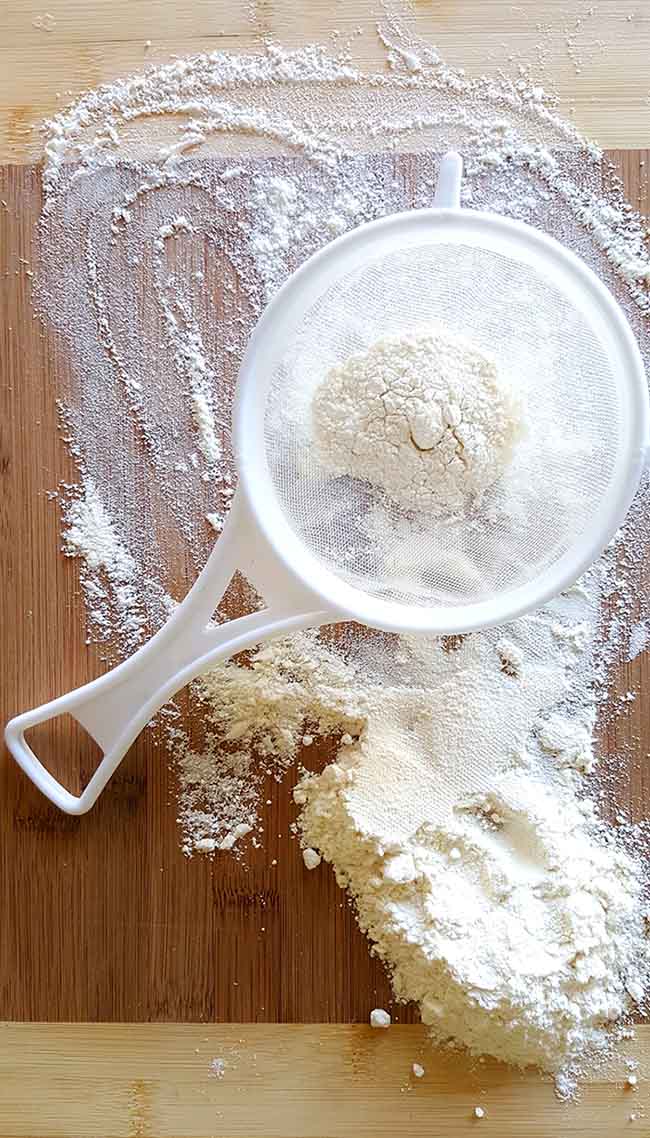 Photo by Vlad Kutepov on Unsplash
You can use any 1:1 gluten free all-purpose flour blend. I've tried several and they all work fine.  So just pick your favorite.  Mine is the President's Choice Gluten Free All-Purpose Flour.  You do need an all-purpose 1:1 flour blend.  Single gluten free flours like rice flour or chickpea flour for example won't work. 
Most gluten free all-purpose flour blends include xanthan gum.  If yours doesn't then you may want to add a teaspoon to the flour.
What Kind of Oil Should I Use?
It's best to use a neutral tasting light cooking oil like canola or sunflower oil.  Save the expensive extra virgin olive oil for salad dressing or your favorite Mediterranean dishes. 
Can I Make this Banana Bread Egg Free?
Yes.  This recipe makes perfect egg free banana bread.  I do it all the time. If you are following a vegan diet or have an intolerance to eggs, no problem.  Simply substitute 2 flax eggs for the eggs in the recipe. 
To make a flax egg add one tablespoon of ground flaxseed to 3 tablespoons of water and let it sit for a few minutes.
You can also use a commercial egg replacer.
Can I Make This Banana Bread Recipe Sugar Free?

Yes!  Just substitute the sugar for your favorite 1:1 sugar free sweetener.  Swerve works really well.  I find that swerve is a bit sweeter than sugar so I cut it back a little.
Do I Need to Use Xanthan Gum in My Banana Bread?

Xanthan gum is used in gluten free baking to help your cake or bread to rise and hold its shape. Some people find that xanthan gum upsets their tummy.  If this is you, just leave it out.  The bananas in this recipe add enough bulk so that xanthan gum isn't really necessary.  I've made it both with and without xanthan gum and both have turned out fine.  The no-xanthan gum version is a little flatter, but there is not much difference. 
There is a good chance your gluten free all purpose flour blend already has xanthan gum added.  If not, you can add a teaspoon to the flour.
Do I Need to Use Walnuts in My Banana Bread

This recipe makes the best gluten free banana nut bread, but if walnuts aren't your thing, you can leave them out and make a delicious plain banana bread. You could also try pecans or raisins.  How about other dried fruit like cranberries or apricots? 
Tips for Perfect, Easy, Gluten Free Banana Bread
Mixing
This recipe is perfect for the food processor!  You can use a blender, a hand mixer or stand mixer, but the food processor is really the perfect tool.
Panning
Grease a regular sized loaf pan and then add a little gluten free flour.  Spread across the bottom and sides by tapping on the side of the pan as you move it around.
Testing for Doneness
You can use the toothpick method where you stick a toothpick or a skewer into the center of your banana bread and if it comes out clean it's done.  I prefer to use my thermometer as a skewer.  The temperature should be about 200°F.  You can also look to see if your thermometer is clean.  This just gives you that extra bit of confidence that your banana bread is done.
Cooling
This is a secret tip to help your gluten free baked goods keep their shape.  When your banana bread is done, turn off the oven and leave the door open a crack.  Let your banana bread cool slowly as the oven cools.  It will be less likely to collapse in the middle.  
The Recipe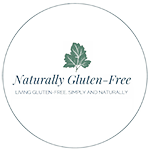 Today's the Day | Ridiculously Easy Gluten Free Banana Bread
By Patty Maguire – Naturally Gluten Free,
We've all seen the memes. Sad, wilted bananas beside the words "Stop telling yourself you're going to make banana bread." Or there's the one with a whole banana wrapped in white bread "follow me for more recipes." Well, today's the day. You are going to make gluten free banana bread. Why? Because this recipe is so ridiculously easy, there is no reason not to.
Prep Time: 15 minutes
Cook time: 60 minutes
Yield: 1 loaf
Tags: Gluten Free, Egg Free and Sugar Free Options
Ingredients
1¼ cup of gluten free all purpose flour
2 eggs
1 teaspoon of baking soda
1 cup of sugar
½ cup of oil
2 ripe bananas
1 teaspoon of cinnamon
½ cup of walnuts
Instructions
Preheat oven to 350° F or 175° C


Drop the bananas, eggs, oil and sugar into mixer, blender or food processor. Mix until smooth.


Add the rest of the of dry ingredients – flour and baking soda. Mix until smooth. The consistency will be a thin batter.


Pour the batter into a floured loaf pan.


Bake for 60 min or until the tester comes out clean. (A good trick is to use a digital thermometer – should be about 200°F.)



Like all gluten free baked goods, this gluten free banana bread won't keep more than a couple of days so if it needs to last longer than that (I've never had this problem) then store it in the fridge or freezer.