Gluten Free Banana Bread

I've tried several different gluten free banana bread recipes and my whole family agrees that this is the best one hands down.  It's nice and moist and oh so easy.  I found it on the web and tried to go back to website so I could give credit here but the link is broken.  So if you know who it belongs to let me know and I'll post the credit.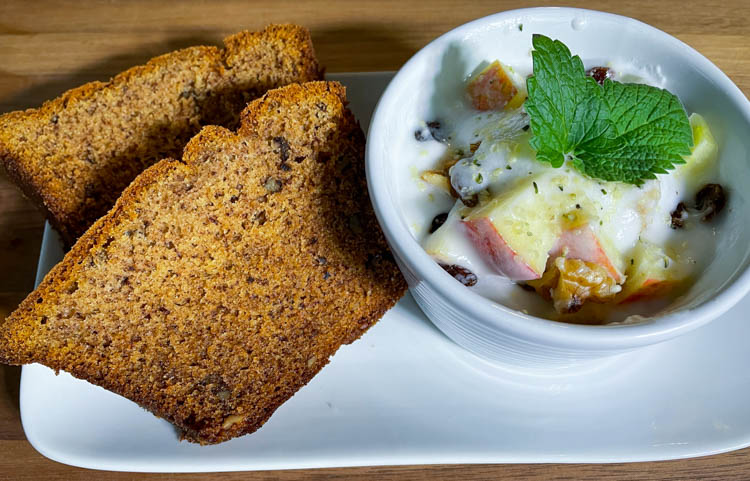 Ingredients:

1¼ cup gluten free all purpose flour
2 eggs

1 tsp baking soda
1 cup sugar
½ cup oil            
2 ripe bananas
1 tsp cinnamon
Optional – ½ cup fresh berries such as strawberries or blueberries.  You could also add ½ c walnuts
Method:

Preheat oven to 350° F or 175° C

Drop the bananas, eggs, oil and sugar into mixer, blender or food processor.  Mix until smooth. 




Add the balance of dry ingredients – flour and baking soda.   Mix until smooth. 





The consistency will be of a quite thin batter






Pour into floured loaf pan




Bake for 60 min or until tester comes out clean.  (A good trick is to use a digital thermometer – sb about 200°F

Let cool and hide ;)

Just kidding – the whole family will love this even if the glutinous ones.
Like all gluten free baked goods, this gluten free banana bread won't keep more than a couple of days so if it needs to last longer than that (I've never had this problem) then store it in the fridge or freezer.

I tried this with stevia as well so if you're looking for a gluten and sugar free option just substitute the sugar for 1/2 the amount of Stevia (1/2 cup).  It baked up quite nicely.  I personally am not fond of the taste of stevia, but it still got eaten so it must have been fine.

Home > Gluten-Free Bread > Bake Your Own > Gluten Free Banana Bread