Gluten Free White Bread and Rolls
This is a nice basic and simple recipe to get you started making gluten free bread.  Once you're comfortable, experiment with adding cheese or up the fibre by adding some flax seed.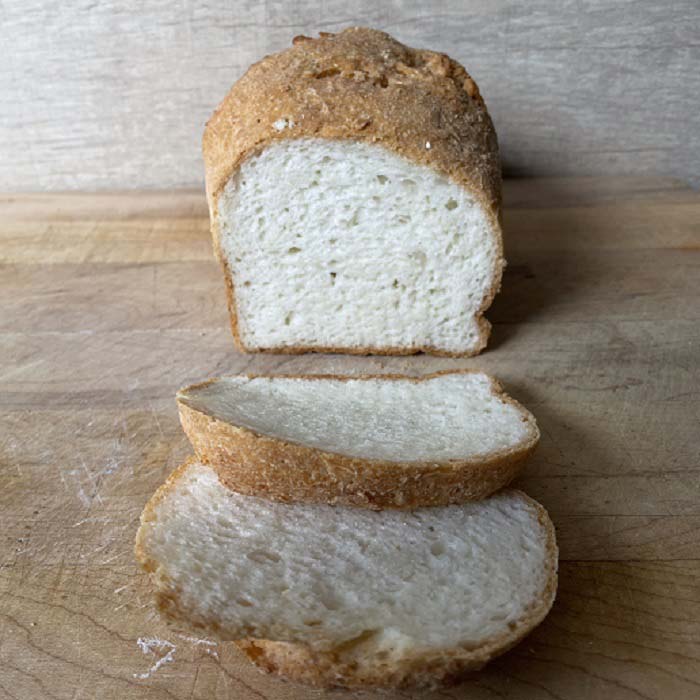 Ingredients:
825 ml warm water (40°C or 104°F)
1 lb gluten free bread flour
170 g unsalted butter, melted
2 eggs
28 g instant yeast
75 g sugar
24 g (8 tsp) guar gum*
18 g salt (about 1 ¾ tbsp.)
Method:

Preheat oven to 375°F


In a mixing bowl or the bowl of your stand mixer combine water, butter, eggs and yeast


Add the remaining ingredients


Beat with the paddle attachment for about 5 minutes.  Don't worry about over mixing.  If necessary shut the mixer off periodically and push the dough down into the bowl.


Grease bread pans or muffin tins


Scoop batter into pans with an ice cream scoop.  Dip in water each time.


Proof in a warm humid environment until double in size


Bake until golden and inserted toothpick comes out clean.  Sb about 200°F or 93°C.
Tips:
Scooping into bread pans keeps the batter loose and helps it to stay lighter.  Small pans work well for gluten free bread as they make a small light loaf.  My small pans take about 3 scoops.
Muffin tins work well for dinner rolls.  You can get larger muffin tins or rings for hamburger buns.
*If you're trying to avoid gums you can reduce this amount or eliminate it.  You will need to handle your gluten free bread dough very carefully and don't bump the pans or the bread will deflate.  I suggest trying with the gum if you're new to bread baking, then experiment once you're comfortable.  If eliminating the gum try adding 3 tbsp. ground flax, chia or teff.  It's very absorbent and will help to provide some of the structure needed.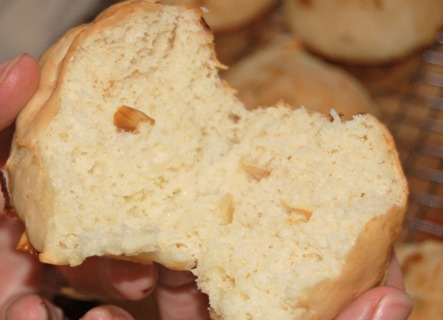 Gluten Free Cheese Buns
As an alternative, try dividing the batter in half.  Make half into loaves as above and add 300g sharp cheddar to the other half and scoop into muffin tins.
Home > Gluten-Free Bread > Bake Your Own >Gluten Free White Bread and Rolls