Sweet and Decadent Gluten Free Pear Crumble Dessert Pizza
Pizza for dessert?  You bet.  Creamy coconut rice base topped with tender sweet pears and a decadent crispy crumble topping.  And it's naturally gluten-free!
Pin for Later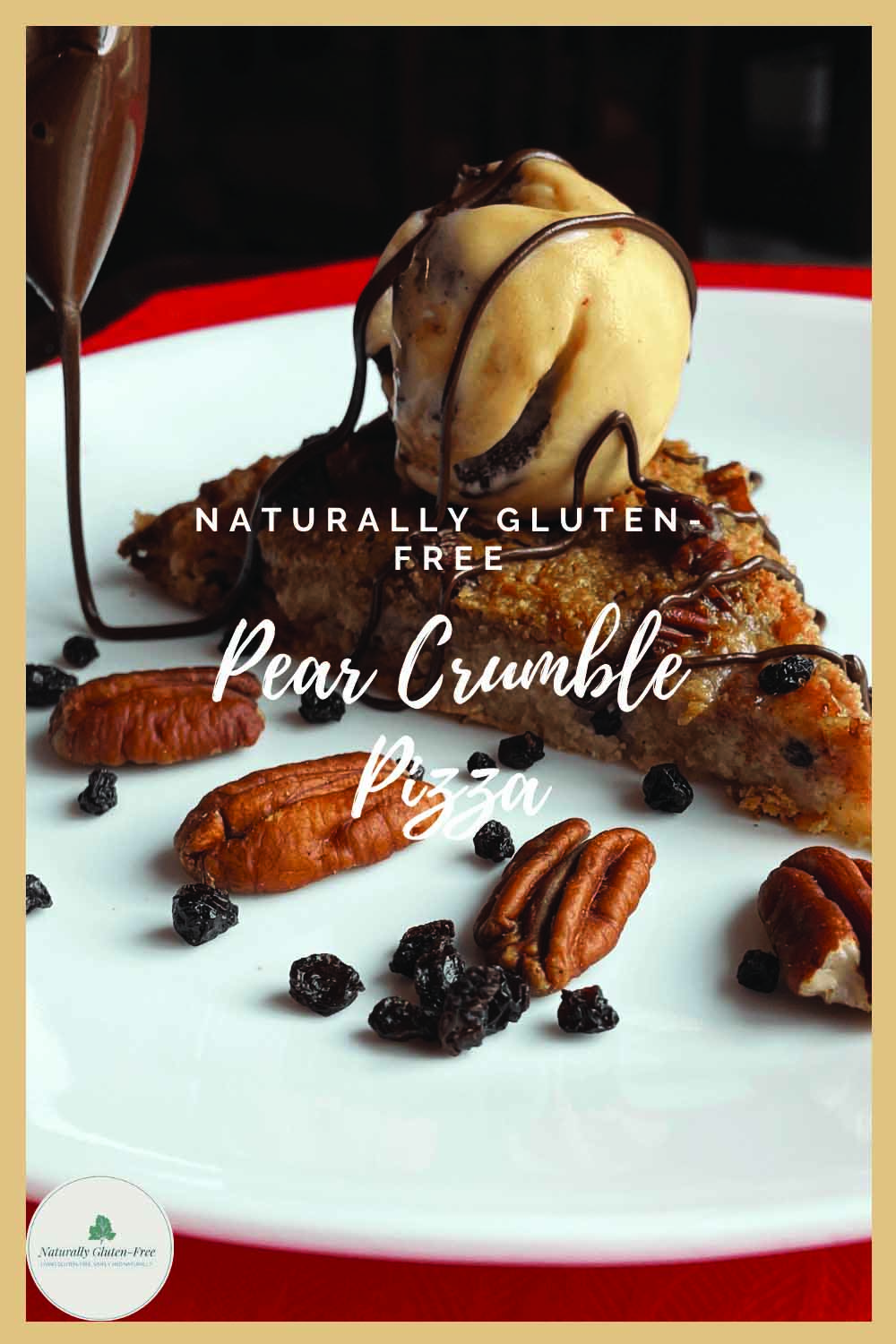 This Dessert Pizza Is Naturally Gluten-Free and Dairy Free

Can you believe there could be such thing as a naturally gluten-free and dairy free pizza that tastes so sweet and amazing? The base of this delicious dessert pizza is made with rice and coconut milk.  the filling is fresh fruit with sugar and cinnamon and the crumble topping is brown sugar and gluten-free flour.  No highly processed gums or starches and no dairy.  Yes, it does have sugar so we can't go so far as to say it's totally healthy, but enjoy in moderation.
The Ingredients
Arborio Rice
This is the rice that you make risotto from.  It comes out creamy and delicious.  The ratio of rice to liquid in this recipe is about 5:1.  You'll end up with a rich velvety mixture kind of the consistency of porridge.  In fact, this is how you would make rice porridge.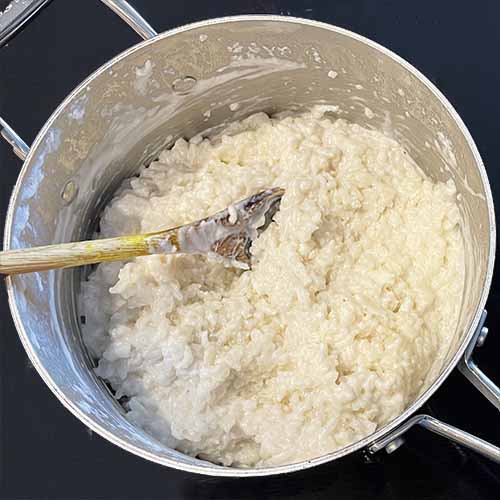 Currants
These are optional but add some lovely texture and flavor to the base.  If you like, experiment by substituting raisins or dried cranberries.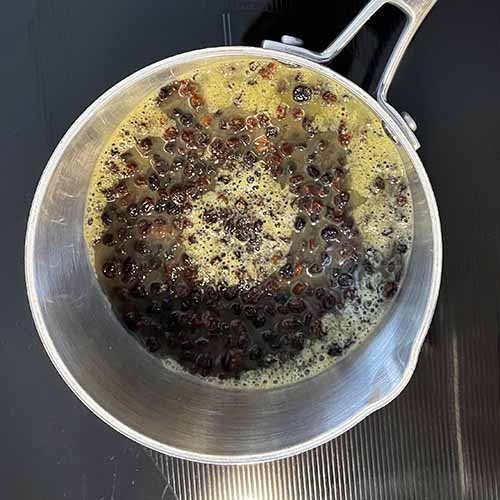 Eggs and Flaxseed
These are your binders.  In addition to the starch from the rice, the eggs and flaxseed are what hold the base of your dessert pizza together so it's like a pizza and not just fruit on top of rice porridge, although that might be good too.  I don't think there is a vegan version of this recipe, as I tried my regular rice crust pizza with egg replacer and it just didn't hold together.  If you have success with an egg substitute I'd love to hear about it. 
Pears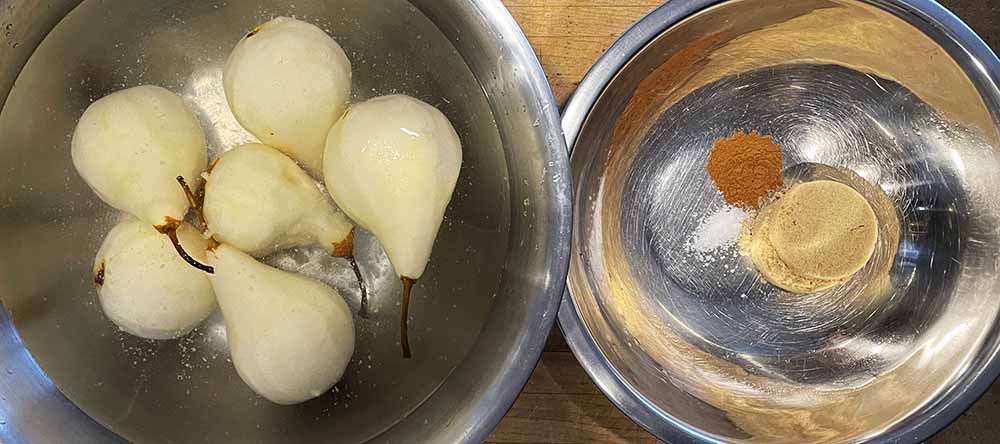 Peeled pears in the bowl on the left. Brown sugar, cinnamon, salt on the right.
I decided to make this a pear crumble because I was fortunate enough to be gifted a bag of beautiful pears from my friend's tree.  The result was delicious so I do recommend it.  You could substitute apples if you like or...mmm, I bet peaches would be awesome.
Flour
The topping for the dessert pizza in the photos was made with oat flour.  It's fairly hearty and I thought it would balance off the fruit and rice quite nicely, and it did.  I've also had good luck with brown rice flour.  It's a bit lighter and tends to crisp up a bit more.  Really, I think any gluten free flour would work since you're not really looking for binding power here. No gums are necessary. 
The Recipe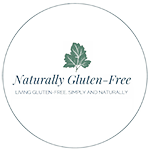 Sweet and Decadent Gluten Free Pear Crumble Dessert Pizza
By Patty Maguire – Naturally Gluten Free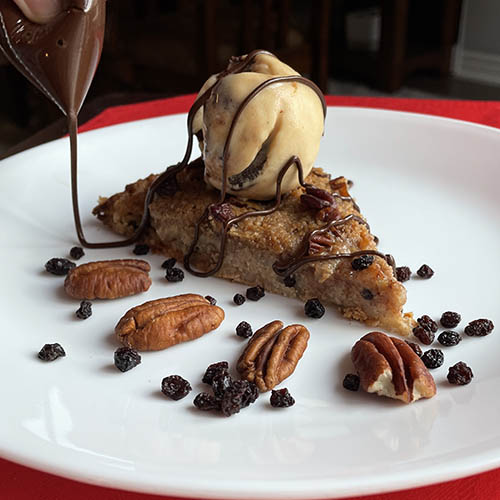 Pizza for dessert? You bet. Creamy coconut rice base topped with tender sweet pears and a decadent crispy crumble topping. And it's naturally gluten-free!
Prep Time: 1 hour 30 minutes
Cook time: 40 minutes
Yield: 8 to 12 servings
Tags: Gluten Free, Dairy Free
Ingredients
Base
100grams of Arborio rice
500ml of coconut milk
1/4 cup of currants
enough orange juice to cover the currants in a small saucepan
2 eggs
2 tablespoons of honey
1 tablespoon of ground flaxseed
Filling
5 ripe pears
1/2 cup of brown sugar
1 teaspoon of cinnamon
A pinch of salt
Topping
1 cup gluten free flour (oat flour or brown rice flour works well)
1/2 cup of brown sugar
1/2 cup of soft butter or dairy free margarine
1 teaspoon of cinnamon
1/4 tsp nutmeg
a pinch of salt
1/4 cup chopped pecans (optional)
Instructions
Base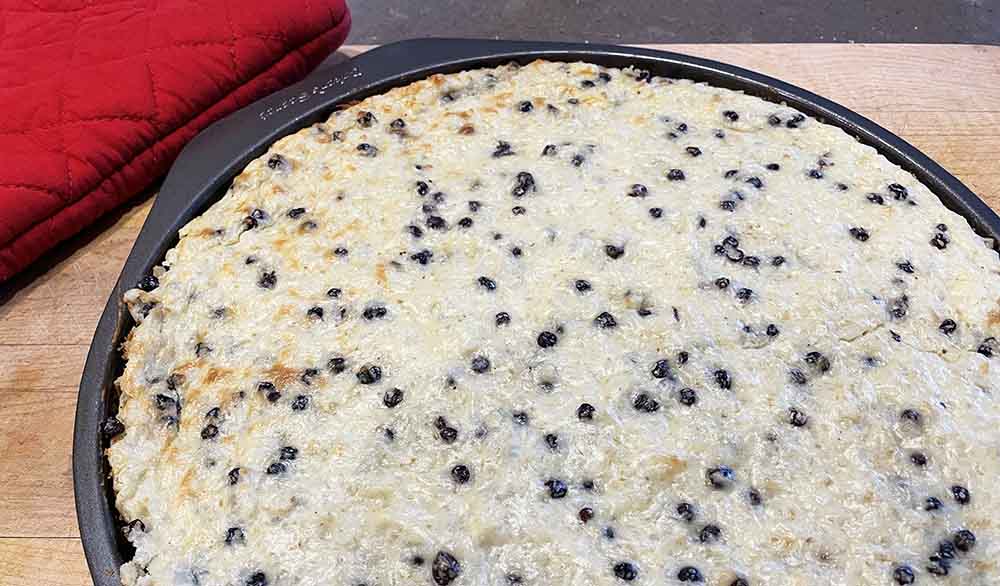 Preheat the oven to 375°F.


Combine the rice and coconut milk in a medium saucepan and let sit for 30 min.


Place the currants in a small saucepan and bring to a boil. Turn off the heat and let stand while you finish up with the rice.


After the rice has soaked for 30 minutes, turn on the heat and bring it to a boil. Lift the lid, give it a stir then replace the lid. Turn the heat to low and let it simmer for 30 minutes. Don't peek and stay close in case it boils over.


After 30 minutes, turn off the heat and let the rice stand for another 10 minutes. Then add the honey and flaxseed.


Drain the currants and stir them into the rice mixture. Let it cool a bit and add the egg. (You don't want the egg to cook in the rice)


Spread the mixture onto an oiled pizza pan and place in the oven for 15 - 20 min. The base should be turning golden brown and starting to set.


Filling
Peel the pears and slice thinly. Place the peeled pears in cold water while you work so they don't turn brown.


Mix the brown sugar, cinnamon, and salt.


Drain the sliced pears well and add to the sugar mixture, then set aside.


Topping
Mix together all the topping ingredients except the butter.


Add the butter and combine with your fingers until you have a lumpy mixture. Lumps should be about the size of peas.


Set the mixture in the fridge until you're ready for it.


Putting it all Together
Spread the filling evenly over the dessert pizza base.


Sprinkle the crumble topping over the filling. If it seems too powdery, just squeeze it a bit in your hand so it clumps together while you're sprinkling it over the pizza. You want mostly those pea sized chunks. Don't be too picky though, it will taste great.


Sprinkle the pecans over top.


Put your dessert pizza back in the oven and bake for 30 to 40 minutes. It should be golden brown on top but not burnt, the sugar should be starting to caramelize around the edges and the middle should be set.


Let your pizza cool, then slice it like a pizza and serve. It goes great with ice cream and chocolate drizzle.