Potato Pizza Crust
A potato pizza crust recipe?  I looked at that container of leftover mashed potatoes and knew it had to be possible.  So, I set out to create the best potato crust pizza recipe on the internet and the easiest gluten-free pizza crust you will ever make.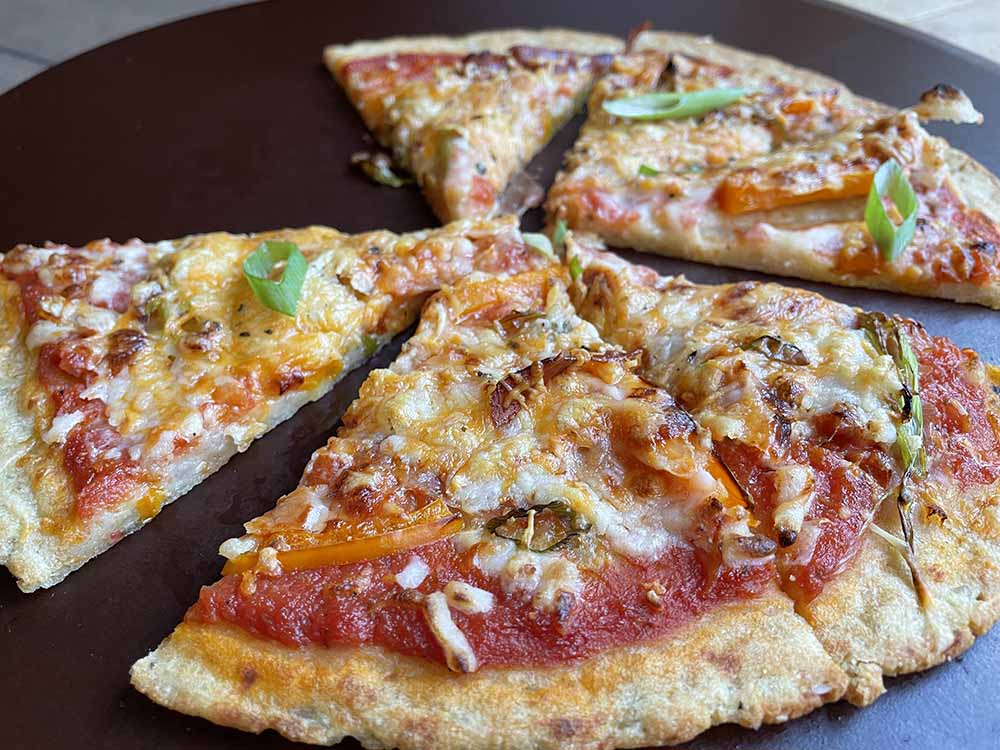 Success!  There are others out there, and I tried a few of them, but the big problem is, they don't hold together like a true pizza crust should.  After all you have to be able to pick pizza up and eat it with your fingers, or it's just not pizza, am I right?  Well this potato pizza crust passes the 3 point pizza test:
| | |
| --- | --- |
| | It tastes great! |
| | You can pick it up with your fingers. |
| | It's easy to make. |
Skip right to the recipe if you like, but there is some good info here that I think will help you to make your potato pizza crust a success.
More to Love
It's Gluten and Dairy Free and Vegan!
The other thing I love about this easy gluten-free pizza crust is, no eggs, no dairy.  So if you're vegan or have intolerances to dairy or eggs, then you have yourself a gluten-free and vegan pizza crust right here.  Just top with dairy free cheese and you're good to go.
It's Naturally Gluten-Free
No complicated flour blends, no starches, no gums or emulsifiers.  Just simple, natural ingredients.  Real food!
Recommended Tools
a pizza stone
a pizza pallet
medium sized mixing bowl
box grater
pizza cutter
You can use a pizza pan if you like, but the pizza stone, preheated in the oven is one of the keys to making this potato pizza crust crispy on the bottom and sturdy enough to hold up to your favorite toppings.
If you don't have a pizza pallet, you'll be fine, just use an upside down pan or tray or a cutting board with a handle.  It's to slide the pizza crust onto the hot stone in the oven.
Parchment paper is a must as this crust before it's cooked is too soft to lift off the board and into the over.  You'll roll it out directly on the parchment and slide it, parchment and all onto your hot pizza stone.
The Ingredients
The Potato
For the very best results I recommend a russet or other baking potato, baked in the oven or microwave until it's tender.  You can use leftover mashed potatoes if you like, but if you put milk in your mashed potatoes it might come out a little too soft to crisp up and hold together. 
Grating the potato on a box grater rather than using a potato masher gives you a more even textured dough.  A potato ricer if you have one would work well too.  I'm not saying that a potato masher won't work, you may just have little potato lumps.  Definitely not the end of the world.
The Flour
I tried this recipe with oat flour, sorghum flour and brown rice flour and they all worked.  I liked the flavor and texture of the pizza crust best with the rice flour.  I suspect this will work with almost any gluten free flour.  I'd love to hear if you try a different one and how it worked out.
Ground Flaxseed
If you use a gluten-free flour with xanthan gum or guar gum you may be able to leave out the flaxseed.  It's main purpose is to provide some fiber and some binding power.  My goal with this recipe was to avoid the gums and use a single ingredient flour, so the flaxseed will really help to hold it all together.
Toppings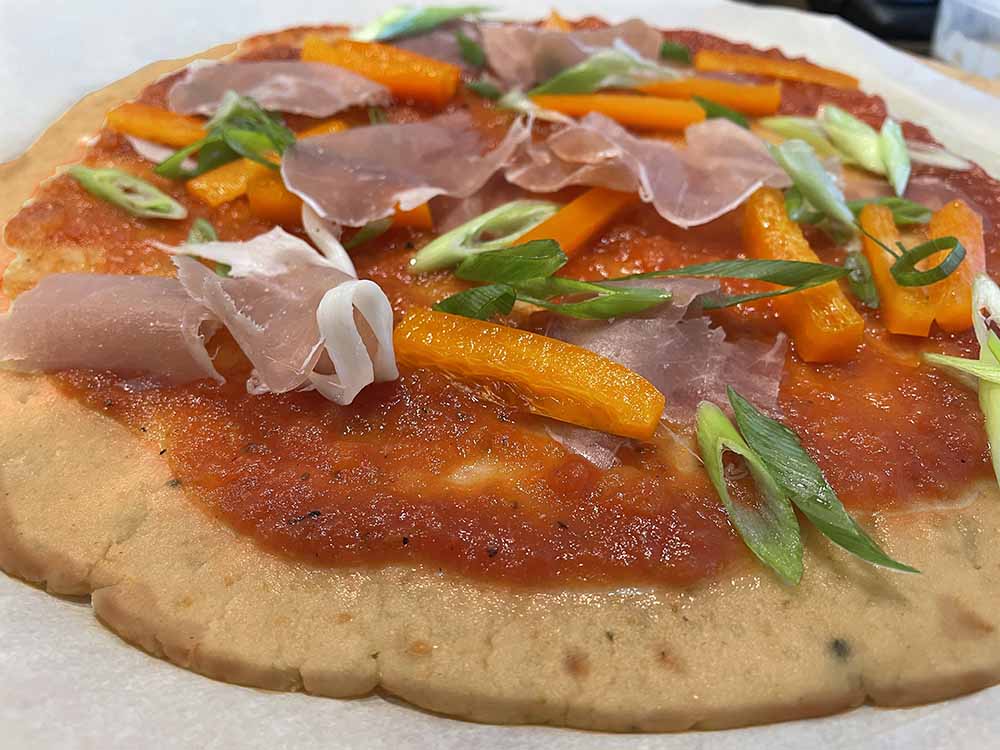 You can of course top this potato pizza crust however you like.  I recommend keeping it simple though.  The one I made had a bit of prosciutto, some bell pepper and sliced spring onion.  Very light and tasty. 
The Technique
It's relatively simple really.  Just mix the dry ingredients, add the oil and knead it all together with your hands.  Flatten it out on a piece of parchment and roll it out with a rolling pin.  You'll get a circle about 10"in diameter.
There are 2 tricks to making this potato pizza crust successful:
1. The parchment paper.  This allows you to move the pizza in and out of the oven
2. The hot oven and hot pizza stone.  Many pizza recipes having you baking your pizza somewhere between 375°F and 425°F.  Setting your oven to 500° with the pizza stone inside gives you that beautiful browning top and bottom.
The Recipe
Ingredients
For the crust

1 russet or other baking potato, cooked and grated
1/4 cup brown rice flour (I've also used oat flour and sorghum flour.  Both worked but I prefer the taste and texture of the rice flour.)
2 tbsp olive oil
1 tbsp ground flaxseed
1/4 tsp salt and a pinch of pepper

For topping

1 cup of tomato sauce.  Your favorite pasta sauce will work fine
2 cup shredded cheese. You can use mozzarella or whatever cheese you like. *
Your favorite pizza toppings.  Keep it simple.

Pin For Later
*For a dairy free version you can leave off the cheese or use a vegan cheese substitute. 
Method
Preheat your oven to 500° with the pizza stone inside


Cook your potato, baking it in the microwave is fine, then peel and grate it on a box grater.


In a medium sized mixing bowl, mix the flour, potato, flaxseed, salt and pepper


Add the olive oil


Mix thoroughly, use your hand to mix until well combined and knead it a little till it forms a ball. 


flatten out the dough on a piece of parchment and use a rolling pin to roll it out into a 10 inch circle. 


Using your pizza pallet, slide the pizza crust, parchment and all onto the hot stone in the oven.  


Bake for 8 - 10 min, until it's golden brown and holds together when you lift the corner with a spatula.


remove the potato pizza crust from the oven using your pizza pallet, leave the stone in the oven.


Add your toppings


Return the pizza to the oven and bake a further 8 - 10
minutes, until the cheese is melted and starting to brown. 


Remove from the oven, slice and serve.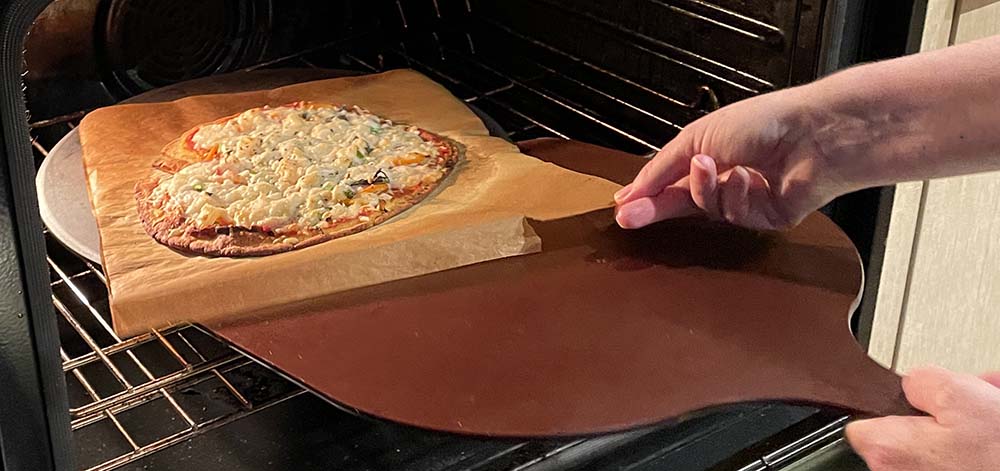 Let's Keep In Touch
Have you tried this recipe?  Did you like it?  Did you tweak it a bit?  I'd love to hear your thoughts.
You Might Also Like
Gluten-Free Pasta: There is so much to know about gluten-free pasta.  Different types, how to cook it, fun serving suggestions and recipes and even how to make your own from scratch!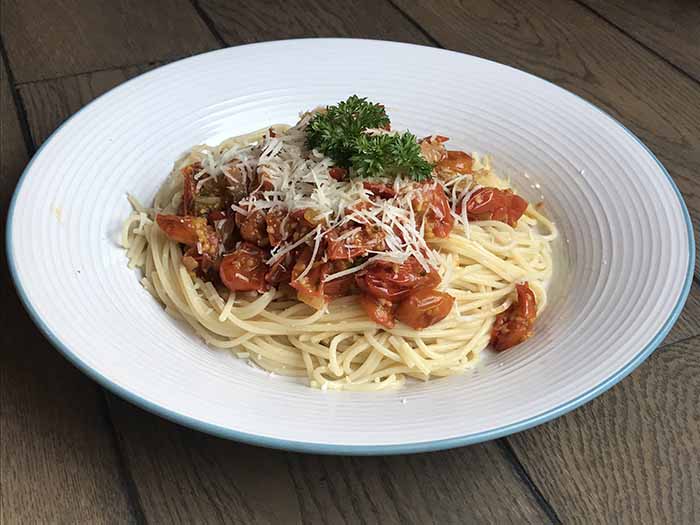 ---
Gluten-Free Dining:  This is the most comprehensive guide to gluten-free restaurant dining on the internet.  I know, I've looked!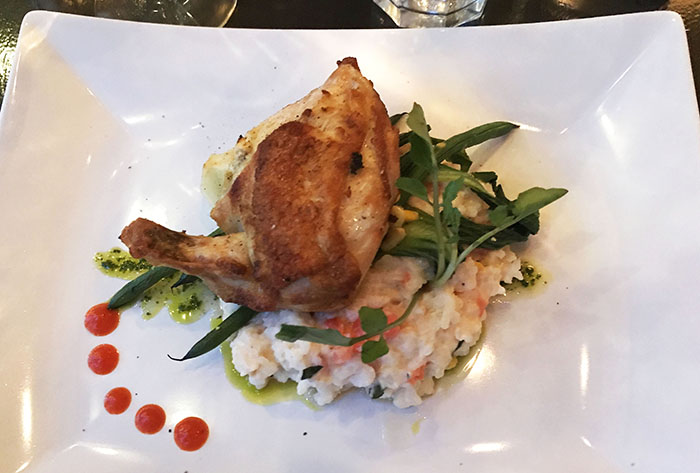 ---