40+ Gluten Free Breakfast Ideas For Busy Weekdays and Easy Weekends
If you're like me, you may find yourself struggling to know what to eat for breakfast.  Afterall, when you think of breakfast, what comes to mind?  Cereal? Toast? Pastries? Muffins?
Pin for Later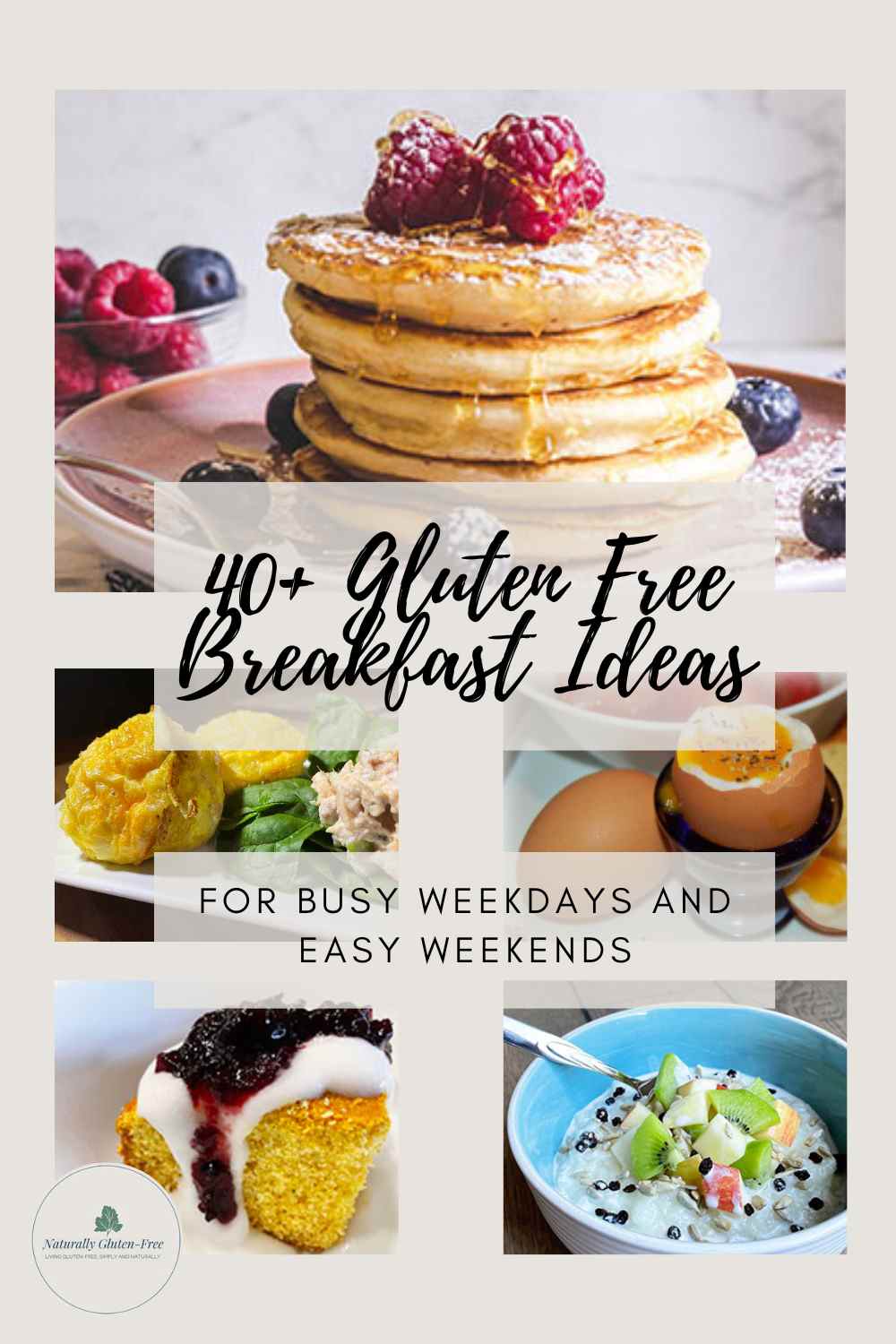 You've likely run into this if you're going out to a restaurant or looking to grab a fast gluten free breakfast on the go.  You'll find wraps and sandwiches and muffins and pastries, all very delicious and convenient but all very laden with gluten.

Re-Thinking Breakfast
When asking myself, what can I eat for breakfast that's gluten-free, and poking my head in the refrigerator, I found myself re-thinking what breakfast really is. 
Did you know that breakfast cereal was not invented until the 1950's?  Before that people broke their fast with a simple, high protein, nutritious meal.  Having a high protein gluten free breakfast is so important to give you that morning energy boost. 
Here are some high protein gluten free breakfast ideas that may start you re-thinking breakfast too: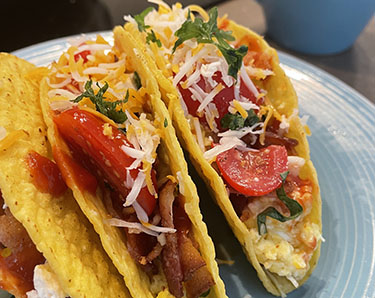 Leftovers on a gluten-free wrap
High protein sandwich like chicken, turkey, roast beef or grilled cheese on gluten-free bread
Leftover mashed potatoes fried in butter or olive oil with a delicious runny egg on the side
Leftover pizza or lasagna
Scrambled eggs on a taco shell
Salmon or tuna or even sardines or mackerel on gluten free toast or a rice cake. 
Potatoes for Breakfast
Potatoes are naturally gluten-free and are a go to staple on a gluten-free diet.  We've already talked about frying up those leftover mashed potatoes and adding an egg for a quick nutritious gluten free breakfast.  How about these ideas

Baked potato topped with bacon and cheddar.  Cook your potato in the microwave to speed up the process then add the cheese and cooked bacon and finish it off under the broiler.
Potato pancakes
Potato latkes
Irish potato boxti
Traditional American home fries with ham or bacon and eggs
Gluten Free Breakfast Foods
What about the foods that we traditionally eat for breakfast?  Are any of them gluten-free?

Bananas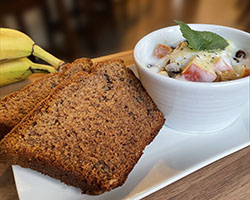 Bananas are gluten-free and delicious and full of potassium. 
Pair them with peanut butter spread generously on gluten-free toast. 
Add another slice of toast for a peanut butter and banana sandwich.
Switch up the spread and try almond butter, or cashew butter or pecan butter.
Slice them into a bowl of gluten-free oatmeal or cold cereal with milk.
Slice them into a bowl of yogurt and top with a few berries and chopped walnuts.
Use up your over-ripe bananas and make gluten-free banana bread.
Eggs
.Eggs are not only gluten-free but they might just be the perfect food. 
Eggs got a bad reputation in the 80's for being too high in cholesterol, but that's long since been debunked1.  So go ahead and enjoy this easy source of protein. 
The possibilities here are endless.  Of course, you have the traditional hardy egg breakfasts like: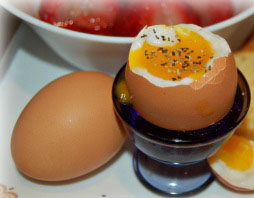 Bacon* and eggs
Ham* and eggs
Sausage* and eggs
Poached eggs on gluten-free toast
Omelet with cheese or mushrooms and onion
Soft boiled egg in a cup with gluten-free toast
Hard boiled egg to peel and go
*When buying breakfast meats, check the labels to be sure they are gluten-free

Those are all great, but how about a bit of creativity.  Try some of these gluten-free eggy ideas.  These are so good you'll even serve them to guests. 

Huevos rancheros – poached egg on a corn tortilla with Mexican salsa
Eggs poached in tomatoes
Poached egg in the microwave – put ½ cup of water in a microwave safe mug.  Crack an egg into the water.  Prick the yolk with a toothpick. Cover with a small plate.  Microwave on high for one minute.  If it's not cooked continue in 10 second increments. 
Microwave toad-in-a-hole – Toast one slice of gluten-free bread.  Press the center down with your fingers or a spoon.  Crack an egg onto the toast.  Prick the yolk with a toothpick.  Microwave on high for one minute.  If it's not cooked continue in 10 second increments.
Easy frittata or crustless quiche – Sauté mushrooms, onions, peppers.  Whisk up 4 eggs with a little milk or cream.  Pour them over top and bake in a 350° oven for about 25 min or until the eggs are set.  Add shredded cheese half way through if you like.
Toasted BELT (Bacon, Egg, Lettuce, Tomato) sandwich on gluten-free bread or a gluten-free wrap.
Gluten Free Breakfast Cereal
Most of the breakfast cereals we are used to are made at least in part with wheat, so they are not gluten-free. 
There are gluten-free grains of course and there are breakfast cereals made with gluten free grains.  Just be careful.  Grains are a high-risk item so only buy grain products that state "gluten-free" on the label.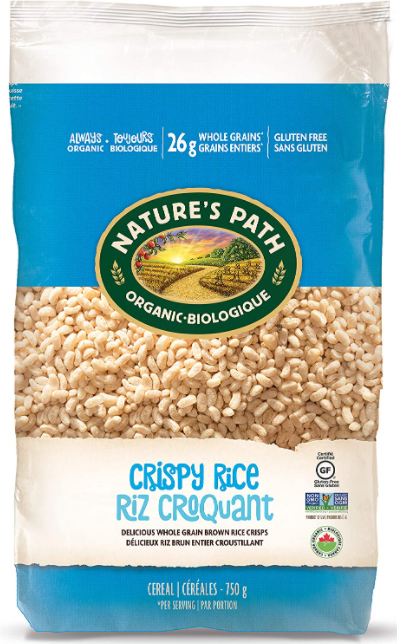 Rice Krispies are made with rice but also contain malt syrup so they are not gluten-free. Instead look for gluten-free alternatives like:
Nature's Path
One Degree
Barbara's 
Cheerio's are made with oats, but not with certified gluten-free oats so they are not safe for people with celiac disease. 
Some boxes are labelled gluten-free, however the Canadian Celiac Association has investigated and found that they use an unreliable mechanical process for sorting the oats from other grains2.
Look for certified gluten-free alternatives like:
Nature's Path
One Degree
Barbara's
Gluten-Free Porridge
When I was growing up, instant oatmeal porridge was a regular in the morning especially on those cold winter days.  "Sticks to your ribs" my grandmother would say.  My grandfather preferred his Red River cereal and I liked Cream of Wheat.  None of which are safe for celiacs on a gluten free diet. 

About Gluten-Free Oatmeal.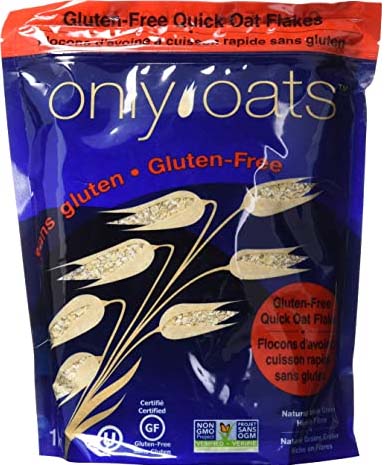 Oats are technically gluten-free but are often grown with wheat and barley.  This makes them a high risk for cross-contamination. 
If you are going to eat oatmeal, make sure it is certified gluten-free.  Popular brands include:
Bob's Red Mill
Quaker Oats has a certified gluten-free oatmeal.  Read the package carefully to make sure you get the right one.
In Canada we have Only Oats which are certified gluten free.
Other Types of Gluten-Free Porridge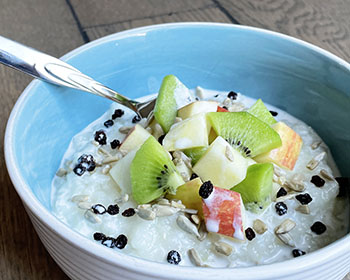 Bob's Red Mill 8 Grain Hot Cereal is a mix of gluten-free grains and cooks up into a hardy porridge.
Cream of Rice cereal is made by the Cream of Wheat company (oddly) and is certified gluten-free.
You can make your own creamy Japanese style rice porridge out of Arborio rice.
Pretty much any gluten-free grain can be cooked up into a delicious and nutritious hot cereal.  Be adventurous.  Try a few out and see what you think.
Gluten Free Pancakes
We're talking about American style pancakes here, the fluffy ones that we slather with butter and drench in Canadian maple syrup.  Add a side of bacon and you have breakfast that is sure to please anyone on this side of the pond.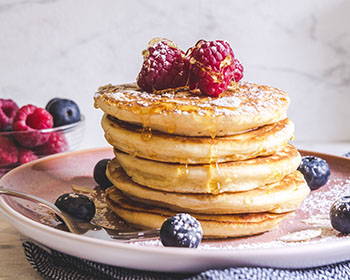 Photo by Jacqueline Pelzer - Unsplash
Of course, these pancakes are traditionally made with wheat flour but you can definitely make American pancakes gluten-free and it's pretty easy.  Here are some options:
- Gluten-Free pancakes from a mix – this is the easiest way.  Common brands are:
Bob's Red Mill
Betty Crocker Bisquick pancakes
Kinnikinnick
In Canada we have Duinkirken and Bulk Barn has bulk gluten-free pancake mix.
- Gluten-Free pancakes from scratch
Gluten Free Breakfast for Kids
Going gluten-free may be the perfect chance to break the sugary cereal habit. 
Of course if you check the organic or specialty foods section of the supermarket you'll find gluten-free versions of these.  But how about seizing the opportunity?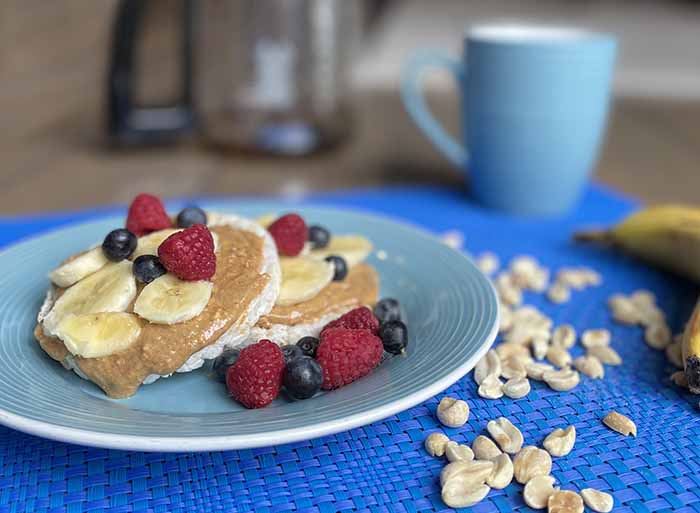 Gluten-free muffins 
Gluten-free pancakes
Pigs in a blanket with a boiled egg and gluten-free toast
Gluten-free toast "soldiers" dipped in a runny boiled egg
Gluten-free corn bread with yogurt and berries and a dash of maple syrup
Gluten-free porridge topped with banana or berries and a little brown sugar
Sliced apple with cheese and berries
Sliced apple with peanut butter and raisins
Peanut butter and banana on a rice cake
Sliced gluten-free kielbasa or deli meat with cheese, nuts and berries
Toasted peanut butter and banana sandwich made with gluten-free bread
Gluten Free Breakfast Recipes
Click on a picture to go to the recipe
Sources
1. Holland, K. (2021, November 2). 11 foods to increase your HDL. Healthline. Retrieved March 19, 2022, from https://www.healthline.com/health/high-cholesterol/foods-to-increase-hdl#what-it-is
2, Canadian Celiac Association. (n.d.). Cheerios statement. Canadian Celiac Association. Retrieved March 19, 2022, from https://www.celiac.ca/439-2/
Home > Gluten Free Meals > Gluten Free Breakfast