Mini Omelet Muffins
You won't believe how simple these Mini Omelet Muffins are!
Aren't we always looking for easy, tasty, healthy breakfast ideas?  We'll this one qualifies!
Benefits of Making Mini Omelet Muffins
According to the latest wisdom, eating protein in the morning sets you up for an energy filled day and can even help with weight loss1.   So the benefits of this little gem of a gluten-free breakfast idea are many:
they're easy to make
they're high in protein
they're portable
they're naturally gluten-free
they're keto friendly
you can load them up or keep them simple
they're incredibly nutritious2
they're fun
they're fancy enough to serve to guests
they store well so you can make them in advance to grab and go 
The Ingredients
Keep it Simple or Load it Up
The two main ingredients you need are eggs, and a bit of liquid to fluff them up.  Everything else is up to your imagination.
The ones in the photo are pretty simple.  I've used eggs, onion, ham and cheddar.  They were delicious!
If you want to change it up you can use any combination of:

cooked bacon
cherry tomatoes
diced red pepper
diced mushroom
minced garlic
spring onion
chopped parsley or your favorite green herb
your favorite cheese like goat, parmesan or mozzarella
red chili flakes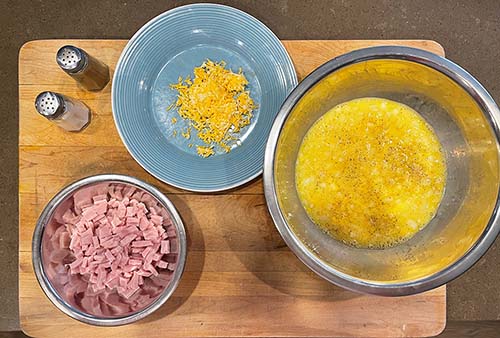 How To Make an Omelet Fluffy
All you need to make your omelet fluffy is a little liquid.  As the egg cooks, the liquid creates steam and you get a nice puffy, fluffy omelet. 
This goes for your regular pan omelet as well as these delicious mini omelet muffins.  
If you're adding veggies to your omelet muffins then the moisture from those is all that's necessary.  Onions, pepper, mushrooms etc. all have enough moisture in them to make your mini omelet muffins puff up beautifully.  If you add any more you risk them becoming watery.
If you're not using any veggies then a tablespoon of water will give you the lift you need.  You can also use milk or cream or a flavored liquid like veggie or chicken stock. 
Preparing Your Ingredients
Everything needs to be diced nice and small.  The ham or bacon, the pepper or whatever else you're using should be a quarter inch to half inch squares.  Grate the cheese and chop the herbs if using. 
How Many Mini Omelet Muffins do You Get?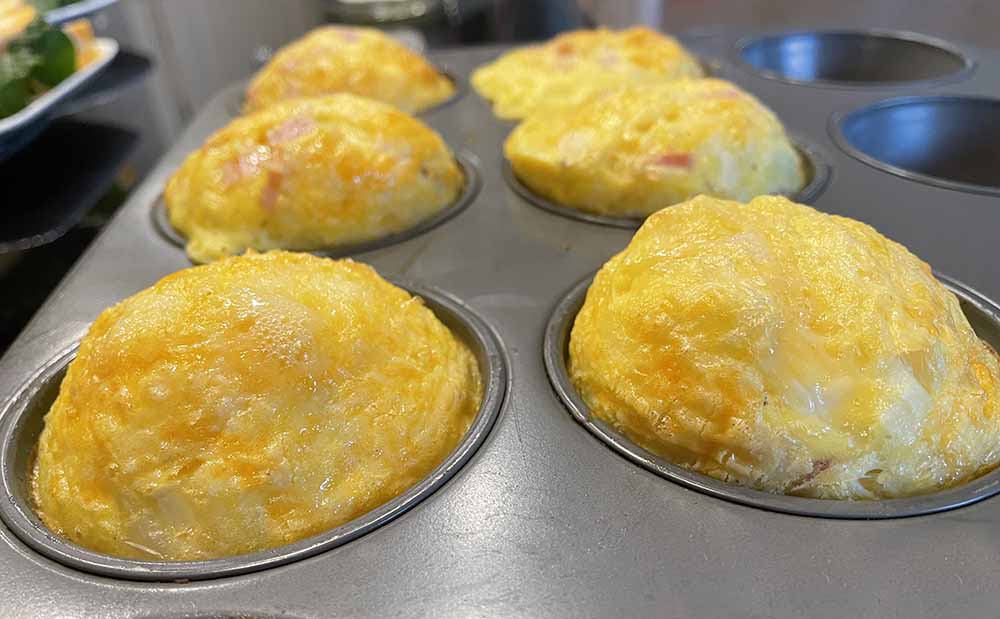 This recipe uses six eggs and is intended to make six muffins, so each muffin is one egg.  You can of course increase it to twelve eggs and make twelve muffins if you're feeding a group.
Another option is to make your muffins a bit smaller.  You could use spread your six eggs over nine muffin cups, or if you have mini muffin tins you could use those and make mini omelet muffin bites.  These are great for kids. 
The Recipe
Ingredients
The base
6 large eggs
1 tablespoon of finely chopped onion (optional)
salt and pepper to taste
The garnish: choose 2 or three of the following
1/4 cup ham or cooked bacon
1/4 cup of diced red pepper, mushrooms, spinach
6 cherry or grape tomatoes quartered
Instructions
Preheat oven to 350°
Grease 6 - 9 muffin tins
Whisk the egg and onion together and add salt and pepper
Divide the egg mixture evenly between the muffin tins
Add the garnish (bacon, peppers etc) to each muffin
Bake for 15 - 20 minutes, until the egg is set
See how beautifully they puff up?!  Eat them right away or store in the fridge and reheat later.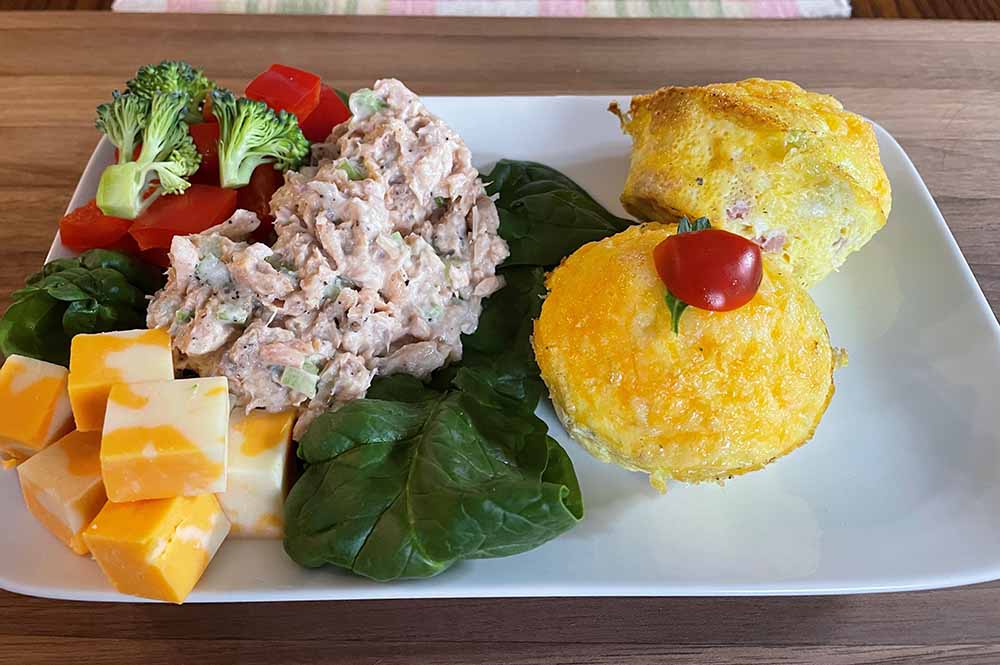 Sources:
1. Hjalmarsdottir, F. (2017, June 22). How protein at breakfast can help you lose weight. Healthline. Retrieved April 3, 2022, from https://www.healthline.com/nutrition/protein-at-breakfast-and-weight-loss
2. Gunnars, K. (2018, June 28). Top 10 health benefits of eating eggs. Healthline. Retrieved April 3, 2022, from https://www.healthline.com/nutrition/10-proven-health-benefits-of-eggs#TOC_TITLE_HDR_2