Poached Eggs with Lentils

Bacon Optional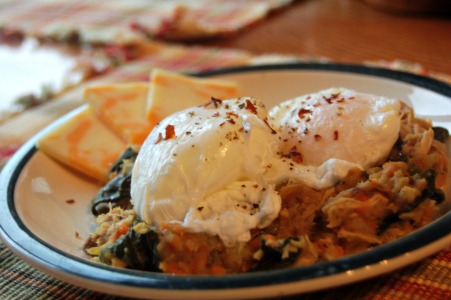 This is adapted from my "Spilling the Beans"1 cookbook.  It's not a gluten free book but many of the recipes are naturally gluten free or can be easily converted.  This poached eggs with lentils recipe immediately caught my eye because I was looking for a bread alternative to pair with eggs that would soak up the yummy runny egg yolk.  This fits the bill perfectly.  Also great to make up on the weekend and reheat during the week.

Ingredients:
8 eggs (or fewer depending on how many you are serving right away)

3/4 c dry lentils.  The original recipe calls for green but I prefer the red
1 garlic clove peeled
4 slices of bacon (optional) you can use ham or peameal or just leave this out
1 onion or 2 leeks (white part only) finely chopped
About 1 1/2 c finely chopped veggies.  You don't have to be too exact here.  The original recipe calls for 2 stalks celery and 1 carrot, but really, use what you like and what you have.  Good opportunity to clean out the fridge.
2 tbsp balsamic or red wine vinegar ( prefer the balsamic, nice kick)
Nice handful of shredded greens (optional).  Use spinach, collards, kale, beat greens, whatever you have.

Method:

1. Follow the package directions to cook the lentils.  You can do this ahead of time or while you are prepping the rest.

2. In a large skillet, cook the bacon.  If you're not using, just add about 2 tbsp of oil (coconut oil is best).  Remove the bacon when cooked.


3. Add the onions / leeks and cook on med a few min til tender, not brown.  About 5 min.


4. Add the rest of the veggies, but not the greens.

5. Drain the lentils and add to the pan along with the vinegar

6. Add the greens, stir til they wilt.  Add bacon back in.

8. Divide the lentil mixture among 4 plates.  Top each with 2 poached eggs.
Home > Recipes >  Poached Eggs w Lentils

 source: 1: "Spilling the Beans: Cooking and Baking with Beans and Grains Every Day", Julie Van Rosendaal and Sue Duncan, Whitecap Books Vancouver B.C. Canada, 2011.