Simply Sweet Gluten and Grain Free Maple Nut Granola Recipe

Sweet maple syrup and crunchy nuts team up to make a delightful gluten and grain free granola that you'll love atop your yogurt or with fruit and milk.
Pin for Later
My Grain Free Maple Nut Granola Recipe was inspired by a recent sightseeing trip to Dunedin Florida.  I picked up a one-pound bag of grain free maple granola for $15 (not a typo) and it was delicious.  I immediately thought, "I can do this better, and cheaper!"
Why Grain Free Granola?
Most gluten free granola contains oats.  Oats are a gluten free grain but are often contaminated with gluten, so people with celiac disease need to eat gluten free oats.  Even gluten free oats aren't always the answer as some people with celiac can't tolerate oats at all.  And, it gets more complicated.  In 2022 there was a shortage of oats and especially gluten free oats.  This made it difficult to get some of the products that we celiacs are used to.  It's even worse in the US because not all oats that are labelled gluten free follow proper testing procedures. During my Florida vacation I decided to avoid the issue completely by avoiding oats.  If you're avoiding oats, then grain free granola is perfect.
Gluten Free Homemade Cereal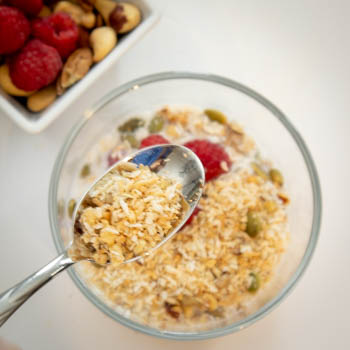 A lot of people ask about what gluten free cereal to buy.  I'm not a big fan of breakfast cereal for a couple of reasons. 
Most breakfast cereals are highly processed.  How exactly does one "puff" rice or "flake" corn?
Most breakfast cereals contain a lot of sugar.
With this Maple Nut Granola recipe, you have a homemade cereal that is 100% real food, 0% processed non-food ingredients, no refined sugar and you control the sweetness.  Just pour ½ cup into a bowl, add a handful of berries or other chopped fruit and your favorite milk.
Sweet n' Crunchy Yogurt Topper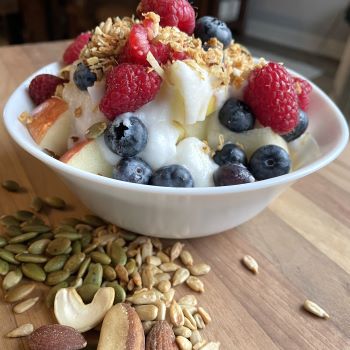 My favorite way to enjoy this healthy, gluten and grain free maple nut granola recipe is as a yogurt topper. 
Plain, unsweetened yogurt is a healthy probiotic and great for your gut.  Those of us with celiac need to do everything we can to take care of our gut health. 
Top off your yogurt with a few berries and ¼ cup of this granola and you have a healthy breakfast that is 100% naturally gluten free real food.  If you have a casein intolerance, then use coconut or other plant based yogurt.
Is this Maple Nut Granola Vegan?

Yes, it is.  This granola is just nuts and seeds with a little maple syrup and a little salt, cinnamon, and vanilla.  It's 100% plant based and vegan.
Is this Maple Nut Granola Sugar Free?

This Grain Free Maple Nut Granola recipe is free of refined sugar.  However, maple syrup is still sugar so it depends on what you are trying to accomplish with your diet.  It's very low in sugar with just 2 tablespoons of maple syrup for the whole recipe.  That's a little less than 1 teaspoon for a ½ cup serving of cereal, or under ½ teaspoon per ¼ cup if you're using it as a yogurt topper.  If you'd like to make sugar free grain free granola leave out the maple syrup.  You can sprinkle in a little monk fruit or erythritol sweetener if you like.
Is This Grain Free Maple Nut Granola Keto Friendly?

Well, the grain free part gets you most of the way there as the keto diet excludes grains.  To make this recipe truly keto friendly you'll need to eliminate the maple syrup and, if you like, sweeten it with a keto friendly sweeter like monk fruit or erythritol. Also pay attention to the nuts you're using.  Cashews and peanuts are not keto, so choose a mix, or make your own mix of keto friendly nuts like walnuts, pecans, macadamias, hazelnuts, or brazil nuts.
Is Gluten and Grain Free Maple Nut Granola Healthy?

Yes!  We've mentioned that it's real food and that it's low in sugar.  Let's talk about what you do get.  Mixed nuts are full of fiber and healthy fats. They also contain polyphenols which are powerful antioxidants.  Polyphenols have been shown to protect against certain chronic diseases like heart disease, diabetes, and some cancers.
Coconut has a lot of health benefits too.  In addition to the fiber, healthy fats and antioxidants, coconut contains manganese, copper, selenium, magnesium, phosphorus, iron, and potassium.
Isn't that better nutrition than a highly processed boxed breakfast cereal?
Is Gluten and Grain Free Maple Nut Granola Expensive?

Remember my $15 bag from the market?  That's $15 US by the way so for us in Canada it's a little over $20.  With the cost of food going up, especially the cost of gluten free food, making your own is often the best value for your money.  Especially when the recipe is as simple as this one.  It depends where you live of course, and nuts are expensive, but I made this gluten and grain free granola recipe for about 1/3 of the price of my Florida bag.  That's about $5 US per pound or about $6.80 CAD.
About the Ingredients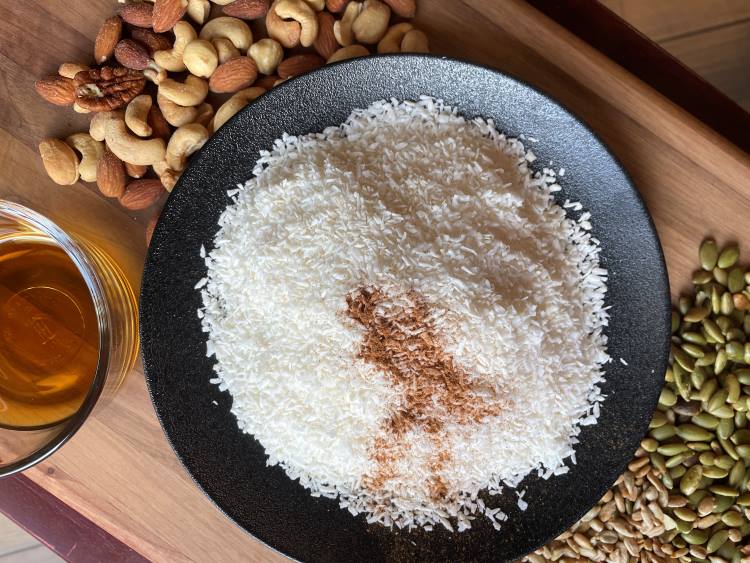 Coconut
Use unsweetened shredded coconut.  Try to find the coarsest shred you can.  You'll get a nicer, more cereal like texture with bigger flakes.
Nuts
Buying mixed nuts is the easiest way to make this recipe, but you can also create your own mix of your favorite nuts.  Try pecans, walnuts, almonds, or brazil nuts. If you want a keto friendly granola stay away from cashews and peanuts. Choose unsalted nuts so you can control the salt.  If you do buy salted nuts, then leave the salt out of the recipe.
Seeds
The recipe calls for sunflower and pumpkin seeds but you can substitute whatever seeds you like.  Choose unsalted so you control the salt.
Maple Syrup
The maple syrup is the star of this show.  Use real maple syrup for the best results.  You can also you honey.  If you want a sugar free or keto version, then leave out the syrup and sprinkle in some monk fruit or erythritol sweetener.
Putting it All Together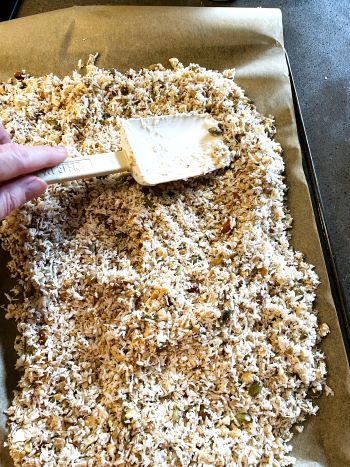 This is so quick and easy to make I know you'll soon be doing it without the instructions.  Here are a few tips to make it even easier.
To "crush" the nuts, try putting them in a Ziploc bag and smash them with a mallet.  Another way is to put them in the food processor.  I personally don't think it's worth washing the food processer.
Use a large pan so you can spread the mixture out thin.  If it's thicker you'll need to bake it a little longer and maybe stir it a couple of times to toast evenly.
The Recipe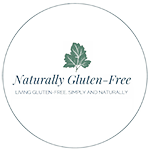 Simply Sweet Gluten and Grain Free Maple Nut Granola Recipe
By Patty Maguire – Naturally Gluten Free,
Sweet maple syrup and crunchy nuts team up to make a delightful gluten and grain free granola that you'll love atop your yogurt or with fruit and milk.
Prep Time: 5 minutes
Cook time: 10 mintues
Yield: 3 1/2 cups or 7 to 14 servings
Tags: Gluten Free, Dairy Free, Grain Free, Keto and Sugar Free Options
Ingredients
2 cups of shredded coconut
1 cup of crushed unsalted mixed nuts
1/4 cup of unsalted sunflower seeds
1/4 cup of unsalted pumpkin seeds
2 tablespoons of maple syrup
1 teaspoon of vanilla
Cinnamon to taste
Pinch of salt (leave out if using salted nuts or seeds)
Instructions
Preheat the oven to 350°


Put the coconut, nuts, sunflower seeds and pumpkin seeds in a bowl.


Add the maple syrup, vanilla, cinnamon and salt them mix thoroughly.


Spread the mixture out onto a large parchment lined baking sheet.


Bake for 5 minutes. Take the pan out of the over and mix everything around. If you're satisfied then you're done. If you'd like it a bit toastier, put it back in the oven for another 2 to five minutes. Keep an eye that it doesn't burn.