50 Gluten Free Lunch Ideas that (Mostly) Don't Need a Recipe



Lunches You Will Actually Make
Are you looking for easy gluten free lunches you can take to work, or to pack up for your kids to take to school?  Are you looking for ideas that don't require a lot of fuss, or special ingredients or confusing instructions?  Lunches that you will actually make, even when you don't feel like making lunch?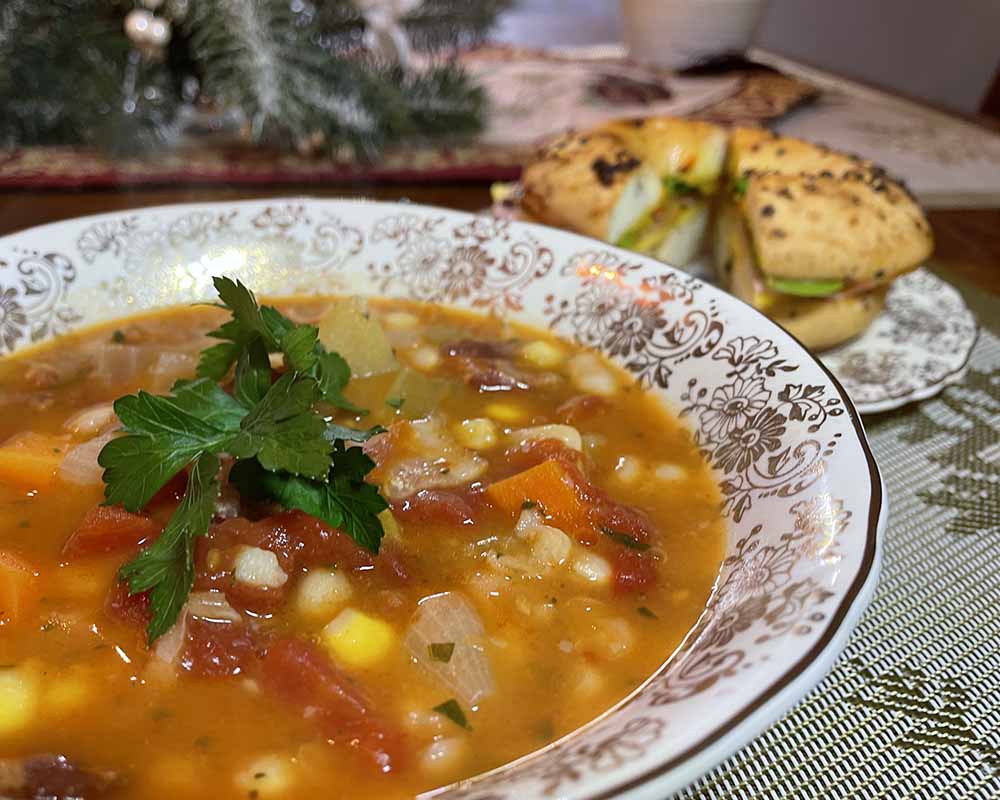 If so, I think you'll love this list of 50 gluten free lunches that (mostly) don't require a recipe.

You may even want to bookmark this page so you can come back to it when you're in need of a quick and healthy gluten free lunch idea. 

What We Really Want is Ideas!
When I sat down to write this article for you, I did some surfing to see what's already out there to help people with celiac put together a simple gluten free lunch and I found a lot of great recipes.  But when I thought about making those lunches, I realized something.   

Most of us struggle to find the time to cook one nutritious, delicious gluten-free meal a day, and that's dinner. 

I think that when you ask yourself, "what can I eat for lunch that's gluten-free", you're not looking for recipes so much as ideas.  And that's just what I have for you here. 
A list of practical, simple, healthy gluten free lunch ideas that you'll actually make.  

Gluten-Free Sandwiches
Did you grow up taking a sandwich to school every day for lunch?  I did!  Was it painfully boring?  Yes, yes it was! 
Maybe this gluten-free thing is an opportunity to get out of the old sandwich rut and come up with some new ideas.  

Rethinking Sandwiches
The great thing about sandwiches is that they are portable, and they don't require utensils.  You can pack a sandwich in your purse or bag and pull it out whenever you have a few minutes to grab a bite.  No mess, no microwave, no fork.  You don't even need a table.
The problem with gluten-free sandwiches is the bread.  Gluten-free bread tends to crumble and it's not nearly as absorbent as wheat bread, so it disintegrates on contact with sauces or any type of moisture in the filling.  What to do?
Make your sandwich on a gluten-free bun.
Buns hold together better than sliced bread.  They're thicker so they can take a bit of moisture.  

Schar has a nice gluten-free ciabatta bun. President's Choice has a soft, reasonably sized hamburger bun that's also great for sandwiches, or try a gluten-free bagel.  Here are some ideas for gluten-free sandwich fillings:

Leftover roast beef or deli roast beef with spicy mustard, a slice of tomato and pickle on a gluten-free bun.
Cooked ham or deli ham with a slice of Swiss cheese, lettuce and Thousand Island dressing on a gluten-free bun.
Leftover chicken breast with romaine lettuce, Dijon mustard and mayo on a gluten-free bun.
Roast pork or pork tenderloin with cheddar and salsa on a gluten-free bun.
Looking to change up the same old sauces?  Roam the sauce aisle at your supermarket.  You'll be pleasantly surprised at the selection of gluten-free sauces.  Or try my curry pineapple relish.  It's great on a sandwich with ham, pork, or chicken. 

Rethinking Bread
How about ditching the (let's face it) disappointing gluten-free bread altogether?  Here are some alternatives.

Gluten-Free Wraps
Wraps have several advantages over bread: They travel better, store more easily and they're more versatile than bread.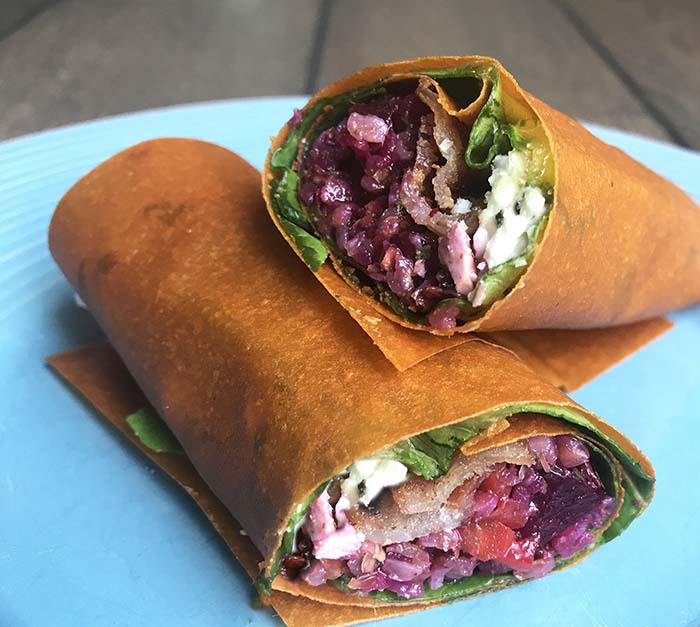 Roll up your favorite sandwich ingredients.
Make a personal pizza on a gluten-free wrap.
Warm it and cut it up into triangles for dipping in place of flat bread or tortilla chips. 
You may also find that gluten-free wraps are lower in calories and carbs than two slices of gluten-free bread. 
Sadly though, there is a problem with gluten free wraps.  Since they have no gluten, they tend to fall apart.  Here are a couple of links that will help you over this hurdle.
Try filling your gluten-free wrap with: 

Scrambled egg with shredded cheddar 
Leftover stir-fry, warm or cold on a wrap
Salmon or tuna with feta cheese, pickle, and mayo
Cubed chicken with diced tomato, mozzarella and little olive oil and lemon juice
Lettuce Wraps
Looking for a great healthy gluten free lunch idea for work?  Lettuce wraps are the perfect naturally-gluten free alternative to bread.  They are also a great option if you're looking to reduce calories or carbs.  
You need a lettuce that's soft enough not to break when you roll it.  The ends of romaine work well.  So does Boston or butter lettuce.  
To change it up a bit and add some extra nutrition try kale, collard greens or chard.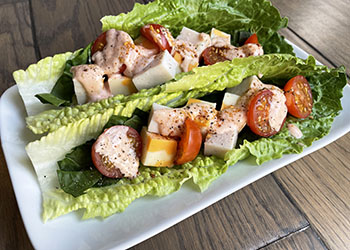 The trick with lettuce wraps is to use two pieces of lettuce.  It gives you more area to work with and will roll up better.  You can also use romaine hearts, add your filling, and eat it like an open-faced sandwich.  

Lettuce wraps will work with any of the suggestions above, or try:
BLT lettuce wrap – bacon lettuce (of course) and tomato.  Add your favorite mayo or ranch dressing to give it that needed lunch time zing.
Pastrami and Swiss with sliced almonds and yellow mustard 
Hamburger on a lettuce bun - Yes, just forget the big bready bun and wrap your patty with all the fixings on a nice big soft piece of lettuce. 
Deli meats work nicely on a lettuce wrap because they're tender yet they hold together so won't crumble and fall out.

Gluten Free Deli Meat Wraps
Take a look at that slice of deli meat. Notice anything?  It's flat and round, just like a wrap.  

Why not flip your sandwich around and use the inside as the outside?  This is especially great if you're trying to avoid carbs.

Ham wrap with cheddar and pickle
Deli roast beef wrap with lettuce, mozzarella, and horseradish
Deli chicken or turkey with julienne cucumber and baby spinach
Prosciutto with melon slices
Dip your Wrap
Of course, you can put the sauce on the inside, but how about dishing out your favorite deli mustard or mayo or chutney or hummus into a serving dish and dip your gluten-free wrap.

Taco Shells
Anything you can put on a sandwich can go on a taco shell.  They're crunchy and delicious and a nice change from the norm.  Try:

Leftover beef stir-fry on a taco shell
Chicken salad on a taco shell with a few olives and provolone cheese
Leftover baked whitefish on a taco shell with diced celery, cucumber and ranch dressing
Slice up leftover bratwurst and top with sauerkraut
Canned or leftover homemade chili topped with shredded cheddar
If you're packing taco shells for work or school, they're best in a container so they don't break. 

Gluten-Free Rice Cakes
Rice cakes have the bad reputation of being boring and tasteless, but maybe we're not trying hard enough.  When you think about it, bread is pretty boring and tasteless until you dress it up with your favorite topping, and you can put anything on a rice cake that you'd put on toast.  These make an open-faced sandwich so might be more of an at home lunch.

Gluten-Free Rice Cakes 7 Ways:  These crunchy, versatile little discs are way under-rated.  They're quick, they're low cal, you can top them with pretty much anything and they're naturally gluten-free!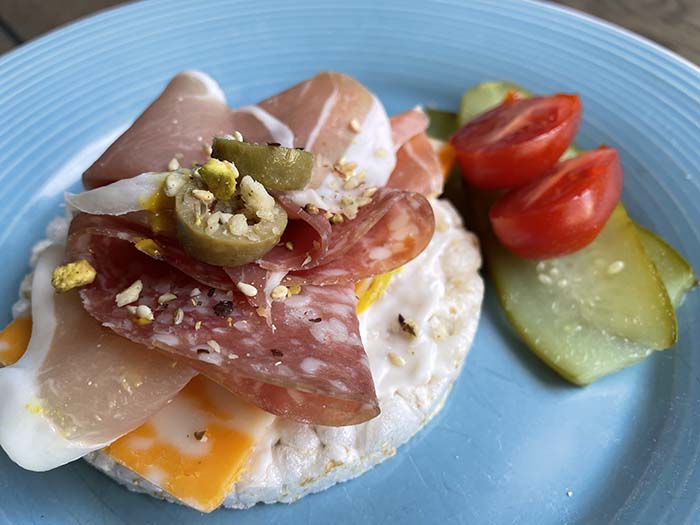 About Gluten Free Lunch Meat
Is lunch meat gluten-free? 
Lunch meat or deli meat is one of those places where gluten can hide.  It actually makes me a little bit crazy, I mean there really is no need to put gluten in lunch meat! But sometimes things just don't make sense.  You do need to check labels. 
Several brands carry a gluten-free claim so that's helpful.  Here are a few suppliers that carry gluten free lunch meats.  This doesn't mean that everything they make is gluten-free so still check the label.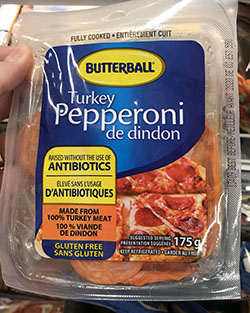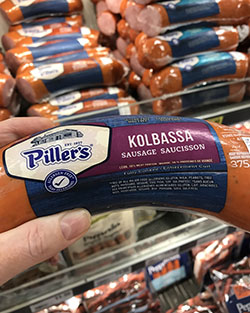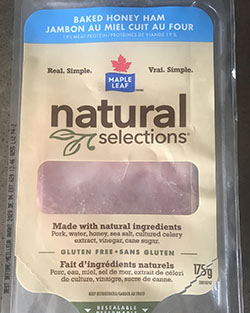 Maple Leaf
President's Choice
Butterball
Piller's
Grimm's
Applegate
Boar's Head
In Canada, any gluten ingredients must be called out on the label, so you don't need to see a gluten-free claim, just ensure that there are no BROW (barely, rye, oats, wheat) items listed in the ingredients.

Gluten-Free Hot lunch ideas
Sometimes your tongue just wants something warm and comforting.  If you have access to a microwave or get to have the odd lunch at home, then a gluten-free hot lunch is certainly in your reach.

The Best Gluten-Free Hot Lunch
The best and easiest hot lunch IMO is leftovers from dinner.  You put your time and creativity into cooking a delicious gluten-free dinner, so when you're cleaning up just fill your lunch container and lunch is made.  Easy peasy.

Here are some more hot lunch ideas.  Some are for lunch at home days when you can cook up something quick.  Others are perfectly fine to package up and take to work or school:

Pigs in a blanket – wrap sliced bacon around cocktail franks and bake at 400° for about 25 min
Leftover gluten-free pizza and salad
Gluten-free personal pizza on a wrap
Gluten free biscuit with gluten-free soup
Canned gluten-free chili or leftover homemade chili topped with shredded cheddar with gluten-free toast or plain Doritos
Canned gluten-free beans or leftover homemade baked beans (hot or cold) with gluten free toast or plain Doritos
Grilled cheese
Chicken wings (great hot or cold)
Pizza bagel – toast your gluten-free bagel, top both sides with shredded cheese and pepperoni and slide it under the broiler for a minute or two. 
Baked potato topped with bacon and cheddar – bake your potato in the microwave, add cooked bacon and shredded cheddar and melt under the broiler. 
Breakfast for Lunch
Anything you would make gluten-free for breakfast, you can also eat for lunch.  Why do we limit certain foods to certain meals?  Eggs are the perfect example.  They're high in protein and they are quick and easy to make.  Try these ideas. 

Omelet with side salad
Poached eggs on toast with deli ham and fresh veggies
Devilled eggs with cheese cubes and fresh veggies
Scrambled egg on a wrap
Scrambled egg on a taco shell
Omelet muffins with small salad
Gluten Free Lunchables
Have you seen those little containers in the grocery store with a few slices of deli meat, cheese, and crackers.  Do your kids love those?  Mine did.
Well, you can turn that into a great, healthy gluten free lunch box idea!
Just find whatever you have in your panty or refrigerator that can be cut up into bite size pieces, plop it into your lunch container and enjoy. 

Deli  meat with cheese, berries, almonds
Boiled egg with deli meat, berries, pickles
Deli meat with cottage cheese and berries
Tuna or salmon with mayo and chopped veggies and cheese
Celery with almond butter or peanut butter, deli meat, cheese cubes
Potato salad with deli meat and sliced tomato
Macaroni salad with cheese cubes and pickles
Can Celiacs Have Salads?
Absolutely!  Salads are mostly made from naturally gluten-free vegetables like salad greens, tomatoes, radishes, cucumber, onions.  Those are great but why not step out of your comfort zone and try some of these ingredients in your salad:
Be creative and add chopped kale or thinly sliced cabbage. 
Fruits can make your salad sweet and tickle your taste buds. Try strawberries, raspberries, blueberries, mandarin orange sections, sliced fresh or canned peaches or pears. 
Try some different cheeses like cheddar, feta or goat cheese. 
Add nuts like walnuts or pecans or seeds like sunflower seeds or pumpkin seeds.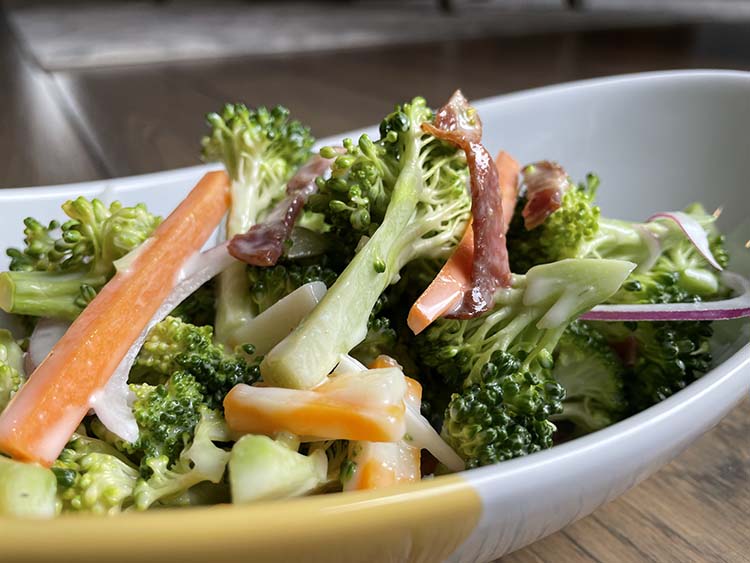 Things to Watch For:
Most salad dressings are gluten-free but do check the label to be sure. 
Some Asian style dressings have soya sauce which is not gluten-free unless you specifically buy gluten-free soya sauce. 
Skip the croutons, or you can buy or make your own gluten-free croutons.
Avoid grains - Some pre-made salads might have grains like spelt or bulgur wheat.  Grains in salads should be avoided unless you know they are gluten-free grains.  
Pro tip: When taking a salad to work or school, put the dressing in the bottom of the container so your lettuce won't go soggy.  Just mix it up when you're ready to eat. 
Gluten Free Lunch Recipes
I said these gluten free lunch ideas MOSTLY don't need recipes, but here's a bonus for you.  Also you probably noticed all the links in the article above and many of those take you to recipes.  

Home > Gluten-Free Meals > Gluten Free Lunch