Easy Gluten Free Coconut Shrimp: A Tropical Treat in Under 30 Minutes

Coconut shrimp is the one of the most popular shrimp appetizer recipes for a reason.  They are delicately crunchy and downright addictive.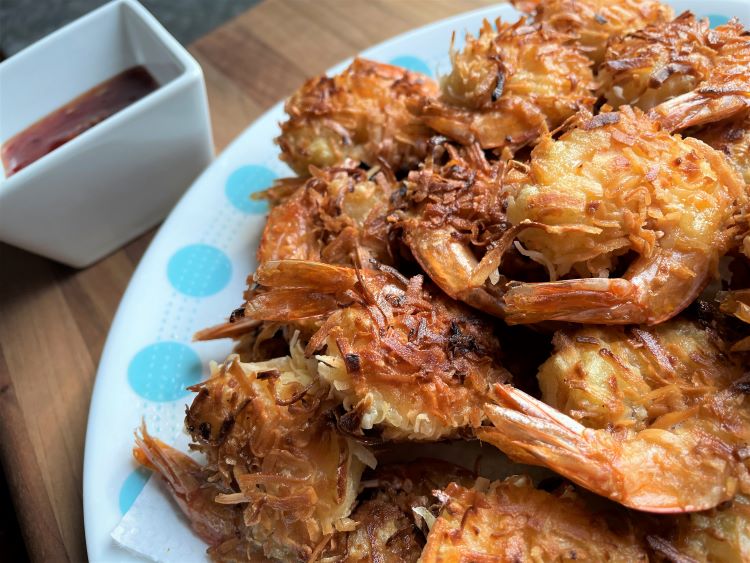 They have kind of a fast food appeal to them in the way that you can dip them and pop them into your mouth one after another. Just try putting these easy gluten free coconut shrimps on the table in front of your guests with a sweet and spicy dipping sauce and watch them disappear.
Ingredients for Easy Gluten Free Coconut Shrimp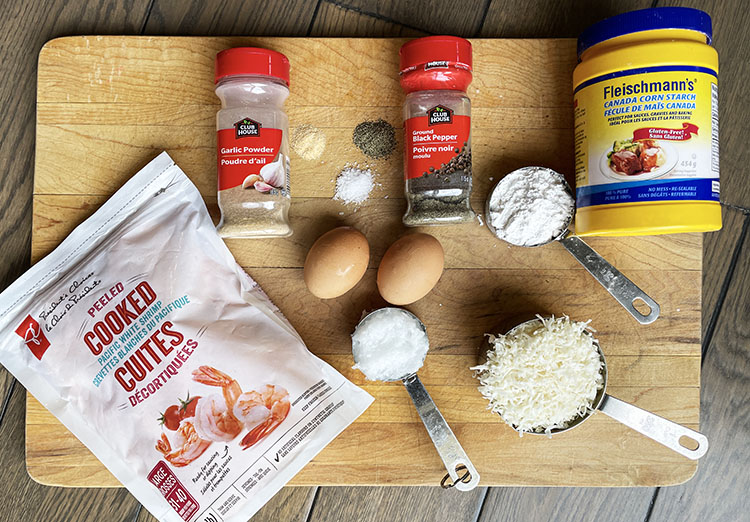 With just eight ingredients and one pan, these crispy morsels couldn't be simpler to make.  You'll need to set up a simple breading station with cornstarch, eggs, and flaked coconut.  This can be fun to do with kids.  They can get a little messy dipping the shrimp in the three bowls and you can handle the frying.
Can You Use Frozen Shrimp?
You may be wondering if you can use frozen shrimp for this recipe.  Yes, you can.  This simple gluten free coconut shrimp recipe works equally well with fresh or frozen shrimp.  I usually keep a bag of large shrimp in the freezer which makes this recipe perfect for a last minute get together or a tasty Friday night dinner. 
Shrimp, like all fresh meat and seafood, is naturally gluten free. Of course, anything that comes in a package has an ingredients list, so check the label just to be sure nothing unexpected has been added.  I've never seen plain shrimp with gluten, so the risk is low.
Choose the ones with the tails so they're easy to pick up, dip and pop into your mouth.
Pin For Later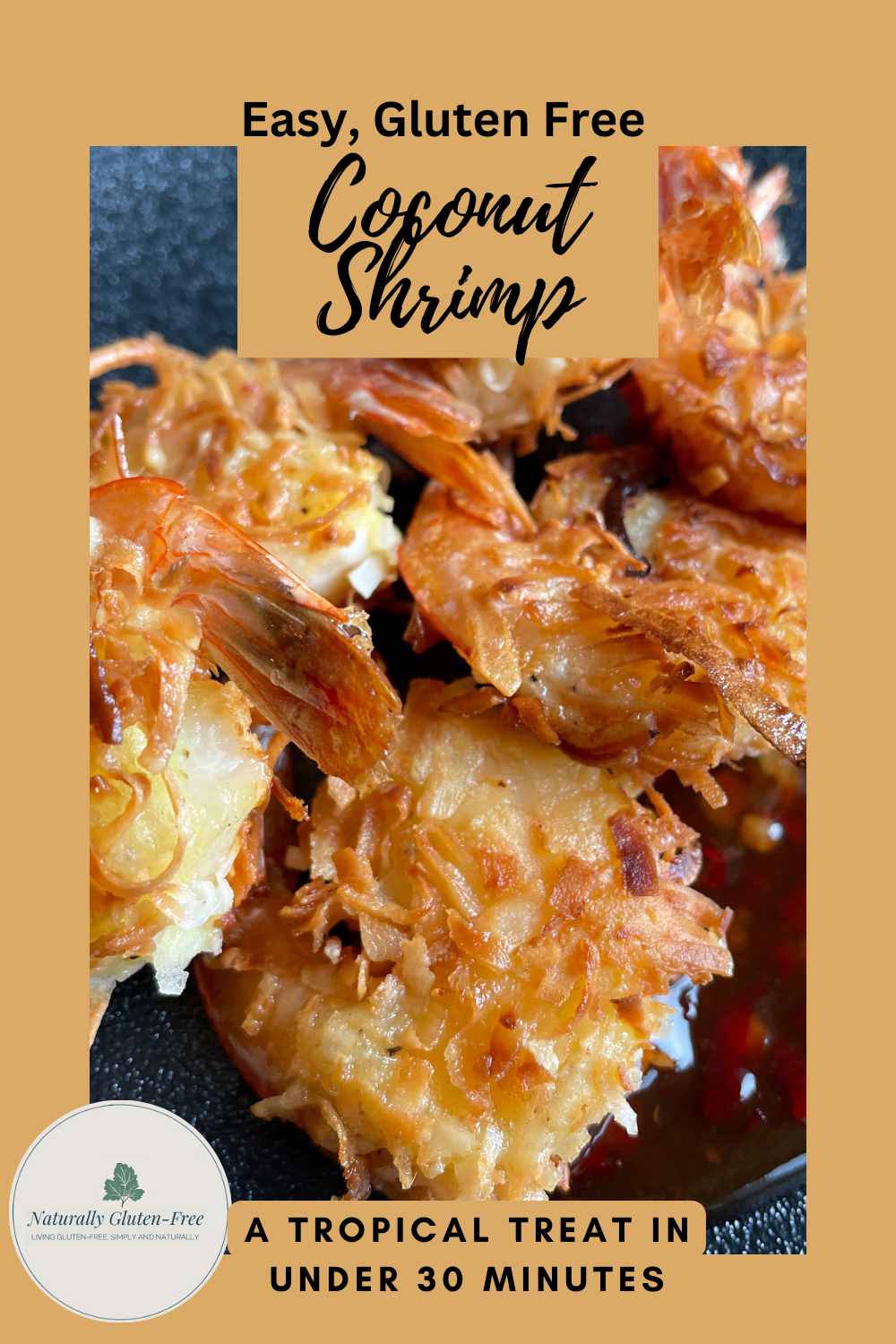 What Kind of Coconut is Best?
You can use any shredded coconut, but I recommend unsweetened coconut flakes.  I get mine at Bulk Barn.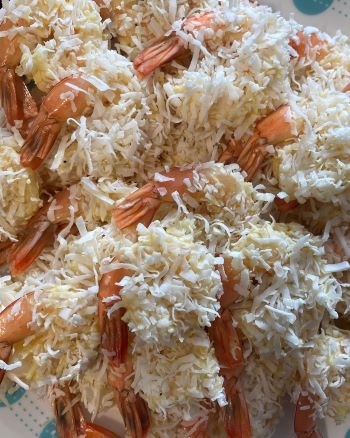 The coconut flakes are best because the pieces are a little bigger than more finely shredded coconut.  The larger flakes look lovely and fry up to be nice and crunchy.
Coconut is naturally gluten free.  It's also a low-risk item for cross contamination but still read labels as always.
Cornstarch
Cornstarch is naturally gluten free but may be a risk for cross contamination.  Look for cornstarch with a gluten free label if possible.  Also make sure the corn starch you have in your pantry hasn't been contaminated with flour if you bake with wheat flour.

Some coconut shrimp recipes call for flour. If you prefer this or if corn causes you trouble, then you can substitute any gluten free flour blend in this recipe.  You could also use another gluten free starch like tapioca or potato starch. I like cornstarch because it sticks really well to the shrimp and adds to the crispiness when fried.
If you're on a keto diet then coconut flour is a good, low carb substitute. 
What if You Can't Eat Eggs?
The eggs help the coconut stick to the shrimp.  If you have an egg intolerance you can use an egg substitute like flax eggs or a commercial egg replacer.
To make a flax egg by add 2 ½ tablespoons of water to one tablespoon of .ground flaxseed.  Let it sit for a few minutes to thicken up.  The recipe calls for two eggs so simply double this.

Bob's Red Mill makes a good commercial egg replacer so by all means give that a try.  Another option I've used in baked recipes like my Almond and Pecan Crusted Baked Haddock is canned coconut milk.  It makes a nice thick creamy layer for the breading (in this case coconut) to stick to.  My concern with this for our coconut shrimp is that the coconut might not stick to the coconut milk when it's in the hot oil.
Here is a good source for egg replacement in recipes.
Coconut Oil
I like coconut oil for this recipe because it stands up well to high heat and it complements the flaked coconut.  If you're on a keto diet, you may be looking for sources of multi-chain triglycerides (MCT) and coconut oil is perfect.
If you don't like or don't have coconut oil, any other oil that can withstand high heat is a good choice.  Vegetable oil, sunflower oil, canola oil or peanut oil will all work well.  Save the extra virgin olive oil for salad or lower heat cooking.
Spices
I like to keep this simple with just garlic powder, salt, and pepper.  You can try other flavors if you like.  Experiment with a little cayenne to spice it up, or paprika for a Spanish twist.
Do You Not Need Breadcrumbs for This Recipe?
You may have seen coconut shrimp recipes on the internet that call for breadcrumbs to be combined with the shredded coconut.  You can do this if you like, but I prefer this simple shrimp recipe without breadcrumbs.  I think the texture and flavor is much nicer with just the coconut as a coating.
Ideas for Serving Easy Gluten Free Coconut Shrimp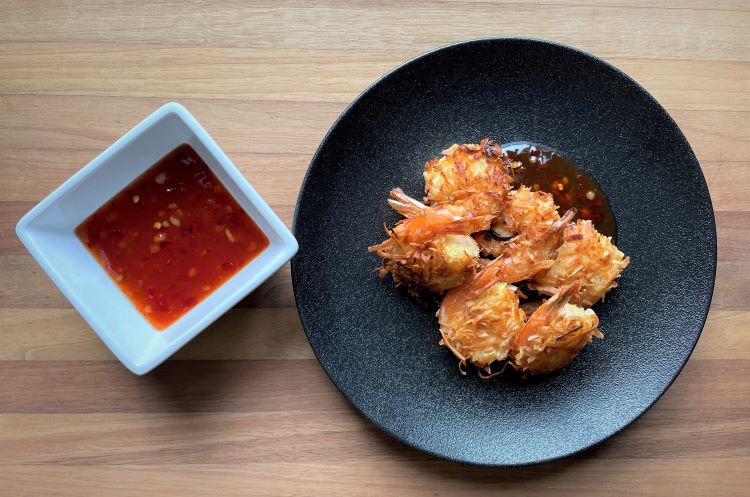 This simple fried shrimp recipe is perfect as an appetizer.  Set it out for your guests with a couple of dipping sauces.  It will keep everyone satisfied while you finish up dinner.
This might also be the best shrimp recipe for dinner.  I did this a few Fridays ago when hubby and I were looking for something light and tasty and a bit different from the usual meat and potatoes.  I served them with his favorite Thai Chili Sauce, white rice, and a side salad.
This easy fried shrimp recipe would work well for lunch too.  Make up a beautiful crisp tossed salad, spread the coconut shrimps over the top, then finish with your favorite salad dressing.
What Sauce is Best With this Gluten Free Coconut Shrimp?
My favorite is Thai Chili sauce.  It's sweet and spicy which is the perfect flavor profile to complement the shrimp and coconut.  Thai chili sauce is available in most grocery stores and is likely gluten free.  Just check the label to be sure.

Another easy, no fuss dipping sauce is ranch dressing.  Just pour a little out of the bottle into a small bowl and dip away.
If you'd like to mix something up yourself, try my Simple Gluten Free Aioli for Fish. 
The Recipe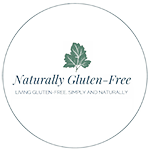 Easy Gluten Free Coconut Shrimp: A Tropical Treat in Under 30 Minutes
By Patty Maguire – Naturally Gluten Free,
Coconut shrimp is the one of the most popular shrimp appetizer recipes for a reason. They are delicately crunchy and downright addictive.
Prep Time: 15 minutes
Cook time: 15 mintues
Yield: 4 to 6 servings
Tags: Gluten Free, Keto Option
Ingredients
1 pound large shrimp
1/3 cup cornstarch
1/4 teaspoon of garlic powder
1/4 teaspoon of kosher salt
1/4 teaspoon of black pepper
2 eggs
1 cup of shredded coconut
1/4 cup of coconut oil
dipping sauce of your choice
Instructions
If using frozen shrimp, empty it into a colander and rinse well with cool water until partially thawed. Shake gently to remove most of the water.


Prepare the breading station with 3 shallow bowls or plates. First with the cornstarch, second with the beaten eggs and third with the coconut.


Add the salt, pepper and garlic powder to the cornstarch and mix well.


Dip each shrimp in the cornstarch and shake off the excess. Then dip in the egg then the coconut. If necessary press the coconut into the shrimp to hold it in place. Place the coated shrimp on a plate.


Heat the coconut oil over medium-high heat in a medium to large sized pan.


Cook the shrimp in batches for about 2 minutes per side. Don't over load the pan. Adjust the heat if necessary. The coconut should be golden brown but not burned.


As the shrimp is cooked, remove it to a paper towel lined plate.


Serve as an appetizer with your favorite dipping sauce or serve for dinner with salad and rice or pasta.