Gluten Free Chicken Wings: One Recipe Any Wing You Want
Chicken wings are a pub favorite here in my home country of Canada and around the world.  This easy gluten-free chicken wing recipe will bring these sweet, savory, sticky morsels into your home, ready for game night or just for dinner in less than an hour.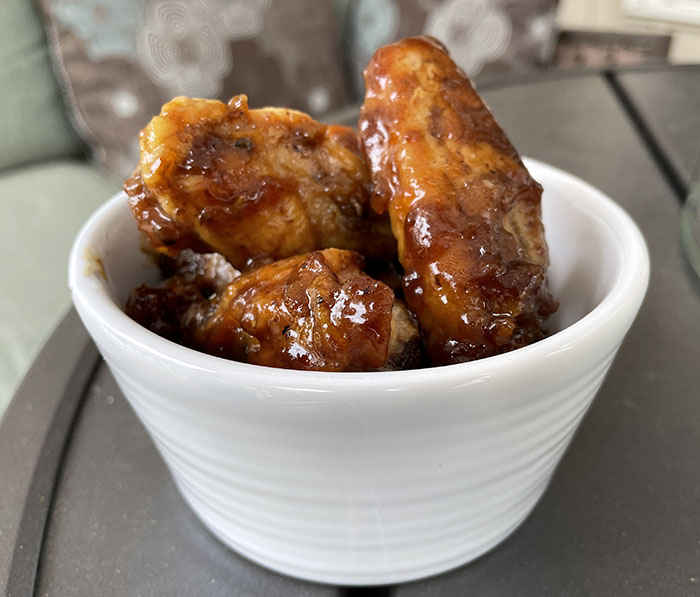 Anywhere people gather to watch a game and enjoy a pint (gluten-free pint in our case) you'll find wings.  When you think about it, chicken wings are almost like potato chips.  You have a plain, base recipe and you can add whatever flavor you want. Mild barbecue, burn-your-face off suicide, sweet teriyaki, spicy jerk, Thai ginger.  You may like sticky sauces, dry rubs, or just salt and pepper.  Whatever lights up your fancy, you need this gluten-free chicken wing recipe!
Check out this video to see how easy it is to make gluten-free chicken wings at home. 
Are Chicken Wings Gluten-Free?
Like many things in this gluteny world of ours the answer to that is not as simple as we might like.  Chicken wings, like all fresh whole cuts of meat are naturally gluten-free.  Whether the end product that you are eating is gluten-free depends on a few things:

How are the wings cooked?


Since meat in it's natural form is gluten free, gluten-free meat cooking is all about the cooking method and the ingredients that are added.

Chicken wings that are served in a restaurant are typically either baked or deep fried.  My gluten-free chicken wing recipe is for baked wings, however, deep frying is a perfectly reasonable way to cook them as well.

If you've read my restaurant dining tips, you know that anything deep fried should cause you to ask one question, are they using a dedicated fryer?  If the wings are cooked in the same fryer as anything breaded or battered, then your chicken wings are not gluten-free.  If they are baked, then you're likely safer, just make sure they are using a clean pan and the wings are kept safe from cross contamination.  

Are the Wings "Dusted"?

Often restaurants will dust their wings with flour before baking or deep frying.  This is to give them a crispy coating and to provide a bit of extra something for the sauce or seasoning to stick to.  Of course, if the wings are dusted it's most likely with wheat flour and therefore not safe. 

My gluten-free chicken wing recipe is for non-dusted wings, but if you want to experiment with dusting them in a little gluten-free flour I'd love to hear how they turn out.


Is the Sauce or Seasoning Gluten-Free?

Many pubs and restaurants that serve gluten-free wings, that is the base wing before anything is added is celiac safe, will provide a list of sauces or seasonings that are and are not gluten free.   Asian inspired sauces like teriyaki often have soya sauce in them so are likely not gluten free.  Barbecue sauces may have Worcestershire.  Those are the most common problematic ingredients but as with anything else, ask questions to be sure.  For more on gluten-free sauces go here.
Make sure you are comfortable not only that the ingredients are gluten free, but also that the kitchen staff know you have celiac disease so they will be careful with cross contamination. 
My Gluten-Free Chicken Wing Recipe
This really is so simple.  The first part of the recipe is the basic baked gluten-free chicken wing recipe.  Then you add the sauce or seasoning.  I have a few options you can make from home, but your favorite jarred sauce will work too.
Part One: The Wings
Ingredients
2-3 pounds of chicken wings
cooking oil (I like olive oil or avocado oil)
salt & pepper
Method
Method:
1. Preheat oven to 400° F
2. Place the wings in a bowl and drizzle with olive oil
3. Spread out on a baking sheet and sprinkle with salt & pepper
4. Bake in 400° oven for 30 min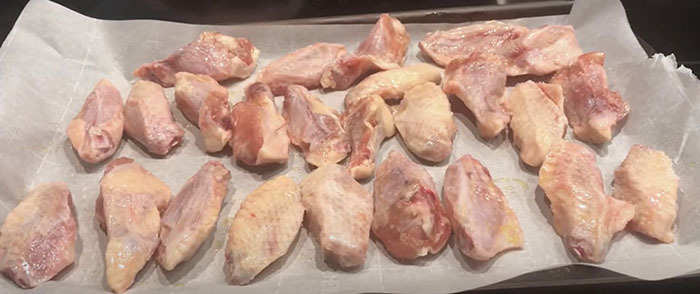 Part Two:  Adding the Flavour
The second half of my gluten-free chicken wing recipe is about adding a sauce or seasoning to give your wings a flavor boost.  Although you may be surprised by how good these taste right out of the oven!
If you have a favorite gluten-free dry rub or seasoning mix you can add it on before baking or just sprinkle it on when your wings come out of the oven.  I lean towards adding the seasoning after as your oven is very hot and some seasonings, especially those with chunks of garlic or peppers or herbs could burn.
If you're looking for a yummy, sticky gluten-free chicken wing then you have a few steps left:
1. Decide on your sauce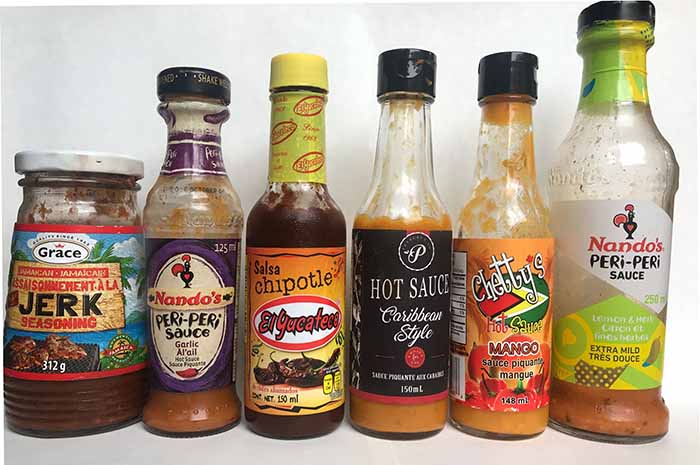 To Make or to Buy?  There are lots of bottled or jarred sauces out there that are great on chicken wings.  Just make sure your sauce is gluten free.  Try barbecue, sweet chili Thai, Jamaican jerk, curry.

If you want to make your own sauce, keep reading for my Gluten-Free Sweet Chili & Ginger Wings, or go here for my Gluten-Free Teriyaki Sauce and follow the steps below for sweet, sticky gluten-free teriyaki chicken wings.
2. Make Your Sauce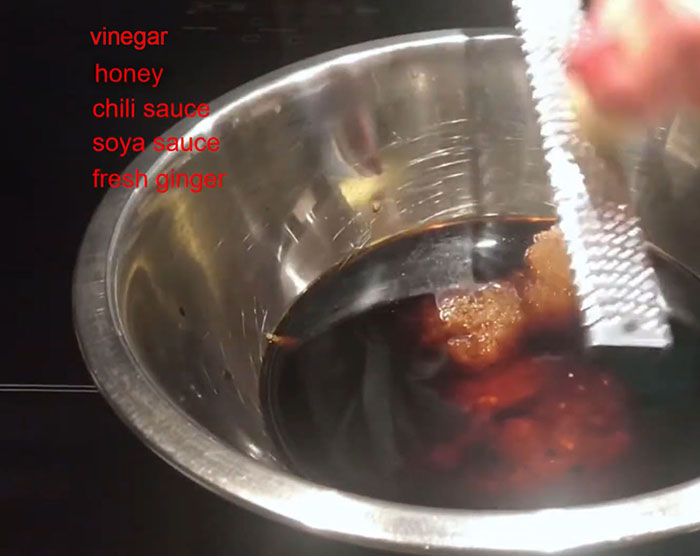 This can be done while the wings are in the oven, so it adds zero time to your recipe.

3.  Add the Sauce to the Wings
If you want to keep it really simple, just add the sauce to the wings and serve.  Transfer your already baked chicken wings to a bowl, add the sauce, be generous, toss and voila! You're done.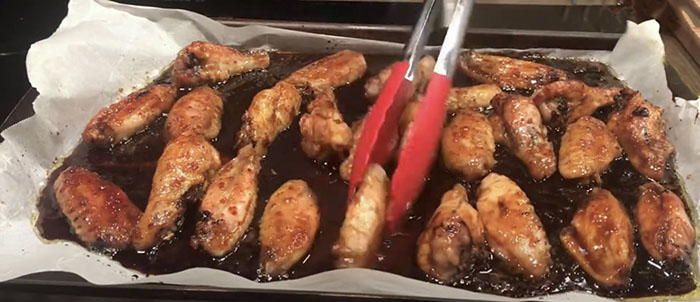 Or even better....If you want to take your gluten-free wings to the next level and make them super sticky and scrumptious, you just need to invest a few more minutes, and I think it's worth it.  That's why my gluten-free chicken wings recipe has one extra step...
With your wings fresh out of the oven and still on the pan, spoon the sauce over them and stick them back in the oven for about 10 minutes.  Keep an eye though.  You're goal is to caramelize the sugar in the sauce and if you're not careful they'll burn!  Take them out, flip them over and give them another 5 minutes in the oven.  You might not ever go out for wings again!!
Keto Version
The basic baked chicken wing recipe is keto friendly as it is.  So keeping it Keto is all about the sauce you choose.  Look for sugar in the ingredients list and choose a sauce with no sugar.
The Herbed Lemon Pepper recipe below is keto friendly.
Gluten-Free Sweet Chili & Ginger Wings
Ingredients:
For the Sauce:
1/2 cup honey
1/2 cup sweet chili sauce - available in your supermarket
1/4 cup white vinegar
1/4 cup gluten free soya sauce (or coconut aminos if you're avoiding soy)
1 tbsp grated fresh ginger or 1 tsp ground ginger
1 tsp minced garlic (optional)
For the Wings:
salt & pepper
olive oil
2 - 3 pounds chicken wings
Bake your wings according to steps 1 through 4 in the recipe above. 
5. Meanwhile mix the remaining (sauce) ingredients together in a bowl
6. Remove the wings from the oven and drizzle with the sauce
7. Put back in the oven for about 10 min - Keep an eye! You want the sauce to cook and get nice an sticky but not burn.  Turn the wings over and bake for a few more minutes
Gluten-Free Herbed Lemon Pepper Wings
Before cooking your wings, toss them in a mixture of:
1/2 c olive oil
juice of 2 lemons
zest of one lemon
salt and pepper
optional herbs:  Herbs de Provence, or any combination you like of oregano, marjoram, savory, thyme, rosemary.
Let them marinade for a few hours or cook immediately according to the instructions above.
Home> Recipes > Gluten Free Wings