Gluten-Free Mac and Cheese
If you're like me, Mac and Cheese is just one of those comfort foods that you crave every so often, and when you do, nothing else will satisfy.  This creamy, cheesy and super easy gluten-free mac and cheese recipe will put that craving to rest, until next time.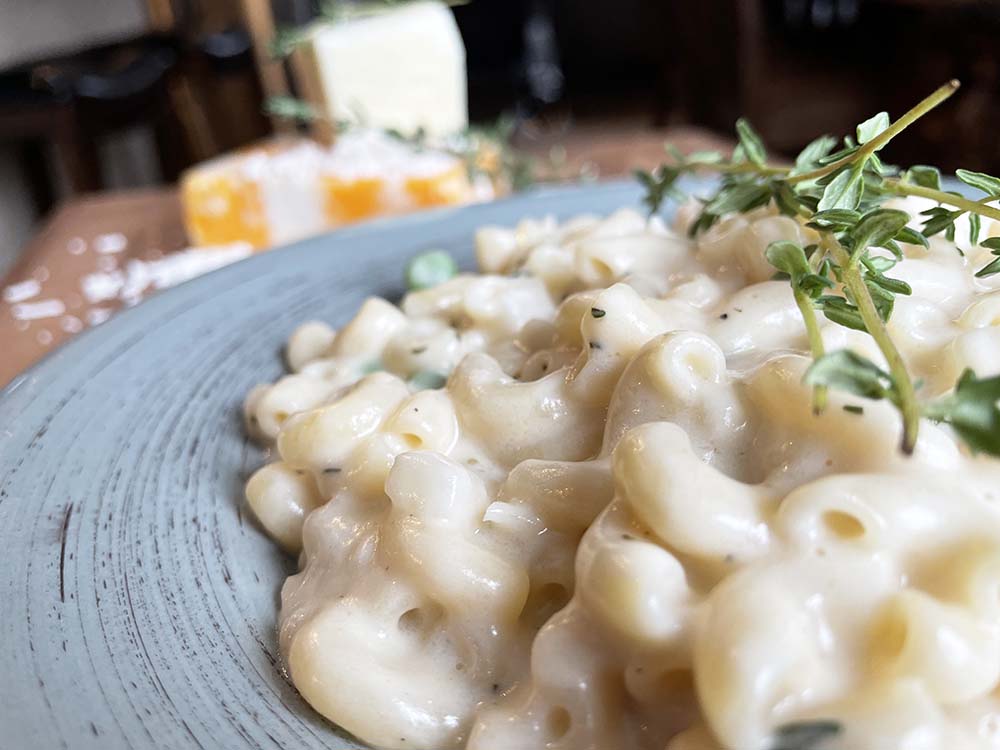 The Best Gluten-Free Mac and Cheese is made from real cheese you shred yourself.  I used to be a Kraft Dinner girl and I often wonder if I hadn't been forced to, would I have bothered to learn how to make my own macaroni and cheese?  I might have been captured by that horrible orange powder forever, never knowing what I was missing.  Mixed blessings, I guess.  You and I have given up a lot, but this amazing homemade gluten free mac and cheese may just convince you that you've given up nothing.
You can skip right to the recipe if you like or scroll through for some important tips.
Gluten-Free Cheese Sauce for Mac and Cheese
The cheese sauce is just a standard gluten-free béchamel sauce with cheese added.  This one has some onion and herbs along with a little Dijon mustard and gluten-free Worcestershire to pump up the flavor.  But for how delicious it is, it's really not that difficult.  Remember to make sure your Worcestershire and your mustard are both gluten-free.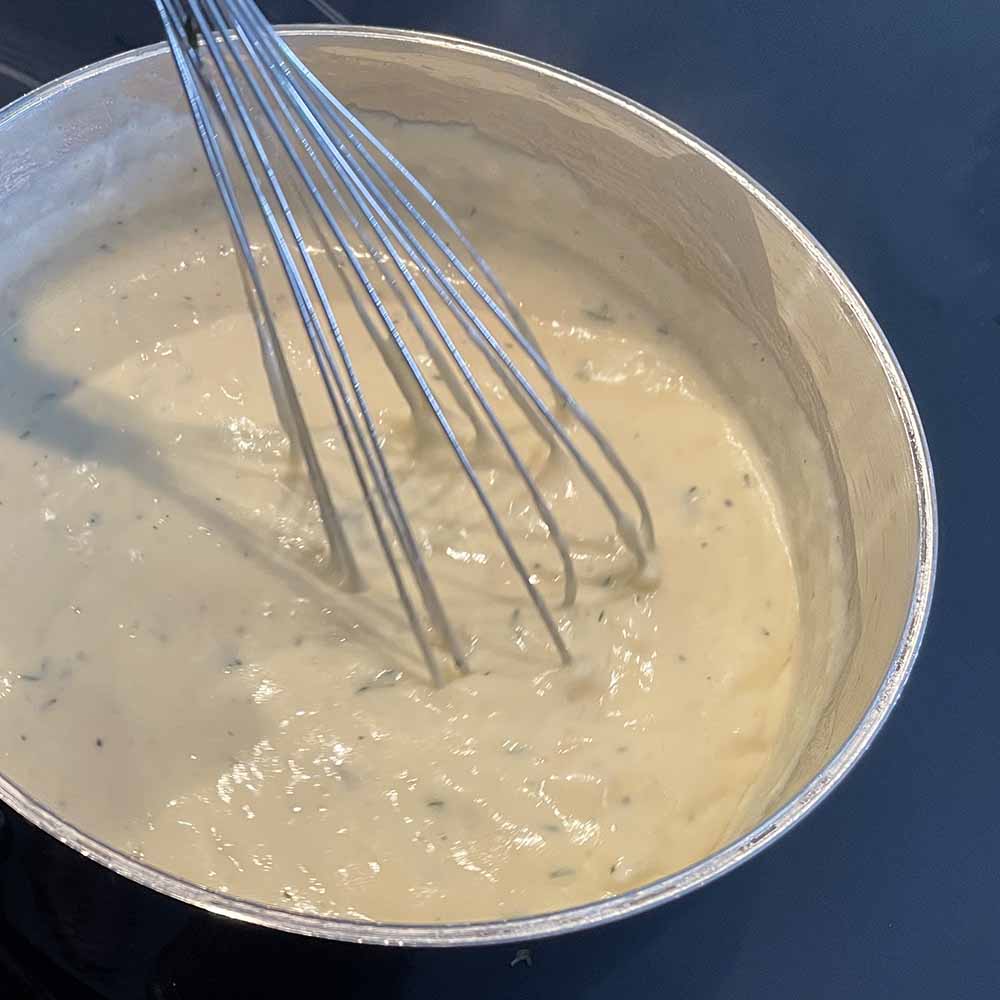 If you remember from the gluten-free sauces page, a béchamel is one of the standard or "leading" sauces that, if you know how to make them, you can do almost anything.  It's just a milk-based sauce thickened with a fat and flour "roux".   A roux is equal parts fat and flour (gluten-free flour for us of course) which is then slowly mixed with liquid to thicken the sauce. 
Whatever gluten-free flour you have in your cupboard is fine.  Unlike for baking, you don't need a complex blend of flours.  Any all-purpose blend or even a simple rice flour, or sorghum flour will work. 
As for the cheese, this is the perfect opportunity to clean out the fridge.  Anything goes.  Do you have little scraps of cheddar, or goat cheese, or parmesan that you want to get rid of?  Grate them up and toss them in.  I recommend a good sharp cheddar over something milder as it will give a more robust flavor to your gluten-free cheese sauce. 
The Macaroni
Choose your favorite gluten-free pasta.  Mine is Catelli, but Barilla is popular too.  You want something that will hold together well as you mix it with the sauce.  I like to use elbow macaroni for my gluten-free mac and cheese.  It just seems to go with it for me, but this cheese sauce can be added to any gluten free pasta.  Try rotini, or penne or even spaghetti.  
Bring a big pot of water to a boil and add a generous amount of salt, say a teaspoon or two.  I had an Italian co-worker who would say the pasta water should be as salty as the sea.  (That's the same thing my Maritime friend says about the water for boiling lobster – seems there's something about sea water).  Then add your pasta and give it a stir so it doesn't stick and turn it down to a gentle boil.  There is no need to add oil to the water if you're making dried pasta. 
Pro-tip: It's better to undercook your gluten-free macaroni a bit than to overcook it.  Check the package directions then set your time for a minute less than what it says.  If your macaroni is a bit undercooked, you can let it simmer in the sauce for a minute or two right at the end to get it just perfect.  
Here's another tip to keep your gluten-free pasta from breaking apart.  Don't stir your pasta too much when cooking and don't boil it too hard.  A stir at the beginning so it doesn't stick then once or twice more is all that's needed, and a gentle boil will do the trick.  
Gluten and Dairy Free Mac and Cheese
If, like a lot of folks with celiac, you have issues with lactose, or if you have a casein intolerance preventing you from enjoying cow's milk or cheeses made from cow's milk, there are a few options.
You can make a completely dairy free mac and cheese by substituting the milk in the recipe for a plant-based milk.  Pick one that's nice and creamy like coconut milk or oat milk.  I usually use canned coconut milk and top it up to the 2 ½ cup mark with water.  It's beautifully smooth and creamy.  
You must also replace the cheese.  There are several vegan cheeses out there.  You can use a vegan shredded cheese product, or a vegan block cheese and shred it yourself.  I've read some articles that say the shredded cheese doesn't melt well, but I've not had that problem.  
Another option may be to substitute cow's milk cheese for goat or sheep cheese if you can tolerate those.  I usually use a combination of goat cheddar, pecorino Romano which is made from sheep's milk and maybe toss in some creamy goat cheese as well.  
Gluten-Free Mac and Cheese with Bacon
Does that sound amazing or what?  I've not included it in the recipe below, but you can totally add it in.  Just crumble up some cooked bacon into the sauce before mixing it with the macaroni.  For that matter, you can add diced ham, or chicken or gluten-free sausage, or ground beef.  Don't be shy, it will all be great.  
Baked Gluten-Free Mac and Cheese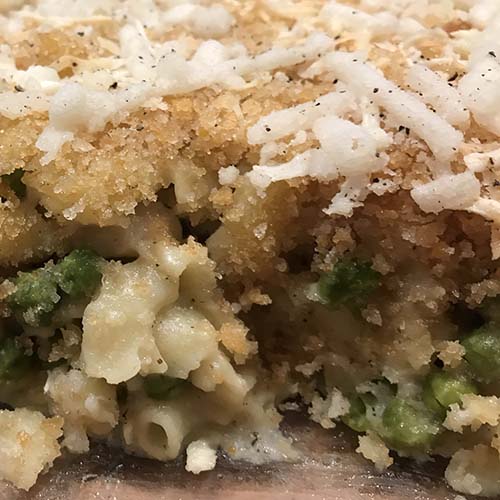 This is a nice variation to serve to guests or take to a pot luck.  Just make the gluten-free mac and cheese according to the recipe.  It's best if your macaroni is a bit undercooked as it will continue to cook in the oven.  Transfer the mac and cheese to a casserole dish and top with a mixture of 2 tablespoons of melted butter and 1 cup of gluten-free breadcrumbs.  Bake in a 350° oven for 15 minutes.

The Recipe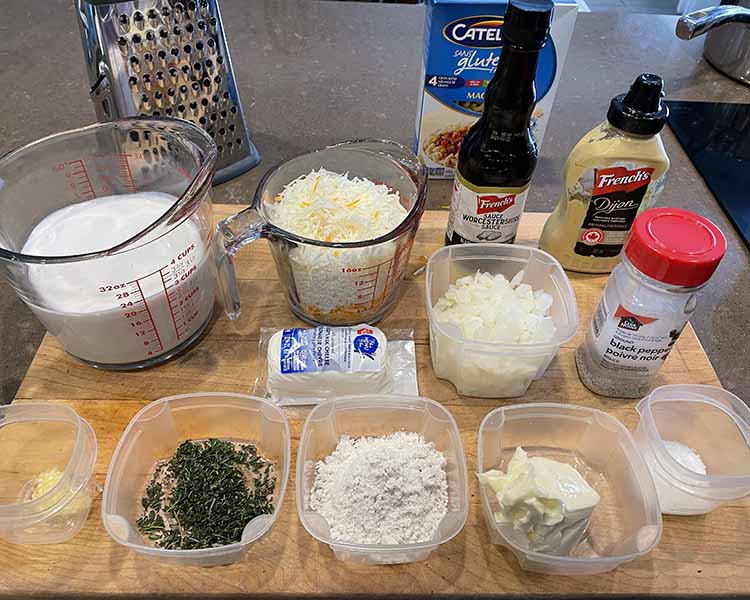 Ingredients:
1 package (300g or 11oz) of gluten-free macaroni
3 tbsp of butter or margarine
1 finely chopped onion
1 clove of garlic, minced
1 teaspoon of dried thyme or 1 tablespoon of fresh thyme leaves
Salt and pepper to taste
3 tablespoons of gluten-free flour
2 1/2 cups of milk 
2 cups of shredded cheese
1 teaspoon each of gluten-free Worcestershire sauce and Dijon mustard
1 cup of frozen peas or other frozen vegetable (optional)
Method
Prepare the macaroni according to the package instructions.

Melt the butter in a large saucepan and add the onion, garlic, and thyme.  Cook, stirring until the onions are translucent, about 5 minutes. 
Sprinkle the flour over top then cook, stirring for another minute or two.
Whisk in the milk a little at a time so it doesn't go lumpy.  Cook for about 10 minutes, until the sauce is thickened.  If you're using frozen vegetables add them about 5 minutes into the cooking time.  They'll need time to thaw and cook through, but you don't want them mushy. 
Then add in the cheese, Worcestershire and Dijon and season with salt and pepper to taste. 

Drain your pasta and stir in the sauce.  If it seems a bit dry you can add a little more milk.
Serve your gluten-free mac and cheese on it's own or as a side with salad, soup or meat.  Enjoy!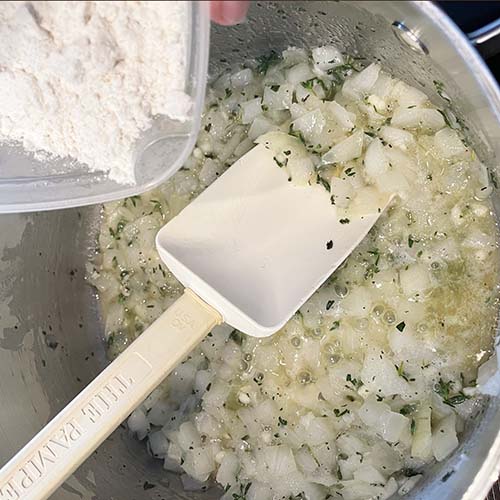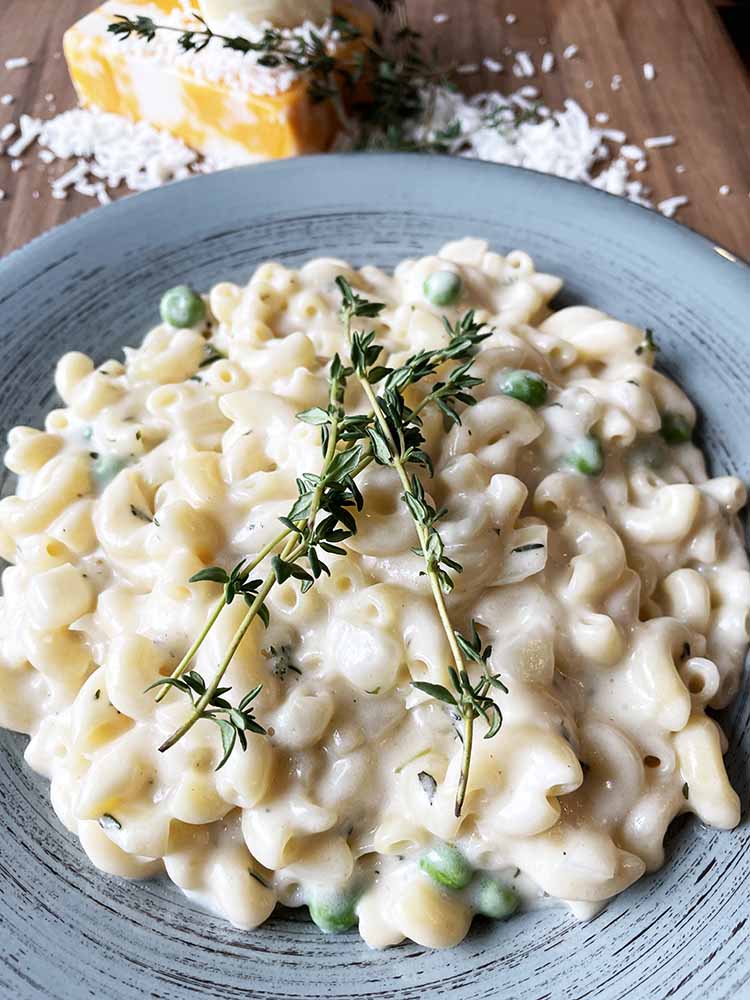 You Might Also Like
Celiac and Lactose Intolerance:  Most dairy products are gluten-free yet many people with celiac find they have trouble digesting dairy.  Click here to find out why and what to do.  Hint - it may not be forever.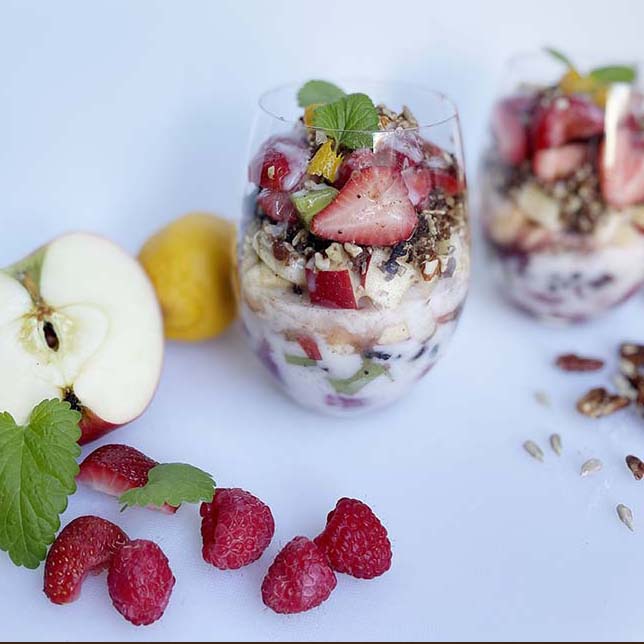 ---
Gluten-Free Fettuccine Alfredo: Do you think of fettuccine Alfredo as something super fancy that you could never make yourself?  Well, it is fancy, and this easy gluten-free Alfredo sauce recipe says that you can make it yourself.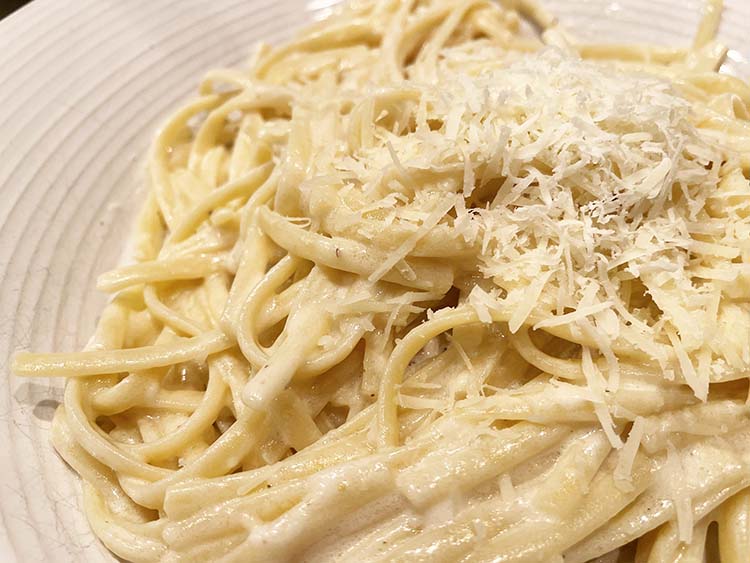 Home > Recipes > Gluten-Free Mac and Cheese