Gluten-Free Fettuccine Alfredo 
Do you miss ordering fettuccine Alfredo in restaurants?  Do you think of fettuccine Alfredo as something super fancy that you could never make yourself?  Well, it is fancy, and this easy gluten-free Alfredo sauce recipe says that you can make it yourself.  Try it once and this gluten-free fettuccine Alfredo will be a favorite that you'll serve over and over to your family and you'll bring it out on special occasions to impress your guests.  Heck, I'm betting you'll impress yourself!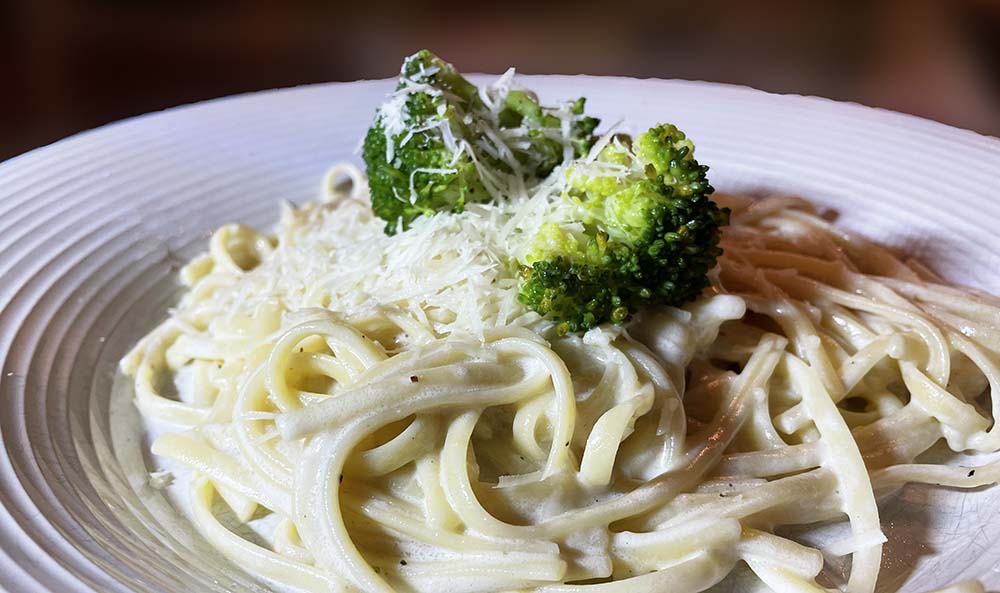 Skip right to the recipe if you like or read through for some important information and suggestions. 
Naturally Gluten-Free Alfredo Sauce
Oops, I gave away the secret!  Alfredo sauce is an Italian classic.  It was first made in Rome in the early 20th century and was called "fettuccine al burro" or fettuccine with butter.  This early version was simply fresh fettuccine noodles with butter and grated parmesan cheese.  Later, the cream was added, and it became the fettuccine Alfredo we in North America are familiar with today.  Either way (here's the secret), its naturally gluten-free!  The ingredients are simple: Heavy cream or milk, butter, freshly grated parmesan cheese and a little salt and pepper.  Add this to gluten-free Alfredo noodles and you have this world-famous dish in gluten-free form.
On the homemade gluten-free sauces page we talk about the different methods of thickening sauces.  This gluten-free fettuccine Alfredo sauce is thickened by the technique of reduction.  The butter and milk mixture is simmered for 10 to 15 min until it reduces by about one fourth.  This means if you were to pour you sauce into a measuring cup you would have about ¾ of what you started with or about 7 ½ oz.  Then adding the cheese will thicken it up a bit more so the rich sauce will stick to the noodles and you'll get the goodness in every bite. 
Gluten and Dairy Free Alfredo Sauce



If you have issues with dairy, or you're looking for a vegan alternative, a few simple substitutes will make this a dairy-free or vegan Alfredo sauce.  Substitute the cream with canned coconut milk and use a vegan margarine and a vegan cheese product.  Vegan cheese shreds or a grated vegan block cheese will work well.  You want a white cheese with a fairly strong flavor. 
Goat or Sheep Cheese Alfredo
Many people with celiac are both gluten and casein intolerant but do fine with goat or sheep cheeses.  I have lots of firsthand experience with this.  I make my gluten-free Alfredo sauce with canned coconut milk and substitute the parmesan with pecorino Romano cheese.  The texture and flavor profile are similar to parmesan although it's a bit saltier and more earthy.  I've come to like it better. 
Gluten-Free Fettuccine Noodles
Happily, there are many varieties of gluten-free pasta on the market these days and I encourage you to try many and choose your favorite.  Mine is Catelli, although Barilla is a popular brand as well.  You don't have to stick with fettuccine noodles for this recipe.  You can use whichever shape you prefer.  Penne or rotini work well.  I prefer linguine and that is what you see in the photos. 
Gluten-Free Chicken Alfredo 
Of course, each chef likes to tweak the classics and make them their own.  Chicken Alfredo seems to have surfaced first at the Olive Garden restaurant. You can do this yourself too.  Just make your gluten-free fettuccine Alfredo according to the recipe but save a couple of tablespoons of your homemade gluten-free Alfredo sauce. Top your gluten-free fettuccine Alfredo with a sliced grilled chicken breast and spoon a little of the reserved sauce over top.  Viola! (or Ecco! in Italian.)
Gluten-Free Fettuccine Alfredo Recipe
Ingredients
1 package (11 ounces or 300 grams) of gluten-free fettuccine noodles 

2 cups of heavy cream or milk divided 

2 ounces (60g) of butter 

6 ounces (175b) of grated parmesan cheese 

Salt and pepper to taste 

¼ cup chopped fresh parsley (optional)
Method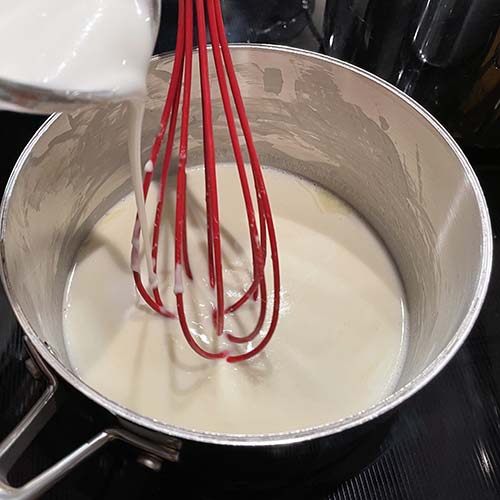 Serving Gluten-Free Fettucine Alfredo
Serve your gluten-free fettuccine Alfredo on it's own, topped with more grated parmesan, topped with veggies, chicken, or shrimp.  It's up to you and your creativity.  Enjoy!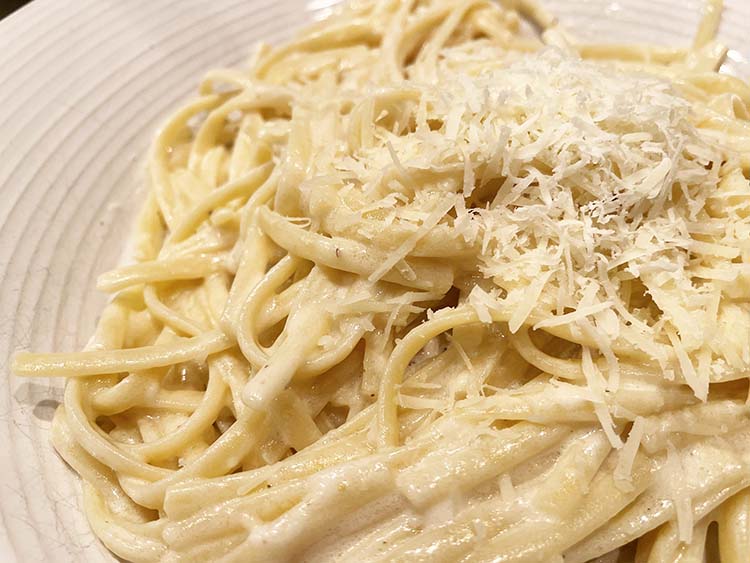 You Might Also Like
---
Gluten-Free Bean and Bacon Soup - This hearty delicious bean and bacon soup started out as an attempt to replace what was, before I went gluten-free, my favorite canned soup from Campbells.