Gluten Free Grains
Buckwheat Salad with Beets, Peaches and (optional) Feta
Gluten free grains:  I've seen similar salads made with spelt, which is a type of wheat so of course is off limits.  I was so disappointed that I couldn't try it that I was determined to may my own and make it celiac safe. You could really make this with any of the gluten free grains.  Maybe try jobs tears, or quinoa or even beans.  This version is made with buckwheat which, despite its deceiving name is a gluten free grain.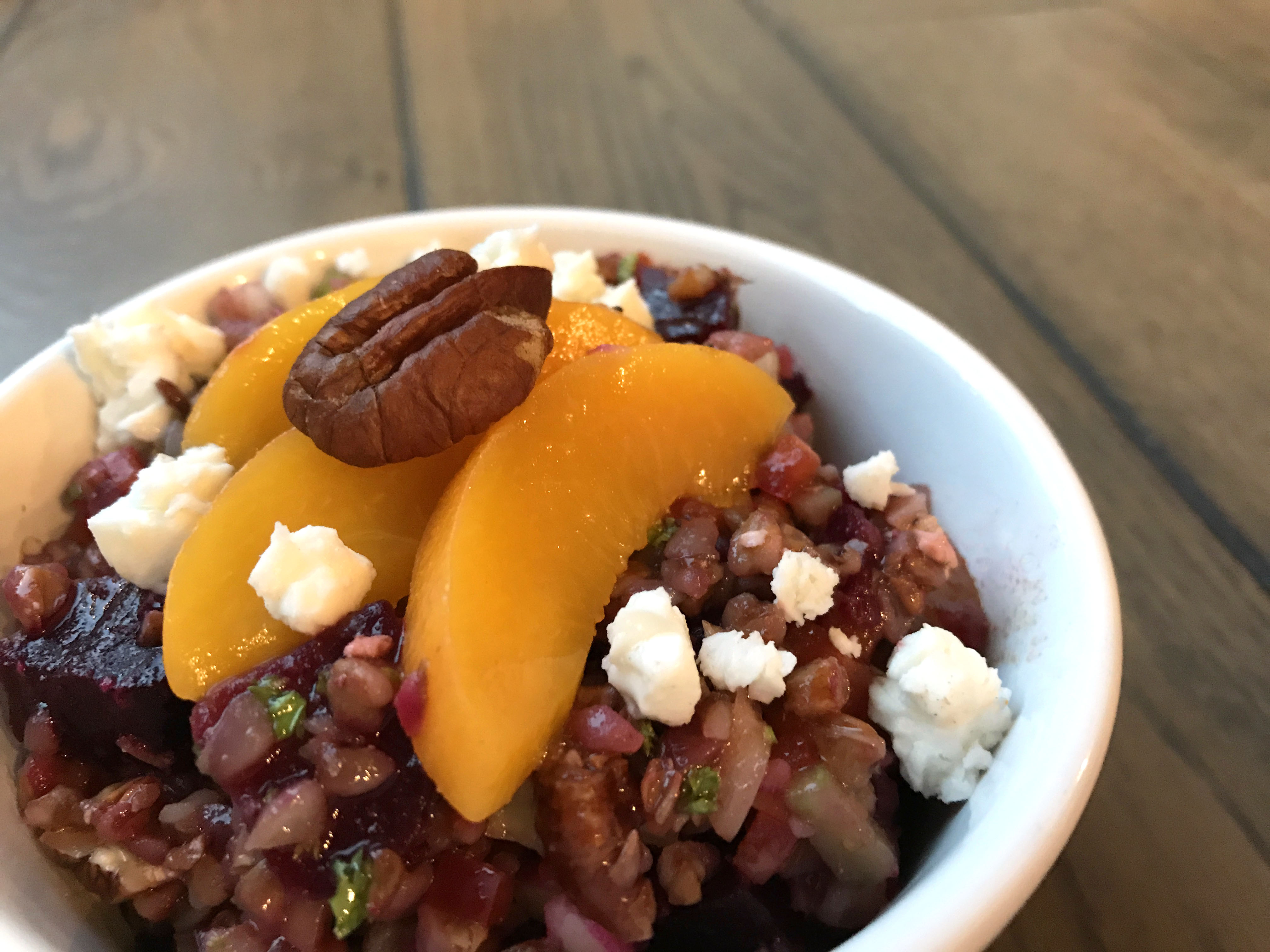 This recipe makes enough that you can have some leftovers or you can serve it to company.  They'll be impressed for sure!  Who knows, maybe you'll convert your friends to gluten free grains. 
As if all that wasn't awesome enough, you can make this up a day in advance! 

Ingredients:
2 cups vegetable or chicken stock
1 cup of kasha or buckwheat groats *
2 cloves of garlic thinly sliced
1 1/2 cups cooked beets peeled and diced
1 1/2 cups fresh or canned peaches dices
2 stalks of celery finely diced
1/2 onion (red or white) finely diced
1/2 finely chopped parsley or cilantro
1/3 cup crumbled feta plus a little more for garnish - optional.  For a dairy free version leave this out or top with your favorite vegan cheese or a little coconut yogurt. 
hand full of chopped pecans or walnuts - optional
*Kasha is buckwheat groats that are already toasted.  If you get regular buckwheat then you'll want to toast it in a dry pan first.
Dressing:
This is a simple balsamic vinaigrette.  If you like you can use a bottled dressing, but I prefer to make my own salad dressings because it's so easy and you know you're getting only the ingredients you need.

1/3 cup balsamic vinegar
2/3 cup salad oil ( I like avocado or an avocado and canola oil blend)
2 tsp Dijon mustard
1 tbsp honey
salt & pepper
Method
If you are toasting your own buckwheat groats, heat a frying pan to medium - high heat, add the buckwheat.  Stir constantly until the kernels start to brown and turn fragrant.  Keep an eye or they'll burn.
The beets can be cooked whole in the microwave.  Just scrub them with a brush, nip off the root and and put them in a microwave safe dish with a lid ( you don't want to clean beet juice out of the inside of your microwave).  Peel and dice after they are cooked.  
Bring the stock to a boil.  Add the buckwheat and cook until tender - about 10 minutes.  When done transfer to a bowl or spread out on a baking sheet.  Drizzle with oil and let cool.
Dressing:
Mix the vinegar, oil, mustard, honey, salt & pepper in a small bowl
Mix the cooled buckwheat with the rest of the salad ingredients.  Add the dressing a toss.  Keep it in the fridge until you're ready to serve. 
To serve, scoop out into individual bowls and top with a little fresh parsley and feta.
Home> Gluten Free Grains > Buckwheat Salad