Sweet and Savory Curry Pineapple Chutney for Pork, Salmon or Turkey

You'll make it with the intent to share, but will you?   
This delightfully sweet and complex curry pineapple chutney was a hit with my pork roast.  Then it paired up with beautifully with summer grilled salmon.  Now it's competing with the cranberry sauce for honor of garnishing the holiday turkey. 
Pin it For Later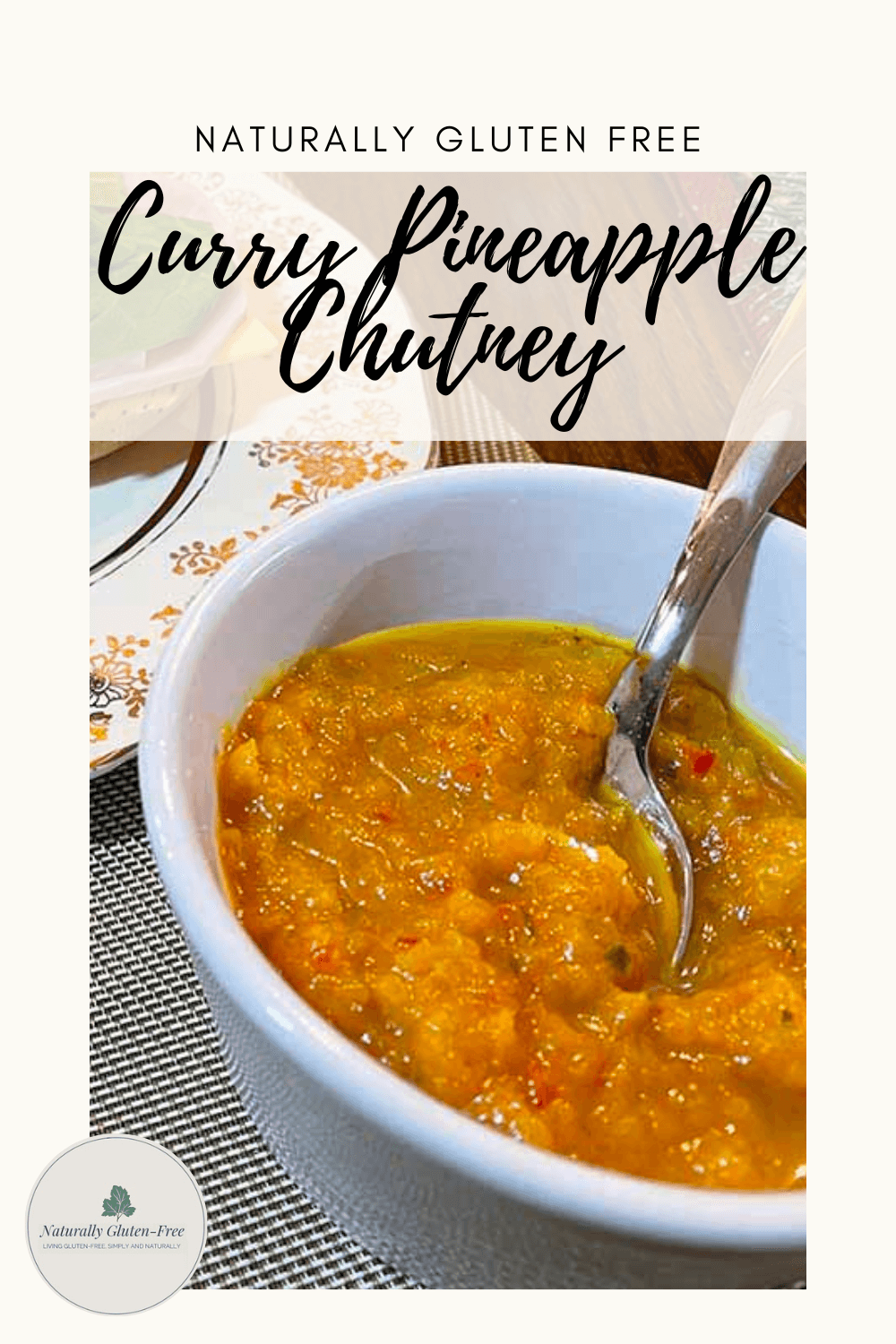 It not just for dinner.  Serve it with gluten free crackers and goat cheese for a lovely canape or spread on a bagel with ham to elevate your lunchtime sandwich.
This recipe makes about 4 small jars.  It's a great gift.  In fact I gave a couple of my first batch away as gifts and then I ran out so quickly I had to make more.  And then the empty jars started coming back with the smiles that said "more please".
The Back Story
My Curry Pineapple Chutney was conceived on a romantic getaway. 
My husband and I decided on a "staycation" for our anniversary.  Travelling out of the country during the pandemic was difficult if not impossible, and I wasn't thrilled with the idea of getting on a plane anyway.  So we booked a romantic weekend at the Millcroft Inn at Caledon, Ontario.  It's more money that we would normally spend for a weekend away but we hadn't travelled in well over a year and wanted to make it special.

Millcroft Inn, Caledon, Ontario, Canada
Between the wine, gourmet meals and spa treatments we took a short excursion into the rural town of Orangeville, about 15 minutes away, to check out the town and have a dinner away from the resort.
I love to shop in local stores that make their own goods or sell products made by local artisans.  We found such a place in Fromage Orangeville. 
It was closing time when we peeked in the door and saw the owner sweeping up and getting ready to shut down.  We were going to travel on but she smiled and invited us in.  She was so small town friendly.  We purchased a few cheeses and a jar of curry pineapple relish.
When we got it home, it sat on the pantry shelf for a couple of weeks.  I'd kind of forgotten about it, when one day I was looking for something to accompany a pork cottage roll I'd made for dinner.  I cracked the lid and had a taste.  Then gave my husband a taste.  We looked at each other like, well it was better than, well maybe not better than, well maybe...
When that jar of curry pineapple relish was empty I decided I had to try to replicate it.  Orangeville is after all a bit far to travel for a jar of preserves. 
In my research I learned the difference between relish and chutney and decided that this is really more of a chutney. 
Ladies and gentlemen, I give you (drum roll) Naturally Gluten-Free Curry Pineapple Chutney!
Curry Pineapple Chutney Ingredients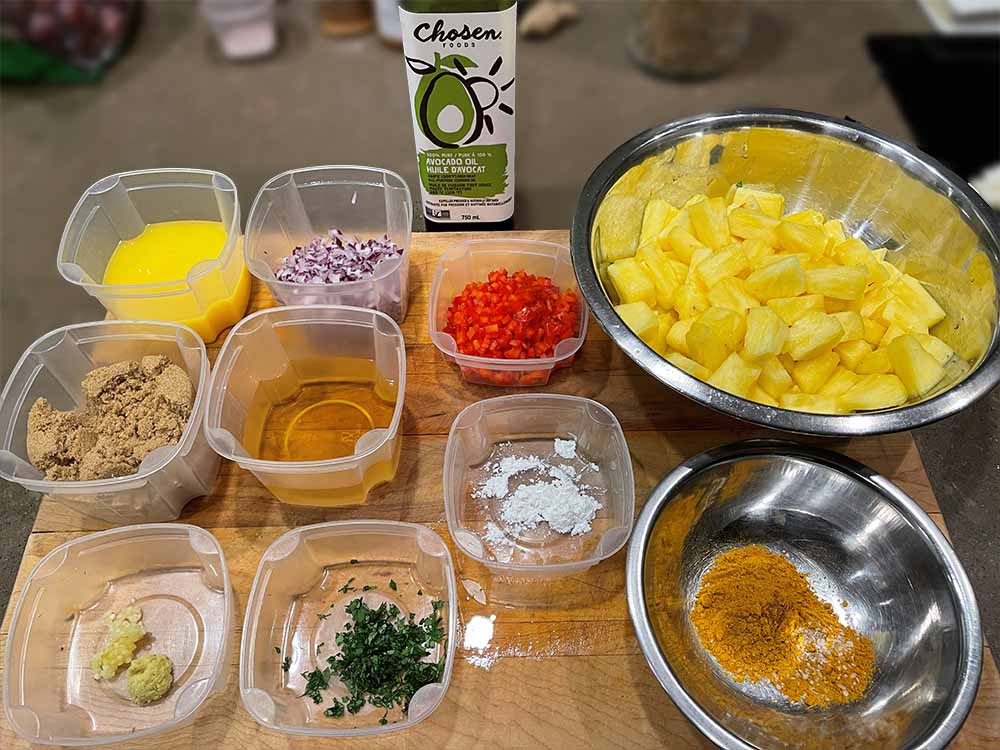 The Pineapple
This is the most important ingredient.  One whole pineapple cut into cubes will give you the perfect amount.  If you can't get fresh pineapple can you use canned?  I've not tried canned pineapple in the recipe but sure, why not. I recommend draining off the juice and reducing the sugar by about half to start with, add more at the end if you feel like it needs it.  It's just that canned pineapple is quite a bit sweeter than fresh so without reducing the sugar your curry pineapple chutney would likely be too sweet. 
Red Onion
Red onion has more complex, sweet / acidic flavor that a plain cooking onion or even a sweet onion and has the perfect balance for this curry pineapple chutney.  If you don't have one, a sweet or Spanish onion would work.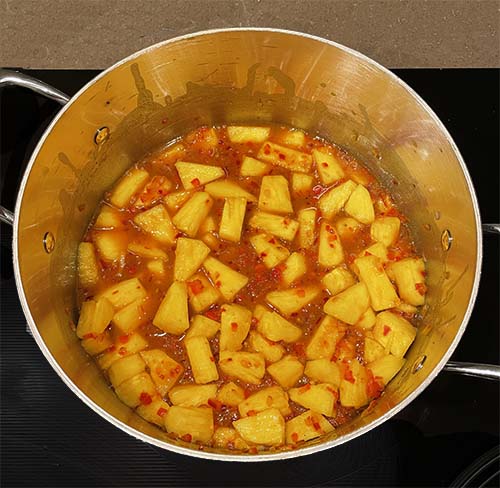 The Bell Pepper
I recommend using a red bell pepper because, looks matter and the red pepper adds just the right flavor as well as little red flecks that make your curry pineapple chutney look just plain appetizing.  
A Little Heat
The recipe calls for a pinch of cayenne pepper.  Everyone is different when it comes to how much heat they like or can tolerate.  The pinch of cayenne gives more depth to the flavor than much actual heat.  If you want to amp it up just a bit, be a little more generous with the cayenne, or add a few red chili flakes or even a bit of minced jalapeno. 
Putting it All Together
You're going to be amazed at how easy this is!

You need a good heavy pot, and I recommend an immersion blender.  If you don't have one you can use your regular blender but remember to take the little plastic center out of the lid so the steam can escape.  I've seen people get covered in hot liquid from an exploding blender.  I don't want this to happen to you. 
The rest of the ingredients are pretty self explanatory.  Fresh ginger, garlic, and cilantro are best, but again, if they're hard to find you can substitute ground spices.  
The Recipe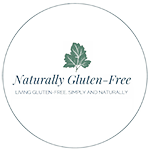 Sweet and Savory Curry Pineapple Chutney for Pork or Salmon
By Patty Maguire – Naturally Gluten Free,
You'll make it with the intent to share, but will you?
This delightfully sweet and complex curry pineapple chutney was a hit with my pork roast. Then it paired up beautifully with summer grilled salmon. Now it's competing with the cranberry sauce for the honor of garnishing the holiday turkey.
Prep Time: 15 minutes
Cook time: 1 hour
Yield: 4 small jars
Tags: Gluten Free
Ingredients
1 pineapple, cored and cubed. About 4 1/2 cups
3 tablespoons of oil (olive or avocado work well but any neutral cooking oil is fine).
1/2 red onion, diced
1 red bell pepper, diced
1 1/2 tablespoons of curry powder
1 clove of garlic, minced
1 teaspoon of fresh ginger, grated
A pinch of cayenne (to taste)
3/4 cup of orange juice
3/4 cup of apple cider vinegar
3/4 cup of brown sugar, packed
1 teaspoon of corn starch
1 sprig of cilantro, chopped
A pinch of salt

Instructions
Heat the oil in the bottom of a large pot or Dutch oven over medium to medium-low heat.


Cook the onion and bell pepper until tender but don't brown it. About 7 or 8 minutes.


Add the curry powder, cayenne, ginger and garlic and cook for two or three minutes until everything is wonderfully fragrant.


Add the orange juice, apple cider vinegar and sugar and stir until the sugar dissolves. Then add the pineapple.


Bring the mixture to a boil then reduce the heat and let it simmer with the lid off for about an hour to an hour and 15 min. It will thicken up and reduce by almost half. You should end up with about 3 1/2 to 4 cups of chunky sauce.


Blitz with your emersion blender until you have a slightly chunky sauce. Think of relish, you still want to see the bits of red pepper and pineapple and your curry pineapple chutney should be spreadable. You can do this with a regular blender, just be sure to remove the little plastic knob from the lid so steam can escape.


Dissolve the cornstarch in just a little water and add it to the chutney. Stir and cook for another minute or two. It will thicken up just a bit.


Now taste and adjust the seasoning with salt and a bit more cayenne if you think it needs it.


Add the cilantro and stir.


Let it cool and then pour into jars or freezer safe containers.


Your curry pineapple chutney will improve with age, just a bit of age. The next day or the day after the flavors will have melded beautifully.


Serve with roast pork, pork tenderloin, ham, fish or turkey.