Hearty, Comforting Bean and Bacon Soup That's Better Than Campbell's

Anything Campbell's can do, you and I can do better.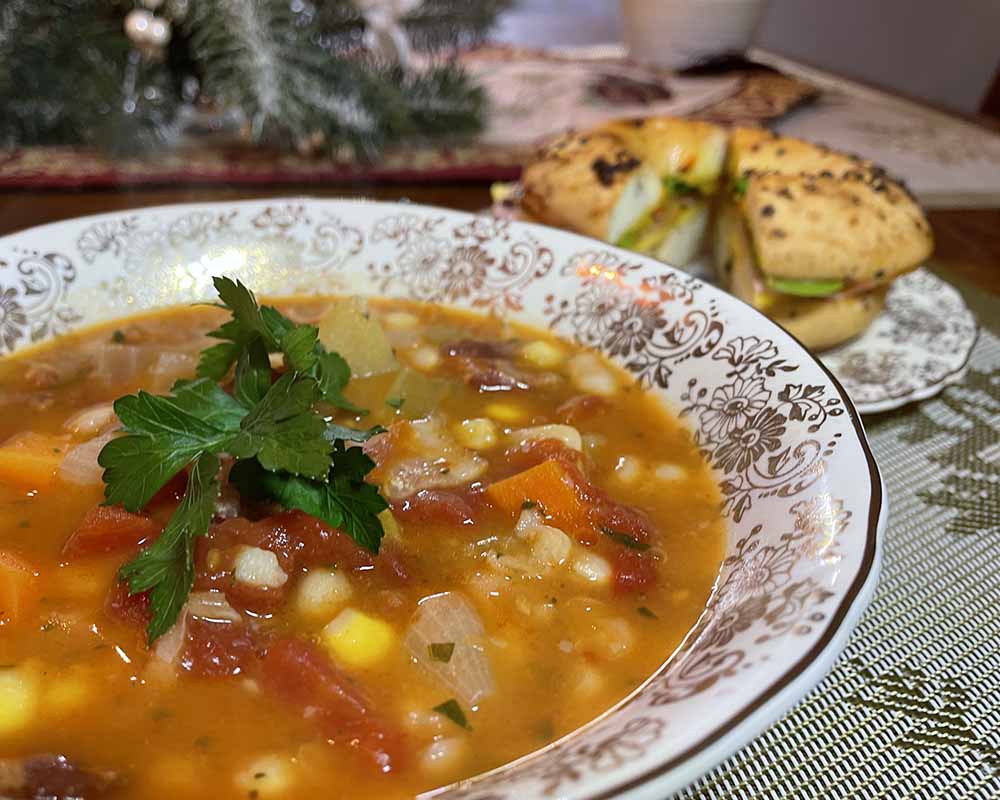 This hearty delicious bean and bacon soup started out as an attempt to replace what was, before I went gluten-free, my favorite canned soup from Campbells. 
Before Canada improved their labelling laws and before I became familiar with products that are and are not gluten free, I was very wary of anything from a can.  So I decided that, if I wanted to eat soup, I should learn how to make my favorites. 
I've tweaked this recipe over the years until I think I've finally perfected it.

About This Bean and Bacon Soup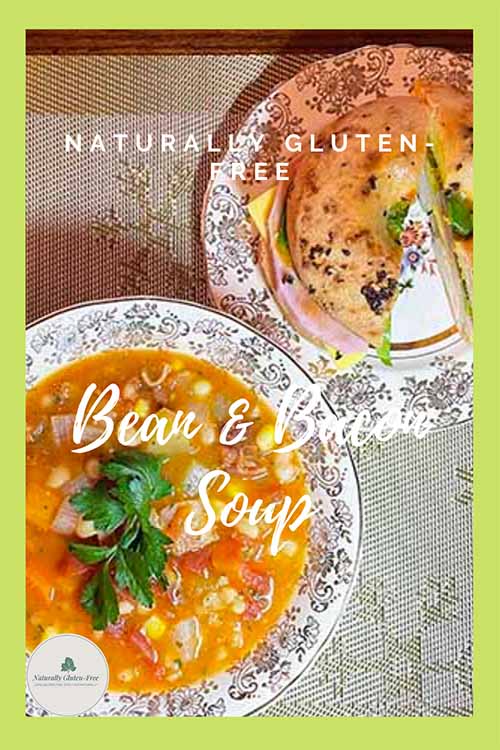 As I've mentioned in the past, I've fought hard against allowing Naturally Gluten-Free to become a recipe site, and prefer to post recipes that you can use as a template or a guide to inspire your own creations. Soups are the cook's canvas and you can do so many things, limited only by your imagination.
My gluten-free bean and bacon soup is a standard thickened soup that uses an "aromatic roux", which is simply onion, celery and carrot, sautéed in oil with flour added as a thickener. For more on this and other classic soup making techniques, visit my gluten-free soups page.
Have it for Lunch or Dinner
This is a great hardy soup for a cold winter day. Pair it up with a nice gluten free dinner roll or a sandwich or wrap and you've got a complete meal. Scoop it into a microwavable container and take it for lunch, or if you want a simple meal, pair it with a big sandwich and you have a full and satisfying dinner.
Store it for Later
Bean and bacon soup, like most soups freezes really well.   You can freeze enough for a full meal or, I like to make up individual serving sized portions for weekday lunches.  If you're into canning, you can preserve your soup in mason jars to stock your winter pantry.  But  of course there would have to be leftovers to do any of that ;)
Zazz it Up With Leftovers
Bean and bacon soup is perfect for the night after a roast chicken or ham.  Just cube up some of the leftover meat and add it to the soup.  It will be great.  Same goes for leftover veggies.  Peas, asparagus, brussels sprouts, parsnips, greens like spinach or kale or cabbage, even lentils or pasta.  If you're using precooked vegetables add them near the end so they don't over cook.  If you're adding pasta it's best to either add the cooked pasta to the bowl and ladle the soup over top, or if you want to add it to the pot, have just enough soup that you'll use it all for that meal.  Gluten free pasta doesn't fare very well if it's left to soak in leftover soup.  
Can I Make This Vegan or Vegetarian.
Of course.  I guess we'd have to change the name, but just leave out the meat and use vegetable stock and you'll have an amazing vegan bean soup.  Hmm, may have to try that. 
Ingredients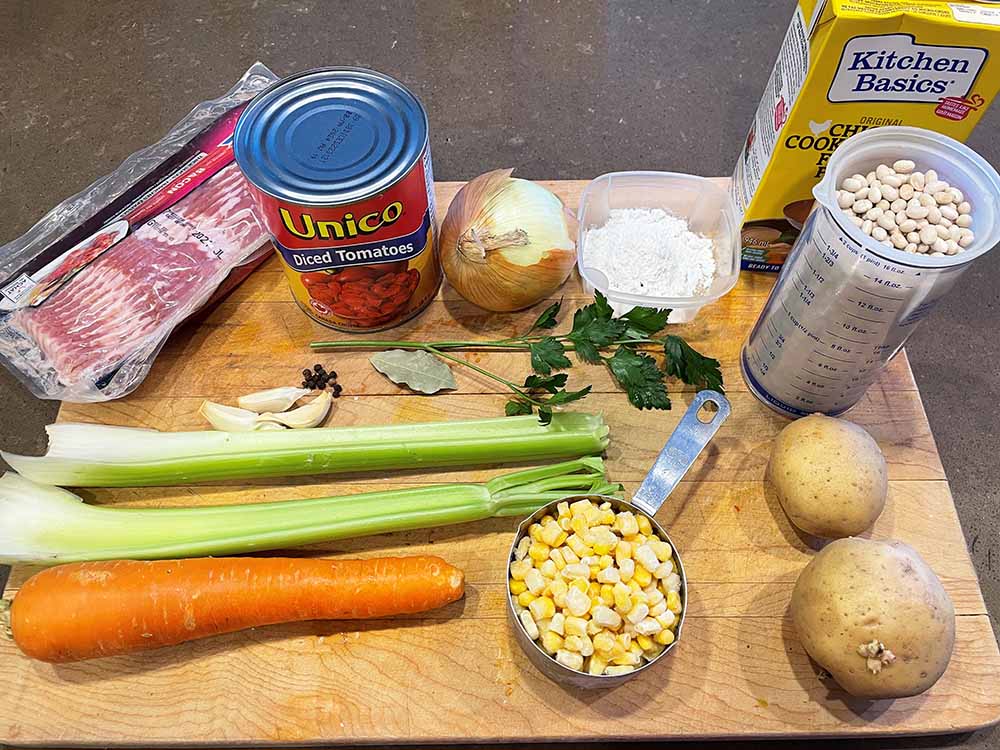 The Beans
The recipe calls for white pea beans, soaked over night and cooked.  You can absolutely use plain canned beans.  Not the stuff that's cooked in sauce, but white beans, black beans, Romano or kidney beans, they'd all be great in your bean and bacon soup.  
Beans and Gluten
Beans are naturally gluten-free so you're totally safe, however there are a few things to keep in mind.  If you're buying canned beans check the label to be sure no gluten has snuck in there.  If you are buying dried beans it's recommended to wash them and pick through to ensure there is nothing in there that shouldn't be.  Beans can be cross contaminated if grown near or rotated with grain crops, but Beyond Celiac and the Canadian Celiac Association both assure us that a thorough washing will take care of any issues. 
Vegetables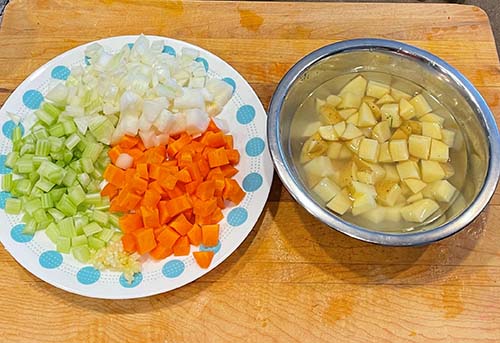 Dice up the veggies into 1 cm or 1/2".  If everything is about the same size it will cook evenly.  We've already talked about using leftover vegetables but you can change up the mix however you like.  The onion, celery and carrot in this recipe make up the standard mirepoix.  I've added a cup of frozen corn and diced potato.  You can also add frozen peas, diced sweet potato, greens like kale, cabbage, chard, brussels sprouts.  Make it your own.  

Meat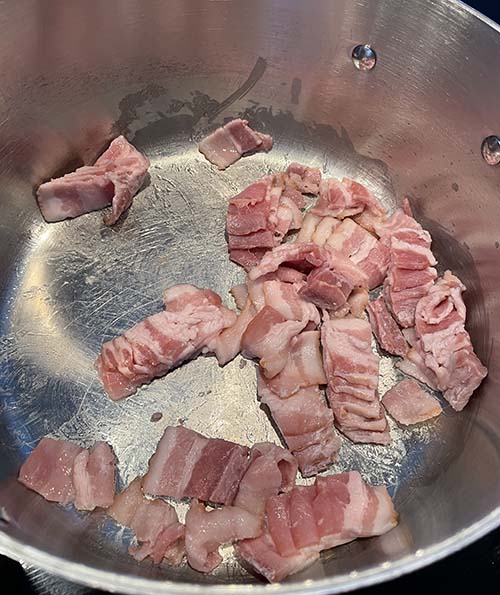 Bacon is of course the meat in our bean and bacon soup.  It gives it that unmistakable umami flavor so I do recommend leaving it in.  However if you don't like bacon or don't have any, ham or chicken will do fine, or like I mentioned above, leave the meat out all together.  The flavor profile will change but it will still be great.  

Spice Bag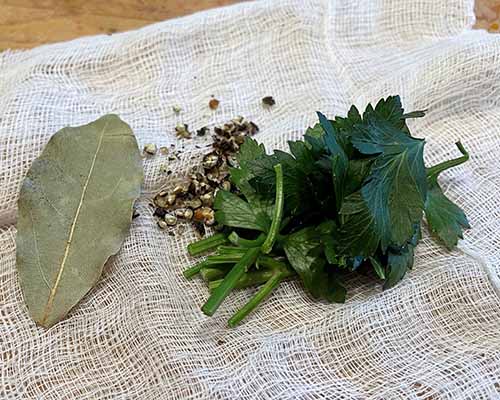 The bay leaf, parsley, thyme and peppercorns tied up in cheese cloth is a classic cooks method of flavoring a soup, stew or sauce.  It's in the little bag so you can pull it out if the flavor is strong enough but the dish is not done cooking.  Just lay out your ingredients on a little square of cheese cloth, (crush the peppercorns a bit so the flavor comes out) and tie it up with cotton butchers twine.
The bag is not 100 percent necessary.  You can toss the bay leaf and thyme leaves right in the soup and season with a little ground pepper, then add chopped parsley at the end.  Don't add too much pepper at this stage, it's best to season lightly while cooking then add a bit more at the end if needed.  You can add but you can't take away.  
The Flour
The recipe calls for 2 tablespoons of gluten-free all purpose flour, to be added to the oil and vegetables after they've been sautéing for a few minutes.  This is to thicken the broth and give it a good stick-to-your ribs hearty consistency.  You can use any commercial all purpose gluten-free flour blend you like.  The one I used is the Bulk Barn 1:1 baking flour which has xanthan gum in it.  If you choose a flour without xanthan gum your soup may not thicken quite as much, or you may wish to increase the flour.
As another option, you can omit the flour and you'll have a clear, un-thickened soup which will be just fine, or you could wait until the very end and thicken your bean and bacon soup with a bit of corn starch.  Just add a heaping teaspoonful of corn starch to a little water, stir it up and add it to the soup.  Give the pot a stir and let it come to a boil for a few more minutes to cook the start and allow it to thicken.  Soup thickened with cornstarch will be a little more clear and may not hold the thickening as well if it's stored in the fridge, but that's likely not a huge disaster.  It won't affect the flavor. 
The Recipe
---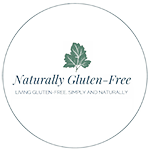 Hearty, Comforting Bean and Bacon Soup That's Better Than Campbell's
By Patty Maguire – Naturally Gluten Free,
Anything Campbell's can do, you and I can do better. You can follow this recipe to a "T" for a fabulous Bean and Bacon Soup that will have you forgetting about canned soup forever, or use it as a template for your own creation.
Prep Time: 45 minutes
Cook time: 90 mintues
Yield: 4 to 6 servings
Tags: Gluten Free, Dairy Free, Keto Friendly
Ingredients
2 cups dried white beans, soaked overnight and cooked
About 6 slices of bacon cooked and chopped
1 large onion diced
2 or 3 cloves of garlic, minced
2 stalks of celery diced
1 carrot diced
2 tablespoons of gluten free all-purpose flour
1 medium potato or 2 small, diced
4 cups of chicken stock
1 can of diced tomatoes
1 cup of kernel corn (frozen, canned or cut from the cob)
1 spice bag (parsley, thyme, bay leaf, peppercorn)
1 tablespoon of gluten-free Worcestershire sauce
Salt & pepper to taste
Instructions
Soak 2 cups of dried white beans overnight in enough water to cover by about 2 inches. In the morning drain, rinse, add water to cover and boil until tender but not mushy, about 45 - 60 min.


Fry the bacon in your soup pot or Dutch oven, chop and set aside.


In the hot bacon fat, cook the onion on med-low heat for about 5 min. Add the celery and garlic and cook for a few more min, then the carrots. The idea is to give each addition of veg time to heat up and start to cook before adding the next item.


Sprinkle the gluten-free flour over the vegetables, stir and continue to cook until everything starts to get tender but should not take on any brown colour (10 or 15 min).


Add the chicken stock, slowly at first while stirring, so your flour doesn't go lumpy, then add the canned tomatoes.


Add the cooked beans and the spice bag. Push it down into the soup and tie it loosely to the handle of the pot.


Simmer everything together with the lid on until the vegetables are tender and the flavors have started to mingle. About 40 min.


Add the Worcestershire and soy sauce. Taste and adjust the seasoning with salt and pepper if needed. You may not need salt as the soy sauce is already quite salty.


Ladle into bowls and enjoy.