Gluten-Free Rice Cakes
7 Ways
Are rice cakes gluten-free?  You bet!  In fact they are naturally gluten free.  Just one naturally gluten-free ingredient - rice.  Of course you can get variations of gluten-free rice cakes:  sesame seeds, cheese, salt, chocolate, apple cinnamon or just about anything else you can think of.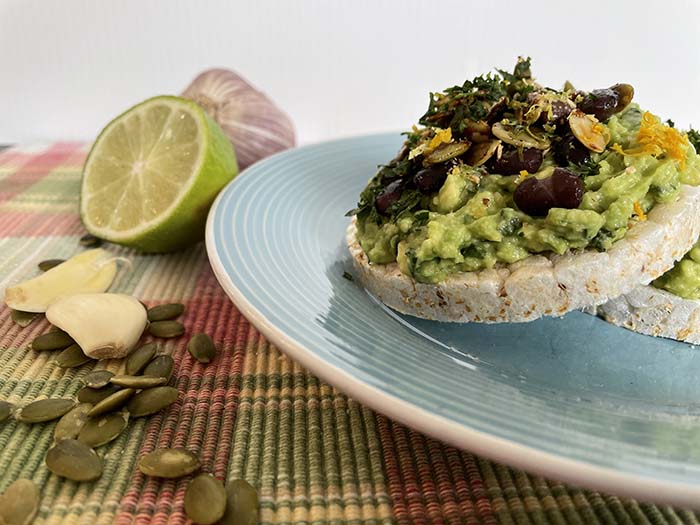 I have to admit that I originally wrote off gluten-free rice cakes as tasteless little chunks of cardboard and for a long time left them where I thought they belonged, on the supermarket shelf.  Lately though, I've been thinking more about naturally gluten-free bread and bread substitutes, and had the brain child that this is what rice cakes are.  Rice cakes are naturally gluten-free (bonus) and you can really do anything with them that you can do with a slice of bread or toast or even a cracker.  After-all, who eats plain dry toast.  You dress it up to make it interesting.
It's with that spirit that I bring you Gluten-Free Rice cakes 7 ways.  Like all of my meal and recipe suggestions, these are simple, accessible options that I think you will really make when you're looking to throw together a quick gluten free snack or lunch.  Yes I've jazzed some of them up a bit for the photos, but you can take that to whatever degree you like.
In addition to being naturally gluten-free, rice cakes are also dairy-free and vegan.  Some my creations below have goat cheese on them, but to make them dairy-free or vegan you can leave off the cheese or use a vegan cheese substitute. 
Seven Serving Suggestions for Gluten-Free Rice Cakes.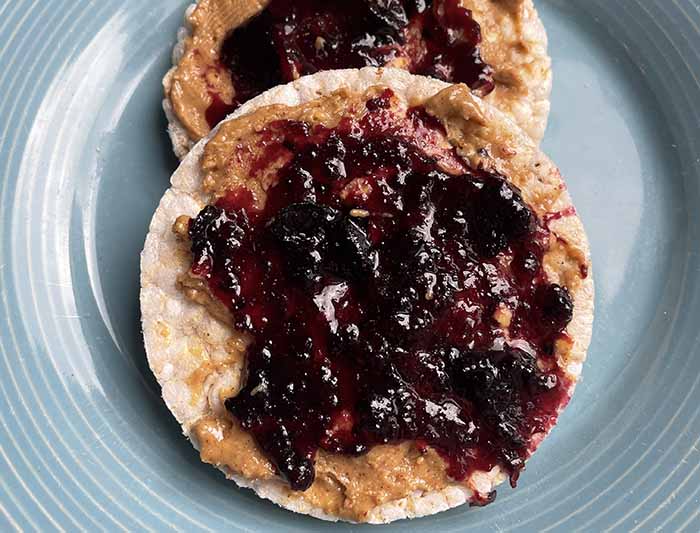 1.       PB&J Rice Cakes– Of course, right?  The simplest and tastiest comfort food on the planet.  No real explanation necessary.  I like to use natural peanut butter (just peanuts and maybe a bit of oil) and I love trying jams from local markets. 
---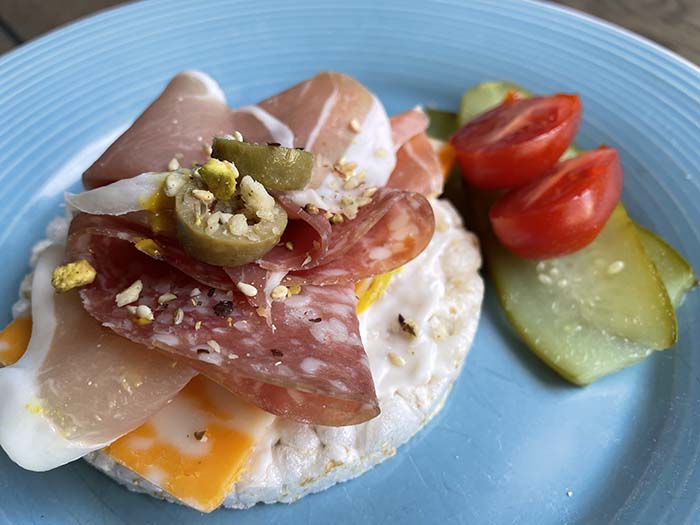 2.       Charcuterie Rice Cakes – do you like cold cuts? Then why not on a naturally gluten-free rice cake?  This photo shows prosciutto and salami with a couple of slices of goat cheddar, olives and a sprinkle of dukkha, which is a simple mixture of chopped nuts and seeds.  You could use ham or pepperoni or whatever you like.  Just make sure your cold cuts are gluten free.  For a dairy free option leave off the cheese or substitute with vegan cheese.  If you want to make it totally vegan you're pretty much left with the olives, pickles tomato and dukkha but hey, that would be good too, maybe with a bit of dairy free yogurt or mayo. 
---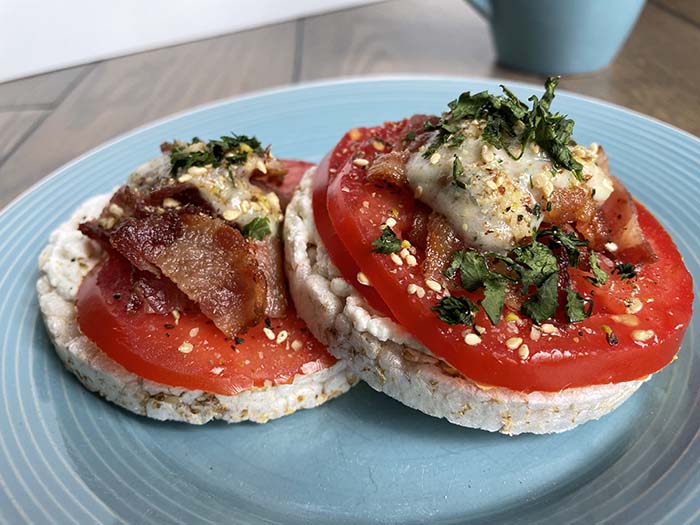 3.       BLT Rice Cake – Here's another classic, and who doesn't like a BLT?  This one has a bit of soft goat cheese on the bottom and it's topped with a dairy-free yogurt and mustard sauce and bit of parsley in place of lettuce.  To make if dairy free leave off the goat cheese.  To make it vegan switch out the bacon for a few black beans and top with cilantro instead of parsley.
---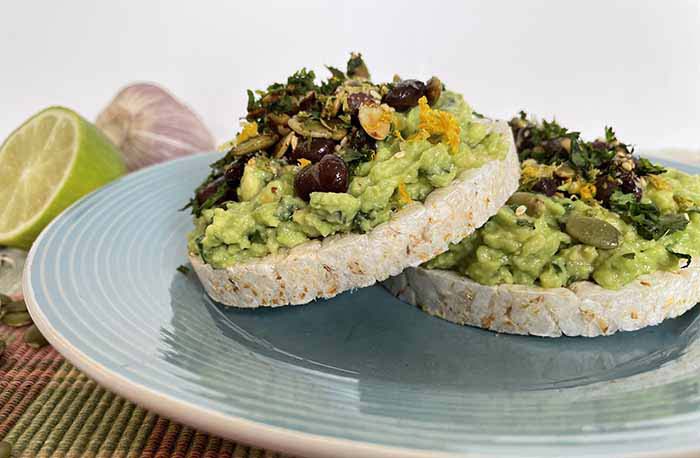 4.       Avocado Toast Rice Cakes – I keep hearing how our millennials love their avocado toast.  Well, you're welcome.  Here is your naturally gluten-free rice cake version.  I mixed up the avocado guacamole style with a bit of lime juice and cilantro and topped with a few black beans, pepitas, a little shredded cheese and chopped cilantro.  For the dairy-free and vegan version just leave off the cheese or substitute with vegan cheese.
---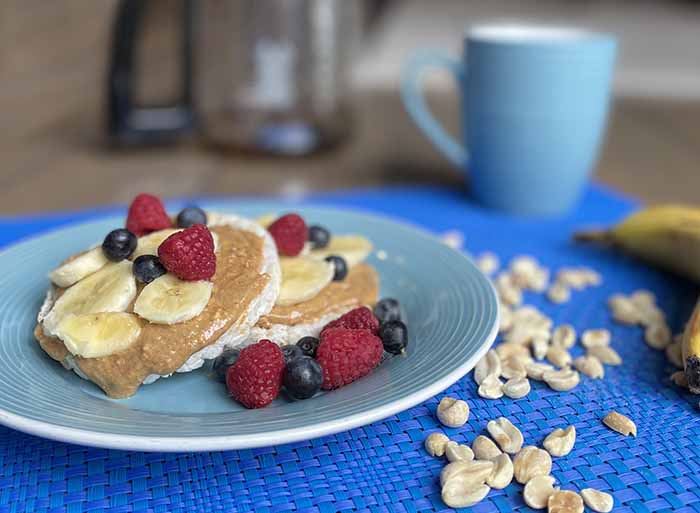 5.       PB & Banana Rice Cakes – This is a close cousin to number one.  Again, no explanation really needed.  It's naturally gluten-free, dairy-free and vegan.
---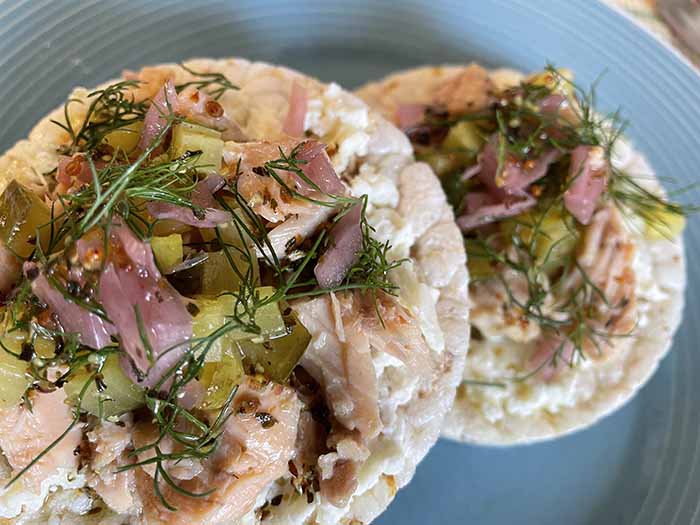 6.       Salmon Rice Cakes – So easy and nutritious.  Salmon gives us a generous shot of protein along with B12, potassium, iron and vitamin D.  The photo shows canned salmon on top of soft goat cheese and crowned with chopped dill pickle, quick pickled onion, fresh dill and a bit of lemon, mustard vinaigrette. You could totally do it the traditional way my mom did with mayo in the salmon, or elevate it a bit with leftover grilled salmon.
---
7.       Tuna-melt Rice Cakes – A simple twist on another comfort food item.  A little grainy mustard at the bottom, flakes of canned tuna topped with black beans, pickle, parsley and crumbs from my home-made nut and seed crackers then generously sprinkled with shredded goat cheddar.  A few seconds in the microwave just to melt the cheese and voila!  For a dairy free version use vegan cheese. 
More Gluten-Free Rice Cake ideas
I think you can see where I'm going here right?  Let's brainstorm a few more.  How about a personal pizza rice cake?  Fried egg and ham or bacon, broccoli and cheddar,  shrimp and pesto, goat cheese and tapenade, roast beef and horseradish.  Want more ideas?  Try googling canapes, which are just hors d'oeuvres on crackers.  Anything you could put on a cracker you can put on a rice cake.  Want to change it up a bit?  Try corn cakes then go with your Mexican flavors: The avocado one above, or salsa and cheddar, huevos rancheros with on a corn cake.  Are we on a roll?  I'd love to hear some of your suggestions.  
You Might Also Like...
---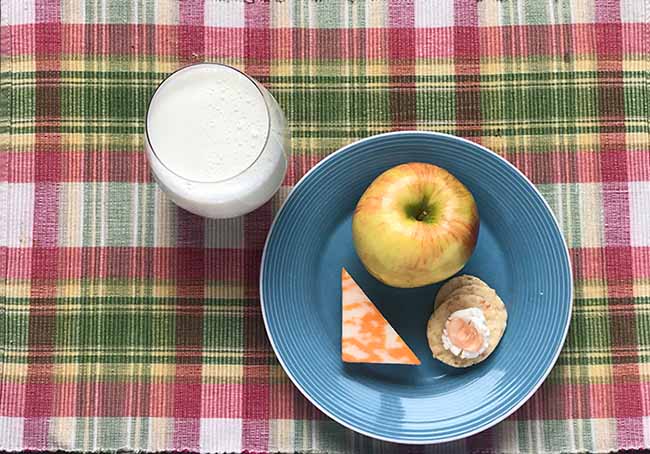 Gluten and Dairy: It is very common for people with Celiac disease to have issues with other foods, and dairy may be the most common one.  Let's explore some of the reasons why you might have problems with both gluten and dairy, the different ways it may show up in your life and some tips on what you can do about it.
Home > Naturally Gluten-Free Meals > Gluten-Free Snacks > Gluten-Free Rice Cakes