Gluten Free Maple Glazed Pork Tenderloin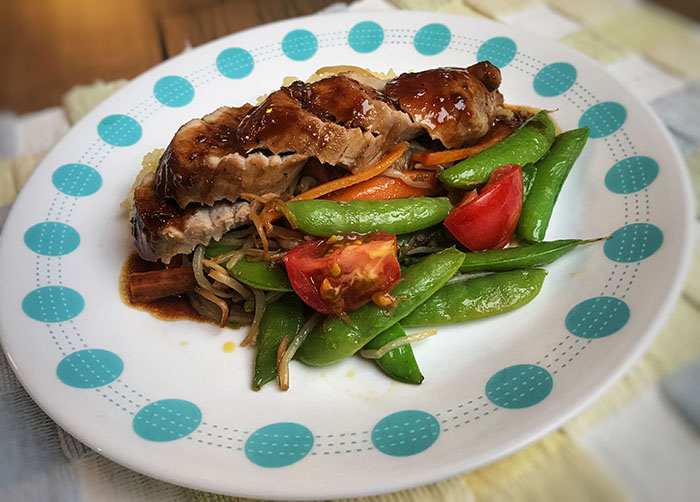 This sweet succulent  tenderloin recipe uses maple sugar for the sweetness and a bit of Dijon mustard for a slightly spicy kick.  It's naturally gluten free, just make sure you use gf soya sauce.
Ingredients:
2 tsp minced shallot 
3 tbsp pure maple syrup
4 tsp Dijon mustard
2 tsp cider vinegar
2 tsp gluten free soy sauce (omit or substitute coconut aminos if you're soy free)
2 pork tenderloins (each about 12 oz)
1/4 gluten free chicken broth
salt, pepper
canola oil
Method:
Preheat oven to 375°F (190°C)
Large ovenproof skillet
1. In a small bowl, whisk together shallot, maple syrup, mustard, vinegar and soy sauce.  Set aside
2. Season pork with salt and pepper.  In oven proof skillet heat oil over medium-high heat and add the pork.  Brown on all sides (about 1 min per side).  Generously brush all sides with syrup mixture.  Pour in broth and bring to a boil.
3. Transfer skillet to preheated oven and roast for 20 to 25 min brushing generously with maple mixture three times.  Meat is done when thermometer reads 155°F (68°C).  Transfer pork to cutting board.  Tent with foil and rest for 5 t 10 min.
4. Meanwhile , bring pan juices to a boil over high heat.  Add the remaining maple syryp mixture.  Boil, stirring occasionally for 3 min or until slightly thickened. 
5. Cut pork crosswise into thin slices and serve drizzles with sauce.