Gluten Free Chicken Pie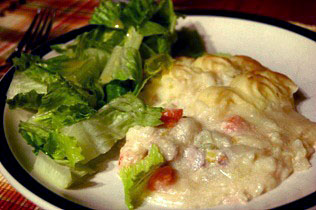 This gluten free chicken pie is a great way to use up leftover chicken.  It's really just a veloute sauce with chopped chicken and vegetables topped with mashed potatoes.
Ingredients:
About  1 to 2 c leftover chicken
Leftover vegetables
Leftover mashed potatoes
3c chicken stock
1 onion, diced
1 stalk celery diced
1 carrot, diced
2 tbsp butter
2 tbsp gluten free flour
1 spice bag (parsley, thyme, bay leaf, peppercorn)
Method:
1.       Heat the stock in a sauce pan just to a light simmer, don't boil.
2.       Make an aromatic roux keeping the diced veggies a little lager than normal, about ½" dice.  (you can do this while the stock is heating)
Melt 2 tbsp butter in a sauce pan. 
Add diced onion, celery and carrot.  Cook over med – low heat until the vegetables are tender (sometime I precook the carrot in the microwave in a damp paper towel to speed this up).
Sprinkle 2 tbsp gluten free flour over the veg.  Stir and cook for about 2 min.
3.       Add the stock a little at a time and keep stirring so there are no lumps.
4.       Add leftover cubed chicken. If you have any other leftover veggies, add them in too
5.       Season with salt and white pepper, add the spice bag and let simmer for about 15 - 20 min.
Tip:  If the sauce is too thick you can thin it out with some stock or water, or if it's too thin, make a paste of half and half butter and gluten free flour.   This is called a "beurre manier".  Add pea sized pieces and stir into the sauce until it's the right thickness.  It should be thicker than cream soup but not quite as thick as ketchup.  Each time you add a piece of the beurre manier, give it a minute to work before you add more.
6.       Adjust seasoning with salt and pepper if necessary then pour the mixture into a baking dish (remove the spice bag).  Top with leftover mashed potatoes.
7.       Bake at 375°F until the potatoes are golden brown on top
Alternative 1: Top your gluten free chicken pie with gluten free pastry instead of mashed potatoes for chicken pot pie
Alternative 2:  Use a bechamel sauce (milk instead of stock) for a richer sauce.