Easy, Creamy, Spicy as You Like
Thai Chicken Curry Recipe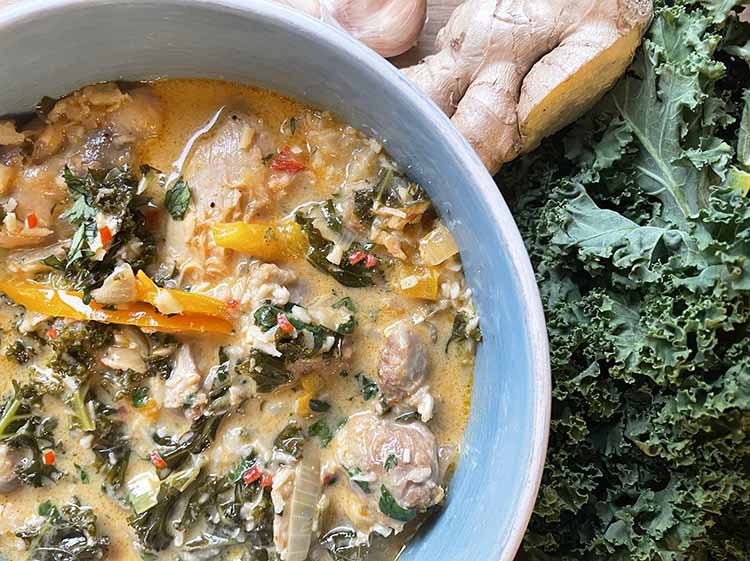 This Thai chicken curry recipe is naturally gluten-free and so simple and accessible that you can make it regardless of your skill level in the kitchen.
Don't be intimidated by the length of the ingredient list.  Most of the items here are easy to find at your local grocery store, and once the chopping is done, the whole recipe comes together in just a few minutes. 
Curry is one of the reasons I sometimes consider my celiac disease a blessing.  I often wonder if I'd have embraced the cuisines of the world outside of my own heritage were it not for the necessity to avoid gluten.  We of European background are used to wheat flour in everything and were all but unaware until recently of the existence of other grains, or that other cultures have done quite well for millennia with little or no wheat.  Corn for example is the star of Mexican and Latin American food and rice is the staple in most Asian countries.
This fragrant and spicy as you like Thai chicken curry is a classic served over plain white rice.  Or if you want to change it up, go with brown rice or combine rice and quinoa for more flavor and nutrition.  You'll need to cook the rice and quinoa separately as the cooking times are different. 
What is Curry

It's just chicken stew.  Cooking techniques, ingredients and spices are often unique to certain parts of the world but virtually everyone employs the basic technique of braising, and virtually every cuisine uses chicken.  In France it might be Chicken Basque, in Mexico we find Chicken Mole, in Britain it will be chicken and dumplings.  But if you look at any of those recipes, there are similarities.  Chicken pieces are browned then simmered in a flavored liquid.
This richly creamy and slightly spicy Thai Chicken Curry was born of a craving, accompanied by a touch of laziness.  I wanted curry but had no desire to go shopping.  I challenged myself to pull something together with what I had in the pantry and refrigerator and turned to the internet for some inspiration.  I found a vegetarian curry at Cookie and Kate that looked delicious and doable, and a chicken curry at Very Well Plated that looked good but didn't have quite enough vegetables for my liking.  This version is, I think, the perfect balance of meat and veggies, simple enough for anyone to make and complex enough to give you those layers of flavor that will make you come back to this recipe time and time again. 
Time Saving Tips

Do all your prep in advance.  Chop all the veggies and have everything measured out and ready to go.  That way once you get started it's simply a matter of adding the ingredients to the pot in the right order and cooking to bring out the fragrance and flavor. 
If you're pressed for time and want to make this on a weeknight, you might consider slicing all the veggies the night before.  Another little convenience I stumbled across is frozen diced onions.  Yes, that's right, you can by onions already diced up and they will save you time and tears.
About the Ingredients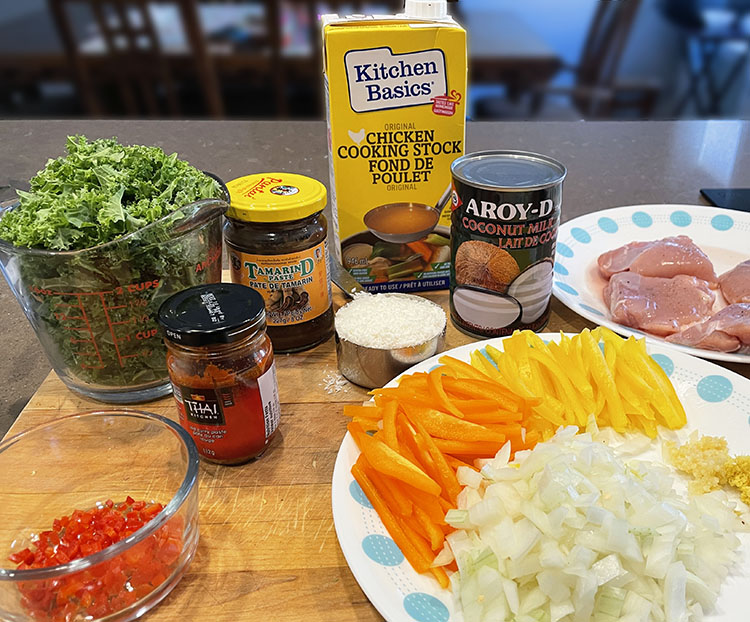 What is Curry Paste?

Thai red curry paste is the essential ingredient in this recipe. 
Curry paste is simply a paste made from the herbs and spices that give curry its pungent aroma and distinctive flavor.  Different ones will have slightly different formulations and Indian curry paste is different from Thai curry paste.  Thai curry paste comes in red and green varieties; the green is usually hotter.  Both contain spices such as coriander and cumin along with lemongrass, galangal which is Thai ginger, garlic, and lime peel.  Experiment with different ones and see what you fancy.  And don't feel like you need to limit your use of curry paste to curry dishes.  Add it to anything that could use an infusion of flavor or a little heat.  Try it on eggs, mix it with your mayonnaise and spread it on a sandwich or add a spoonful to tomato soup. 
Where to Get Thai Red Curry Paste

You can make your own if you want the extra punch of the fresh herbs and spices, and I do recommend it if you have the time and access to the ingredients.  For this simple Thai chicken curry recipe, I went with a premade curry paste.  It's usually available in the grocery store in the Asian foods aisle.  You can also get it at an Asian grocer if there is one in your area.  I used Thai Kitchen red curry paste.
What is Tamarind Paste?

Tamarind is a pod like fruit that contains large seeds covered in a brown sticky pulp.  It's kind of sweet and sour and is used in Mexican, Caribbean, and Asian cooking.  Tamarind is also said to have medicinal properties. You can buy the pods or buy it ready made in a paste.
I live in a small town and had some difficulty finding tamarind paste.  Lucky for me I have a Thai friend who came to the rescue.  If you live in a city, then you should have no problem finding tamarind in the Asian food aisle at your grocery store or at an Asian grocer. If you really can't get your hands on it, don't worry, just leave it out.  Your Thai chicken curry will still taste good.
Why Use Shredded Coconut?

The shredded coconut is the secret ingredient in my Thai chicken curry recipe.  I learned several years ago from an Indian friend to use shredded coconut in my Indian curries, and I've never looked back.  It adds a light sweetness and paired with the creamy coconut milk, it thickens and improves the flavor and silky texture. Use unsweetened, shredded or desiccated coconut which is easily found in the baking aisle.
How Much Hot Chilis To Use
How much you use, or if you use chilis will depend on how spicy you like your curry.  The curry paste is already a bit spicy, but I do like to a little extra.  Red chilis are generally milder than the green ones and impart a little sweetness to balance the spice.  The seeds and the white pith are the hottest part.  Remove these and just dice up the red flesh. If you're not sure how much to use go light, you can add more later. 
This Thai chicken curry recipe calls for 2 tablespoons of fresh diced chilis added just after the curry paste and before the liquid.  Sautéing with the veggies and aromatics releases the flavors and distributes the spiciness though the dish.  If you're a bit nervous of making it too spicy then you can wait until the liquid is in, taste the sauce then decide.
Dried chilies will work for this recipe too, just remember the flavor is more concentrated.
Including Greens in Your Curry
I like to include greens in soups and stews.  It pumps up the nutrition as well as adding color and visual appeal.  Kale works well because it's hardy and stands up to simmering.  Adding it toward the end of cooking will help it to retain its bright green color.  You can substitute for any hardy green like chard, bok choy or beet greens.  Spinach will work too but it's a bit more delicate so will wilt more.  Add it closer to the end.
The Recipe
---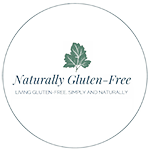 Easy, Creamy, Spicy as You Like Thai Chicken Curry Recipe
By Patty Maguire – Naturally Gluten Free,
This creamy, silky, tickle your tongue Thai chicken curry recipe is naturally gluten-free and it's so simple that you can make it regardless of your skill level in the kitchen.
Prep Time: 15 minutes
Cook time: 45 mintues
Yield: 4 to 6 servings
Tags: Gluten Free, Keto Friendly
Ingredients
1 ½ pounfd of boneless, skinless chicken thighs (you can use chicken breast if you prefer)
1 tablespoon of coconut oil or olive oil
1 onion, chopped
1 tablespoon of grated ginger
2 cloves of garlic
1 red bell pepper sliced
1 yellow, orange or green pepper sliced
2 tablespoons of red curry paste
2 tablespoons of finely diced chili pepper (more if you like it spicier. You can also use dried chilies, start with 1 teaspoon)
1/2 cup of chicken stock
½ cup of shredded coconut
1 tablespoon of tamarind paste
2 teaspoons of rice vinegar or lime juice
2 cups of chopped kale or other hardy greens
3 tablespoons of chopped fresh herbs. Recommend cilantro, parsley, basil or chives.
Salt & pepper to taste
Instructions
In a Dutch oven or large skillet, melt the coconut oil over medium – high heat.


Dry the chicken with paper towels, season it with salt and pepper and then brown on both sides in the hot oil. Don't crowd the pan. Do this in batches if necessary, removing the browned chicken to a plate as you go.


Add the onion, garlic and ginger to the pan and stir to pick up any brown bits. Add a splash or two of the chicken broth to help loosen anything that's stuck to the bottom of the pan. Cook until the onion is tender, about 5 minutes.


Add the curry paste and tamarind paste and stir. Cook for a minute or two until it's well mixed in and fragrant.


Add the peppers and stir. Cook for another two or three minutes.


Add the chicken back to the pot.


Add the vinegar or lime juice then the coconut milk, shredded coconut and what's left of the chicken broth. Taste the liquid for seasoning and heat. Add a little more salt if you think it needs it and more chilis if you'd like it spicier. Just don't over do it. You can add more later but you can't take it out.


Cover and simmer (just barely boiling) for about 15 minutes


Add the kale and half the herbs. Stir it in and simmer for another 10 minutes. Tongs work well to mix the greens in with the sauce and chicken.


Check that the kale is done. It should be tender but not mushy. Observe if the sauce is the right thickness. It should coat the back of a wooden spoon so that if you run your finger through it, you'll see the line. If it's too thin, bring it up to a boil and cook with the lid off to reduce the sauce. If it's too thick or not saucy enough, add a little more chicken broth. Taste for seasoning and add more salt if needed.


Serve over rice or with flatbread. Garnish with remaining herbs. For a keto friendly meal you could have this on its own with a side salad or with cauliflower rice.