Savor the Flavor, Gluten Free Beer Braised Sausage & Rich Onion Gravy

Pin for Later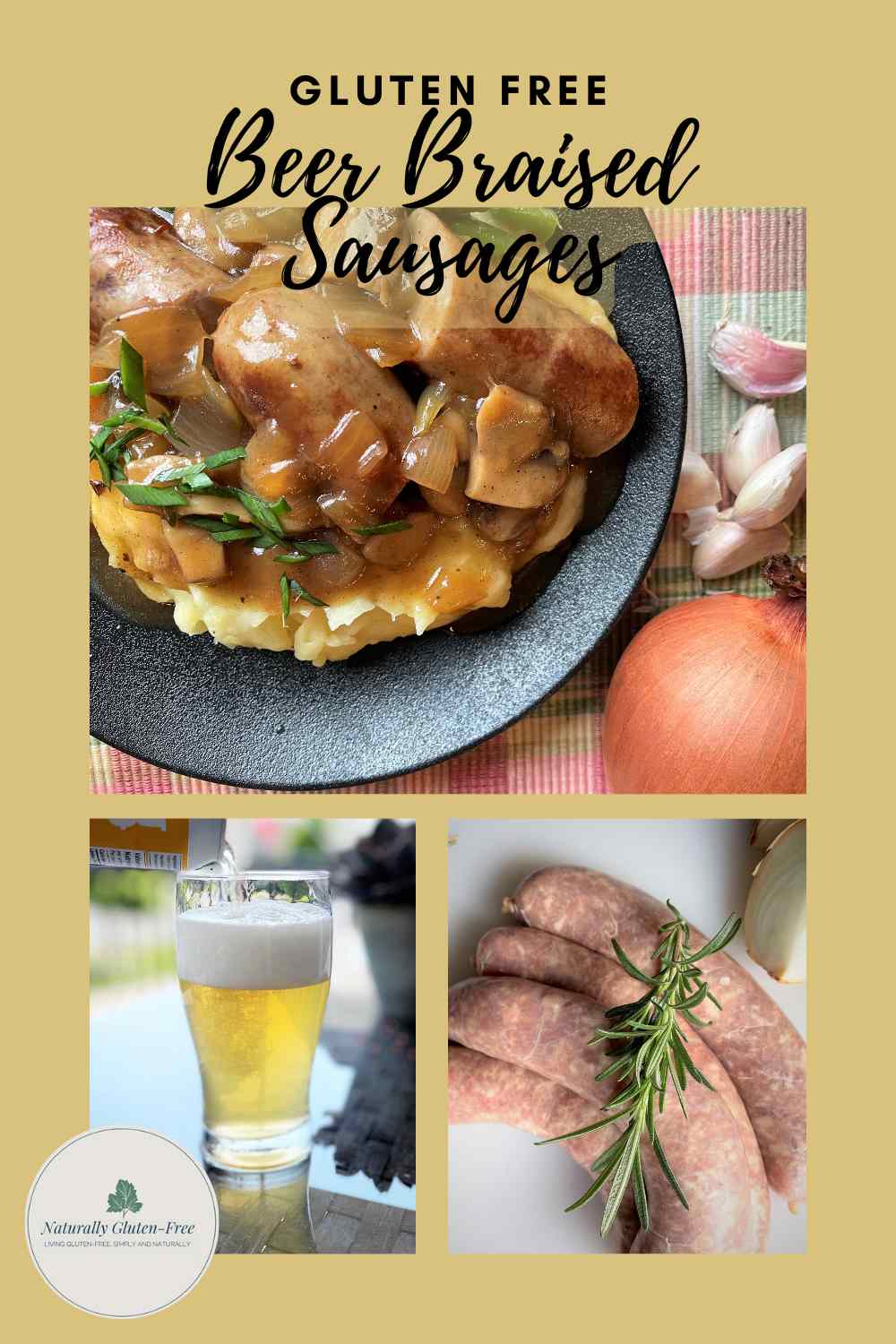 Gluten free sausage never tasted so good.  Beer braised and served with rich onion gravy; this gluten free sausage recipe paired with creamy mashed potatoes is the ultimate comfort food.
Beer Braised Sausage Ingredients
Are Sausages Gluten Free?

Although it's true that all whole fresh cuts of meat are gluten free, you need to be careful with sausages.  Sausages are a prepared meat and often have fillers such as breadcrumbs, or seasonings that may not be gluten free.
How to Buy Gluten Free Sausages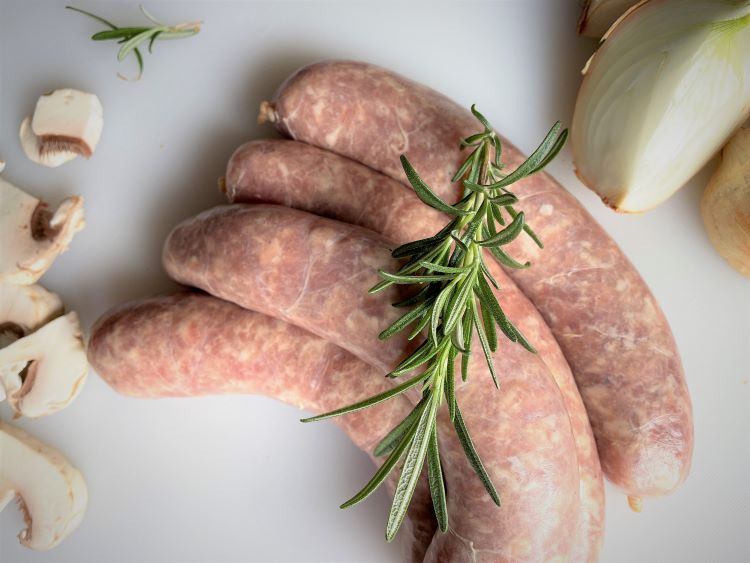 A good reputable local butcher is the best place to buy your gluten free sausages.  You can talk directly to the butcher so you can find out where their meat comes from and how it's prepared and processed.
Questions to Ask Your Butcher

Ask what's in the sausage. 

Pork is most common, but you can also get beef, lamb and turkey sausage.  Some butchers even carry sausage made from game meat like moose or venison.  Any of these work great in this braised sausage recipe.
Breadcrumbs are often added to sausage as a filler.  This of course makes the sausage not gluten free unless a gluten free filler is used.  The best sausages have no filler.  
Your sausages likely have some type of seasoning, that's what makes them so delicious.  Honey garlic sausages will have honey and garlic; Italian sausages will have Italian seasoning and range from mild to very spicy.  Chorizo is a smoked sausage that originates from Spain and has paprika, garlic, herbs, and white wine.
Is it made on clean equipment?
If your butcher makes both gluten free and gluten containing sausage in their shop, ask about the process.  Is the gluten free sausage made first on clean equipment?  This is important to prevent cross contamination.
You can also buy gluten free sausage in the grocery store.  Just check the label to ensure there are no gluten ingredients.  Ideally look for a gluten free claim on the label.  Some popular brands are:

Aidell's and Al Fresco in the U.S. or Maple Leaf and PC Free From in Canada.
What are the Best Gluten Free Sausages for this Recipe?
My favorite gluten free sausage to use in this beer braised sausage recipe is honey garlic.  The sweetness of the honey nicely balances the more tart and bitter notes in the beer.  Also, honey garlic sausages are Hubby's favorite.  Any other mild sausage like a bratwurst or mild Italian would work well.  If you like spice, try a spicy Italian or Chorizo.
Which Gluten Free Beer is Best for Braising Sausages?

Any gluten free beer will work.  I prefer a light beer like Glutenberg Blond.  It's light, fresh and slightly tart which is a nice balance for the sweetness of the honey garlic sausage.  A fatty meat like sausage benefits from a tart light beer which will cleanse the palate.
Is Cornstarch Gluten Free?
Cornstarch is naturally gluten free.  However, Celiac Canada has recently raised concern about gluten cross contamination in corn products.  Their guidance says not to use a product if cornstarch is one of the first three ingredients on the list.  In this recipe, cornstarch is such a small part that the risk is very low.  If you are concerned you can substitute tapioca or potato starch.  You could also leave the sauce un-thickened, or use another thickening method. 
Are Beef and Chicken Stock Gluten Free?
If you make your own gluten free stock you're golden.  If you buy a ready made stock, check the label to be sure its gluten free. 
Why Braise Sausages?

Braising is a meat cooking technique that combines dry heat and moist heat.  You get the best of both worlds.  Browning in oil, the dry heat part, caramelizes the outer part of the sausage bringing in beautiful deep flavors.  Simmering in a combination of gluten free beer and beef stock tenderizes the casing, distributes the flavor of the sausage through the rich onion gravy while the sausages take on the flavors of the beer, onions, herbs and stock.
What to Serve with Gluten Free Braised Sausages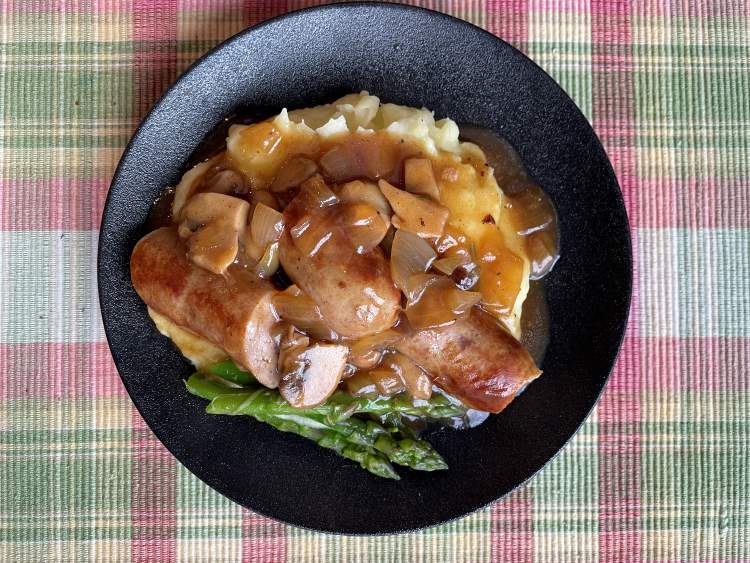 The traditional English meal of bangers and mash is braised sausage and gravy with creamy mashed potatoes.  This is the ultimate in comfort food and in my opinion, the best way to enjoy these gluten free beer braised sausages.  You can also pair them with plain white or brown rice, or serve over cooked gluten free noodles.  For an easy one pan meal try adding a cup of rice to the mixture before you put it in the oven.
Keto Option
The only ingredient in this dish that's of concern if you're on a keto diet is the cornstarch.  The cornstarch is simply there to thicken the sauce, so you have a few alternatives:
1. Don't thicken the sauce, simply serve it 'au jus' style, un-thickened.
2. Remove the sausages from the pan and puree the sauce, with the onions and mushrooms included, in the blender or with an immersion blender.
3. Replace the cornstarch with xanthan gum or guar gum.  Both of these are much stronger thickeners than cornstarch, so start with about 1/8 teaspoon and then add a little more if needed.  Simply sprinkle over the sauce in the pan and whisk to incorporate. 
The Recipe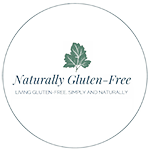 Savor the Flavor, Gluten Free Beer Braised Sausage and Rich Onion Gravy
By Patty Maguire – Naturally Gluten Free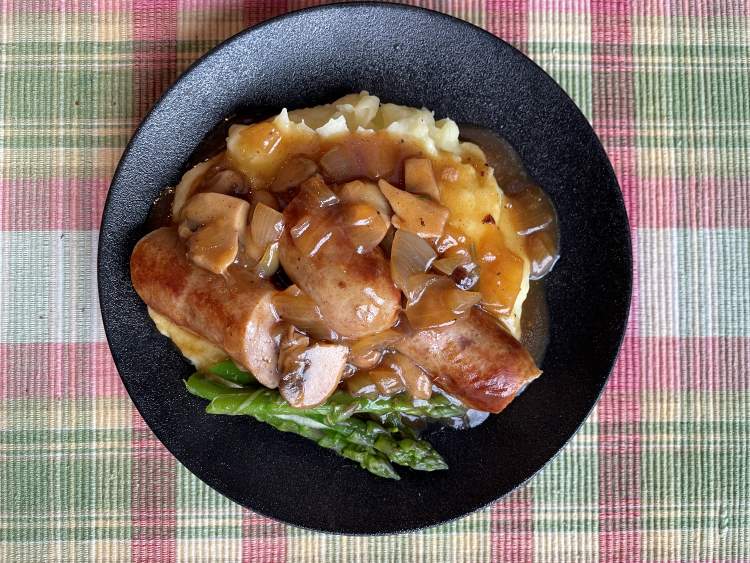 Gluten free sausage never tasted so good. Beer braised and served with rich onion gravy; this gluten free sausage recipe paired with creamy mashed potatoes is the ultimate comfort food.
Prep Time: 10 minutes
Cook time: 55 mintues
Yield: 4 to 6 servings
Tags: Gluten Free, Keto Friendly
Ingredients
4 to 6 gluten free honey garlic sausages
1 onion - large dice
1- 8 oz (227g) package of sliced mushrooms
1 sprig of fresh rosemary - you can substitute dried.
salt & pepper to taste
1 can (475 ml or 2 cups) of gluten free light beer
1 cup of gluten free chicken or beef stock
1 tablespoon (approximately) of corn starch
oil for frying
Instructions
Preheat your oven to 375°F


Brown the sausages over medium heat in a frying pan. The best pan is one with a lid that can hold all of the sausages and can go in the oven. If you don't have a pan that can go in the oven then you can use a dutch oven, or you can transfer everything to a casserole dish later. You can also simmer your sausages on top of the stove.


Remove the sausages from the pan and add the onion. Stir it around so the onion picks up all the brown flavour from the bottom of the pan. Cook for a couple of minutes until the onion is starting to soften and brown a little. If the brown bits on the bottom of the pan are not coming up, you can add a splash of water or stock. Not too much.


Season with salt and pepper then add the mushrooms and rosemary. Continue to stir until the mushroom is nearly cooked.


Add the sausages back to the pan then add the beer and stock.


Put the lid on and put in a 375° oven for about 30 min. If your pan can't go in the oven, transfer everything to an oven safe dish or you can simmer on the stovetop with the lid on.


Remove the sausages from the oven and remove them from the pan to a plate. Simmer the juices on the stove until reduced to about half. Dissolve the cornstarch in about 2 tablespoons of water then whisk it into the sauce a little at a time. You want the sauce thick enough to cling to the back of a spoon, but not too thick.


Add the sausages back to the pan and turn a few times to coat with sauce. You can serve them whole or slice them up.


Serve with mashed potatoes, rice or pasta and your favorite veggie.