Doc Ford's Gluten Free Menu, East Coast Comfort Meets Caribbean Pizzaz
Doc Ford's Rum Bar & Grille, St. Pete's Pier
Location: 610 2nd Ave NE, St. Petersburg, FL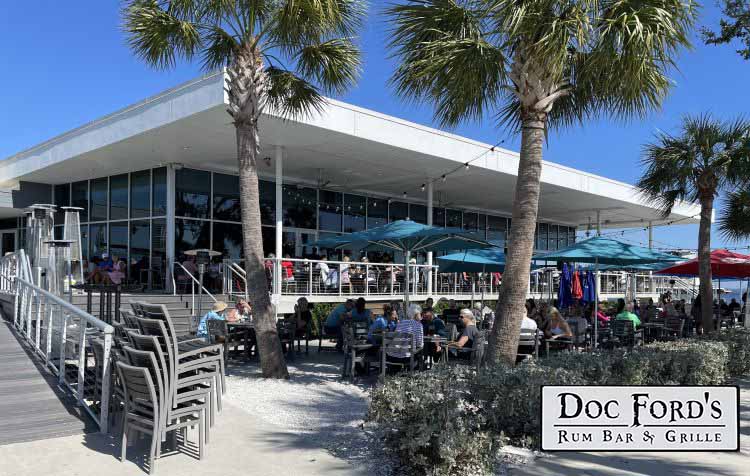 When does a restaurant recommendation from a friend ever work out for us Celiacs?
"You gotta try this place" they say, and it turns out they don't do gluten free.
Doc Ford's was recommended by a friend, so I wasn't too hopeful, but when I checked them out, I was as happy as a dog with two tails!  Not only could they accommodate me they have a dedicated gluten free menu!
Hubby and I are doing the snowbird thing this year for the first time.  So here's me, a Canadian Celiac in Tampa for two months trying to balance relaxing in our vacation home where I control the food, and getting out to see the sites. 
This week we trekked down to Saint Petersburg for an afternoon.  They have a beautiful walkable pier with a marina, an outdoor market, and the world famous Dahli Museum.  A few minutes away is all the shopping you could want.  Usually on day trips I pack a lunch, but today we decided to check out this Doc Ford's place that's right on the pier.
The Atmosphere is casual.  Beachy, with lots of light wood, TV's over the bar and huge windows overlooking the marina.  There was a bit of a line up at the hostess' station, but she was friendly and efficient and got to us quickly. She asked if we'd like to sit indoors or out, warning that everything available outdoors was in direct sun.  We decided on indoors. When I asked if they had a gluten free menu she replied "yes" as though it was no big deal, grabbed one and showed us to our table.
Lots of places are going for a single menu these days, with symbols for gluten free, vegan etc. and I get it.  It's simpler to have one menu that works for all diets.  What I like about a dedicated gluten free menu is that you don't have to hunt for what you can have, and you don't have to look at all the things you can't have.  I think it also encourages restaurants to put a bit more thought into their offering and provide more choices.
Our server, Flavio, came by immediately with a big smile and a big friendly personality.  He offered a brief explanation of the menu, pointed out the signature dishes and took our drink order.
Doc Fords gluten free menu is pretty robust.  It's three full pages and has all the courses covered. I had an unfamiliar feeling of choice. 
Being lunchtime, I craved something light with a bit of protein, so I chose the steak salad.  It's a signature combination of chimichurri-marinated steak with lightly sauteed asparagus and red onions. It's served over mixed greens in a lime cilantro vinaigrette and topped with avocado and blue cheese crumbles.  I opted out of the blue cheese crumbles.  Hubby got the pulled pork sandwich off the regular menu.  There is a gluten free version.

The salad was delicious.  The two lunch sized pieces of steak were tender and perfectly cooked and the lime cilantro vinaigrette was lovely.  The cilantro is prominent though, so if you're not a fan this salad may not be for you.  The dish is tangy with a mild spiciness, just enough to make it interesting.  The sauteed asparagus and red onions are tender yet crisp.  I liked this but would have like it better if they were warm. 

Hubby reported that his pulled pork sandwich was really good, and if the way he cleaned up his plate is any indicator, it was.
No complaints about the service either.  Flavio was cheerful and attentive but not overbearing. He checked in on us a couple of times then brought the bill when we were ready.
Would I eat at Doc Ford's again?  Definitely.  In fact, we're planning to head back to St. Pete's in the next week or so, and I think we'll hit the other location at the beach.  Thanks to our friend Jim who made the recommendation!