Gluten Free Vacation Home
Making Your Gluten Free Vacation Home Fit Your Needs
If you've decided that the best way to travel safely with celiac disease is have a gluten free vacation home with a kitchen, this post is for you.
Pin for Later
I've been travelling with celiac disease for well over a decade.  I've stayed in hotels, apartments, trailers, and homes all over the world, with mostly positive experiences.  I have made a few missteps and happy discoveries that I'd like to share with you. 
Even though this is part of the Canadian Celiac in Tampa series, these tips will work no matter where you're setting up your gluten free vacation home.  In this post I'll cover:
How to Choose Your Gluten Free Vacation Home
Turning the lock and stepping inside your gluten free vacation home for the first time is kind of like opening the cover on a new book or pressing play on a new show.  Will it be everything the reviews promised, or will you be disappointed?
The best way to avoid disappointment is to do the work up front and make a good choice.
Vacation Apps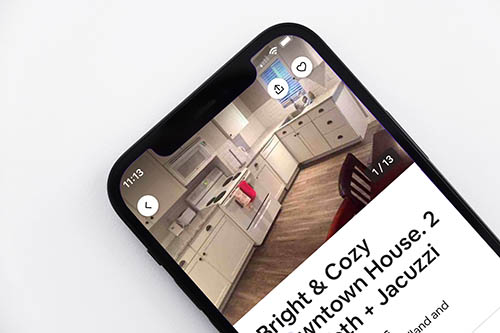 Vacation apps like Airbnb or Vrbo are excellent because you get to see reviews from others who've stayed.  People are usually pretty honest about pros and cons and that's really helpful for you to decide on a place that's right for you.
Other Sources
There are other rental sites out there so don't limit yourself to the big names. 
Google "vacation homes in" with your destination and see what comes up.

Ask around.  If you know people who have travelled to the destination you're planning to go to, ask for recommendations. 

Ask on celiac forums and Facebook groups.
What to Look For in a Gluten Free Vacation Home:
A Full Kitchen -  This is the main amenity you're looking for.  The best way to be sure your food is safe is to cook it yourself.  For that you need a kitchen.
Cooking Basics -  Make sure you'll have pots and pans, dishes, cutlery, knives, can opener, and a refrigerator.  Other items that may or may not be important to you are a microwave, coffee maker, kettle, toaster, and blender.
Other Amenities: Look for amenities not related to food like laundry facilities, parking, Wi-Fi, heating, air conditioning.
What to Bring With You to Your Gluten Free Vacation Home
This depends on how long you're staying and how much space you have.  If you're flying, you can only bring what will fit in your suitcase so you may have to buy a few things when you arrive and leave them behind.  If you're driving, you have a little more room. For a short stay you may be happy to get by with what's there.  For a longer stay you'll want some convenience. Consider the following:

Toaster bags
Parchment
Foil
Clean sponges or dish cloths
Dish towels
Your own toaster
Cutting board
Your favorite knife
Ziplock bags or containers for leftovers
Crock pot
Favorite food items like bread, crackers or granola bars.  Be sure you know what you can and cannot bring to the country you're travelling to.
Medications and home remedies for upset stomach like: probiotics, enzymes, Peppermint or ginger tea .
What to Do When You Arrive at Your Gluten Free Vacation Home
Take a quick look around.  Make sure the place is clean and generally what you expected.  Now check out the kitchen. 
Make sure the stove works. 
Look for pots, pans, a baking sheet and cooking utensils like tongs, spoons, a spatula, potato masher, and a can opener.
Look for any basic ingredients like cooking oil, salt and pepper, coffee, tea, and condiments.
Make sure counters, cupboards, drawers etc. are clean.  You may want to give the counters and sink a wipe and check the drawers for crumbs.
Look for other essentials and make a list of what you need to buy.  
Examples of Things You May Need to Buy
Anything from the "what to bring" list above that you didn't bring.
Anything from the "what to look for when you arrive" list above that is missing.
Paper towel, cleaner, dish soap, laundry soap, and dryer sheets
Remember anything you buy you need to either drag home or leave behind. 
Is My Gluten Free Vacation Home Safe?
Gluten washes off smooth surfaces with hot soapy water, so metal pots, pans and utensils will be fine to use. 
You'll want to avoid scratched plastic or wooden utensils and scratched non-stick pans. Baking sheets with baked on grime make me nervous so I line them with foil or parchment.
When we arrived at our Tampa vacation home for a two month stay, the kitchen was fairly well appointed.  There was a decent set of knives (I had brought my own), enough pots and pans to get by.  The coffee pot made 2 cups and we're coffee drinkers so we bought a normal sized coffee maker as well as a kettle to heat on the stove.  We had a crock pot that we'd left with friend on the last trip and that came in handy.  You might consider bringing or buying one.  They're not very expensive and you can have dinner cooking while you're sightseeing.
Here are a few other situations you'll need to decide how to handle
Making Toast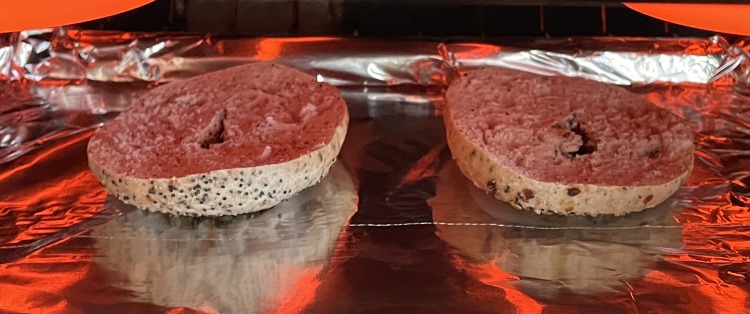 People rave over toaster bags.  They allow you to make toast in a shared toaster without cross contamination.  You can buy them online and bring them with you.  You can also make a little envelope for your toast out of parchment.
My personal opinion is that toaster bags are fine for a short stay but the toast doesn't brown.  I prefer to make my toast under the broiler in the oven.  Just watch closely or it will burn.  Set a timer, 60 to 90 seconds per side should do it.  Bagels take a little longer.
If you eat a lot of toast, you may want to bring your own toaster or buy an inexpensive one.
Storing leftovers
Ziploc bags work well for a short stay.  For more than a couple of days I like to have containers.  They work for packed lunches too.
Packing Lunches
As fun as it is to try out new restaurants, there is always a risk.  I usually pack a gluten free lunch for sightseeing trips.  It just takes that bit of anxiety off the table.
Convenience Foods
I enjoy making homemade sauces and salad dressings.  Heck, I even enjoy chopping veggies.  But this is not the time.  When we're away on holidays, making easy gluten free meals is a must.  So buy jarred sauce, a bottle of salad dressing and pre-chopped veggies.  You'll spend less time in the kitchen and more time sightseeing.
How to End Your Stay at Your Gluten Free Vacation Home.
Make a Few Notes
What worked and what would you like to do or bring next time.  Start a packing list on your computer.
Clean up
Always leave the place like you found it.  You don't need to dust or wash floors, but do tidy, sweep up and take care of trash.  Remember, you'll likely be getting reviewed as a guest.  You want to be welcomed the next time you decide to rent.
Leave an Honest but Kind Review
 You want your review to be helpful to others who are deciding whether to rent the space you stayed in.  So call out the issues, but remember the positives too.  Keep in mind that your review could negatively affect someone's livelihood.  If you have a suggestion or there is something like a small repair that you want to notify the owner about, you can send a private message rather then including it in the review.
<-- Part 3: Road Trip Advice for a Brave Canadian Celiac Driving to Tampa
Part 5: How a Canadian Celiac Does Gluten Free Sightseeing in Tampa -->
Part 5: Seeing the Sights and Shopping for Food-->
coming soon