Road Trip Advice for a Brave Canadian Celiac Driving to Tampa
Leaving the comfort of your own kitchen where you control the food, is not for the faint of heart.  But you're not faint of heart, are you?  You're driving to Tampa, and you're going to conquer the highway, get out of the cold and have fun darn it!
Pin for Later
This post is about the getting there part of the trip.  Being a celiac driving to Tampa comes with some special challenges.  I'll share what we did, what worked and what didn't work so well.  Why make mistakes after all if you can't share and spare your friends some pain.
So pack your cooler and some good road tunes and let's tackle this road trip together.
How many days does it take to drive from Toronto to Florida?
Driving to Tampa from Toronto takes just over 20 hours.  If you have stamina and more than one driver you can go straight through, but most people take two or three days.  We decided on two overnight stops, one in Dayton, Ohio and one in Atlanta, Georgia.  We left our home an hour east of Toronto at 7:30 am on day 1 and arrived at our friend's place just outside Tampa at 4 pm on the third day.
Destination Day 1 – Dayton Ohio
A 7:30 start with 2 or 3 coffees under the belt meant the first Timmies stop was a little more than an hour from home at the Victoria Park and Sheppard location.  We nipped in, used the washroom and grabbed a drink.  Might we be setting ourselves up for a vicious circle here?  Drink, bathroom, drink, bathroom.
It's a Canadian cliché, but it's kind of true isn't it?  We all feel at home at Tim Horton's.  Even though there's nothing there for a celiac to eat, you can have your pit stop and grab a warm drink.  We stopped at the Timmie's at Woodstock and Comber Ontario and arrived at the Ambassador bridge about 1:30 pm.
Our Tesla needs a charge stop about every 2 ½ hours for 30 to 40 minutes.  That works for the aging bladder which also needs to stop every 2 ½ hours.  A gas vehicle will get to the border quicker but with a lighter wallet.
Crossing the Ambassador Bridge
The Ambassador bridge is an impressive and imposing structure.  Close to $40 million in trade crosses the bridge daily, equivalent to about 25% of the total trade between Canada and the U.S.1  It's a busy place so being organized helps make the crossing smooth.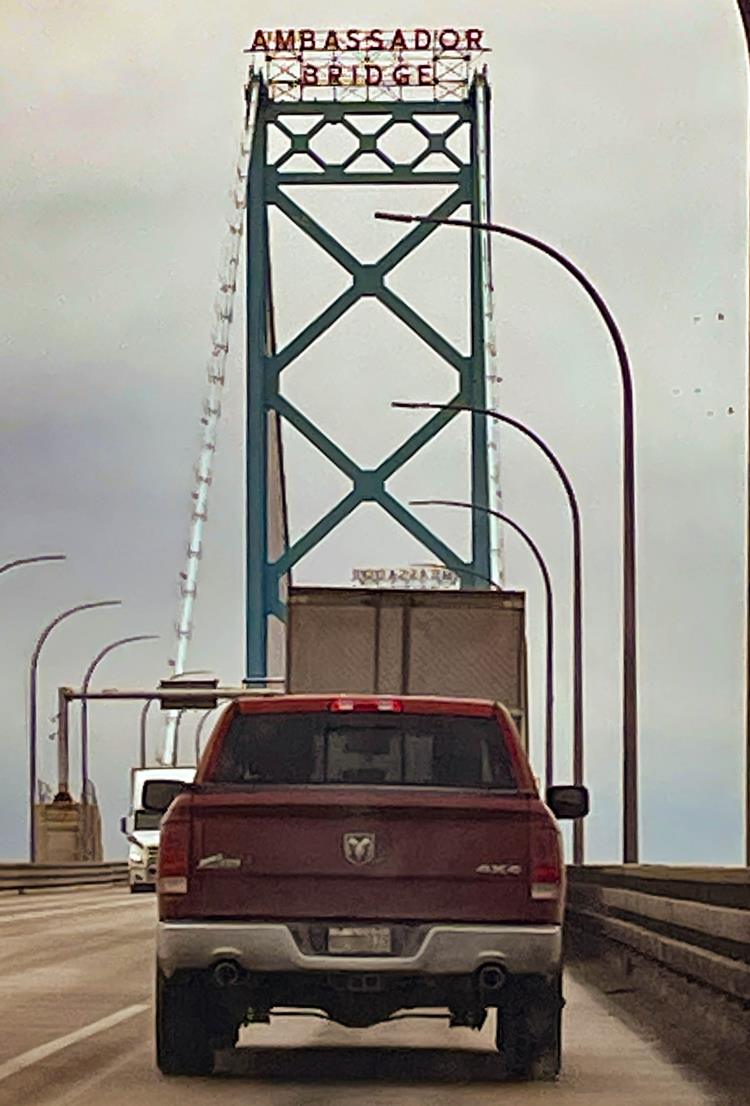 Some Tips for Crossing a Canada / US Land Border
Check here, so you know about delays or closures.  If wait times are long, you may want to choose a different border crossing. You can also choose between the bridge and the tunnel at Detroit.
1.   Know what you can and cannot bring across the border.

Restrictions on food products will affect you as a celiac travelling with your own food.
Crossing the border with cannabis products is illegal even though cannabis is legal in Canada and and many border states2.
2.   Have your passport open to the photo page and in the hands of the driver.
3.   Check COVID vaccination requirements and have that documentation ready if necessary.  We weren't asked for proof of vaccination.
4.   Know the address of where you'll be staying in Tampa.
5.   Only the driver should speak to the border agent unless they ask someone else a direct question.
6.   Answer only the questions you are asked.
7.   Never lie to a border agent.  Short, truthful answers are the best way to make your border crossing smooth.
We crossed at about 1:30 pm on Dec 29.  The wait was about 15 minutes. After about 3 minutes with a polite but no nonsense border control agent and we were on our way.
What's the Best Route from Toronto to Tampa?
About 300 meters past the Ambassador Bridge, you'll turn onto I-75, and it will be your constant companion for the rest of your drive to Tampa.  You may detour onto local routes like 275 or 675 but it's 75 all the way to Tampa.  We chose this route because we were getting conflicting reports about whether the Peace Bridge at Buffalo was open, and because the terrain is easy.  The Buffalo route takes you through the mountains of Virginia, but I-75 is relatively flat and straight. 
Where To Eat and Sleep When Driving to Tampa
Hubby and I have our travel roles pretty much down.  He's the driver and I'm the navigator.  This means I watch the GPS, help through confusing highway transitions and if there is a traffic snag me and Google maps figure out if we need an alternate route.  I also book hotels and restaurants on the road. 
All of this means data.
Check your cell phone carrier's U.S. plan. 
Koodo charges $12 per day which means $36 plus taxes for our 3-day road trip to Tampa.  A little steep if you ask me.  We decided to keep my phone on and pay the roaming then get a U.S. SIM card once we arrived in Tampa.  Next time we'll go right to T-Mobile when we cross the border and avoid the exorbitant Canadian roaming charges. 
Finding a Place to Stay
I use Expedia to book hotels.  You can search an area on the map, filter by star rating and price then check reviews.
For road trips I'm not so interested in a hotel's amenities. I want a clean room with a comfortable bed.  Regardless of whether you choose budget or luxury, here are a few things to consider.
Get a hotel on the way out of town.
You're probably arriving in the evening after rush hour and leaving in the morning during rush hour.  Getting a hotel on the way out of the city, means you can hit the highway in the morning and avoid commuter traffic.
Choose a place close to food and fuel.
You don't want long drives between hotel, restaurant and fuel.  If the restaurant is close to or on the way to the hotel, you'll spend a little less time in the car.
For night one, Fairfield Inn and Suites in South Dayton checked all the boxes.  Reasonably priced, good reviews, on the way out of town.  Well, it checked most of the boxes. 
I forgot to consider the distance to the nearest Tesla supercharger.  When we got to Dayton we decided to go for dinner, check into the hotel, then worry about charging.  Turned out the charging station was 30 minutes from the hotel in the wrong direction and the battery was running low. Stopping to charge before dinner would have saved time and anxiety.  Lesson learned.
Where to Eat Along the Way
Pack your gluten free breakfast and lunch.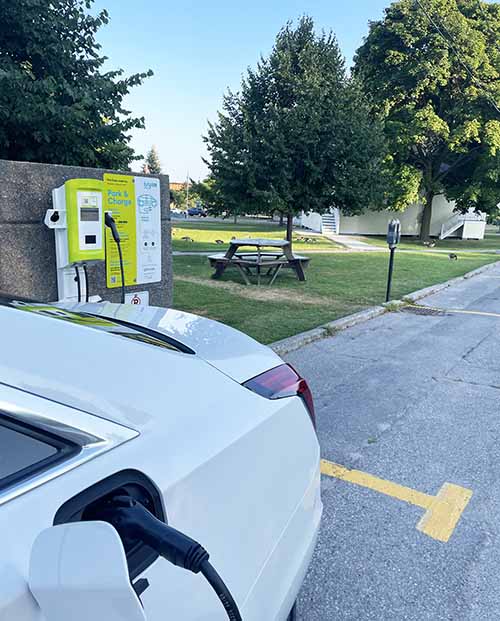 EV fueling stop with picnic table.
I always pack my own gluten free breakfast and lunch, so I don't have to worry, then have a hot, hardy restaurant meal for dinner.
Yogurt with fruit and a granola bar along with coffee from the hotel gets me going in the morning.  Sandwiches or wraps make a quick, safe gluten free lunch you can eat at a fuel stop or on the road. 
There are also rest stops with picnic tables, restrooms and vending machines all along I-75. 

You can look for gluten free fast food if you like but I don't recommend it.  The last thing you want is a bathroom emergency when you're on the interstate and the nearest rest stop is 20 miles away!  Eating your own food is safest. 
Have a hot meal for dinner.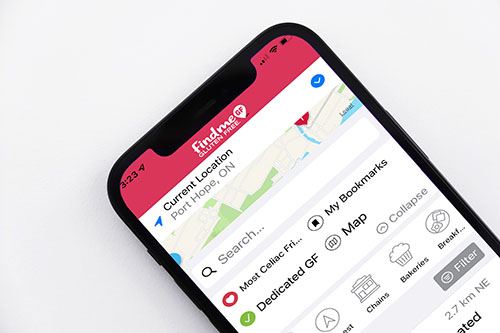 Dinner for us is a restaurant meal.  I like something warm and satisfying that I don't have to cook before turning in for the night.  The Find Me Gluten Free app is easy and invaluable.  Enter the city and use the filters to find what interests you then check the star and safety ratings and the reviews.  There will be a link to the restaurant's website so you can see the full menu and any allergy statements.
Some people travel with a portable camp stove and cook their own gluten free dinner.  That's totally an option and may be best for you if you're really nervous about eating in a restaurant.  Highway rest stops are the perfect place to pull over and make dinner on the road.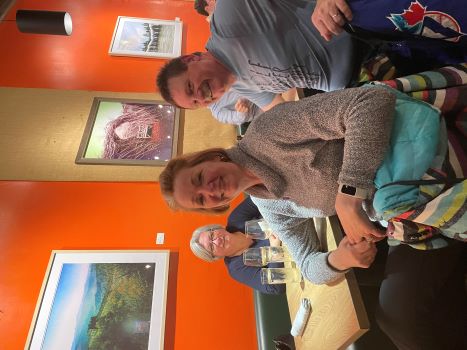 Group shot at Wheat Penny in Dayton, Ohio
Crispy brick chicken thighs at Wheat Penny in Dayton, Ohio.
In Dayton, Ohio we arrived at our restaurant Wheat Penny (ironically) at about 6:30.  It had good reviews on FMGF and lots of gluten free options.  I had the crispy brick chicken thighs with gluten free gravy. I enjoyed my meal and felt good afterwards.
I wrote a full restaurant review on Wheat Penny Oven and Bar in Dayton, OH.  If you're interested in that go here. Would a Place Called Wheat Penny Have Gluten Free?
Destination Day 2 – Atlanta Georgia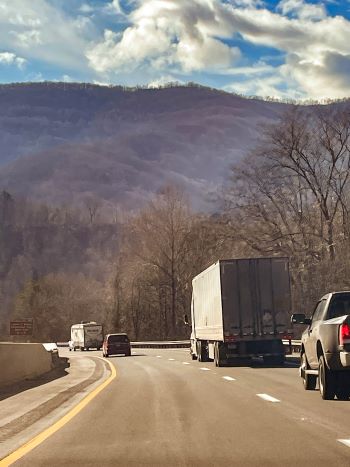 Highway near Knoxville, Tennesee.
Shower, breakfast from the cooler, hotel coffee, butt in car seat at 7:35 am.
Day 2 looked a lot like day one without the Tim Horton's or the border crossing.  We stopped at Florence and London in Kentucky, then Knoxville, Tennessee and Adairsville, Georgia. I don't remember which one I ate my sandwich at. 
EV chargers and gas stations are near coffee shops and stores so you can do the drink, bathroom vicious circle and stretch your legs.
Lesson learned from the charging issue on the first night, we chose Woodspring Suites in Newnan GA, just outside of Atlanta. It's on the way out of town, close to our restaurant and fuel and is reasonably priced. 
We hit traffic coming through Atlanta so didn't get to the restaurant until close to 8pm.  Dinner at Meat 'n' Greet in Newnan was delicious and again, no issues afterward.  It's casual fare, mostly burgers, sandwiches, hotdogs, and a few hot meal choices.  They have gluten free bun and a dedicated fryer!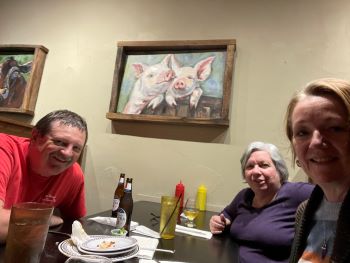 Group shot at Meat n Greet in Newnan, Georgia.
Gluten free burger and fries at Meat n Greet in Newnan, Georgia.
Destination Day 3 – Tampa
By now we have this down.  Yogurt and coffee and on the road by 7:30.  Stops at Fort Valley and Valdosta in Georgia and Ocala Florida.  We arrived at our friend's house in San Antonio, Florida which is just north of Tampa at precisely 4pm.  Drinks and a gluten free steak dinner awaited.
I really hope you found my experience driving to Tampa helpful.  It all went well with just a minor hiccup or two.
In coming installments I'll share a little bit about our vacation home, my recommendations for grocery stores and some gluten free products.  I'll take you on a few excursions where we'll have some food and drinks and see some sights.
<-- Part 2: Planning a Gluten Free Tampa Vacation That's Fun, Safe and Stress Free
Part 4: Making Your Gluten Free Vacation Home Fit Your Needs-->
Sources
1. CBC/Radio Canada. (2022, March 1). Why economists say it's a bad idea to rely on a privately owned bridge for 25% of Canada's trade with U.S. | CBC Radio. CBCnews. Retrieved January 23, 2023, from https://www.cbc.ca/radio/costofliving/ambassador-bridge-protests-trade-us-canada-border-cargo-trucks-convoy-1.6355981#:~:text=The%20four%2Dlane%20bridge%20spans,Bridge%20blockade%20in%20Windsor%2C%20Ont.