Blu Star Grill Offers Safe Gluten Free Dining and Farm to Fork Quality

Blu Star Grill
Location:  120-A Marketplace Ave, Mooresville, NC

How do you feel when you walk into a restaurant and it's super busy?  I get mixed feelings.  I think "the food must be good" but then I think "Is the kitchen too busy to take care with cross contamination?"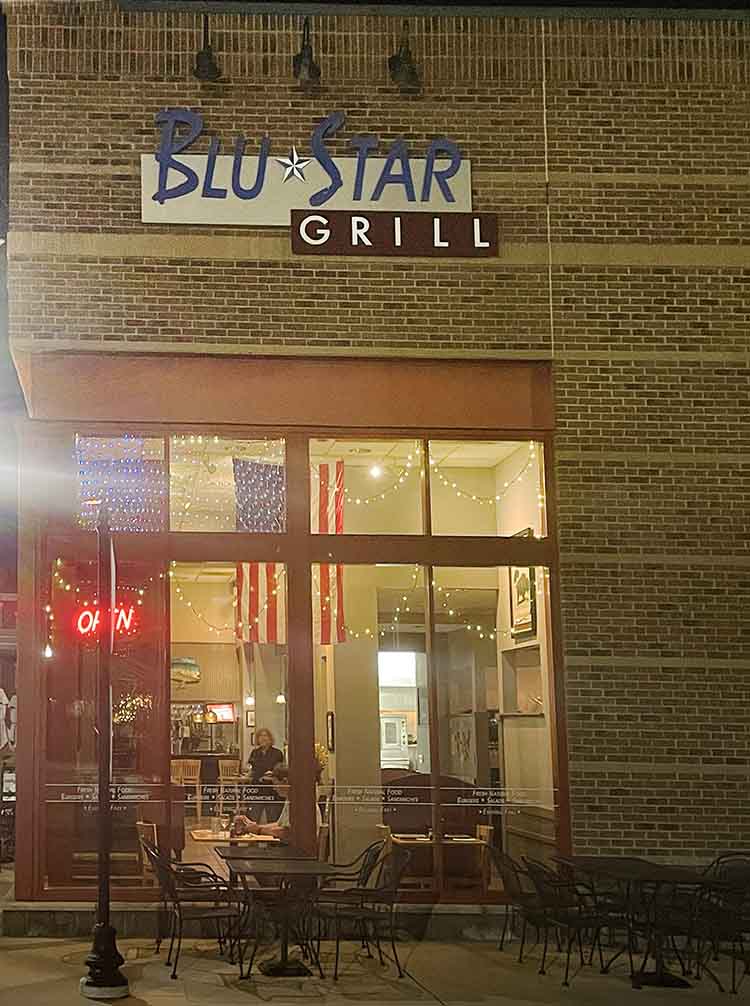 The road trip routine has gotten, well, routine.  A couple of hours before our destination for the day I pull out my phone and start looking for a place to charge the car, fill our bellies and rest our heads for the night.
This is the end of the first day of the trip home from our two month Tampa Bay Vacation.  The rough goal for day 1 was Charlotte, North Carolina.  I've started looking for places just beyond the target city so we can get going in the morning and not worry about city traffic.  Mooresville looks perfect.  It's about 35 minutes north of Charlotte.  It has a Tesla Supercharger, hotels and a decent selection of restaurants.
I scroll through, read reviews, check menus online and settle on Blu Star Grill.
Blu Star Grill Review
We stepped into the front entrance of Blue Star Grill and heard the bustle of a huge party at the back of the restaurant.   The hostess was friendly, looked me in the eye and smiled despite the fact that they were clearly very busy. Good first impression. She told me the party was almost done and asked if we'd mind waiting at the bar for a few minutes.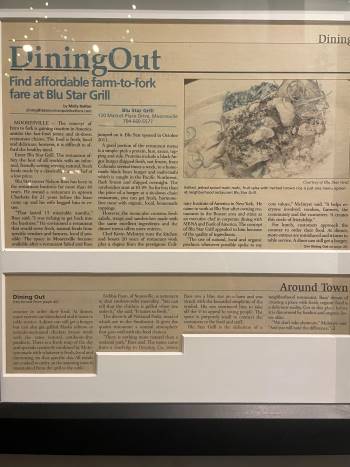 The tiny bar to the left had a huge fish hanging over it.  I guess seafood is their thing.  We ordered a drink and it was only a few minutes til we were seated by the window at a table for two.  Our server, Hannah came by right away to offer drinks.  A couple of framed newspaper reviews on the wall near our table caught my eye.  I always find that sort of thing to be quaint, and an indicator of the pride taken in customer satisfaction.
The menu is extensive and there are lots of gluten free options.  Their specialty does seem to be seafood, but there are many other choices too.  Burgers and sandwiches, most can be made gluten free.  Entrees include Black Angus Beef, Elk and Chicken besides the wide variety of ocean fare.
As we perused the menu, Nelson, the owner of the establishment stopped by our table.  He welcomed us and offered to go through the menu.  "I know where everything on this menu came from" Nelson declared and with an impressive display of mind reading, asked me if I like salmon and asked my husband if he likes red meat.  Hmmm, a man who knows his customers.  Nelson went on to describe the difference between 100% Angus Beef and "certified" Angus.  The elk comes from Canada and he spoke of how the animals are fed "no hormones, no GMO".
My shoulders relaxed a bit as I felt I was in the company of someone who knew his business and cared deeply about quality.  When I mentioned my celiac, Nelson didn't bat an eye.  He told me they usually cook everything on the one grill but I could request for mine to be done in a separate pan.  He went on to talk about how when they first started offering gluten free menu items, they'd arranged training for the staff and had the food tested.  There they learned about cross contamination and how many ingredients that you wouldn't expect contain gluten.  Now I'm impressed.
| | |
| --- | --- |
| Chipotle Bacon Salmon - Gluten Free | Black Angus Burger - Gluten Free Bun Available |
I ordered the Chipotle Bacon Salmon.  It was deliciously sweet with a hint of spice and perfectly cooked.  Salmon is so often overdone and dry in restaurants.  I loved that it came on a bed of broccoli and green beans rather than assuming I want starchy potatoes or rice.  Those are available though if you choose.  Hannah offered to have my vegetables steamed rather than cooked on the grill.
Hubby had the Black Angus burger and "didn't even put ketchup on it".  That means it was good.  His of course was not gluten free, but a gluten free bun is an option.  The hand made chips looked amazing but I didn't try them. Even though the restaurant has a dedicated gluten free fryer I wasn't about to pick them off Hubby's plate beside his big gluteny bun.
The rambunctious party cleared out and Nelson stopped by again for a chat.  When he learned we were Canadian he shared that his son, when he was young, randomly chose the Toronto Blue Jays as his favorite baseball team and still follows them to this day.
We finished up our meal.  The bill came promptly and the hostess thanked us for coming.  We decided to go for a walk around the plaza since this would be our last evening of warm weather for a few months.  Tomorrow night would be in Erie, PA at -5°C.
If I ever find myself in Mooresville, NC again, Blu Star Grill will be my dinner spot.  I recommend it for your gluten free dining pleasure as well. The staff and owner show attention to detail, which is especially important for those of us with celiac.  And the food is delicious.