Southern Fresh Serves Down Home Gluten Free Comfort Food
Southern Fresh
Location: 122 3rd Avenue, Safety Harbor, FL


It doesn't get homier than this.  Southern Fresh offers gluten free comfort food in a tiny converted bungalow just steps off the main drag in Safety Harbor Florida.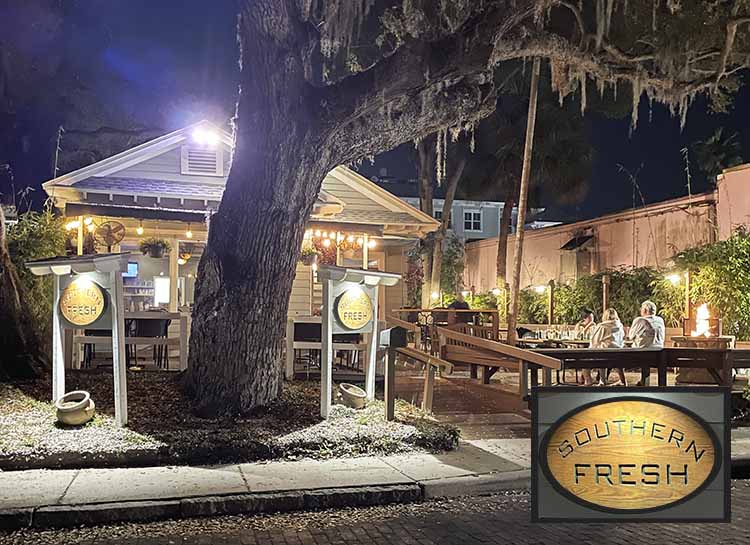 At the end of a sunny day sightseeing in Saint Petersburg, Hubby and I stopped to visit friends who'd parked their RV just up the road in Clearwater.  For dinner we needed a place not only with gluten free options, but close by.  My friend's puppy wasn't feeling well, so she didn't want to leave him alone for too long.
Southern Fresh in Safety Harbor caught my eye.  It had good reviews and was just eight minutes away.
Safety Harbor is a gem in itself.  None of us even knew it was there and I'm surprised.  It's a lovely small town tucked into the coast of Tampa Bay almost directly east of Dunedin.  The main street is brimming with personality.  Shops and outdoor bars and cafes line the sidewalk and there's plenty of parking.  You can stroll down to the harbor and out onto the long pier for a panoramic view of the bay.
Southern Fresh is a few steps off Main Street.  First you'll spot the big outdoor deck with the fire pit, then you'll see the tiny bungalow in behind. 
There is no dedicated gluten free menu and the gluten free options are not marked.  This concerned me at first, until I spoke with our server.  She sheepishly said "we haven't gotten to that yet" and then pointed out all of the options that are or could be made gluten free.  I could tell she got it and that always makes me relax a bit.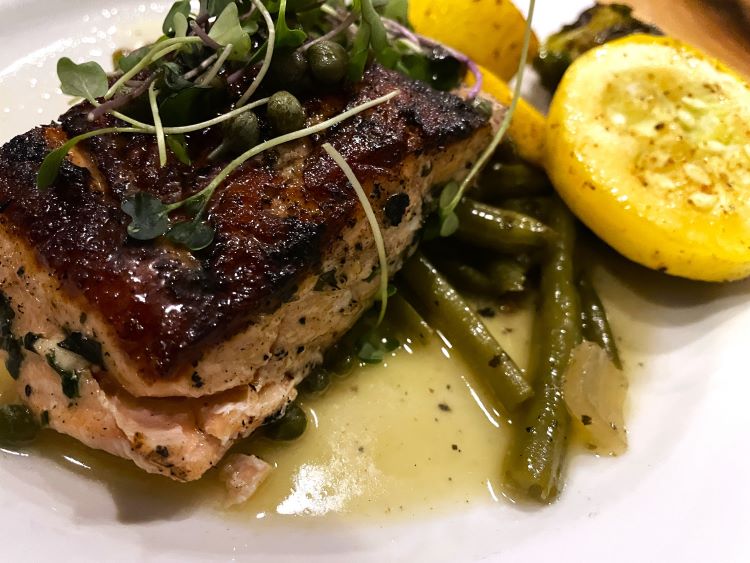 I chose the Herb Marinated Broiled Salmon and for my sides I went with southern style green beans with bacon and roasted veggies which consisted of brussels sprouts and squash.  Hubby had the Southern Style Skillet Fried Chicken (not gluten free) and our friends had the Coal Fired Herb Marinated Chicken. 
The sides really showcase the southern home cooking theme with choices like collard greens and bacon or goat cheese and cheddar grits.  I would totally have had the grits if not for my casein intolerance.
Everything was delicious.

Service was friendly and knowledgeable though a bit slow.  I suspect that had to do with the fried chicken.  It's made to order and they warn you on the menu that it takes a little time.  No worries, we enjoyed drinks and conversation in the homey atmosphere and were all the more appreciative of the food when it arrived.
Do I recommend Southern Fresh for gluten free dining?  Yes!