Dunedin Smokehouse Outstanding Gluten Free BBQ & Fun Social Atmosphere
Dunedin Smokehouse Bar-B-Q Joint & Sports Bar
Location: 471 Main St., Dunedin, FL


Dunedin Smokehouse is an upbeat little bar and grill on main street in Dunedin Florida.  It's the perfect place to stop in for a cold drink and lunch on the patio.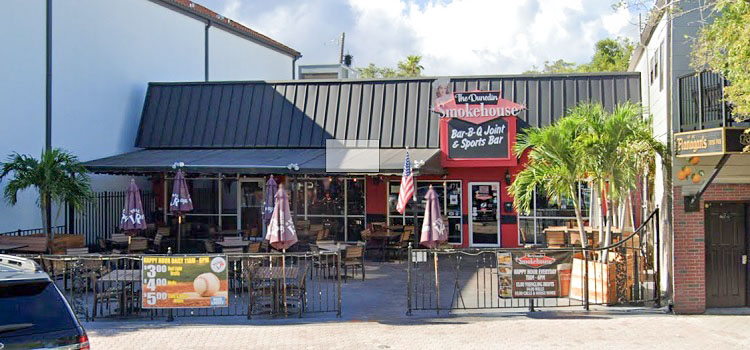 Dunedin turned out to be one of our favorite towns on our gluten free sightseeing tour of Florida. And how could it not, being it's the spring training home of the Toronto Blue Jays.  The town is a bustling little spot with shops, restaurants, and bars.  The pier is walking distance from downtown and our favorite beach at Honeymoon Island State Park is a short jaunt across the causeway.
On a sunny Saturday morning we decided to meet up with friends from Canada and check out the Dunedin market, have some lunch then head over to Safety Harbor.  I was charged with finding the lunch spot since I'm the one with the "food issues".
Dunedin Smokehouse had good reviews on Find Me Gluten Free and the menu looked like it had lots of choice for the glutenous ones and a decent variety for me.
The restaurant is set back off the street a bit, tucked in between Mirabella's Fashions and Flanagan's Irish Pub, so keep an eye or you'll miss it.  There's a patio with lot's of shady spots so you can get out of the sun but still enjoy the outdoors.
The menu at Dunedin Smokehouse is centered around the barbecue theme.  There is no dedicated gluten free menu, but the gluten free items are clearly marked.  They don't offer a gluten free bun, but to order items like a burger or pulled pork without the bun is certainly an option.
For lunch I was looking for something light.  Most of the gluten free options on the menu, and there were lots, were more hardy dinner-like choices.  The "lunchy" items are under "Soup & Green Stuff".  The Smokehouse Wedge Salad and Homemade Brisket Chili are gluten free.
Our server, Adam, was friendly and helpful.  He shared with us that he's working his way through college.  I decided on the Smokehouse Wedge Salad with an added grilled chicken breast.  I asked him to confirm that the chicken was also gluten free.  He was almost sure but decided to check with the kitchen to be 100%.  That's something I appreciate when I'm dining in a restaurant, and it gave me extra comfort.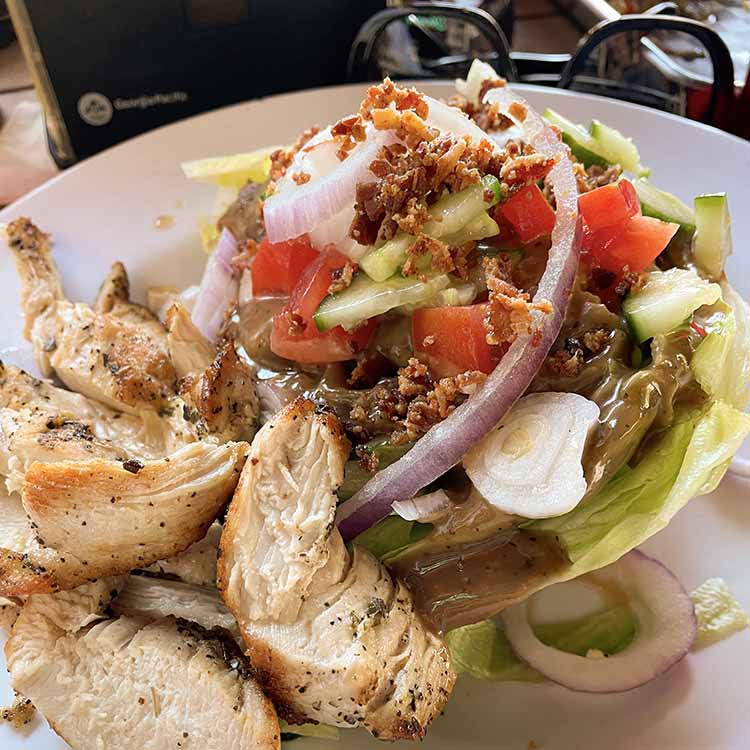 The salad was tasty.  It came topped with tomato, bacon, cucumber and nice big slices of red onion that were easily picked off.  I like the flavor red onion adds to a salad, but my picky digestive system won't let me actually eat it.  I substituted a balsamic vinaigrette for the blue cheese dressing since I'm casein intolerant, and not a fan of blue cheese anyway. 
The drink menu favors local Florida brews including Cigar City Apple Pie Cider on tap, which is gluten free.  Beer drinkers in your party will appreciate the generous choice of local brews and for everyone else there is wine, a few bottled coolers and a couple of house made cocktails. 
My overall assessment is that Dunedin Smokehouse is a great place to enjoy good food, refreshing drinks and great company.  The service was excellent.  Adam was knowledgeable and what he didn't know he checked with the kitchen.  You can't ask for more than that.  And the real test was that I felt fine for the rest of the day, so the meal was safely gluten free.
Would I go back?  Yes for sure.  I'd love to try the Bar-B-Q sometime when I'm more hungry.