Gluten Free Chicken Parm: Crispy, Delicious and Easy to Make

What do you miss most about life before celiac? 
For me, it's some of my former restaurant favorites like chicken parmesan, or chicken parmigiana if you prefer the Italian.  That's why I created this easy gluten free chicken parm recipe, so you and I could still have our favorites and not feel deprived.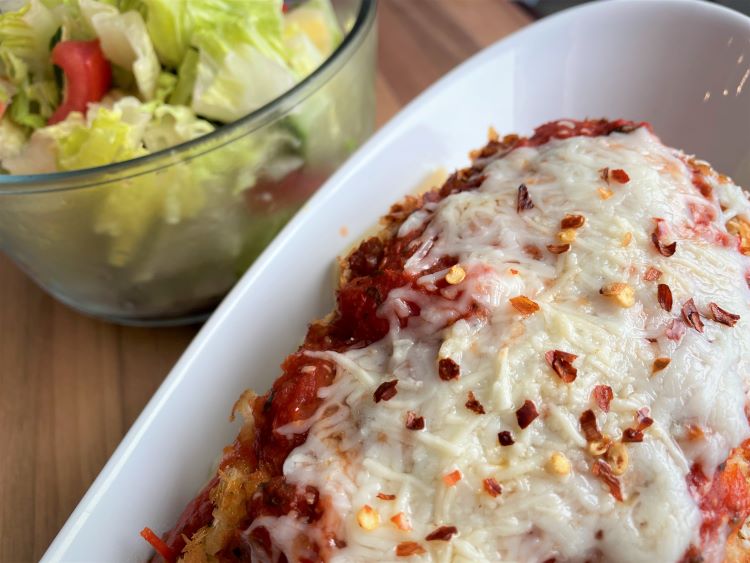 Recreating easy and delicious versions of my restaurant favorites has become a fun and creative hobby for me.  If you like this easy gluten free chicken parmesan recipe, you may enjoy these:
Easy Gluten Free Coconut Shrimp: A Tropical Treat in Under 30 Minutes
Gluten Free French Onion Soup: A Restaurant Favorite from Your Kitchen
Gluten Free Chicken Wings: One Recipe Any Wing You Want
Thai Chicken Curry Recipe: Easy, Creamy, Spicy as You Like

Pin for Later
Ingredients for Gluten Free Chicken Parm
Boneless Chicken Breast
Chicken breasts, like all whole fresh cuts of meat, are naturally gluten free.  It's the seasonings and sauces you add that can cause trouble.  You don't have to worry about what the chickens were fed.  A chicken can eat gluten grains and the gluten does not pass through to the meat.  You may choose organic or free-range chickens for other reasons, but gluten is not a concern.
Preparing Your Chicken Breasts
I skipped a step here to keep things simple.  Some recipes will tell you to pound the chicken breasts flat, so they cook more evenly.  I didn't and they came out beautifully. If you prefer to flatten out your chicken breasts, place them one at a time between two pieces of plastic wrap and then onto a cutting board. Pound the chicken breast with a flat mallet until it's an even thickness of about one inch.
Mashed Potato Flakes as a Panko Substitute
Mashed potato flakes make a good, naturally gluten free panko breadcrumb substitute.  Panko breadcrumbs are Japanese in origin and are made from crustless white bread.  They are lighter in color and texture than regular breadcrumbs.
You can use regular gluten free breadcrumbs if you like, or you can buy gluten free panko. 
I chose mashed potato flakes because they are a naturally gluten free alternative, they bake up light and crispy and they are easily available online or at the grocery store.
What Are the Best Potato Flakes for Gluten Free Chicken Parm?
There are a few different brands of potato flakes or instant mashed potatoes out there and any of them will make an excellent panko breadcrumb substitute that is gluten free.  Idahoan and Betty Crocker are two popular brands.  Sadly, the ones I found in the grocery store contain milk and that's a problem for someone like me with a dairy intolerance.  They also have a lot of other unnecessary ingredients that come in sixteen syllable words and that kind of turns me off.
Instead, I found these Purest potato flakes on Amazon.  The only ingredient is potatoes.  Works for me.
If you choose flavored mashed potato flakes like Betty Crocker's Roasted Garlic, you may want to leave out the seasonings in this recipe.
Potato Starch and Other Options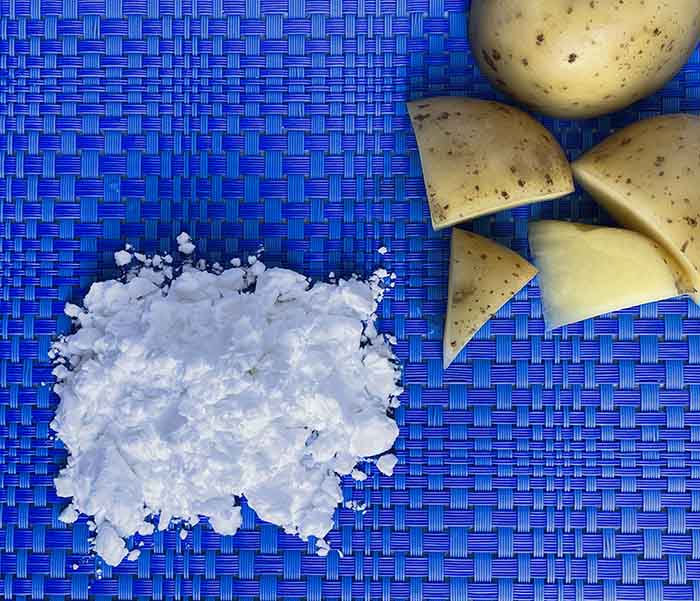 This recipe uses the standard three ingredient breading station with flour, egg, and a topping, in this case potato flakes.
I used potato starch instead of flour because it adheres nicely to the chicken breast and is flavorless.  Potato starch is naturally gluten free, and like cornstarch it can be used as a thickener or binder in recipes. 
If you don't have potato starch then cornstarch or your favorite gluten free all-purpose flour blend will work just fine.
What if You Can't Eat Eggs?
The eggs help the potato flakes stick to the chicken.  If you have an egg intolerance you can use an egg substitute like flax eggs or a commercial egg replacer.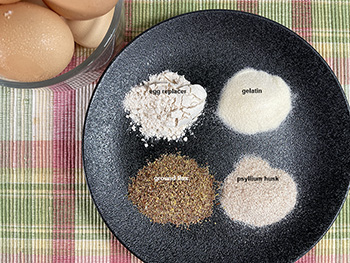 To make a flax egg add 2 ½ tablespoons of water to one tablespoon of ground flaxseed.  Let it sit for a few minutes to thicken up.  The recipe calls for two eggs so simply double this.

Bob's Red Mill makes a good commercial egg replacer so by all means give that a try.  Another option I've used in baked recipes like my Almond and Pecan Crusted Baked Haddock is canned coconut milk.  It makes a nice thick creamy layer for the breading (in this case potato flakes) to stick to.  If you use coconut milk instead of eggs, it's especially important to bake your breasts on an elevated rack so they crisp up on the bottom.
Seasoning: Keeping it Simple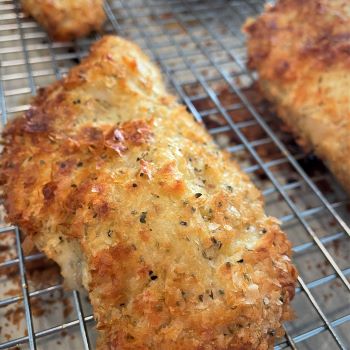 I kept it simple with just a few spices you likely have in your pantry: salt, pepper, onion powder and garlic powder.  Add these directly to the potato starch and mix well for perfect seasoning.
Oregano is a classic Italian herb and compliments our gluten free chicken parm perfectly.  If you have a gluten free Italian seasoning blend that will work nicely too.  Add your herbs to the potato flakes.  The green flecks look appetizing and taste great.
Tomato Sauce for Flavor and Moisture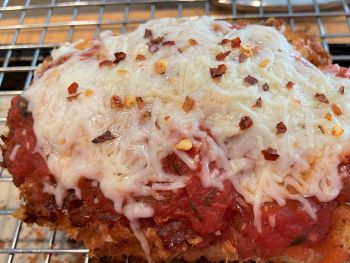 Tomato sauce adds moisture and traditional Italian flavor.  Use your favorite jarred pasta sauce or if you make your own, that's perfect too.  The sauce goes on after the chicken is mostly cooked.  This is so the potato flakes will crisp up to perfection and to keep the sauce from over-cooking. 
Classic Cheese Choices and Other Possibilities
You can play around a bit here.  Mozzarella and parmesan are the classics, but how about a little sharp cheddar or a spicy pepper jack?
What if You Can't Have Cow's Milk?
That's okay.  There are a few options for a cow's milk free or dairy free chicken parm.
If you have a casein intolerance, you may be okay with goat or sheep's milk.  I made my gluten free chicken parm with a mixture of goat cheddar, goat mozzarella and pecorino Romano.  Pecorino Romano is made from sheep's milk and is a hard cheese like parmesan.  It makes a  great cow's milk free parmesan substitute.
Baking on a Rack
This is optional, but it does make a difference.  Placing the wire rack over your baking sheet will lift the chicken pieces up, allowing the bottom to crisp up as well as the top.  If you place the chicken directly on the baking sheet, it will cook just fine, but may not be as crispy on the bottom.  Remember to spray or brush the rack with a little oil.

Recipe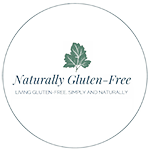 Gluten Free Chicken Parm: Crispy, Delicious and Easy to Make
By Patty Maguire – Naturally Gluten Free,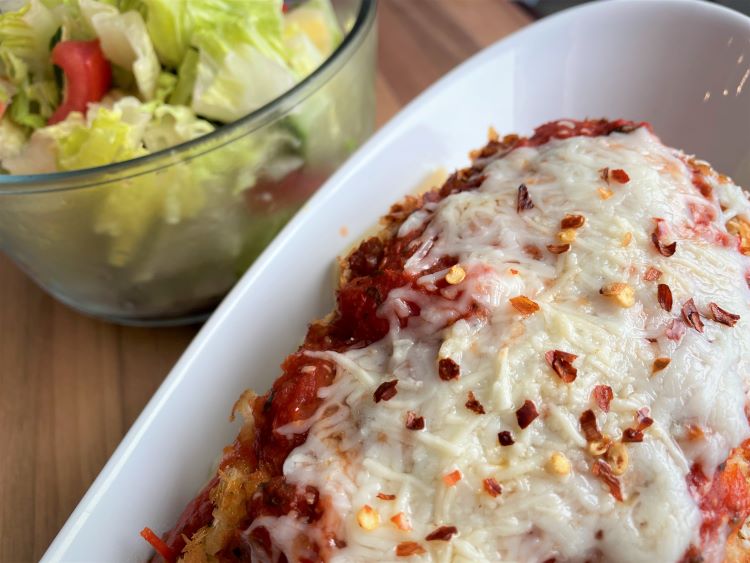 This crispy, delicious and easy gluten free chicken parm is a restaurant classic that you can have at home.
Prep Time: 15 minutes
Cook time: 45 mintues
Yield: 4 servings
Tags: Gluten Free, Dairy Free Option
Ingredients
4 boneless skinless chicken breasts (2 pounds)
½ cup of potato starch
2 eggs
1 cup of potato flakes
½ teaspoon of garlic powder
½ teaspoon of onion powder
½ teaspoon of kosher salt
¼ teaspoon of black pepper
1 cup of your favorite red pasta sauce
1 cup of shredded mozzarella or combination of mozzarella, cheddar, or other cheeses
¼ cup of grated parmesan
Red chili flakes (optional)
Instructions
Preheat your oven to 375°F.


Prepare the breading station with 3 shallow bowls or plates. First with the potato starch, second with the beaten eggs and third with the potato flakes.


Add the salt, pepper, onion powder and garlic powder to the potato starch and mix well.


Add the oregano to the potato flakes and mix.


Dip each piece of chicken in the potato starch and shake off the excess. Then dip in the egg then the potato flakes. Place the chicken on a rack over a parchment lined baking sheet.


Bake for 30 minutes.


Remove from the oven and spread pasta sauce over each chicken breast. Sprinkle with cheese and then the red pepper flakes if using. Place the tray back in the oven for another 10 minutes. It's done when the cheese is melted and bubbly and the internal temperature is 160 - 165°F.


Let the chicken breasts rest for a few minutes while you serve up the pasta. Spoon some additional heated sauce over the pasta then place a chicken breast on top and serve.