Take Off with Peace of Mind: Your Gluten Free Air Travel Guide

How do you feel when you think about air travel?
Does that panic knot start to form in the pit of your stomach? Are you worried that you won't find safe food, or that you'll be sick on your trip?  Is gluten free air travel even possible?
Pin for Later
It makes me sad when I hear that some people with celiac disease never travel. It's not worth the risk to them.  Giving up a week in the sun with your toes in the sand or seeing the beauty and wonders of the world because of a food restriction is simply tragic.
In this article I'll share some important tips for safe, low stress gluten free air travel.
We'll start at home before you leave for your trip. What to bring, what to leave at home. Then we'll go to the airport and discuss gluten free airport dining options. Lastly, we'll board our flight and discuss what to do for gluten free food while on board.
Pre-Flight Planning
Even if you're new to this whole gluten free thing, you've noticed that everything takes a little extra planning. 
Whether it's a day of shopping or attending a family barbecue, you need to think ahead.  Air travel is no different. Take a few minutes on your computer, then a few more in the kitchen.  It will make the difference between a safe, low stress gluten free air travel experience, and a day of being hungry or sick.
Check your departure and layover airports for gluten free dining options.
Don't go to the airport and "wing it". You'll be overwhelmed and disappointed. Go to the airport website and look for options AFTER security. Get through the line ups then relax and have a meal.
Check your airline for gluten free meal options.
Most airlines offer gluten free meals, especially on longer flights.  Check the website, see what they have and when you need to order your meal.
Pack a safe gluten free lunch and snacks.
I'm a budget traveler, so I often bring my own food, especially for shorter flights where the airlines don't offer much.
Airport Dining Options
Big city airports are a lot like shopping malls. They have stores, restaurants, and fast food. So, gluten free airport dining is much like gluten free restaurant dining outside the airport.
Do your research and choose a restaurant that has gluten free options.
Inform your server of your needs.
Know what questions to ask and what menu items are high risk.
Be polite and tip well.
The choice of snacks at the airport is disappointing.  You may find chips or fruit but things like nuts or granola that should be gluten free often have that dreaded "may contain".
The downside of gluten free airport dining is the cost. Everything is expensive, after all you're a captive consumer. You have nowhere else to go. But if it's in the budget, a nice, safe, gluten free meal is a good way to pass the time.
Booking Gluten Free Meals
Airlines approach food in different ways depending on:
The category of the airline - discount vs full service.
The class of your ticket - economy vs business vs first class.
The length of the flight - short hall or domestic vs long haul or international.
The airline's website will explain all this, so a little research goes a long way.
On short flights, many airlines don't offer a complimentary meal. Instead, they have a menu of items to purchase. I've found the gluten free options to be lacking and if you are also dairy intolerant, you're pretty much out of luck. For short flights I bring my own food.
For longer, international flights, there is often a complimentary meal and most airlines offer a gluten free option.  You'll need to book at least 24 hours before your departure.  Once, before I knew better, I made the mistake of not booking my meal in advance. Happily, a helpful flight attendant found me something safe to eat. Experience has taught me to plan ahead.
If you're like me and have other food intolerances, it's a little more complicated. My issues are gluten, cows' milk, and eggs.  I went on the Lufthansa website to book for my upcoming trip to Venice and found I could choose either gluten free or diary free. I just called the airline and they put a note on my booking so all my intolerances are covered.
Gluten Free Air Travel Snacks and DIY Meals
The best way to be sure you won't go without is to bring what you need.  This goes for gluten free air travel as well.  The key is to keep it light and portable.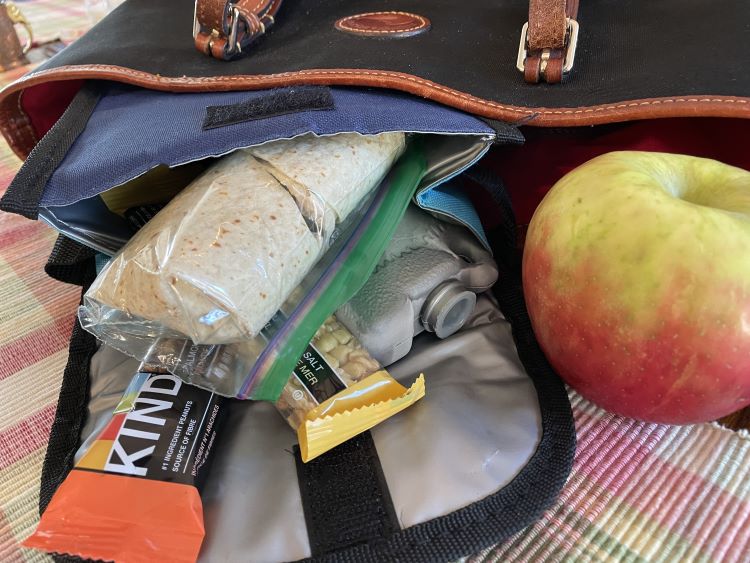 I bring a small insulated lunch bag in my personal item (a big purse or small backpack) with food for the trip. Here are some ideas:

Gluten free wrap with your favorite protein. I like chicken or salmon with cheese, pickle and mayo.
Salad with cheese or chicken. Put the dressing in the bottom of the container and mix it up when you're ready to eat. Don't forget a fork.
Gluten free crackers with cheese, peanut butter or hummus
Veggies and cheese with ranch or hummus
A small bag of nuts or a gluten free granola bar
Fresh fruit like an apple, pear, grapes or banana
Dried fruit like raisins, cranberries or dried apricots
Remember that liquids must be less than 100ml or 3.4 ounces and this goes for your lunch as well.  Think about salad dressing or dips and keep them below the limit. I once had a container of hummus confiscated. My veggies with no dip was dry and disappointing.
Ice packs are subject to liquid restrictions.  You can pack one to keep your food cold as long as it's under the limit.
Some countries have rules about what food you can bring in, especially agricultural products like fruit.  You may have to throw out whatever you don't eat on the plane.
Don't Over Pack
You've seen the memes. The suitcase full of gluten free travel snacks with a tiny bit of room for clothes. It's not necessary. Thinking of the following will help you pack the right amount:

How much do you normally eat in a day? You may not need much, especially for a short fight.
What time of day are you travelling? For a morning flight, coffee with fruit and cheese might be enough. For an evening flight, try nuts to go with the inflight drink. If you're travelling at mealtime you'll need more, but it should all fit in your lunch bag inside your personal item.
How long is your flight? For a quick commuter hop, maybe you don't need anything. For a domestic flight under 3 hours, perhaps a snack.  A long trans-continental flight will likely require a meal.
Relax and Enjoy
Whether you're travelling for business or pleasure, getting there is the stressful part.  A little planning will make for easy gluten free air travel.  Then you can enjoy some down time, catch up on your reading or grab a nap.