Review: 7 Ways
Easy Ideas for Every Day of The Week
Title:  7 Ways: Easy Ideas for Every Day of The Week

 Author: Jamie Oliver

Genre: Cookbook

Publisher: Harper Collins (2020)

Pages: 317
It's hard to pick a favorite cookbook.  I love cookbooks so much that every time I buy a new one it becomes my favorite du jour.  But Jamie Oliver's 7 Ways has everything that I think makes a cookbook great and that has to place it very near the top.
About 7 Ways
The simplicity of the cover of Jamie Oliver's 7 Ways reflects what's in the book, but maybe under-sells it a bit.  The recipes are so simple that you don't need to be an experienced cook to make them.  And that's Jamie's message.  His whole career seems to be about convincing people that even they (we) can make great tasting healthy food. 
Jamie gets all the excuses out of the way first off:  "I don't have time", "I don't know how to cook",  "I don't want to do a big shop", and treats these as problems to be solved in the book.  
He chose 18 of Britain's most popular grocery items then came up with 7 recipes featuring each item.  The 7 Ways theme also plays off the fact that there are 7 days in a week, so you get 18 weeks worth of meals. 
My Review
Jamie Oliver's 7 Ways is not a gluten free cookbook, but most of the recipes are either naturally gluten free or easily converted. 
Just randomly opening the book I come to Sweet Potato Chowder (ooo, gotta try this!).  The ingredients are: chorizo (you can get it gluten free), scallions, sweet potatoes, onion, carrot, celery, green beans, cream and plain crackers as a garnish.  You can leave out the crackers or use gluten free ones.
Another random page, Sticky Miso Peppers.  Ingredients: canned pineapple, tofu, peppers, scallions, garlic, vermicelli noodles (rice), wasabi peas, miso paste.
See what I mean.  Easy.
I said that 7 Ways has everything I think makes a cookbook great.  Here's what I mean.
The recipes are simple and delicious, so people will actually make them.
The ingredients are easy to source.  In fact you may even have them in your pantry already.  I love it when I find a recipe to try and don't even have to go shopping.
It's well a laid out so the flow makes sense.  One recipe per page with the photo opposite.  No flipping pages with ground beef covered hands and six things going on at once.
The photos are beautiful and enticing and each recipe has a photo.  Food porn is a thing and it's nice to see what you're going for.
So far, I've made five of the recipes from 7 Ways and tried to pick from different sections.  The ones I've tried are:

My Kinda Butter Chicken from the Chicken Breast section
Beef & Guinness Hotpot from the Ground Beef section
Crispy Potato Pie from the Potato section
Golden Parmesan Fish Bake from the White Fish Fillet section
Pepper Crusted Steak from the Steak section
Two I've come back to multiple times, two I'm definitely doing again and one I converted to gluten free and posted for you to try my version.
Golden Parmesan Fish Bake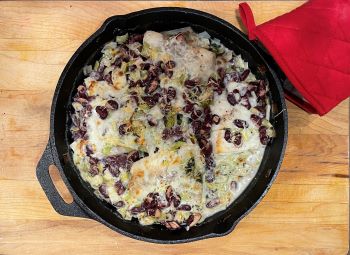 White fish is a delicious, non-fishy way to get healthy food from the sea into your diet.  The mild flavor mixes beautifully with the creamy sauce, beans and golden cheesy topping.  
This is another example of using a recipe as a guide and tweaking to my own food issues and what's in the pantry.
I'm dairy free so coconut milk takes the place of the cream.  I have a casein issue but can have goat and sheep milk, so Pecorino Romano replaces the parmesan.  Jamie uses lima beans.  I've tried kidney, Romano and mixed beans.  All worked beautifully.
Beef & Guinness Hotpot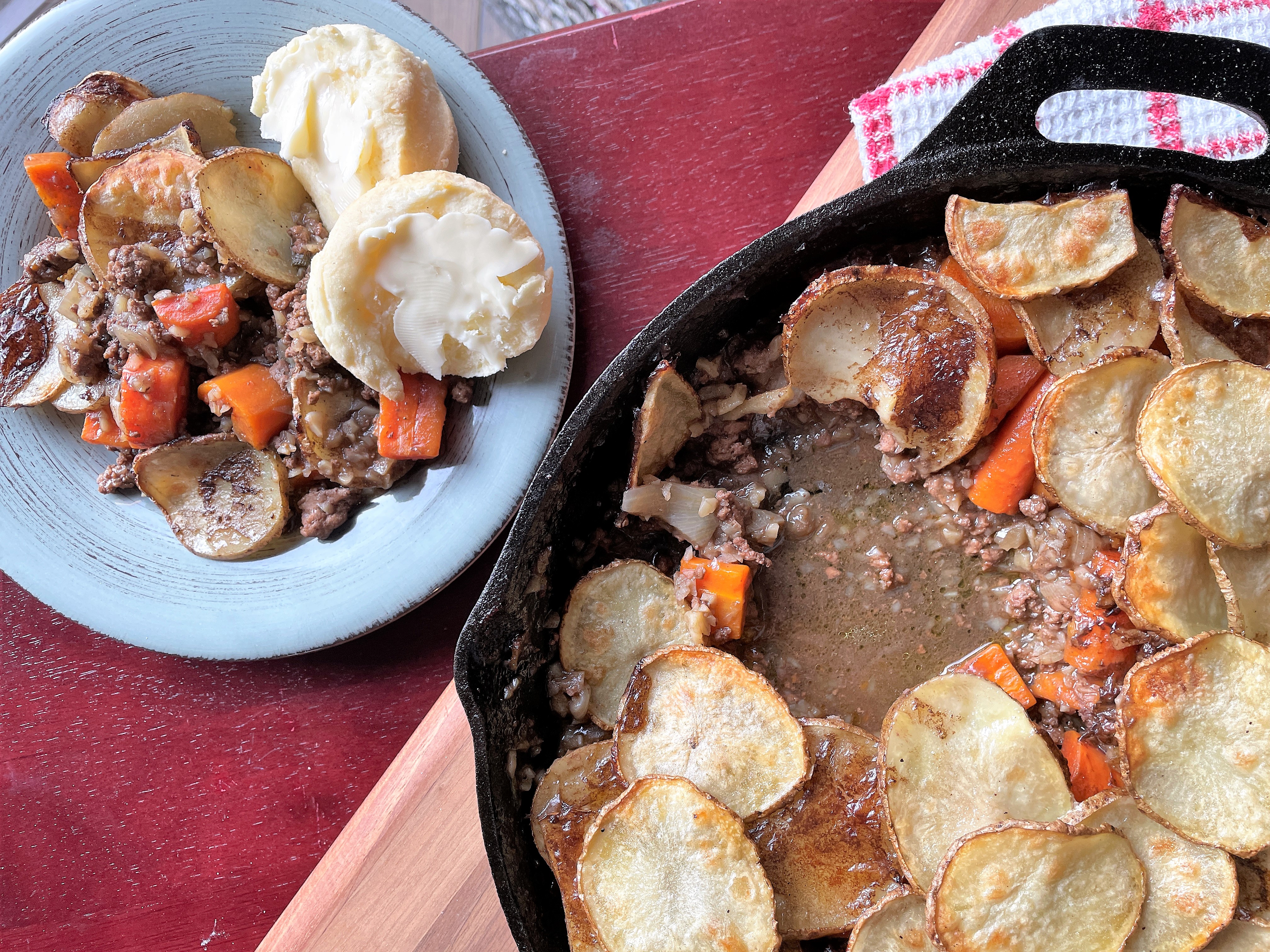 Of course Guinness is not gluten free, so this one needed a bit of substitution.
You could just trade the Guinness for a gluten free beer, there are stouts out there, but I chose a different approach.  You can get my gluten free version here.
This one, needless to say is on my table pretty often.  Anything that features ground beef and potatoes works for both Hubby and me.  Maybe it's  the Irish heritage.  I also like that the sauce is thickened with pureed potatoes.  That's a nice, naturally gluten free approach to thickening sauces that you can apply in other places too.  
Pepper Crusted Steak 
You won't believe that something so rich and succulent could be so simple!
The steak is modestly seasoned with just a little salt and lots of fresh ground pepper. 
The creamy pan sauce is almost effortless.  A little cream, a dash of whisky and a dollop of Dijon mustard.   If whisky doesn't agree with you, substitute any alcohol.  Wine or port would be classic.  I used a couple of tablespoons of Grand Marnier. 
Do I Recommend This Book for You?
Yes, I recommend this cookbook.  I love pretty much everything Jamie Oliver does, so it's no surprise that I love 7 Ways.  You don't need to be a great cook, you just need to want to make great food that you and your family will love. 

Enjoy!
---
Check out my FREE Printable Gluten-Free Food List and Newsletter!
Up to the minute information about
Living Gluten-Free, Simply and Naturally
---