Hardy and Rich Gluten Free Beef Hotpot with Chocolate and Cider
This gluten free beef hotpot is traditional English comfort food at its best.  A hardy stew featuring ground beef and carrots and a delicious sauce made deep and rich with the addition of chocolate, coffee, and dry crisp apple cider. 

Pin for Later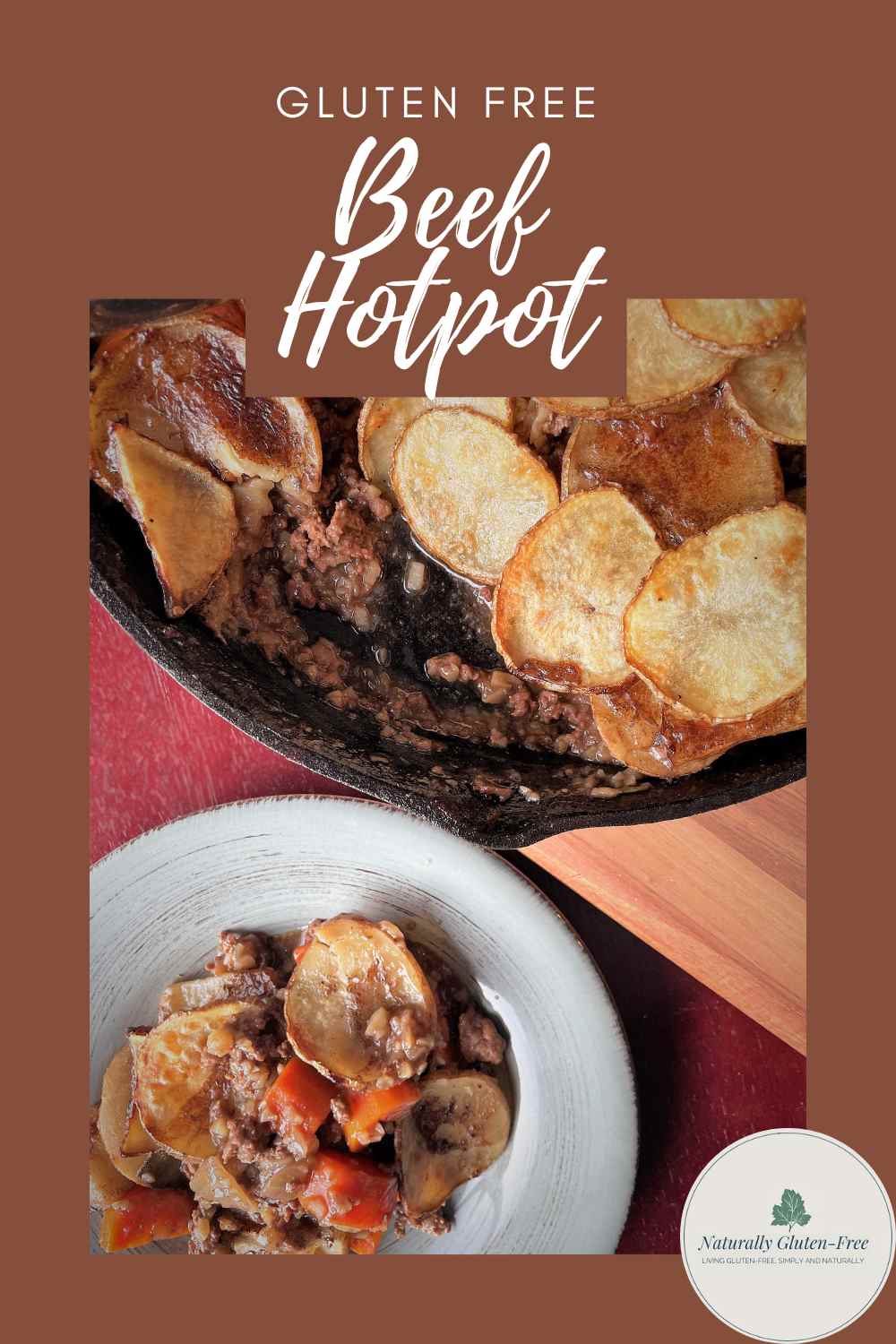 This gluten free version of the traditional Lancashire hotpot was inspired by Jamie Oliver's Beef and Guinness Hotpot from his 7-Ways cookbook.  Jamie does have some gluten-free recipes in his repertoire, but that's not his focus.  But what the heck, it gives people like us a chance to play a bit and experiment.
Ingredients and Prep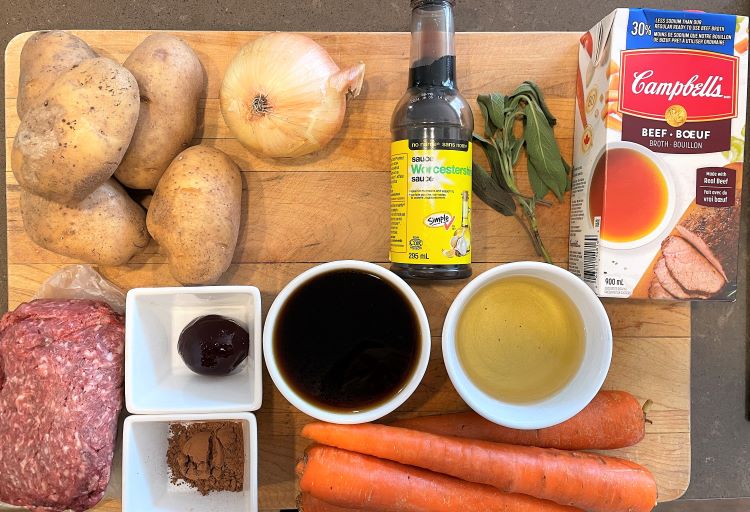 What Is an English Hotpot?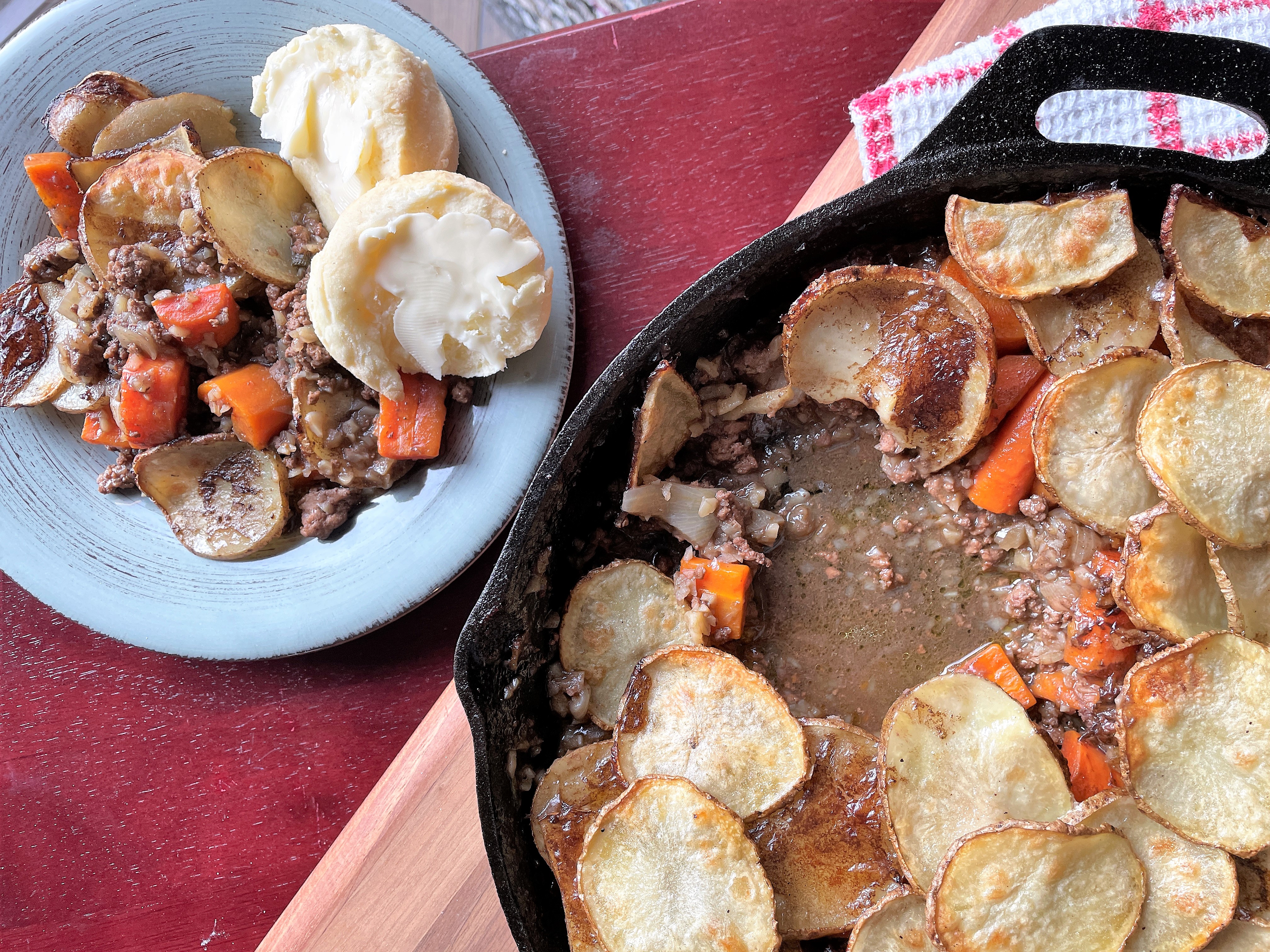 The traditional English hotpot is made with thinly sliced lamb or beef, layered with root vegetables and sliced potatoes. It's usually done in a stoneware dish and baked in the oven until the veggies are tender.
The Lancashire version has the potatoes layered over the stew and baked so the bottoms are tender and the tops are brown and crispy.  
Jamie Oliver's Beef and Guinness Hotpot which I used as the inspiration for this recipe, echoes a classic Irish stew with the addition of Guinness, the world famous Irish stout.  
Choosing Your Dish
Your Dutch oven will work nicely for this, or you can prep everything in a skillet on the stovetop then transfer to a casserole dish before adding the potato topping.  I like vessels that can go directly from cooktop to oven, so I reached for my cast iron pan.
Replicating the Guinness Flavour
Sadly, Guinness is not gluten free.  So my challenge with this gluten-free beef hotpot was to replicate the malty, hoppy flavor of the Guinness, without being able to taste Guinness to remind myself of what exactly I was trying to copy.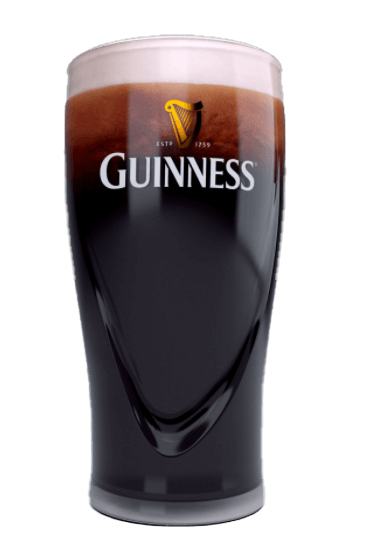 I reached waaay back in my memory to my beer drinking days to try to imagine what this world famous Irish stout actually tastes like.  It's dark and smooth, and I think I can recall a hint of coffee flavor and maybe a suggestion of chocolate.
And then I remember that I have the internet so I search "Guinness tasting notes".    Irishcentral.com says:  "Guinness has a malty sweetness and a hoppy bitterness, with notes of coffee and chocolate.  A roasted flavor also comes through, courtesy of the roasted, unmalted barley that goes into its brewing. It has a sweet nose, with hints of malt breaking through, and its palate is smooth, creamy, and balanced."  Bingo!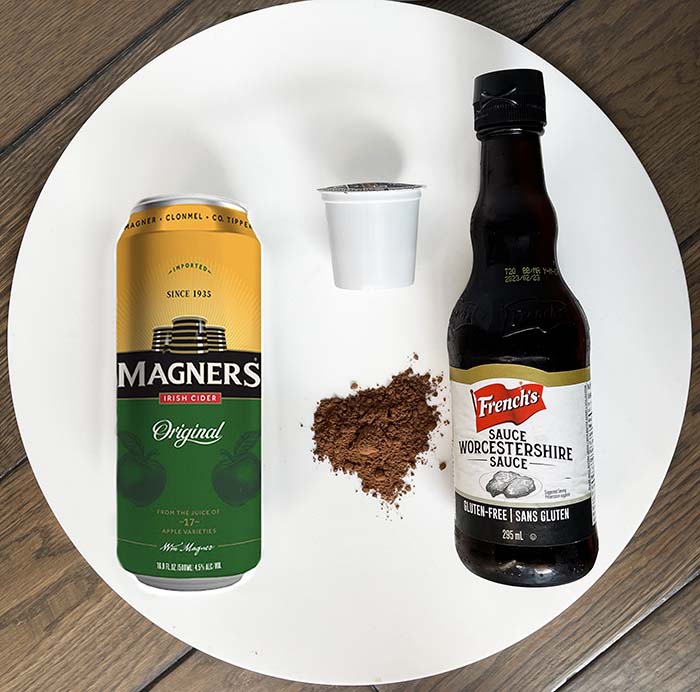 "Chocolate in a stew??!!!" you say.  Well it's not that far out and I'll try anything once.  Well, almost anything.  In fact I did it again with my Gourmet Gluten Free Beef Stew with Red Wine and Chocolate.
I decided on Magner's cider to keep with the Irish theme and provide the sweet hoppiness for my gluten-free beef hotpot.  A little gluten-free Worcestershire sauce bumps up the taste and gives a malty hint.
I've seen recipes that bring in the coffee flavor with dry instant coffee granules, but instant coffee is not always gluten-free and I don't keep it in my pantry.  I add a cup of brewed coffee.  
Thickening Your Gluten Free Beef Hotpot with Potatoes
Stews are usually thickened by sprinkling the browned meat with flour, then stirring in the liquid.  This one is thickened brilliantly and naturally gluten free with pureed potatoes. Just chunk up about 9 ounces of potato and whiz it up in the food processor with the cider.  Add it to the hotpot on the stove,  let it simmer for a few minutes and watch it thicken up beautifully.
Prepping the Potato Topping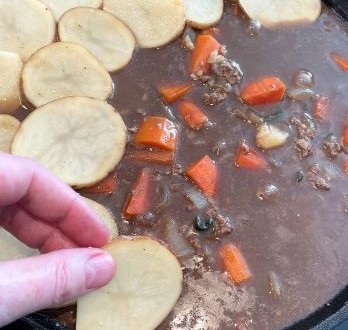 You can do this after everything else is assembled in the pan and simmering away.  
Put a nice glug of olive oil in the bottom of a bowl, then slice up your potatoes and mix them with the oil.  This will keep them from turning dark.  We often soak peeled potatoes in water to help them hold their color.  This works fine if you're going to boil them, but we want these potatoes to brown, so oil is a better choice. 
The Recipe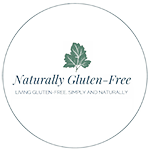 Hardy and Rich Gluten Free Beef Hotpot with Chocolate and Cider
By Patty Maguire – Naturally Gluten Free,
This gluten free beef hotpot is traditional English comfort food at its best. A hardy stew featuring ground beef and carrots and a delicious sauce made deep and rich with the addition of chocolate, coffee, and dry crisp apple cider.
Prep Time: 20 minutes
Cook time: 2 and a half hours
Yield: 6 to 8 servings
Tags: Gluten Free, Dairy Free
Ingredients
4 carrots cut in half lengthwise then into 1 inch pieces
1 medium onion coarsely chopped
1 pound of lean ground beef
1 bunch of fresh sage or a half teaspoon of ground sage
1 heaping tablespoon of dark sweet jam
1 1/4 pounds of potatoes
2/3 cup of Magners or other hoppy cider
1 cup of gluten free beef stock
1 cup of brewed coffee
1 tablespoon of gluten-free Worcestershire sauce
1 tablespoon of cocoa powder
Oil for frying and for prepping the potatoes
Instructions
In a cast iron or other large oven proof skillet, heat the oil and fry the carrots for about 5 minutes. They should be browning a bit on the outside and starting to tenderize.


Add the onion and stir for a minute or two. Then add the ground beef a bit at a time and use a spoon to break it up and stir it around.


When there is no more pink in the beef, add in your herbs and the jam, and season with a bit of salt and pepper. Then sprinkle the cocoa powder over the top and stir it in.


Cook for another 10 minutes or so. It will start to get dark as the sugar caramelizes. The aroma is already irresistible.


Prep your potatoes while the meat mixture is cooking (keep an eye and stir occasionally). Wash them. If they are fairly new with tender skins you don't need to peel them. Take about 9 oz of the potato, cut into chunks and put it in the blender or food processor with the cider and puree until smooth. Add the pureed potato mixture to the pan along with the beef broth and coffee and bring to a boil.


Let the stew simmer and reduce a bit while you slice the potatoes into 1/4 inch slices. A mandolin slicer works well for this but you can certainly do it with your knife. Arrange the potatoes over the stew so it's completely covered. Brush the potatoes with a bit of oil and sprinkle with salt and pepper.


Move your gluten-free beef hotpot to the oven and bake for an hour. The sauce will be thick and the potatoes will be golden on top and tender.


Serve on its own or with your favorite gluten-free bun or biscuit. Add a green vegetable as a side if you like.