Gluten Free Holidays and Dinner Parties

Gluten Free Holidays:  Turkey with your favourite stuffing, gravy, all those wonderful pastries;  Being gluten free for the holidays can feel like you're floating on oceans of water and there's not a drop to drink.
The good news is, it will be a lot easier not to overindulge during the holidays because most of the things you find yourself nibbling at then wishing you hadn't are the cookies and squares, all of which are off limits.
The other good news is, with a little planning, you can still have a great time and even indulge a little.  Here are a few tips.

Gluten Free Holidays: If You're The Host
It's easy if you're the host.  You can make an entirely gluten free holiday meal, throw a few bread rolls on the table and no one will even notice.  There are gluten free alternatives to stuffing, you can make your gravy gluten free and the rest of the main course is likely naturally gluten free.  Mashed potatoes, candied yams, cranberry sauce, it's all a wonderful part of your gluten free holiday.  Even dessert.
Gluten Free Holiday Tip:
If the turkey is stuffed with bread, you can't eat the meat.
Many people think that they can just carve a piece from the outside of the bird and they will be fine.  Unfortunately that is not the case.  The juices run through the meat and into the pan below and whether you baste or not, it's just too risky.
Gluten Free Stuffing
It's been tradition in many families to stuff a turkey with a lovely aromatic bread based stuffing and let it roast for hours inside the bird.  Current heath guidelines however recommend making the stuffing (or dressing) separately to avoid bacterial growth, or if you choose to stuff your bird follow these guidelines.
A Few Suggestions:
- If you want to keep your gluten free holiday traditional, you can use gluten free bread and make your favourite stuffing recipe.  The texture may be a little different.  Bread for stuffing should be a bit stale so it holds together and doesn't become a gooey mess.  This is even more important if you're using gluten free bread.  Consider spreading it out on a baking sheet and leaving it in a low oven for an hour or so to dry it out.  You don't want it crumbly, just a little crispy.  
- Having a gluten free holiday may be a new experience so why not shake it up a bit and try something different.  Peruse the internet and look for a naturally gluten free recipe you'd like to try.  Many use rice as a base with sausage and fruit for substance and festive flavour. 
Make it Separately:
This is what I do.   My family loves our traditional stuffing so I don't have the heart to keep it from them.  Your favourite turkey stuffing can be made in a casserole in the oven along with the turkey, or in the slow cooker.  I like the slow cooker version.  It saves room in the oven, It solves the bacteria issue, gives the family the traditional stuffing they love and keeps the bird safe for my gluten free holiday meal.
For the bird itself, I stuff that with onion, thyme and quartered lemons then discard all of that when the bird is cooked.  It flavours both the meat and the gravy nicely.
Gluten Free Holidays: If You're the Guest
I know this can feel awkward.  You've been graciously invited for dinner and now you want to control the menu and put your host to extra work?  Many people with celiac disease avoid eating at other people's houses for precisely this reason and that's perfectly understandable.  We each have to do what makes us feel comfortable and safe.  I'd like to share my approach and I hope you'll find it helpful and maybe even give you back your social life.

Let Your Limitations be Known
Let you're host know in advance that you require a gluten free diet and ask about what's on the menu.  If you have celiac disease make sure he or she is aware of that and how serious it is for you to know what's in the food you eat.  You may be pleasantly surprised to find out that your host is familiar with celiac disease and has you covered.  If that's the case, when mealtime comes, still ask the usual questions to be 100% sure.  
If your host isn't familiar with celiac but is open to accommodating you, then you have a decision to make.  How well do you know this person and do you trust that they will be careful enough to avoid cross contamination?  Often very slight alterations will be fairly simple for your host to manage.  Keep the croutons separate from the salad.  Same for the dressing if you're not sure it's gluten free.  If your host is amenable you can make some gluten free brand suggestions along with some tips like thickening gravy with corn flour or rice flour.
If you're not comfortable that they can handle it then you may want to bring at least some of your own food.  Then at mealtime you'll have something that you made yourself and are 100% confident won't make you sick.  Then you can supplement with say veggies or salad or anything else that is safe once you see what's on offer and how it's made.
What if your host is not understanding or not amenable to accommodating your needs?  I look at this from a couple of different angles.  
If it's a big gathering, getting the meal together is difficult enough and I don't expect any special considerations.  I make sure my host knows about my issues and let them know that I'll bring my own food so they don't need to worry.
If it's a smaller gathering, one or two couples say then...well it depends.  Some people just aren't comfortable with change so no matter how hard they try they it's just not going to work.  If this is the case, better safe than sorry, I'll default to byo.
We have some close friends that we socialize with all the time and go to each other's homes often.  This is the best of situations.  Good friends will take the time to learn what you need and make you feel safe.  I have to admit I'm very fortunate.
I have been in the opposite situation though where my husband and I were invited to a family member's house for dinner and told that I should bring my own food.  It's difficult here to know how to feel and I was a bit insulted.  They were just having burgers, it was just the 4 of us.  I felt like making the burgers gluten free would not have been a huge imposition and that I just wasn't worth the effort.  We went for dinner that time but never went back.
BYO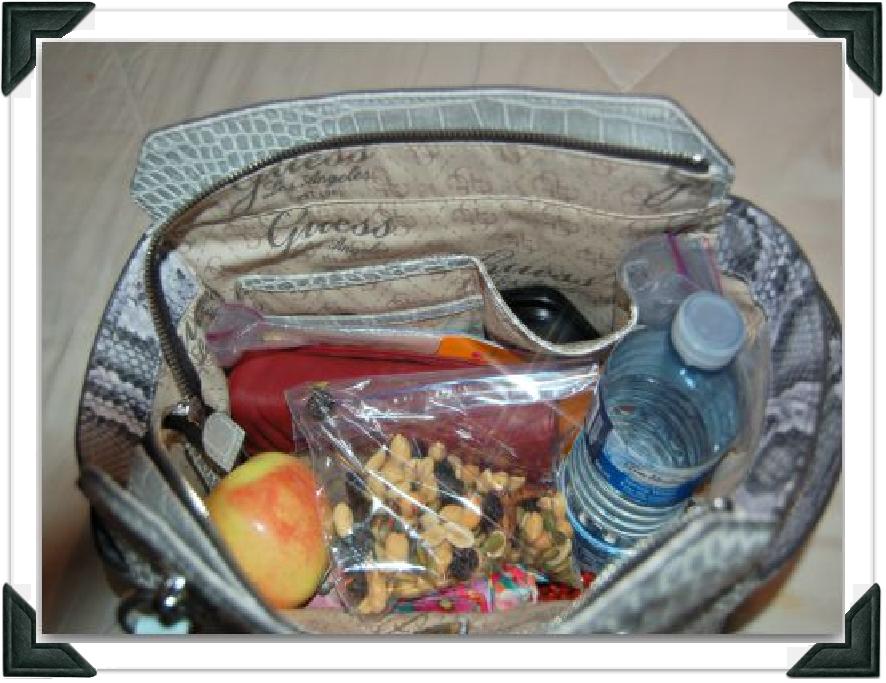 Gluten Free Holiday, Just For Me: I nearly always carry a snack in my purse and frequently pop a little bottle of homemade salad dressing in there just in case I can't have what's being served.  If meat is on the menu yours can be cooked separately and seasoned with just salt and pepper, or you can offer to bring your own.  I often bring my own piece of meat to summer barbecues.  I wrap and cook it in foil so it's not touching the grill that the glutenous sausages and hamburgers are cooked on.  I have brought a piece of cooked chicken for myself when attending holiday turkey meals where I know the stuffing will be cooked in the bird.  I help with the meal so I know the mashed potatoes and veggies are fine, so with my personal piece of chicken I have a full, safe gluten free holiday meal.  
Gluten Free Holiday to Share: If you're not comfortable asking for alterations or you're worried that your host may not get it right, you can offer to bring a dish to share.  This way you know there will be something there for you.  I attended my cousins Christmas dinner one year.  She asked me to bring a salad.  I suggested that since I was bringing my whole family I should contribute to the meat as well.  There were a few other items there that I could have, but the roast beef and salad that I brought gave me the comfort that I wouldn't go hungry.  One year I brought gluten free pumpkin pie to my sister-in-law's Thanksgiving dinner, and it was gone before all the other desserts!  

Simple Strategies

If you're going to a party that you can't influence or contribute to the menu you can:

Eat before you leave, that way if there truly is nothing for you, you won't starve.
Take a snack.  A gluten free granola bar or some rice crackers with cheese will hit the spot partway through the evening.
Be early to the buffet: If cheese and crackers are on separate plates  you can have the cheese;  at least early in the evening.  I get a little nervous later on when the buffet table gets messy looking; there is more chance of cross contamination.  The same goes for the fruit platter, pickles etc.  All are naturally gluten free, but you should try to be early to the table before things get mixed up.

Call ahead: If your party is catered or is at a public venue like a restaurant or a club, the same tips apply as for restaurant dining.  Call ahead, make sure the staff know about your gluten free needs.  Chances are they'll be open to ensuring that your food is safe.  Get the name of the person you speak with so that when you arrive you can introduce yourself and let them know that you are the one with the gluten free requirement and who you spoke with.  You may be pleasantly surprised and find that you have a great time.
Ask to see the package: If you're not sure of a dressing or a snack food do not be shy.  Ask to see the  package and check the ingredients yourself.

Most of all remember the reason for the season.
Things to avoid
What's wrong with this picture?  Hint: This is after the buffet has been out for a while.  Lucky I got there early ;)
Cold cuts are off limits, unless you know for sure they are gluten free.

Avoid casseroles, soups, and stews, unless you know the recipe and the person who made it.  Many are thickened with flour or involve canned products that may have gluten.  Also most people are not familiar with the dangers of cross contamination so even if the recipe has no gluten ingredients, it may not be save for celiac. 

Avoid the messy buffet.  Once people have been messing around, utensils have changed plates, double dipping has occured the buffet becomes off limits.  

Anything that's not a simple, whole food that you don't know how it's made.  Better safe than sorry!

Gluten Free Holiday Tip:
Whatever the celebration, holidays and dinner parties are about family and friends. 
Enjoy the people in your life and let the food be secondary.