Gluten Free Braised Honey Garlic Sausages
Braising is a wonderful and simple way to bring out the depth of flavour in your meat and create a rich savory sauce that will bring you back for seconds...if there is any left.
The key ingredient here is the gluten free honey garlic sausage.  You can get these from a reputable butcher.  Many have gluten free sausages and some have options that are not gluten free as well so be very careful and if in doubt ask.  You may be able to get gluten free sausages at the supermarket as well.  As always, read the labels or ask the butcher.

Ingredients:
6 gluten free honey garlic sausages
1 onion - sliced or rough chopped
1 pkg mushrooms - cremini mushrooms have a nice flavour
salt & pepper to taste
1 sprig of fresh rosemary - you can substitute dried
1 splash of apple cider vinegar (do this to taste, you want a bit of an acidic snap but you don't want it to be over powering
1 tbsp (approximately) corn starch - you want the sauce to thicken so that it hangs on to the back of the spoon but still pours nicely
chicken or beef stock - enough to come about half way up on the sausages in the pan
oil for frying
Method:
Braising is a classic cooking method that involves both dry and moist heat.  First the meat is browned in the frying pan, then liquid is added and the meat is simmered until it is cooked through, nice and tender and a richly flavoured juices are produced from which to make a sauce.
1.  Preheat oven to 375°
2. Brown the sausages over medium heat in a frying pan, preferably one big enough to hold all of that sausages and that can go in the oven.  If you don't have one then you can use a dutch oven, or you can transfer to a baking dish later
3. Remove the sausages from the pan and add the onion.  Stir around so the onion picks up all the brown flavour from the bottom of the pan.  Cook for a couple of minutes until the onion is starting to soften but is  not quite done.
4. Add the mushrooms.  Continue to stir until the mushroom is nearly cooked.
5. Add the rosemary.  Cook and stir for another minute.
6.  Add the sausages back to the pan then add the stock so that it about half covers the sausages. 
7.  Put the lid on and put in a 375° oven for about 35 min.  Alternatively you can simmer on the stovetop.
8.  Remove the sausages from the oven and remove from the pan.  Simmer the juices on the stove until reduced to about half.  Thicken with cornstarch.
9.  Add the sausages back to the pan and turn a few times to coat with sauce.
10.  Serve with mashed potatoes, rice, pasta and your favourite veggie.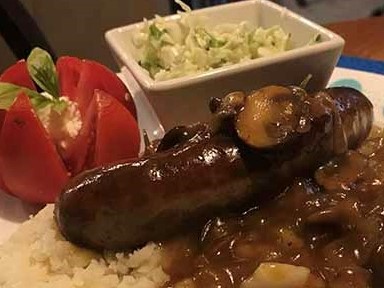 Home > Gluten Free Cooking > Gluten Free Braised Honey Garlic Sausages