30 Minute Low Carb Dinners
Review: 30-Minute Low-Carb Dinners
75 Easy-to-Prepare Meals that are Healthy, Delicious and Fast
Title:  30-Minute Low-Carb Dinners; 75 Easy-to-Prepare Meals that are Healthy, Delicious and Fast

 Author: Valerie Azinge

Genre: Cookbook

Publisher: Page Street Publishing Company (2020)

Pages: 176
You know how when you buy a cookbook and it ends up that there is one, maybe two recipes in it that you actually make?  This is not that cookbook.
About 30-Minute Low Carb Dinners
This beautiful, soft cover book is full of simple and delicious low carb recipes.  Although it's not marketed as a gluten-free cookbook, almost all the recipes are naturally gluten free.
You can check out Valerie's story on her website, but in short, she is a Toronto cookbook author and caterer who left a budding law career to follow her passion; food.  A terrifying motorcycle accident left her bedridden for months and unable to exercise.  This inspired her to focus her first cookbook on low carb meals, so she could maintain her weight and still eat delicious healthy food.
There is no fluff in this book, just great food.  Even though the recipes are Keto friendly and gluten free, there is no preaching, no diet ideology.  There is no "don't eat this or that", nothing about good or bad foods.  The recipes support any diet preference from plant based to pescatarian to omnivore, just without the grains and processed carbs. Many are internationally inspired with nods to Mediterranean, French, Asian and Latin cuisines.
My Review
I "met" Valerie recently at a Food Writing course I took virtually through George Brown College in Toronto.  I put "met" in quotations as it was a virtual class so we didn't really get to meet face to face.  I was touched by her story and impressed by her dedication and professionalism.  She was open and helpful when it came to explaining her process and letting the class in on the ins and outs of writing a cookbook and getting it published.  When I looked up her cookbook I knew I had to have it, so I asked for it for Christmas.
I brought 30-Minute Low-Carb Dinners along with me on my two-month Tampa vacation precisely because of the simplicity and the focus on whole foods, protein and healthy fats.  It made great road trip reading on the 3-day drive from Toronto to Tampa.  After the holidays I was in danger of undoing my hard work losing 20 pounds.  Also, being away from home, I needed recipes that I could make with a minimal pantry consisting of just a few spices and sauces.
The book is well laid out, divided into sections by the main protein: lamb and beef, poultry, seafood, and meatless dishes.  The instructions are clear and simple to follow, and the photos are stunningly beautiful.  I personally prefer a cookbook that has a photo for each recipe.  It helps me to know what the author had in mind for presentation and it is often the photo that draws me into a recipe and gets me interested.  After all, we eat with our eyes almost as much as we do with our tastebuds.
So far, I've made three of the recipes from 30-Minute Low-Carb Dinners and all are keepers.  Even when I get back home to my fully stocked pantry, these will make it into my regular rotation.
Thyme Rib Eye Steak with Cauliflower Rice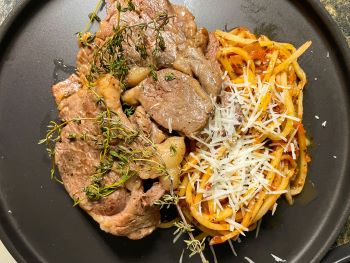 Steak is one thing that, as much as we meat-eaters love it, I find it's easy to get into a rut.  This steak recipe uses the classic technique of pan searing with thyme and butter then finishing off in the oven.  Besides salt and pepper, there are just 3 ingredients: steak, thyme and butter.  Since I'm dairy free I used Earth Balance, a vegan butter substitute.  Instead of cauliflower rice, I paired my steak with Palmini and a jarred red sauce.  Palmini is a low carb, gluten free pasta substitute made from palm hearts. 
Apple-Onion Pork Tenderloin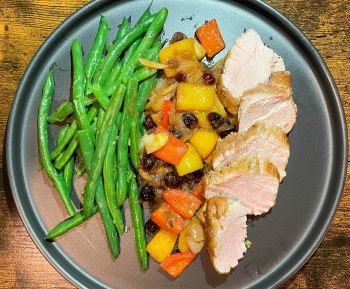 This is an example of using a recipe as a guide and tweaking it to match with what you have in your kitchen.  I had a pork tenderloin and onions but no apples.  I used Valerie's technique but substituted sweet peppers and a handful of dried cranberries.  Hubby said we should serve it to guests!  Stay-tuned, maybe you'll see this pop up in my recipe section, with credit to Valerie of course.
Crispy Lemon and Tomato Thyme Chicken Thighs.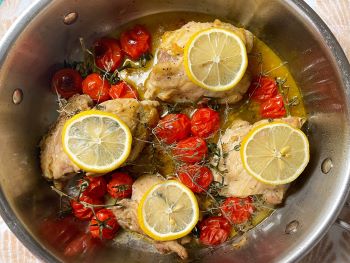 Again, so simple.  Just 5 ingredients and 30 minutes and we had a delicious, low carb, naturally gluten free chicken dinner.  I love the crispy chicken skin and the beautifully caramelized roasted tomatoes.  This one will be added to our regular meal rotation too.
Those are the three dishes I've made so far, but there are many more that I'm excited to try.  72 more to be precise. 
Do I Recommend This Book for You?
I think you may already know the answer.  Valerie Azinge and I are totally on the same page when it comes to eating healthy whole foods and keeping processed carbs to a minimum.  She takes it a step further by making meals fast and simple.  
Enjoy!
---
Check out my FREE Printable Gluten-Free Food List and Newsletter!
Up to the minute information about
Living Gluten-Free, Simply and Naturally
---