Gluten Free Products
Overview and Cost
"What gluten free products should I buy?"  This is one of the questions I hear more often than almost any other from people new to this gluten free lifestyle.   That is often followed by "gluten free products are so expensive, I don't think I can afford this diet!"  And then there is "I feel lost when I go into the grocery store.  I used to know exactly what aisles to shop to find my favourite items, now I have no idea where to go or what to buy..."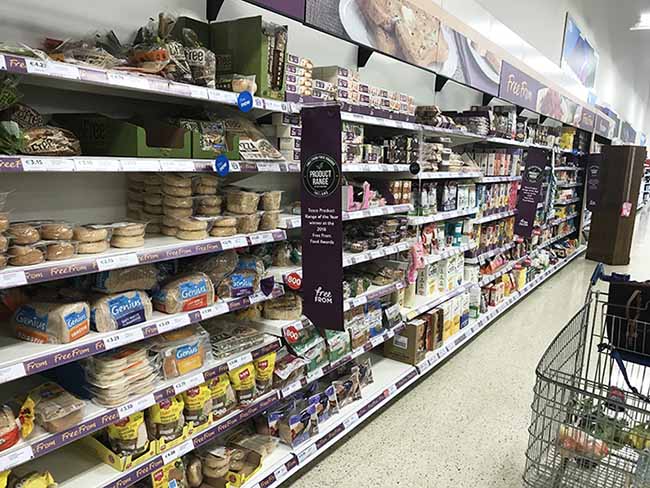 This photo is from my trip to Ireland.  What a haven for Celiacs!!  Ireland has among the highest per capita instances of Celiac disease in the world so they've got it figured out.
Well, I may not be able to solve all of your problems, but I think I can offer some advice to help with these specific ones. 

My very best advice when it comes to gluten free products is "stay away from them".  The word product implies well, production  and food is to be grown not produced isn't it?  Whether you have celiac disease or non-celiac gluten intolerance or your just trying a gluten free diet to see if it make you feel better, I'm betting you're doing this on some level because of your health, correct?
If you are having problems with your stomach, you need to heal.  Packaged processed foods contain sugar and additives that create inflammation and will do nothing to make you feel better.  So if I accomplish nothing more than to convince you to focus your diet on naturally gluten free whole fresh fruits and vegetables, whole fresh cuts of meat and plant based proteins, and gluten free whole grains, I can die happy.  The best part is, you will feel healthier and so will your wallet!  
 A diet focused on naturally gluten free real food is far less expensive than one that relies on processed gluten free products.

Realistically though, even if you build your diet around naturally gluten free foods and cook all of your food at home, packaged foods are a fact of life.  Some, like dried beans or rice are ingredients in wholesome home cooked meals.  And some are necessary just to save us on those days when there is nothing ready and we just don't have time to cook something from scratch.  And in my opinion, you need to love your life and if you eat mostly healthy, a few treats won't hurt :) 
Gluten Free Products: A Few Tips

Here are some strategies for choosing quality gluten free products and naturally gluten free whole foods that will support your return to health:
Choose organic where possible.  Especially when you are trying to get healthy, eliminating pesticide and fertilizer residue only makes sense, and it's better for the planet.
Stay away from anything with a health claim on the package.  Especially stay away from reduced calorie and reduced fat versions of products.  Fat is an essential nutrient and is necessary for transport and absorption of many vitamins.  The fat in many products is replaced with sugar and chemical thickeners that are very bad for you.
Choose products with a short ingredient list.  Stay away from anything that you can't pronounce or that you can't identify as a real food.  You shouldn't need a degree in chemistry to know what you're eating.
Here is a list of gluten free substitutions you can take shopping with you.

Gluten Free Products: My List of Go-To Items

That was all a long explanation as to why my list of gluten free products is quite short.  These are mostly items I use in my kitchen along with some mini reviews so you know why I like them.  I've also included a few items I've tried and am not so impressed with.  The rating system isn't terribly scientific.  I looked at taste, texture and health / nutrition.  In some cases I've provided links to where you can find these products online and I may make a small commission if you buy from those links.  Please don't feel obligated.  I'm including these items because they work for me and I think they might work for you too. 
Gluten Free Sauces and Dressings
Gluten Free Products: Pasta
Pasta is at the top of my gluten free products list because it's one of my favourite foods.  When I was first diagnosed with celiac disease I didn't know gluten free pasta was a thing and I was devastated thinking I was going to have to give up the dishes I love most.  Here is a separate article on gluten free pasta including some tips for cooking.  For some different types and brands look below. 
 Catelli Gluten Free Pasta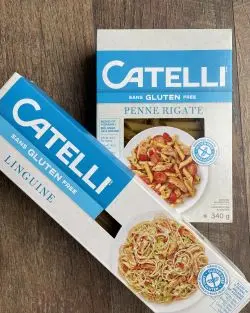 This is first on the gluten free product list.  It really is the closest thing to regular wheat pasta that I've found.  I also talk to a lot of people and follow several groups and forums and the consensus is there.   Catelli gluten free pasta uses uses a combination of grains: white rice, brown rice, corn and quinoa and I think this might be why it holds up better than other gluten free pastas when cooked and the taste and texture are closer to traditional pasta.  It comes in most of the traditional shapes: spaghetti, linguini, fusilli, rotini, penne, macaroni and even an oven ready, no boil lasagna!  This can be found in most grocery stores in Canada.  If you live outside of Canada you may be able to order from Amazon or another importer.

---
 Sun Zenone Corn Pasta

This is my second favourite gluten free pasta.  Some people have issues with gluten free grains but are okay with corn.  If that's you then this might be a good choice.  The flavour is good.  Shapes like penne and fusilli hold up well when cooked.  I've found the spaghetti breaks up pretty easily so you have to be really careful not to over cook.  I've not found a lasagna in this brand.
---
 Rice Pasta (no specific brand)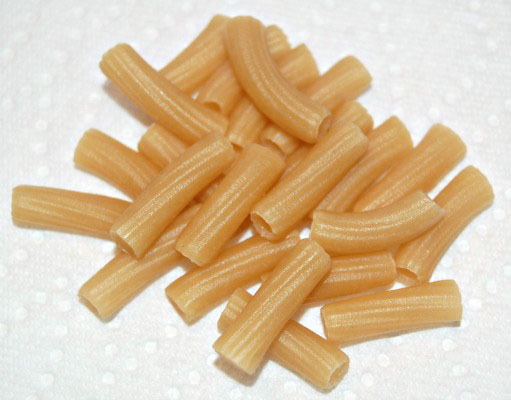 I've tried several brands of rice pasta so I'm not reviewing a specific brand here.  I'm not as fond of rice pasta in general as a replacement for wheat pasta, that is to be eaten in the Italian tradition with tomato or cream sauce.  The texture is a bit slippery and it has less flavour than the corn or mixed grain versions above. Top it with a good sauce and it's okay, but just okay.  The exception is rice noodles used in Asian dishes - see below
---
 Asian Rice Noodles
One of the very best and most delicious ways to enjoy naturally gluten free food is to explore international cuisine.  Rice noodles are a staple in Asian dishes such as Pad Thai.  I'm not loyal to a particular brand.  You can find these in your grocery store or local Asian market.  They are easy to cook and are a must to make any Asian noodle dishes you may wish to try.

Gluten Free Products: Bread
I wish I had more time to make my own gluten free bread.  There is nothing like the smell when the bread comes fresh out of the oven and sits to cool, just waiting for the moment you can slice it open, add fresh butter and...mmmm.  But alas,  this is reality and things like jobs and family can get in the way of the things we really want to do ;)  This section of the gluten free products list includes mixes as well as some ready made items.  
Gluten Free Mixes
---
 Duinkerken Gluten Free Mixes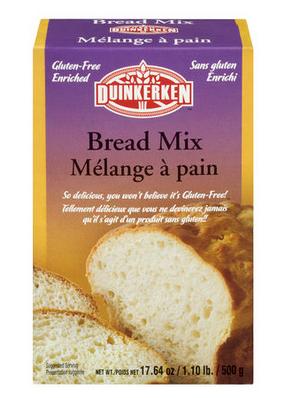 Duinkerken Foods is a Canadian company out of Summerside, Prince Edward Island and they make hands down the best gluten free mixes on the planet!!  Their products are available across Canada at the bulk barn or you can order online.  They now ship to the U.S. as well.  If you are outside of North America and have a friend who can send you stuff, put this on your list!!  I've used their bread mix as well as their pizza mix which is the best one I've found and their biscuit mix makes amazing no-fail scones and can also be used for cinnamon buns.  There are tons of other products so check out Duinkerken online at  https://www.duinkerkenfoods.com/ for their gluten free products and recipes.  Some of their products are now available on Amazon. 
---
 Bob's Red Mill: Gluten Free Mixes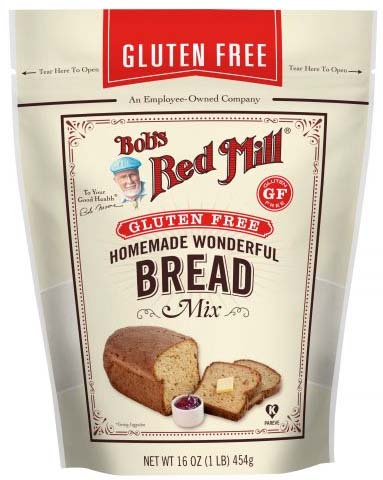 Bob's Red Mill is a more widely known brand for gluten free products.  They are based in Milwaukee and if you are ever there you can take a tour of the mill.   They carry a wide range of flours, whole grains and mixes including bread, biscuit and dessert mixes like brownies and cookies.  I've tried several of them and they are excellent.  Check out their website at  https://www.bobsredmill.com/shop/gluten-free.html.  Keep in mind not all of their products are gluten free so remember to check the label or make sure you're in the right section on the website.  Their gluten free products are certified so you are totally safe.  Bob's Red Mill products are available in most grocery and health food stores. 

Gluten Free Ready Made Bread
Bread is one gluten free product that has come a long way in the last few years. When I was first diagnosed with Celiac there was Udi's and Glutino and that was basically it.  Now you can find a number of different brands and gluten free bakeries are popping up all over the place.  Have a little fun and check out a local bakery if you get a chance.  You may find that they have the best breads and baked goods and you'll have found a new spot for a regular weekend road trip.  I keep a loaf or two of gluten free bread in the freezer for sandwiches or for toast.  It is very expensive and more calorie dense though, so I expect you'll find yourself eating less bread overall than you did when you were eating wheat bread.  
 Schär Gluten Free Bread, Buns and Other Gluten Free Products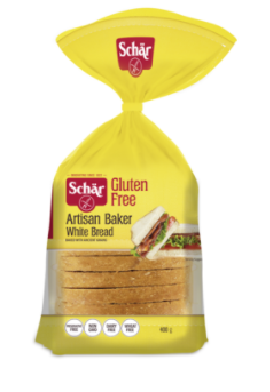 Schär is an international producer of gluten free bread and other gluten free products like crackers and cookies.  In my opinion they make the best gluten free bread and buns and they are available pretty much everywhere.  I bought their products on my trips to France and Scotland a couple of years ago and I saw info on their website about shipping to Australia.  The texture is very good for a gluten free bread and it holds together so you don't end up with your sandwich ingredients all over your hands and your plate. I get Schär  bread and buns at my local supermarket.  They come fresh rather than frozen like many other gluten free breads so you're likely looking for a little display stand near the health or specialty food section. You can also order on Amazon and other online food retailers such as well.ca.  Check out the Schär website at    https://www.schaer.com/en-ca/products for their full product line and info on locations near you.

---
 Local Gluten Free Bakeries
Rather than advertise a particular brand, I'd like to encourage you to get onto your phone or computer and search "gluten free bakery near me" and go on an adventure.  You'll have fun and you'll learn lots.  Talk to the people at the bakery.  They know their stuff, they're passionate about it, and most love to share.  You may find out a personal story about why they started a gluten free bakery.  You'll learn about their special process and why they think their bread is the best.  If you've had to travel to get there, ask if they ship to local stores or if you can order for shipment to your home.  The loaf in the photo is the 5 Seed Bread from Ste Anne's Certified Gluten Free Bakery in Grafton Ontario, Canada which is near me.  Their products are available in local supermarkets and health food stores. Another one near me is Marcel's Kitchen in Port Perry Ontario.  They sell a variety of gluten free baked goods and they also sell mixes so you can try fresh from your own oven.   A word of caution though, some regular bakeries offer gluten free versions of their products.  Just remember to ask how they manage cross contamination.  Many will have a specific gluten free day where they clean everything thoroughly and bake only gluten free on that day.  For a person with celiac disease that should be safe, but you need to decide for yourself if you are comfortable with that or if you prefer to shop at a dedicated gluten free bakery. 
Gluten Free Products: Wraps and Tortillas
The only gluten free product that may be harder to find than great bread is a wrap that you can actually roll without it breaking and that doesn't taste like glue.  I have a whole article on wraps as there actually are a number of options, but here are some brand suggestions.
 Toufayan Gluten Free Wraps
The forums and I agree on this one too.  Any time I see a question like "what is the best gluten free wrap" Toufayan is the hands down winner.  It's the closest thing I've found to a regular wrap.  It holds together nicely when you roll it,  It comes in a variety of flavours and it's available in Canada at most major supermarket chains. You can order from Amazon as well.  Toufayan is based out of Ridgefield, New Jersey and have locations in Florida.  They carry other gluten free products  and non gluten free as well so make sure you see gluten free on the label.  

---
 Food For Life Brown Rice Tortilla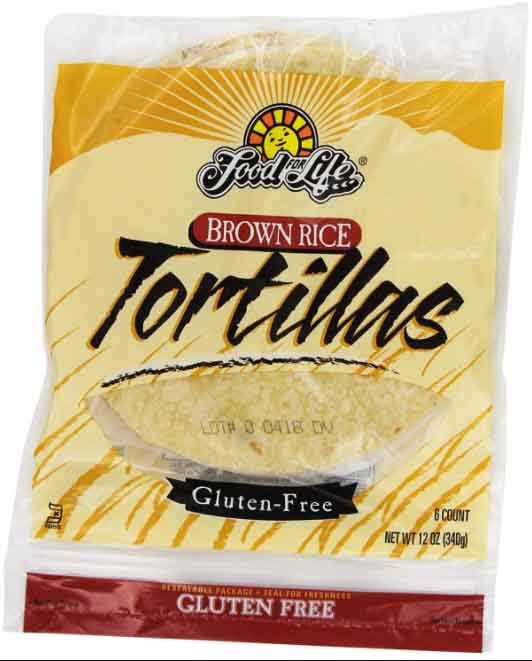 This tortilla is not so much of a sandwich wrap in my opinion but I keep a package of these in the freezer specifically for my lunch time personal pizza.  They are crispy and flaky when baked on a preheated pan and hold the toppings nicely. They are in the freezer at the supermarket.  You may need to go to the specialty food section.

---
 New Gem Foods: Gluten Free Wraps
I think this is nothing short of ingenious!  These wraps are made from carrots!!  They are a bit pricey (even more so than most gluten free products) so I'd consider them a bit of a specialty item.  I've only found them at the health food store so far although the website says you can order from them directly or from Amazon.   They also carry other flavours like tomato, mango chipotle and apple kale.  The flavour is amazing.  They roll up nicely and hold together well.  The website advertises them for use as sandwich wraps as well as for sushi.  A woman on a celiac forum I follow suggested to let them sit for a few minutes after you make your wrap for a softer texture. 

---
 Udi's Gluten Free Tortillas
I've included Udi's because they are a big brand and fairly widely available.  They hold together not too badly but they are a bit small for a sandwich wrap in my opinion and a bit doughy.  They work well as a quick pizza crust although they don't have the nice flaky texture of the Food For Life Brown Rice Tortilla.  You could try these for a fajita.
---
Old El Paso Taco Shells
| | |
| --- | --- |
| | These crunchy corn tortillas make taco night!  They are made with corn and are gluten free.  This is the wonder of international dishes, even something so main stream and, let's be honest, fast foodish as tacos.  Just use your own ground beef or make up something creative like shredded chicken tacos or fish tacos.  And the seasoning mix is gluten free too! |
Gluten Free Products: Sauces and Dressings
When it comes to gluten free products, one of the best ways to reduce our reliance on processed foods and additives is to make our own sauces and dressings.  If you check labels, not just for gluten but for simple ingredients that you recognize as food, you can take advantage of the convenience of ready made and still make healthy choices.
Tomato and Pasta Sauce
You can certainly make your own tomato sauce.  It's not that difficult but it is an investment in time.  I keep a few jars of ready made pasta sauce and canned tomatoes in the pantry for convenience.  I use pasta sauce for pizza and lasagna as well.  Most will be naturally gluten free, ,just be sure to check labels. 
 PC Organics Pasta Sauce

This is a favourite.  President's Choice is a Canadian brand by Loblaw's.  You can find it in all Loblaw's and affiliated Independent supermarket's.  The quality and flavour is good.  It's naturally gluten free and organic.  Remember to always check labels though as companies change their formulation all the time. 
---
 Classico Pasta Sauce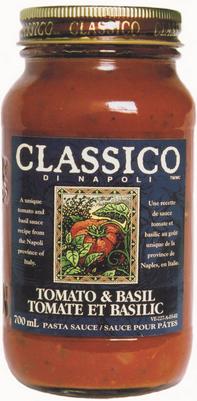 This is another favourite of mine.  A nice short ingredient list so even though it's not organic it passes the reasonably healthy test for me since you're not getting a lot of unnecessary chemicals.  It tastes great and comes in a good variety of flavours.  Although it's naturally gluten free, still check the label :)

Barbecue and Other Meat Sauces
 HP Steak Sauce -

CAUTION!
Check the label every time!!  In Canada I buy the HP Original steak sauce and it's gluten free.  Here it is made from white vinegar rather than malt vinegar.  Not all flavours are gluten free and the formulations are different in different countries.  This is my favourite mostly because it's what I grew up with and it is one of the most popular brands here so I'm relieved it's gluten free.  Even if you are in Canada still always check the label and if you are having it in a restaurant check the label there too and ask to ensure they are not refilling their bottles with a different brand.  

---
 Bull's Eye Barbecue Sauce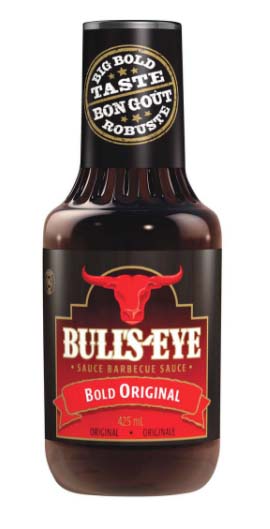 This tangy and bold barbecue sauce is great for everything you would use a barbecue sauce for.   It is produced by Kraft Heinz in the United States and Canada.  They have different flavours so by all means try them all.  It's perfect for grilling steaks, chicken, pork and even salmon.  Use it on chicken wings or as a dipping sauce for kabobs.

---
 Stubb's Barbecue Sauce
Authentic Texas flavour with an authentic Texas history.  Check out their website.  As of 2010 Stubb's is certified gluten free so you are totally safe!  Lot's of flavours to choose from and available internationally.  

Other Gluten Free Sauces
 VH Soya Sauce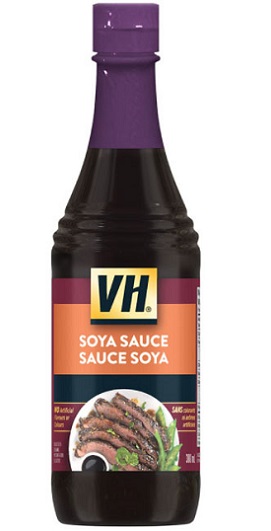 This is a great benefit for those of us with Celiac.  Soya sauce in general is not a gluten free product and until a few years ago the only option we had was tamari.  Soya sauce is made with soy beans but fermented in wheat.  VH however has recently made all of their products gluten free and sacrificed none of the flavour.  So go ahead and enjoy all of those Asian dishes you love to make.  Caution: If you are eating Asian cuisine in a restaurant you still need to be careful.  Check to see if the soya sauce they are using is gluten free.

---
 San-J Tamari Sauce

This was the original gluten free soya sauce before there was gluten free soya sauce.  The flavour and colour is lighter than soya sauce we're used to in North America, but it's quite nice and I still often keep it on hand for a change

---
 Gluten Free Hot Sauce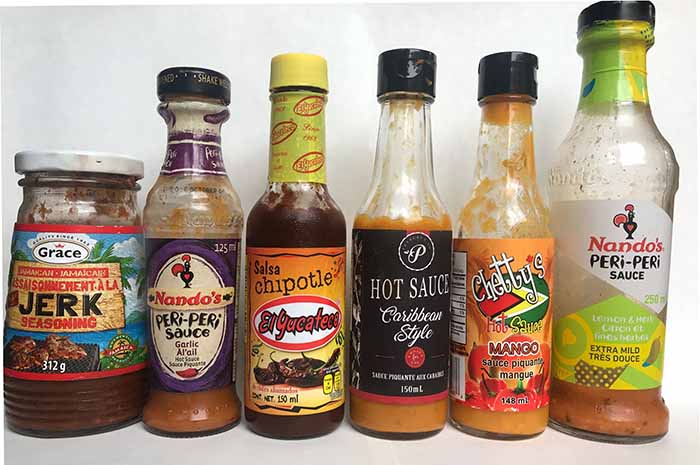 Trying different hot sauces is a bit of a hobby for me so I'm not really recommending any particular brands.  The photo is the current inventory from my fridge but it changes all the time.  Spicy foods come to us from all over the world and each region has it's own variation on heat and flavour.  Peri-Peri is European, popular in Portuguese cuisine.  Chipotle is made from roasted peppers and is common in Mexico.  Jerk sauce is Jamaican and is amazing with chicken or pork.  Most hot sauces are naturally gluten free products but still as always check labels.  A word of caution, if your are in the healing phase, early in your gluten free journey or if your stomach is sensitive, treat it and hot sauce with respect.  To much heat can cause inflammation and who needs more stomach issues.

---
 Gluten Free Salad Dressing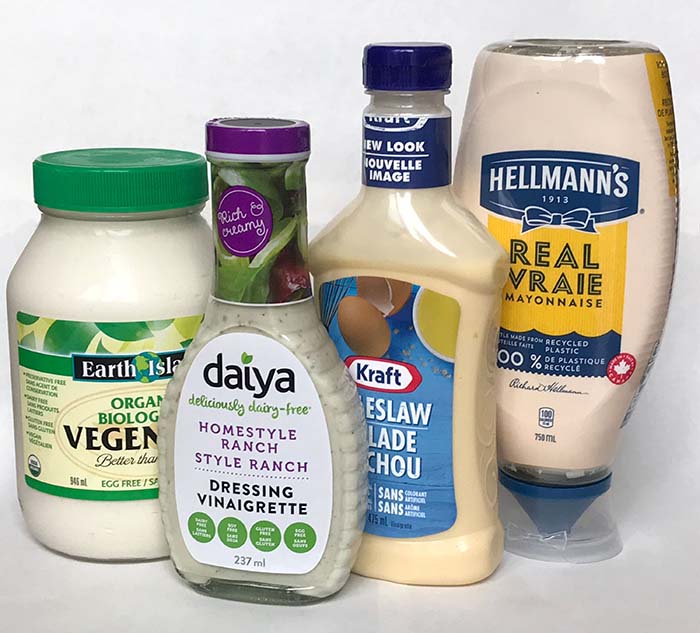 For the most part I make my own salad dressing.  Vinaigrettes are so easy that I find that buying bottled dressings doesn't save enough time to make up for the healthy simplicity of a home made dressing.  That said, you will find a few bottles in my refrigerator.  You can certainly make your own mayonnaise but there is a bit of a technique to it so I cop out and buy Helleman's.  Also, I have a mild intolerance to eggs so I opt for a vegan mayonnaise and a vegan ranch for myself.  Hubby likes the Kraft dressings so you'll find one or two of those in there too. Salad dressings are mostly gluten free products.  If you're sensitive to dairy or eggs watch out for that and maybe opt for vegan.  As always, real labels.
Gluten Free Products: Spices
For some reason I was told when I was originally diagnosed with celiac disease to be careful of spices, that this was a place where gluten would hide.  Only trust McCormick's and Club House I was told.  This of course struck fear in my heart and made me throw out everything in my pantry that wasn't one of those two brands.  Turns out that fear was unfounded, sort of.  Simple spices are naturally gluten free products so as long as you read the label to be sure you don't need to stick to a particular brand.  You do need to be careful of spice blends because they are a mixture of ingredients and flour could be added as a filler or to keep it from sticking.  I don't have any spice blends here because I seldom use them.  I prefer the simple spices and to mix them myself. 
Spices
And yet here we are.  I buy Club House and McCormick's spices and they are now the same company.  I guess it is a brand trust thing.  The flavours are great and they are gluten free.  As always read the labels and especially if you are buying blends as even these brands have some blends that aren't gluten free.
---
Old El Paso Taco Seasoning Mix
| | |
| --- | --- |
| | This goes hand in hand with the Old El Paso taco shells.  Do always be careful of seasoning mixes as gluten is often added.  This one at time of writing is gluten free and makes taco night a breeze.  As always, read labels as formulations change.  |
Gluten Free Products: Dairy
 Gluten Free Dairy Products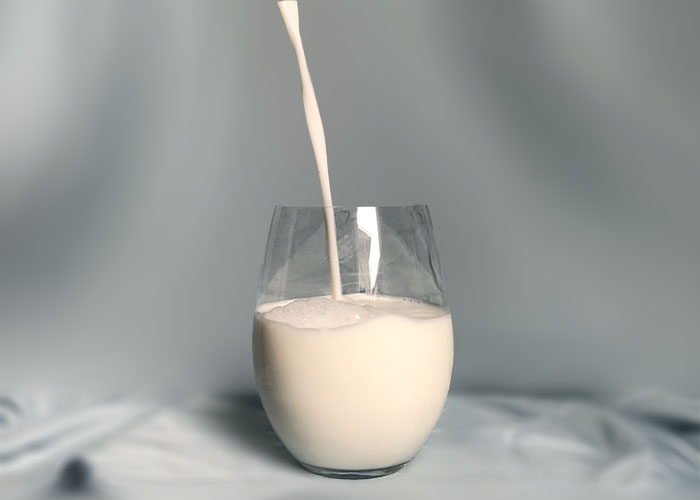 Most dairy products will be naturally gluten free.  The exception might be specialty pre-mixed smoothies or shakes, or cheeses with other ingredients added like nuts or peppers, and even those are likely fine.  Just check the label to be sure. Many people with celiac disease also have issues with dairy.  For more info on that go here.

Gluten Free Products: Snacks
The healthiest way to snack is, well not to snack but that aside...the second best way to snack is to make your own and lean towards whole foods.  Go here for some ideas.  However, like I said at the beginning, you do need to love your life and a few munchies in an otherwise healthy diet shouldn't be a problem.  Here are some gluten free products you'll find in my pantry.
 Popcorn
Popcorn might actually be one of your best choices.  It's low fat (a little butter is okay), it's not fried, it has simple ingredients (just one, corn) and is easy to make.  You can do it in a pot with a little oil or, if you really like popcorn, get an air popper.  No need to spend a lot of money, the store brands are fine.  Popcorn is naturally gluten free and it's not a high risk item meaning that it's not a grain that is generally grown or processed in conjunction with wheat so should not pose a significant cross contamination risk.  Of course always read labels.
---
 Kind Bars
When it comes to gluten free snacks, this is generally a clean healthy choice.  Ingredients you can pronounce, great taste and convenient.  They do contain sugar so keep that in mind and with all the nuts they tend to be high in calories.  They are a great choice to throw in your pocket or purse for an emergency and I pretty much always have one with me if I'm going to be away from home for more than a few hours.

---
 Tostitos Scoops and Salsa
Corn chips in general are naturally gluten free products.  The danger may be in the flavourings so always check the label just in case.  Also, flavoured varieties often have lactose so watch for that if it's a problem for you.  I keep scoops in the pantry for a salty snack.  Paired with a little salsa, it's not the worst thing you can have in moderation.  My husband and I have different heat tolerance so we buy mild salsa and I just add a little hot sauce.

---
 Lays Potato Chips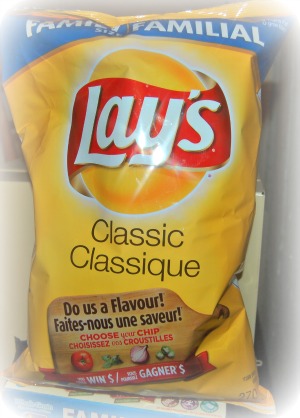 Potato chips are definately getting into not so healthy territory so I'm not going to say I recommend them.  But in the interest of full disclosure, they are a serious weakness of mine.  I try not to keep them in the house but every so often a bag finds its way into my pantry, entirely without my permission ;)
Potato chips in general are gluten free.  You may run into issues with some flavourings, and that's where the lactose sneaks in too.  There may also be cross contamination in manufacturing so as always, read labels.
Gluten Free Products: Cereal
Caution: Cereal is a high risk item for cross contamination so the general rule is buy only certified gluten free products. 
Gluten Free Hot Cereal
 Only Oats Oatmeal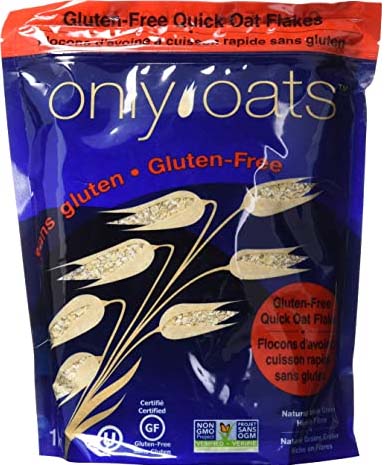 This the brand you'll find in my pantry for eating as a hot cereal and for baking.  It's a Canadian gluten free product and they have several varieties including, quick cook, steel cut and some baking mixes.  They are available at major supermarket chains as well as Bulk Barn.  They can also be ordered through the website or on amazon.
---
 Bob's Red Mill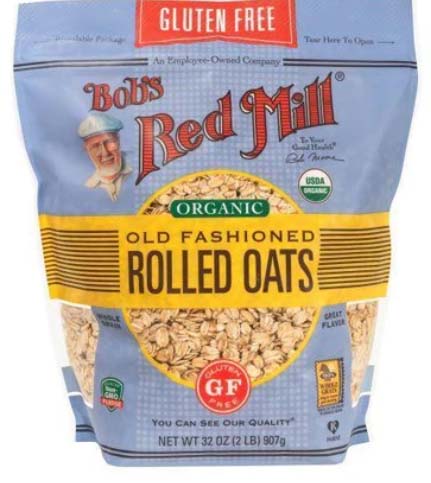 Bob's Red Mill is a widely available brand and can be trusted.  They offer a variety of gluten free products including several gluten free grains.  They also carry non gluten free products so make sure you see gluten free on the label. 

Home > Gluten Free Foods > Gluten Free Products