Gluten Free Dining at The Fish Exchange in St. John's

St. John's Fish Exchange Kitchen & We Bar
Location: 351 Water Street, St. John's, NL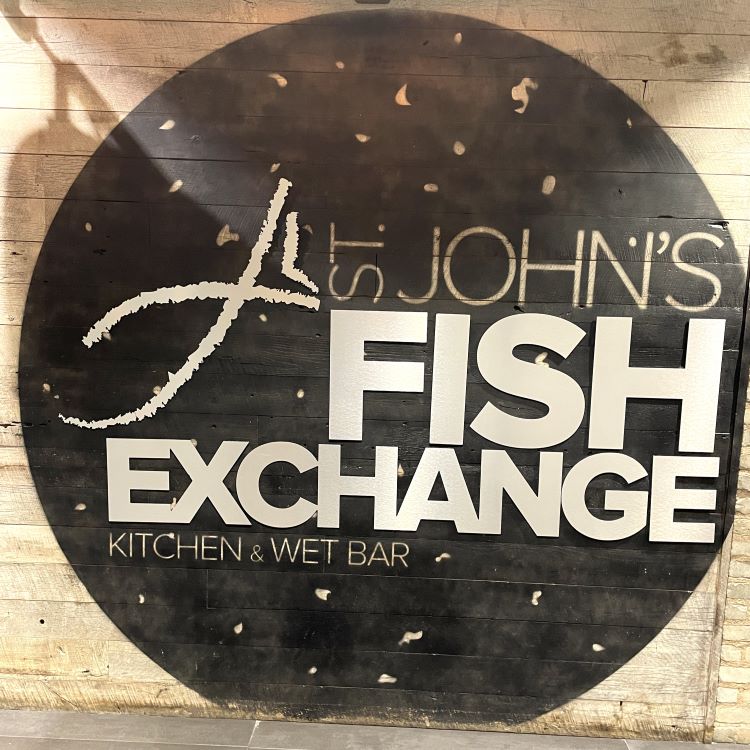 The Fish Exchange in St. John's Newfoundland refers to itself as casual dining, but in my books, it's a bit more upscale.  That fits right in with my approach to gluten free dining while I'm travelling.  Rent a place with a kitchen where you can cook most of your meals and go out for a couple of really nice ones.
Located harborside on Water St. in the heart of St. John's, the Fish Exchange has an impressive selection of items marked gluten free on regular menu.  Of the 38 menu items listed, 25 of them are "gluten friendly" or can be prepared gluten friendly if you ask.  How often do you find such choice?

Atmosphere and Service
Warm hues and cool blues combine to create and casual, homey yet modern upscale feel.  A full wall of huge widows overlooks the St. John's harbor and punctuates the fresh caught flavors served up from the tiny kitchen.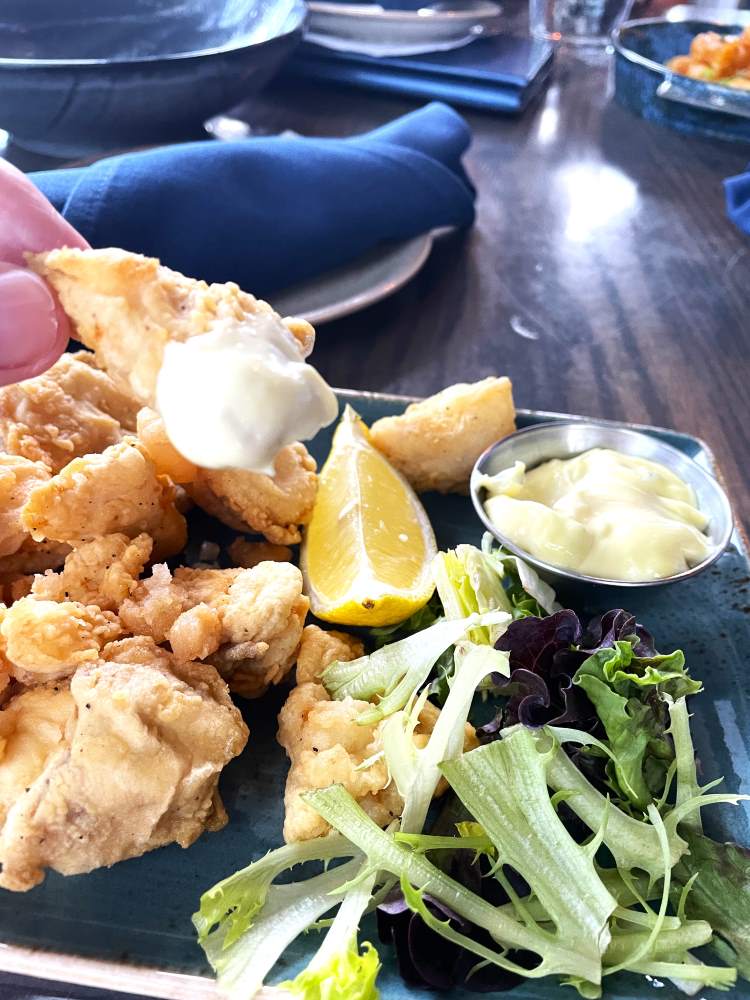 Cod tongues and scrunchions at The Fish Exchange in St. John's NL
The service at The Fish Exchange is friendly and efficient.  We'd made a reservation the day before and when we arrived, our party of four were shown to a window table immediately.  There is also an outdoor balcony, but we preferred to sit inside. 

Our server Lauren was friendly and had a great sense of humor.  She knew the menu and understood celiac disease.  I had questions, as we all do and Lauren was able to answer most of them.  Do you have a dedicated fryer for deep fried items?  Yes.  Does the kitchen take precautions to avoid cross contact? Yes.  Is the fish curry on the specials menu gluten free? Hmmm, I don't think so, but I'll check with the chef.  All the right answers, Lauren passed the test.
I was extra impressed when our food was delivered, and my gluten free meal was carried by a separate server so it wouldn't touch anything else.
Food and Menu
I mentioned the 25 gluten friendly items right?
Maybe this is a good time to talk about gluten friendly.  Some people shy away from menu items with this label because they don't specifically say gluten free.  They're worried about cross contact.  Look, no restaurant, unless it's a dedicated gluten free establishment can 100% guarantee no cross contact.  It's less about the label and more about the questions you ask.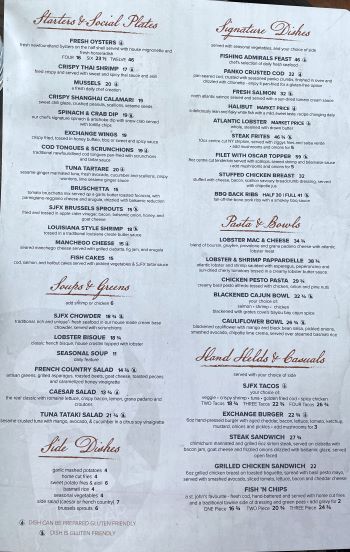 The Fish Exchange does have protocols to keep gluten free food safe, and they have a dedicated fryer for deep fried items.  What a treat!  I could order the battered and fried cod tongues with no worries about cross contact in the fryer.
If you look closely at the menu, there are two gluten related symbols.  One little wheat symbol in a circle meaning the item is gluten friendly and one with a cross through it meaning the item can be made gluten friendly.  Important to keep this in mind especially if you might be sharing appetizers.
The specials all sounded delicious.  There were a few pasta dishes and a fish curry that piqued my interest. There was no gluten free pasta and sadly, the curry sauce was not gluten free, so I opted for the Atlantic lobster.  Even with my casein intolerance, a little clarified butter on the side is fine.

I went with cod tongues and scrunchions for my starter.  Newfoundland is arguably the cod fishing capital of the world and cod tongues are a local delicacy.  Fun fact: ships from Europe have fished the shores of Newfoundland for centuries.  Portugal Cove, a few kilometers northwest of St. John's, appears on maps as early as 1630 and was named for the Portuguese who visited annually to fish.  The French and English dominated St. John's.
The cod tongues did not disappoint.  They came piping hot with a delicate crispy batter. The meat is white in color and a little denser in texture than a fish filet.  Amazing!  Scrunchions are little bits of fried pork rinds.  They add a more robust flavor to the delicacy of the cod tongues.  They complement the dish well but honestly, I would have been happy with just the cod.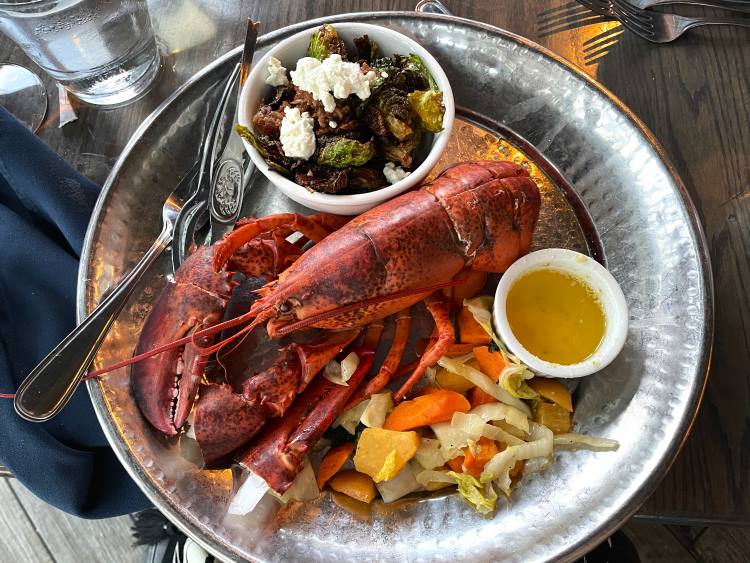 The Atlantic lobster was served whole, and I ordered seasonal veggies and brussels sprouts as my sides.  The veggies were fine, but it was the brussels sprouts that really elevated the meal.  They were roasted til sweetly caramelized and topped with creamy goat cheese. The whole meal was heavenly.

Hubby got mussels to start and the seafood pappardelle from the specials.  My friend Leslie had the SJFX tacos (maybe my next choice) and her husband Jim got the Thai shrimp and pasta for his main.  Wine and conversation flowed, and everyone enjoyed the evening.
Would I go back to The Fish Exchange.  Yes, for sure!