Gluten Free Dairy Free Curry
Gluten Free Dairy Free Curry
Garam Masala Chicken Curry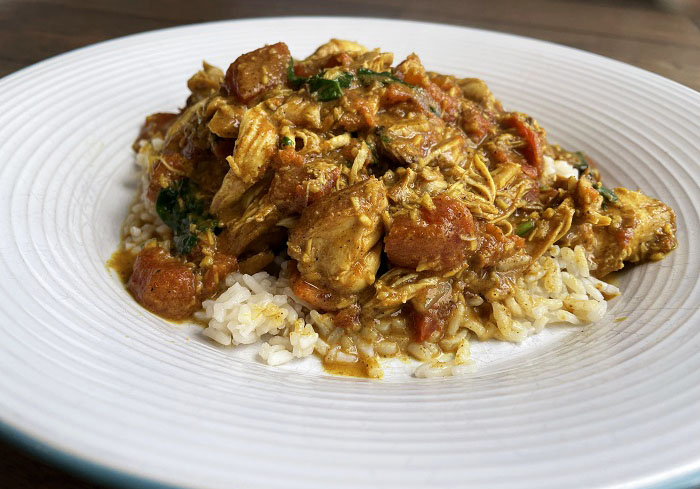 I'm having a hard time finding words to describe just how the mouthwatering, nose tingling tongue tangoing amazing aromatic spices infuse the tomato and coconut base to make a naturally gluten-free dairy free curry that you'll climb the Himalayas for.  And if you love an easy to put together, long slow braise then this recipe is for you!
Gluten Free Dairy Free Curry:

Ingredients

2 tablespoons ghee* or cooking oil

1 1/2 - 2 pounds of chicken breasts, bone in, skin removed.

1 large yellow onion finely chopped

2 teaspoons sea salt or kosher salt

2 cloves garlic minced

2 tablespoons finely grated ginger

1 tablespoon turmeric

2 teaspoons curry powder

2 tablespoons garam masala

1/4 teaspoon cayenne pepper**

1 can dices tomatoes

1 can coconut milk

1/2 cup shredded coconut

Chopped cilantro to serve. 

*ghee is clarified butter that has been cooked on the stovetop to brown the butter which adds a beautiful nutty flavor.  You can buy it in most grocery stores that carry specialty items or make it yourself.  Otherwise a neutral cooking oil will work. 

** the cayenne adds the spiciness to the dish.  Adjust to your own taste.
Gluten Free Dairy Free Curry:

Method

Preheat the oven to 350°

Warm the ghee in a Dutch oven over medium heat.  Brown the whole chicken pieces bone in.  Remove the chicken to a plate.  Add the onions, garlic, ginger to the pan and cook until tender, don't brown.  

Turn down the heat.  Add the salt then the rest of the spices.  Cook for a minute or two until fragrant.  

Stir in the desiccated coconut.  Add the coconut milk and canned tomatoes and stir.

Add the chicken back to the pan and cover with the sauce.  Bring the sauce to a simmer then place into the oven.

Cook for about an hour, until the chicken easily falls off the bone.

Remove the bones.  Shred the chicken.  Simmer for a few more minutes.

Serve your wonderful you made it yourself gluten free dairy free curry over warm rice with chopped cilantro. 
You Might Also Like
Gluten-Free International Cooking:  Come with me on an adventure.  Explore food from around the globe that is often naturally gluten-free.