Superb Garam Masala Chicken Curry That's Gluten Free and Dairy Free
Let the oven do the work. Bone in chicken breasts slowly simmered in the oven make this Garam Masala Chicken Curry so unbelievably flavorful.  No one will know it's gluten and dairy free.  It's even Keto friendly.
Pin for Later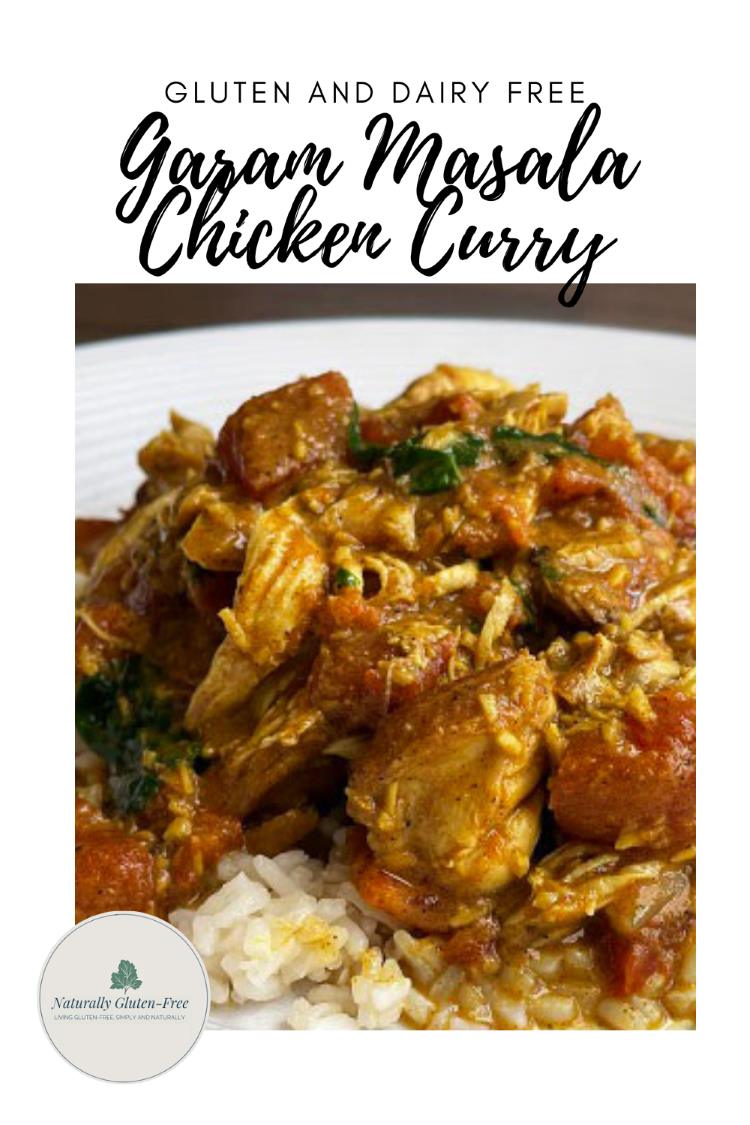 I'm having a hard time finding words to describe just how the mouthwatering, nose tingling tongue tangoing amazing aromatic dish.  Spices infuse the tomato and coconut base to make a naturally gluten-free dairy free curry that you'll climb the Himalayas for. 
Okay, maybe that was too many words, but if you love an easy to put together, long slow braise then this recipe is for you!
Ingredients
About Ghee
You can use any cooking oil for  this Garam Masala Chicken Curry dish, but ghee will give it a bit more of that authentic southeast Asian flavor.  I think you'll taste the difference.
Ghee is clarified butter that simmered until the milk solids turn brown and sticky in the bottom of the pot.  This gives the oil a distinct nutty flavor.  The oil or fat is poured off into a separate container and the milk solids left behind in the pot.  
It's not vegan, if you're looking for that, then use oil, but ghee is usually well tolerated by people with lactose intolerance or casein allergy.
The Spices
Indian dishes might be a bit intimidating at first for those of us who didn't grow up with these complex spice combinations, but if you buy the items listed in this recipe you'll be well on your way to just about any Indian curry you'll want to make.  And it's not that hard.  Just measure out the spices into a container before you start and you'll simply add them to the pot when the time is right.  Oh, the aroma!
Shredded Coconut
This was a tip from an Indian co-worker and it makes all the difference.  I used to follow other internet recipes that just called for coconut milk, but the addition of shredded coconut gives this Garam Masala Chicken Curry that extra depth of flavor and texture
Cayenne Pepper
Here's where you control the spice.  If you're not sure, start with a little, taste then add.  Remember, you can always add more spice but it's hard to take it away.  If you're serving your Garam Masala Chicken Curry to a gang that has different spice tolerance level, you can always keep it mild and put some crushed chilis or hot sauce on the table. 
Cooking the Chicken Bone In
This all about flavor.  The recipe instructs you to cook the chicken breast whole with the bone in, then remove the bones and shred the chicken before serving.  There is a reason chicken stock is made from bones.  They impart flavor to the dish that the meat alone can't.  They also add nutrients and gelatin that come directly from the bones.  This will make your curry fuller tasting with a much heartier texture than if you use diced boneless pieces.  
The down side is, you may not get all the bones out.  If this really bothers you then go ahead and make with garam masala chicken curry with diced boneless chicken breast.  It will still be great. You can also use chicken thighs if you prefer.
The Recipe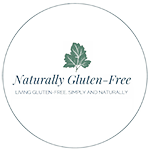 Superb Garam Masala Chicken Curry That's Gluten Free and Dairy Free
By Patty Maguire – Naturally Gluten Free,
Bone in chicken breasts and aromatic Indian spices that make this Garam Masala Chicken Curry so unbelievably flavorful. No one will guess it's gluten free and dairy free.
Prep Time: 5 minutes
Cook time: 75 mintues
Yield: 4 to 6 servings
Tags: Gluten Free, Dairy Free, Keto Friendly
Ingredients
2 tablespoons ghee* or cooking oil
1 1/2 - 2 pounds of chicken breasts, bone in, skin removed.
1 large yellow onion, chopped
2 teaspoons sea salt or kosher salt
2 cloves of garlic minced
2 tablespoons finely grated ginger
1 tablespoon turmeric
2 teaspoons curry powder
2 tablespoons garam masala
1/4 teaspoon cayenne pepper**
½ cup of shredded coconut
1 can coconut milk
3 tablespoons of chopped fresh cilantro to serve.
Instructions
Preheat the oven to 350°


Warm the ghee in a Dutch oven over medium heat. Dry the chicken breasts with paper towel and brown them whole with the bone in.


Remove the chicken to a plate. Add the onions, garlic, ginger to the pan and cook until tender, don't brown.


Stir in the desiccated coconut. Add the coconut milk and canned tomatoes and stir.


Add the chicken back to the pan and cover with the sauce. Bring the sauce to a simmer then place into the oven.


Cook for about an hour, until the chicken easily falls off the bone.


Remove the bones. Shred the chicken. Simmer for a few more minutes.


Serve over rice or with flatbread and garnish with remaining cilantro. For a keto friendly meal you could have this on its own with a side salad or with cauliflower rice.



*ghee is clarified butter that has been cooked on the stovetop to brown the butter which adds a beautiful nutty flavor. You can buy it in most grocery stores that carry specialty items or make it yourself. Otherwise a neutral cooking oil will work.

** the cayenne adds the spiciness to the dish. Adjust to your own taste.