True Food Kitchen Makes Healthy Whole Food that's Gluten Free
True Food Kitchen - Midtown Tampa
Location:  3645 Midtown Dr., Tampa, FL

I'm so excited to be writing this review as I've literally waited 10 years to try this restaurant!
I came across Dr. Andrew Weil's cookbook, True Food: Seasonal, Sustainable, Simple, Pure when I was a gluten free newbie and hungry for any help I could get. I knew that I needed to let go of packaged processed ingredients and embrace real whole foods.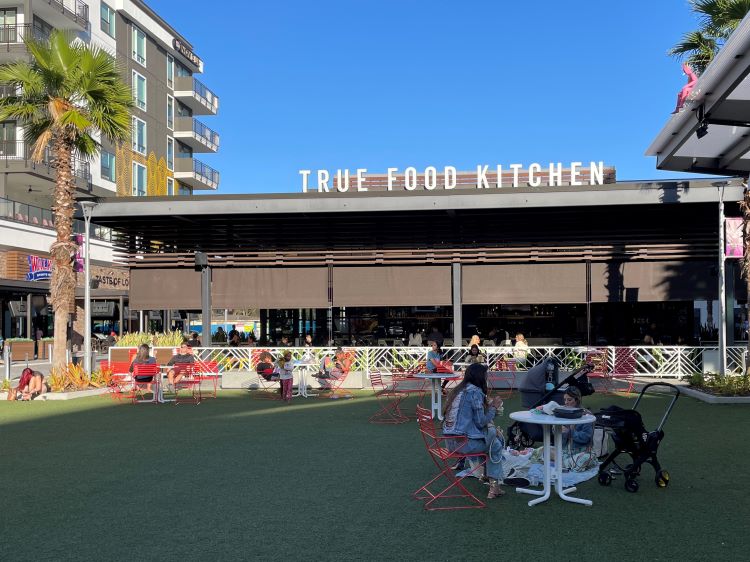 As I turned the pages I encountered a food philosophy that I recognized from the family farm. Like my grandparents, Dr. Weil and his partner Sam Fox embraced fresh, organic, local ingredients as the path to health. But this was different. It was complex and beautiful and elevated.
I wasn't very many pages in when I knew I needed to visit a True Food Kitchen.
Back in then, there were only a few locations, all in the Southern United States. The birthplace was Phoenix Arizona. From there they spread to Scottsdale, then to California, Colorado, and Texas. With backing from Oprah Winfrey the chain expanded and as of September 2022, there were 42 locations in 17 states. A recent $100 million investment is expected to fuel more expansion.
Maybe one day there will be one in Toronto.
Well, finally this Canadian Celiac visited Tampa, Florida and got her chance.
True Food Kitchen - Tampa Location
The Tampa Location of True Food Kitchen is in Midtown; an urban revitalization project in the shadow of I-275 where it intersects with US 92. It's a little walkable village within the city, with apartments, restaurants, hotels, a Whole Foods, a few stores and lots of free parking. True Food Kitchen is more or less in the center of it all.
Upon entering the restaurant, I was impressed with the bright, modern airy feel. The ceilings are high and the floor to ceiling roll up windows leave you unsure if you are indoors or out. The bar is on one side and the open kitchen is on the other.
Our server Noah was friendly, knowledgeable, and attentive. He was quick to come to the table, to explain the restaurant concept to us and give us a guided tour of the menu.
The True Food Kitchen Menu
True Food Kitchen operates on a seasonal menu which highlights the commitment to local and fresh ingredients. 
For our visit the winter menu was on offer, featuring items like a hardy Winter Harvest Salad of butternut squash, Brussels sprouts, cauliflower and kale garnished with cannelli beans, mulberry and pomegranate toped with a horseradish vinaigrette. Other winter True Food classics are the Roasted Butternut Squash Pizza and the signature Spaghetti Squash Casserole.
There is no gluten free menu but there are several gluten free options. When I asked about cross contamination, Noah assured me that the cooks would change gloves and would prepare the food on a clean surface. The pizza oven would be cleaned for a gluten free pizza
True Food Kitchen Review
I ordered the Charred Cauliflower to start. Little cauliflower florets, medjool dates and pistachios are mixed in a harissa tahini sauce. The dish is baked to a little more than golden brown then topped with fresh dill and mint.
It's so gloriously cheesy tasting that I had to double check the menu to be sure there was no actual cheese.  As soon as I get home I'll be trying to duplicate this!
Hubby had the not gluten free chicken noodle soup. He said it was "good, they don't cheap out on the chicken and noodles". I couldn't try it, so we'll have to take him at his word.
For our main course we both ordered chicken sausage pizza. It comes with DiNapoli tomatoes, roasted fennel and smoked gouda.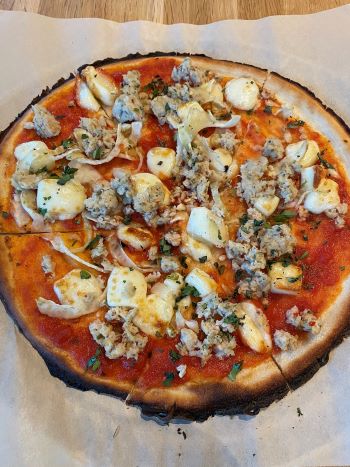 I bet the smoked gouda is delicious, but alas, my cows milk issue meant I had to find a dairy free substitute. Noah was very helpful with brainstorming options. The vegan cheese they have for sandwiches or the vegan almond ricotta that goes on the roasted butternut squash pizza were both options. When I told him that I'm okay with goat and sheep cheeses, he suggested Manchego. I wasn't familiar but decided to give it a try.
I've since learned that Manchego cheese is produced in the La Mancha region of Spain from the milk of manchega sheep. You don't grate or crumble it like you would with a mozzarella or feta. Instead, it was dotted in little blobs which then melted into the chicken sausage. The chicken sausage was beautifully seasoned and generously sprinkled over the gluten free crust.
But it's really the gluten free pizza crust you want to know about isn't it? From the charring on the edges, I expected it to be crispier. I'd say it was good, but not great. In fact my gluten free pizza crust is better.
Overall, I enjoyed my long-awaited meal at True Food Kitchen. The starter out shone the pizza which was still very good.
Would I go back? Yes, for sure. I love the concept and I would like to try other items from the menu.
We headed home a couple of days after our visit to True Food Kitchen, so I checked to see if there were any locations along our route, but unfortunately not. I guess I'll have to wait until my next visit or until they come to Canada.