Celiac Disease A Hidden Epidemic
Review: Celiac Disease
A Hidden Epidemic
Title: Celiac Disease: A Hidden Epidemic

Author: Peter H.R. Green M.D. and Rory Jones M.S.

Genre: Health

Publisher: William Morrow; Revised, Updated edition (Jan. 26 2010)

Pages: 352
About Celiac Disease - A Hidden Epidemic
This just might be THE definitive book on Celiac Disease.
Dr. Peter Green M.D. is a world renowned expert on celiac disease and director of The Celiac Disease Centre at Columbia University.  This book is written in collaboration with Rory Jones, a medical writher and  Adjunct Professor of Narrative Medicine at Barnard College of Columbia University. 
The book starts out with a questionnaire, 28 questions covering symptoms and related illnesses that, depending on your score, may lead you to consider getting tested for celiac disease.  What a way to cut to the chase!
It then goes on to cover the entire universe of celiac disease beginning with an explanation of normal digestion, through to a definition of gluten and what it does when it comes in contact with the digestive tract of someone with celiac disease.  He talks about how patients are affected by celiac disease, how it is diagnosed and why it is under diagnosed.  And then, perhaps most shockingly, he delves in all of the various related conditions and complications.  In Parts III, IV and V he gets into the really practical information: treatments, lifestyle, diet and simply how to cope.  At the very end he explores myths around celiac disease and where science may be taking us in the future.   
My Review
I first came across a reference to Dr. Green in Elizabeth Hasselbeck's book The G-Free Diet.  This was where I first learned that celiac disease could cause, among many other things, miscarriage and infertility.  So it just made sense if I wanted to know more, to go right to the source. 
I was not disappointed.  Dr. Green is one of the worlds foremost experts on celiac disease yet this book is so accessible and easy to understand.  I can't think of a question you might have about celiac disease that isn't covered in this book. 
Did you know that celiac disease was once considered a childhood disease yet the peak age for detection is in the 4thor 5th decade?  Or that tTG, the key blood marker for celiac disease can also indicate diabetes, Crohn's or liver disease yet people with celiac can be negative for tTG?  No wonder diagnosis is so difficult! 
Celiac Disease, A Hidden Epidemic is a must read if you have celiac.  I've read it through and I go back to it often.  If I hear a rumor related to celiac disease and I'm not sure if it's true, I check with Dr. Green.  If I have an unexplained symptom or hear about something strange in a forum or comment, I check with Dr. Green.  I use his research as a starting point for many of the science sections of my newsletter.
---
Check out my FREE Printable Gluten-Free Food List and Newsletter!
Up to the minute information about
Living Gluten-Free, Simply and Naturally
---
Do I recommend this book?  YES!!  If you have celiac disease, you need this book.  If you have family members who just don't get it, give them a copy.  If your doctor is not well versed, give him or her a copy.  We need everyone to be better informed.  
You Might Also Like
Mayo Clinic - Going Gluten Free: Dr Joseph Murray has been in this from the beginning!  He studied at the National University of Ireland at a time when Celiac disease was quite common in Ireland but much less so in North America...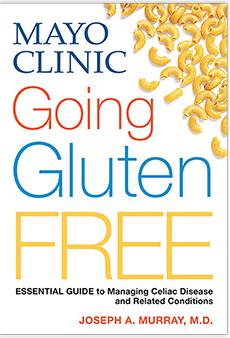 ---