Review: All About Dinner
Simple Meals, Expert Advice
Title:  All About Dinner; Simple Meals, Expert Advice

 Author: Molly Stevens

Genre: Cookbook

Publisher: W.W. Norton & Company (2019)

Pages: 335
Do you read cookbooks like you would read a novel?  Snuggled into a comfy seat with a warm mug.  Taking in the photos, enjoying the prose, tasting the flavors and smelling the smells in your imagination?  If you have no idea what I'm talking about, get Molly Stevens' All About Dinner and you'll soon understand. 
About Molly Stevens and All About Dinner
All About Dinner is not a gluten free cookbook, but almost all the recipes are naturally gluten free or easily converted with a substitution or two.  It covers all the courses and food groups: salads, soups,  and sweets, veggies and meat, pasta and grains; even a section on making some pantry staples from scratch.
The recipes in All About Dinner are written in a unique manner. Each step begins with a single bolded phrase followed by a brief description.  This caters to every level of cook.  An experienced cook can scan the bold print.  A beginner will appreciate the detail.
I first encountered Molly Stevens' work in a food writing course I took at George Brown College in Toronto.  She's featured in Dianne Jacob's Will Write for Food, as well as in national publications like Bon Appetit, Eating Well and Fine Cooking. 
Molly Stevens was also named Cooking Teacher of the Year by both Bon Appetite and the IACP (International Association of Culinary Professionals). This patient teacher vibe comes through in the pages of All About Dinner.  You can envision yourself in the kitchen making each dish with Molly at your side. 
My Review
Molly Stevens is an engaging writer.  This is one of those cookbooks you can sit and read in bed.  Keep a pad of sticky notes handy though.  You'll come across recipes you'll want to try and tips you won't want to forget.  You may even feel the need to start your grocery list. 

My favorite quote from the book is "Relax, it's just dinner".  I love this!  It doesn't have to be perfect.  Cooking should be fun and adventurous.  If it doesn't work out, there's always tomorrow's dinner. 
I also love that Molly invites us to make her recipes our own.  She explains the techniques and what each ingredients does in the dish, then offers ideas for substitutions.  This is what it means to really cook.  Use recipes as a guide and tweak according to your own taste and what's in the pantry.
I only have two critiques:  
First is that not every recipe has a photo.  When I make a dish for the first time, I like to see what the author had in mind.  I get it though.  A photo for every recipe would make the book much larger and more expensive. 
Second is that some recipes cross multiple pages.  That can be a bit awkward when you're in the kitchen with five things happening at once and ground meat up to your elbows.  
The Recipes
So far, I've made three recipes from All About Dinner and all are keepers.  Here are the ones I've tried along with my thoughts. 
Cheater's Beef and Black Bean Chili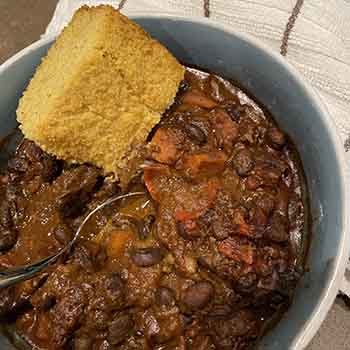 The "cheat" in Molly's chili is that she leaves out the step of browning the meat first then adds beer and dark chocolate to make up for any lost flavor.  Since beer is a no no for celiacs, I used a dry hoppy cider. Magner's works well.  You could also use gluten free beer or red wine. 
The secret ingredient is chocolate.  I'm no stranger to adding chocolate to my stews as I do with my Gluten Free "Guinness" hotpot.  It's imperceptible yet adds that deep "umami" flavor.   
This chili was delicious.  I served it to company and it was a hit. 
I will come back to this recipe for future chilis. I don't mind browning the meat and will probably continue to do it, but it's good to know that it's optional.  
Potato Salad with Bacon and Lemon Vinaigrette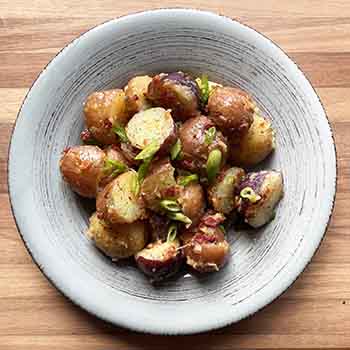 After months on keto and low carb, I was in the mood for a great potato salad.  I warned Hubby that he wasn't getting his mom's mayo soaked mashed potatoes.  This potato salad is lighter with a bright acidic snap. 
The big flavor bomb is the apple cider vinegar.  I liked it, Hubby found it a bit strong.  If you wanted something milder, you could substitute some or all of the ACV in the salad dressing for lemon juice. 
This potato salad is perfect for a quick everyday meal and impressive enough for guests or a pot luck.  Follow the instructions for preparing the potatoes and serve it slightly warm.  
Pasta with Chard and Italian Sausage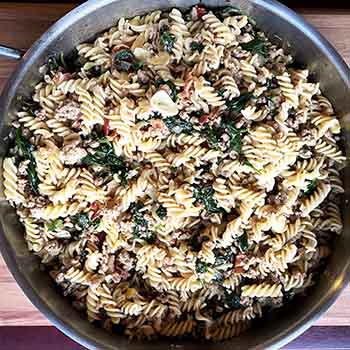 This recipe caught my eye as I flipped through the book one Sunday morning. 
I decided to make it even though I didn't have chard, Italian sausage or the desire to go shopping.  This is an example of using a recipe as a guide and tweaking it to fit what you have on hand.  
I had ground pork in the freezer and a huge container of baby spinach in the fridge. 
I seasoned the pork with salt, pepper, onion powder, garlic powder and my own Herbes de Provence blend then continued according to the directions.  Of course spinach is more delicate than chard and cooks down faster so it didn't need to simmer as long.  I also added a little crumbled bacon because there was some in the fridge and, well, bacon.  Delicious!
Do I Recommend This Book for You?
Whether you're a new cook or have loads of experience I think you'll like All About Dinner.  And you'll learn something.  I picked up lots of tips.  
Enjoy!
---
Check out my FREE Printable Gluten-Free Food List and Newsletter!
Up to the minute information about
Living Gluten-Free, Simply and Naturally
---